Twenty-Six Killed In South Texas Church Massacre
Another mass shooting.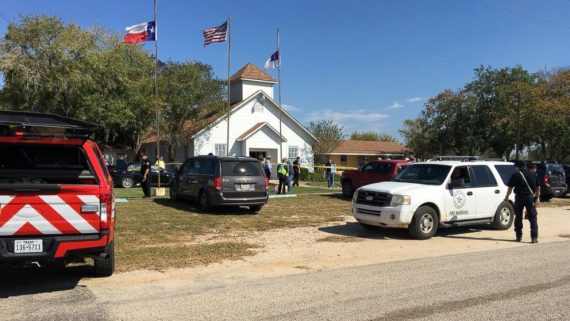 Twenty-six people died, and dozens more were injured, in a mass shooting yesterday at a church in a small community in South Texas:
SUTHERLAND SPRINGS, Tex. — A gunman clad in all black, with a ballistic vest strapped to his chest and a military-style rifle in his hands, opened fire on parishioners at a Sunday service at a small Baptist church in rural Texas, killing at least 26 people and turning this tiny town east of San Antonio into the scene of the country's newest mass horror.

The gunman was identified by the Texas Department of Public Safety as Devin Patrick Kelley, 26. Mr. Kelley, who lived in New Braunfels, Tex., died shortly after the attack.

He had served in the Air Force at a base in New Mexico but was court-martialed in 2012 on charges of assaulting his wife and child. He was sentenced to 12 months' confinement and received a "bad conduct" discharge in 2014, according to Ann Stefanek, the chief of Air Force media operations.

The motive for the attack was unclear on Sunday, but the grisly nature of it could not have been clearer: Families gathered in pews, clutching Bibles and praying to the Lord, were murdered in cold blood on the spot.

Mr. Kelley started firing at the First Baptist Church in Sutherland Springs not long after the Sunday morning service began at 11 a.m., officials said. He was armed with a Ruger military-style rifle, and within minutes, many of those inside the small church were either dead or wounded. The victims ranged in age from 5 to 72, and among the dead were several children, a pregnant woman and the pastor's 14-year-old daughter. It was the deadliest mass shooting in the state's history. At least 20 more were wounded.

"It's something we all say does not happen in small communities, although we found out today it does," said Joe Tackitt, the sheriff of Wilson County, which includes Sutherland Springs.

Sheriff Tackitt and other officials said the gunman first stopped at a gas station across Highway 87 from the church. He drove across the street, got out of his car and began firing from the outside, moving to the right side of the church, the authorities said. Then he entered the building and kept firing.

The authorities received their first call about a gunman at about 11:20 a.m. Officials and witnesses said Mr. Kelley appeared to be prepared for an assault, with black tactical gear, multiple rounds of ammunition and a ballistic vest.

"He went there, he walked in, started shooting people and then took off," said Representative Henry Cuellar, a Texas congressman who represents the region and who was briefed by law enforcement officials.

When Mr. Kelley emerged from the church, an armed neighbor exchanged gunfire with him, hitting Mr. Kelley, who fled in his vehicle. Neighbors apparently followed him, chasing him into the next county, Guadalupe County, where Mr. Kelley crashed his car. Mr. Kelley was found dead in his vehicle. Officials said it was unclear how Mr. Kelley had died.

At the church, he left behind a scene of carnage. Of the 26 fatalities, 23 people were found dead inside the church, two were found outside, and one died later at a hospital.

Speaking at a news conference in Japan, the first stop on his tour of Asia, President Trump called the shooting a "mental health problem at the highest level" and not "a guns situation," adding the gunman was a "very deranged individual." He also ordered flags flown at half-staff at the White House and all federal buildings through Thursday.

In Floresville, Tex., hours after the attack, Scott Holcombe, 30, sat with his sister on the curb outside the emergency room at Connally Memorial Medical Center. They were both in tears. Their father, Bryan Holcombe, had been guest preaching at the church, they said, and he and their mother, Karla Holcombe, were killed.

"I'm dumbfounded," Mr. Holcombe said, also noting that his pregnant sister-in-law, Crystal Holcombe, had been killed. "This is unimaginable. My father was a good man, and he loved to preach. He had a good heart."

His sister, Sarah Slavin, 33, added: "They weren't afraid of death. They had a strong faith, so there's comfort in that. I feel like my parents, especially my mom, wasn't scared."

A parishioner, Sandy Ward, said that a daughter-in-law and three of her grandchildren were shot. Her grandson, who is 5, was shot four times and remained in surgery Sunday night. She said she was awaiting word on her other family members.

Ms. Ward said she did not attend services on Sunday because of her troubled knees and a bad hip. "I just started praying for everybody who was there" when she learned of the shooting, she said.

(…)

The authorities said Mr. Kelley used an Ruger AR-15 variant — a knockoff of the standard service rifle carried by the American military for roughly half a century.

Almost all AR-15 variants legally sold in the United States fire only semiautomatically, and they were covered by the federal assault weapons ban that went into effect in 1994. Since the ban expired in 2004, the weapons have been legal to sell or possess in much of the United States, and sales of AR-15s have surged.

Ruger's AR-15s made for civilian markets sell for about $500 to $900, depending on the model.

Mr. Kelley grew up in New Braunfels, in his parents' nearly $1 million home, and was married in 2014. He had been married at least once before and was sued for divorce in 2012 in New Mexico, the same year he was court-martialed on charges of assaulting his wife and child.

Why he chose to attack a church 30 miles away from his home is one of the questions that remained unanswered.
The number of people killed yesterday constitute roughly seven percent of the total population of the community this church was located in, which likely means that the dead and injured were likely known to pretty much everyone in town and that the scope of the carnage for this particular community will come as a huge shock. To put the number in perspective, the death toll yesterday is as if twenty-one million Americans were killed in a terrorist attack, or if more than half a million people had died in New York City on September 11, 2001. Clearly, this is something that will impact Sutherland Springs and the surrounding community for some time to come, especially since the dead include children as young as five-years-old and grandparents as old as seventy-five, including eight members of one extended family.
At this point, it's unclear what motive Kelley may have had in committing this horrendous crime and why he chose this particular church in this particular community, which required him to travel at least a half hour from his home prior to the church service yesterday morning. Some reports this morning are saying that his former in-laws may be members of this church, but that has not confirmed and it's not clear whether or not they were present during the attack. It has been reported, though, that this church does upload the video of its Sunday services to YouTube, and that the services themselves may be live-streamed to allow people who can't make it to a service to watch at home. This has led to suggestions that Kelley chose this church both for its remote location and in the hope that his attack would be broadcast live over the Internet. What is apparent is that this wasn't simply a random attack, as indicated by the fact that Kelley was dressed in tactical gear that one can obtain at many gun stores and had several other weapons in his car when he was finally found by police. No doubt, we'll learn more about his possible motivation and his planning for the attack in the coming days, but in some sense, those facts, while important, hardly matter to the families of those killed and injured in the second mass shooting attack inside of the past month, coming just five weeks after the shooting in Las Vegas that left 58 people dead and hundreds of people injured.
One issue that is likely come to the forefront in the coming days is the manner in which Kelley acquired the weapon he used in the attack as well as the other weapons found in his possession. As has typically been the case in all of these recent mass shootings, it appears from initial reports that the weapons were obtained legally, or at least through normal commercial channels, but there seems to be an indication that Kelley should not have been able to buy weapons at all under existing Federal laws. The Los Angeles Times and other news outlets, for example, are reporting that Kelley was dishonorably discharged from the Air Force after being convicted of assaulting his wife and child while they lived in on-base housing in New Mexico where he was stationed at the time. Other sources have stated that he received a "Bad Conduct Discharge" rather than being dishonorably discharged. For purposes of this case, the distinction is important because a dishonorable discharge is one of the factors in Federal law that makes someone ineligible to purchase a weapon. However, as Business Insider notes, even if Kelley received the less serious form of discharge, he still may have been ineligible to purchase a weapon had the system worked as intended:
Military members dishonorably discharged cannot legally purchase a gun, but Kelley's bad conduct discharge falls just short of that mark.
However, Kelley's charges assault against his wife and child likely qualify as domestic violence, and could legally disqualifies a citizen from gun ownership.

But even if the assault charges didn't technically go down as domestic violence, assault can be treated as a felony, which should preclude gun ownership. And even if the charges didn't go down as felonies, the twin charges carried a maxium sentence of over a year in prison, and therefore should preclude gun ownership.

On the federal government's firearm transaction record, which buyers must legally fill out, Kelley would have had to state that he had never been convicted of a felony. Both Kelley's assault counts likely went down as felonies. Lying on the firearms transaction record is an additional felony punishable by up to five years in jail.

Kelley bought a Ruger AR-556 rifle, used in the attack on the church in Sutherland Springs, in April 2016 from an Academy Sports & Outdoors store in San Antonio, a law enforcement official told CNN.

The purchase of the gun took place two years after Kelley had been court-martialed, imprisoned, most likely charged with multiple felonies, and dishonorably discharged from the military.
Obviously, if Kelley really did have a felony conviction on his record then he should not have been allowed to purchase a weapon, and he should have been prosecuted for lying on the form that one has to fill out for a background check when purchasing the weapons. It's important to note, though, that it's unclear if the convictions he received in the military that led to his discharge count as felonies or whether he ultimately ended up being convicted of misdemeanors. If it's the latter, then it's clear that he would not have been legally barred from purchasing a weapon and that he would not have lied on the background check form when he Also unclear is whether or not the records from military convictions are properly included in the records that are searched as part of the normal background check that is run when someone purchases a weapon. If that's the case, though, then it strikes me that this is something that ought to be fixed.
.