Spurred By Parkland Shooting, Students March, But Will It Lead To Any Actual Change?
Organizing protests was the easy part. The hard part for those who would seek to expand gun regulations is yet to come.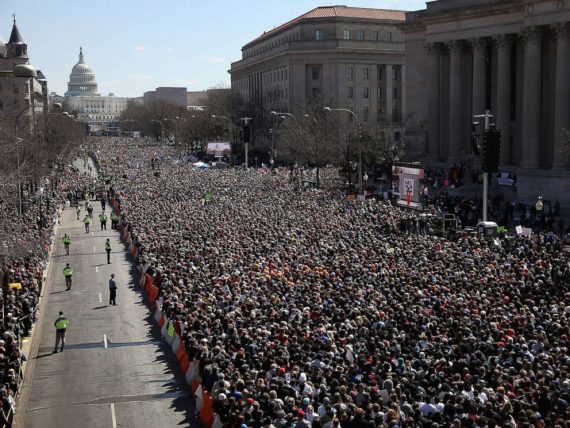 Yesterday's big news, of course, was the protests that occurred in Washington, D.C., New York City, and in other major cities across the country that were spurred by the activism of the students who survived the Valentine's Day massacre at Marjory Stoneman Douglas High School in Parkland, Florida:
WASHINGTON — Standing before vast crowds from Washington to Los Angeles to Parkland, Fla., the speakers — nearly all of them students, some still in elementary school — delivered an anguished and defiant message: They are "done hiding" from gun violence, and will "stop at nothing" to get politicians to finally prevent it.

The students, as they seized the nation's attention on Saturday with raised fists and tear-streaked faces, vowed that their grief about school shootings and their frustration with adults' inaction would power a new generation of political activism.

"If they continue to ignore us, to only pretend to listen, then we will take action where it counts," Delaney Tarr, a student at Marjory Stoneman Douglas High School in Parkland, where a gunman killed 17 people last month, told tens of thousands rallying in Washington. "We will take action every day in every way until they simply cannot ignore us any more."

For many of the young people, the Washington rally, called March for Our Lives, was their first act of protest and the beginning of a political awakening. But that awakening may be a rude one — lawmakers in Congress have largely disregarded their pleas for action on television and social media in the five weeks since the Parkland shooting.

That reality helped drive the Parkland survivors in Washington, as they led a crowd that filled blocks of Pennsylvania Avenue between the White House and Capitol Hill. Thousands more rallied at about 800 "sibling" marches around the country and abroad, where students, like those in the capital, made eloquent calls for gun control and pledged to exercise their newfound political power in the midterm elections this fall.

Aerial video captured seas of people — in front of Trump International Hotel in New York; in a central square in Tokyo; along the streets of Boston; at a rally in downtown Fort Worth, Tex.; and crammed into a park less than a mile from Stoneman Douglas High.

Delivered in soaring speeches, emotional chants and hand-painted signs, the protesters' messages offered angry rebukes to the National Rifle Association and politicians who have left gun laws largely intact for decades. A sign in Washington declared "Graduations, not funerals!" while another in New York said "I should be learning, not protesting." Crowds in Chicago chanted "Fear has no place in our schools" as they marched.

Celebrities, including Lin-Manuel Miranda, the "Hamilton" star, and the pop singers Ariana Grande and Miley Cyrus, performed in Washington, where politicians and adult activists were largely sidelined in favor of the fresh-faced students offering stories of fear and frustration, but also hope for change.

The most powerful, and impassioned, moments came from the surviving students of the Parkland shooting, who declared themselves angry, impatient and determined to stop the slaughter.

"Today, we march," Ms. Tarr said. "We fight. We roar. We prepare our signs. We raise them high. We know what we want, we know how to get it and we are not waiting any more."

An 11-year-old girl from Virginia, Naomi Wadler, captivated her audience as she declared "Never again!" on behalf of black women and girls who have been the victims of gun violence.

Calls like Naomi's stood in stark contrast to action on Capitol Hill and at the White House in the hours before the rallies. President Trump signed a $1.3 trillion spending bill that took no significant new steps on gun control: It did nothing to expand background checks, impose additional limits on assault weapons, require a higher age for rifle purchases or curb the sale of high-capacity ammunition magazines.

The spending legislation, which was viewed as the last opportunity this year for Congress to enact major new gun restrictions before the midterm elections in November, included only some school safety measures and modest improvements to the background check system.

Organizers at national gun control groups, who provided logistical support and public relations advice as the students planned the Washington rally, said they believed that the students would not become disillusioned by the lack of immediate action in Congress. They noted that rallies took place in 390 of the country's 435 congressional districts.

"The mass shooting generation is nearing voting age," said John Feinblatt, the president of Everytown for Gun Safety, a national group that advocates tougher gun laws. "They know the midterms are six months away, and they plan to make sure that they vote and they get others to register to vote. They are absolutely poised to turn this moment into a movement."

(…)

In towns like Dahlonega, Ga., smaller rallies sought to demonstrate a desire for new gun restrictions even in rural, Republican-leaning communities where gun ownership is common and support for the Second Amendment is strong.

"We're going to be the generation that takes down the gun lobby," Marisa Pyle, 20, said through a red megaphone to a group of several hundred people gathered in front of the Dahlonega Gold Museum.

Around the world, Americans living abroad gathered to honor those who have died in school shootings and to echo the call for gun control.

Protesters in Rome jammed the sidewalk across from the American Embassy, next to the upscale Via Veneto, raising their voice in chants — "Hey hey, ho ho, the N.R.A. has got to go," and waving signs with messages like "A gun is not fun" and "Am I next?" many made by high school students at an international school.

About 150 to 200 people in Berlin gathered in solidarity in front of the Brandenburg Gate, just steps from the American Embassy. Many carried hand-painted signs, among them: "Arms should be for hugging," "Bullets aren't school supplies" and "Waffeln statt Waffen" (Waffles instead of weapons).

One of the largest rallies outside Washington was at a Florida park not far from Stoneman Douglas High School. During that event, 17 students from the school silently took the stage to represent their friends who had been killed.

Anthony Montalto, the brother of Gina Rose Montalto, one of those killed, held a sign that said: "My sister could not make it here today. I'm here for her."
For some reason, the rally was scheduled for a weekend that neither Congress nor President Trump are in Washington, but with the coverage that the rallies received from CNN, MSNBC, and yes even Fox News Channel, it would have been hard for them to miss what was happening. Each of the mass shooting events that have happened in the United States over the past decade or so, from Aurora to Sandy Hook Elementary to Las Vegas, has resulted in some uptick in support for gun control measures and increased support in the polls for gun control, but the events in Parkland seem to have sparked something different. One reason for that is the fact that the students who were actual targets of the February 14th attack in Parkland, as well as the parents and siblings of the 17 students who died, have become the public face of a movement that, for the longest time, was driven largely by professional lobbyists and politicians who have their own agendas. These students have been passionate, well-spoken, and adamant in their refusal to be silenced by adults who might have otherwise dismissed. They've also been able to use the familiarity and ubiquitousness of social media in their lives to spread their message not only among their own age group but also out to the nation as a whole. This, no doubt, is one of the reasons why the rallies yesterday were able to draw such huge crowds in so many cities across the country and even inspire protests around the world that were attended by ex-pat Americans and others.
The fact that all of this is happening a month after the shootings took place, and that there are indications that this activism will continue into the year to come, is interesting and certainly unlike what we've seen happen in the past. However, it's unclear what actual impact all of this will have on gun policy around the nation. Protests, after all, are one thing, and they are certainly nothing to be derided in the manner in which the National Rifle Association and other gun rights activists have done, but those protests will end up being meaningless unless they are followed up by action. This includes not just lobbying at the Federal, state, and local level for one bill or another, but on a sustained basis. It also means accepting the fact that incremental changes, such as those passed recently by the Florida legislature, are the best that they are likely to achieve in the short term and that the road ahead is unlikely to be very easy.
Realistically speaking, it's unlikely that we'll see major changes in gun laws at the Federal level in the near future. The budget bill that passed late last week bid include some gun measures, such as some minor tweaks to the background check system and the authorization of some funds for the Centers For Disease Control to study mass shootings as a public health matter. Additionally, the Justice Department has issued regulations that would purport to ban bunp stocks, although it's unclear whether those regulations could survive a seemingly inevitable court challenge. Beyond that, though, it's unlikely that we'll see significant Federal action on gun control in the near future, at least not as long as Republicans remain in control of Congress.
Even if the Democrats manage to gain back one or both chambers of Congress in November, though, the prospects of significant gun control measures at the Federal level remain dim. If Republicans manage to hold on to the Senate, for example, then it wouldn't matter what a Democratic-controlled House would do, for example, and even getting gun control measures through the Senate unless Democrats were to win a filibuster-proof majority in the Senate, which is basically mathematically impossible given the small number of Republican seats that are actually up for re-election or Special Elections this year. Even if Democrats somehow managed to win every one of those elections, which is highly unlikely, they would still fall short of the eleven-seat gain they would need in order to overcome the sixty vote threshold imposed by the modern-day filibuster rule, a rule that Democrats are as unlikely as Republicans to repeal for seemingly obvious reasons.
This leaves action at the state and local level the most likely avenue for success for any movement to impose restrictions on guns in the foreseeable future. The problem that activists face here is that the most likely states where new gun restrictions are likely to be passed are Democratic-controlled states that already have strong gun measures on the books. Accomplishing the same thing in red and purple states is going to be much more difficult. In those states, it's more likely that the kind of measures that can successfully get enacted will be something akin to what was passed by the Florida legislature earlier this month. That law included provisions that raised the minimum age to purchase rifles such as the AR-15 to 21, the same age that one has to be to purchase a handgun, imposed a three-day waiting period before someone could take possession of a weapon, authorized school districts to allow non-classroom personnel who are properly trained to carry weapons on campus, banned the sale of bump stocks, and made it somewhat easier for law enforcement to take guns away from people judged to be a danger to themselves or others. It's possible that some or all of these provisions could pass in other Republican-controlled states, but the odds that those states will go as far as states such as California, New York, and Connecticut have in banning the sale of so-called "assault weapons" and placing significant restrictions on the ability of people to carry concealed weapons are fairly slim.
No doubt, the student and other young activists that have risen up in the wake of the Parkland shooting have been riding quite the high of media coverage and, now, a hugely successful march yesterday. That, however, was the easy part. The hard part is immediately in front of them and it's far more likely to come with disappointment than achievement. As with any political movement, though, this seemingly new manifestation of a call for gun control will have to face reality and be willing to compromise and accept the reality of defeat when it comes.