Parkland Shooting Survivors Speak Out On Gun Control, And Some On The Right See A Conspiracy
The students who survived last week's mass shooting in Parkland, Florida are speaking out, and some on the right are responding by engaging in personal attacks and spreading conspiracy theories.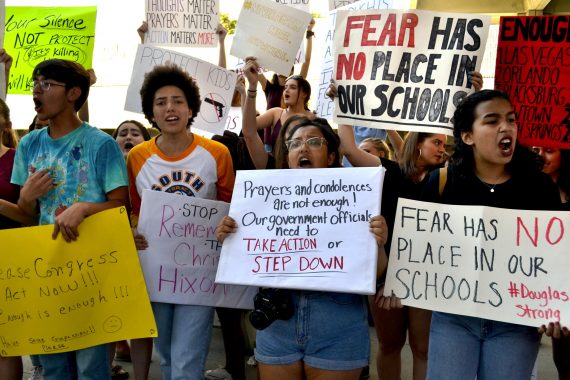 In the wake of last week's shooting at Marjory Stoneman Douglas High School in Broward County, Florida, many of the students who were targets of the shooter and who have friends who were wounded and died last Wednesday have come forward to speak out on the issue of gun control. Today, in fact, a group of more than 100 of them have been spending the day in Tallahassee meeting with Governor Rick Scott and state legislators about gun control and school safety issues. Others are in Washington, D.C. as part of an event at the White House later today when they will meet with President Trump to discuss gun control issues along with the survivors of other school shootings and the parent of victims of such events such as the 1999 Columbine massacre and the 2012 shooting at Sandy Hook Elementary School in Connecticut in 2012. They've also gotten a significant amount of coverage from cable news outlets, and many of them will take part in a "town hall" event that will air on CNN tonight that will apparently include some Members of Congress as well as a representative from the National Rifle Association. These students have also inspired a national movement among students that are looking to stage nationwide protests on March 14th, the one-month anniversary of the shooting in Florida.
In response to this rather spontaneous outburst of activism among the students in Florida and the attention it seems to be gaining, some conservative media outlets are turning their attention to attacking the students:
The teenagers of Marjory Stoneman Douglas High School in Parkland, Fla., who a week ago lost 17 of their classmates and school staff members in a mass shooting, have emerged as passionate advocates for reform, speaking openly of their anger in the hope of forcing a reckoning on guns.

But in certain right-wing corners of the web — and, increasingly, from more mainstream voices like Rush Limbaugh and a commentator on CNN — the students are being portrayed not as grief-ridden survivors but as pawns and conspiracists intent on exploiting a tragedy to undermine the nation's laws.

In these baseless accounts, which by Tuesday had spread rapidly on social media, the students are described as "crisis actors," who travel to the sites of shootings to instigate fury against guns. Or they are called F.B.I. plants, defending the bureau for its failure to catch the shooter. They have been portrayed as puppets being coached and manipulated by the Democratic Party, gun control activists, the so-called antifa movement and the left-wing billionaire George Soros.

The theories are far-fetched. But they are finding a broad and prominent audience online. On Tuesday, the president's son Donald J. Trump Jr. liked a pair of tweets that accused David Hogg, a 17-year-old who is among the most outspoken of the Parkland students, of criticizing the Trump administration in an effort to protect his father, whom Mr. Hogg has described as a retired F.B.I. agent.

Mr. Hogg, the high school's student news director, has become a sensation among many liberals for his polished and compelling television interviews, in which he has called on lawmakers to enact tougher restrictions on guns. Just as quickly, Mr. Hogg attracted the disdain of right-wing provocateurs like The Gateway Pundit, a fringe website that gained prominence in 2016 for pushing conspiracies about voter fraud and Hillary Clinton

In written posts and YouTube videos — one of which had more than 100,000 views as of Tuesday night — Gateway Pundit has argued that Mr. Hogg had been coached on what to say during his interviews. The notion that Mr. Hogg is merely protecting his father dovetails with a broader right-wing trope, that liberal forces in the F.B.I. are trying to undermine President Trump and his pro-Second Amendment supporters.

Others offered more sweeping condemnations. Alex Jones, the conspiracy theorist behind the site Infowars, suggested that the mass shooting was a "false flag" orchestrated by anti-gun groups. Mr. Limbaugh, on his radio program, said of the student activists on Monday: "Everything they're doing is right out of the Democrat Party's various playbooks. It has the same enemies: the N.R.A. and guns."

By Tuesday, that argument had migrated to CNN. In an on-air appearance, Jack Kingston, a former United States representative from Georgia and a regular CNN commentator, asked, "Do we really think — and I say this sincerely — do we really think 17-year-olds on their own are going to plan a nationwide rally?" (He was quickly rebuked by the anchor Alyson Camerota.)

Conspiracies, wild and raw online, are often pasteurized on their way into the mainstream. A subtler version of the theory appeared Tuesday on the website of Bill O'Reilly, the ousted Fox News host. Mr. O'Reilly stopped short of saying the students had been planted by anti-Trump forces. But, he wrote: "The national press believes it is their job to destroy the Trump administration by any means necessary. So if the media has to use kids to do that, they'll use kids."

Some of those who have been spreading the conspiracies are facing consequences.

Benjamin Kelly, an aide to a Florida state representative, Shawn Harrison, emailed a Tampa Bay Times reporter on Tuesday accusing Mr. Hogg and a classmate, Emma Gonzalez, of being actors that travel to the sites of crises.

Mr. Kelly was soon fired.
The students also came under attack from Dinesh D'Souza, a conservative commentator and filmmaker who, at least nominally remains affiliated with National Review even though he hasn't had any articles published there in several years now. The attacks consisted of a series of Tweets late yesterday as the Florida House of Representatives voted down a series of resolutions related to a gun control measure while the students watched from the gallery. D'Souza used that as an opportunity to mock the students, suggesting that they ought to be getting summer jobs instead of engaging in political activism, celebrating a defeat of one gun control measure as a victory for "Adults," and claiming that the students were being manipulated by others in their moment of grief. D'Souza ended up apologizing for this outburst but nonetheless was uninvited from this week's Conservative Political Action Conference, which begins later this week at a hotel outside Washington, D.C.
To be fair, these conspiracy theories have largely been pushed by people on the fringes of the conservative movement. The blog Gateway Pundit, for example, has become something of a joke in the eyes of most of the mainstream conservatives that I know personally and through social media, and Alex Jones has always been part of the fringe far-right. Nonetheless, these conspiracy theories have been spreading through social media thanks in no small part to the fact that these students are advocating for gun control measures such as restrictions on so-called "assault weapons" and other measures that have been advanced since the tragedy in Florida, such as raising the age at which someone can buy a weapon to 21 for all weapons. Currently, that is largely an issue of state law and in Florida, that meant that the shooter could purchase the AR-15 he used in the shooting because he was over 18, but could not purchase a pistol or handgun because you have to be 21 in Florida to purchase a weapon like that. (This is a difference that, quite honestly, makes absolutely no sense but that's a topic for another post). Additionally, there have been many on the right who have at least suggested that the students are being exploited by media outlets with an anti-gun rights agenda.
All of this is, of course, pure nonsense.
There is no evidence that "the media" is using the Parkland shooting survivors for any "agenda," except in the minds of the same conservatives who have been ranting about "biased media" for years now while claiming that outlets like Fox "News" Channel, which is little more than a propaganda outfit for the Trump Administration at this point, is "fair and balanced." Nobody has been using these kids. They're the ones who have been using social media like Facebook, Snapchat, Instagram, and Twitter, to voice their opinions. They are the ones who have been staging demonstrations in their hometown outside the site of the shooting. They are the ones who boarded buses yesterday after attending funerals for their classmates and headed up to Tallahassee to talk to state legislators and have their voices heard. They are the ones who have been *choosing* to appear on television to share their frustration at the fact that yet another school shooting has taken place and that the President and the Republican Party that controls the legislature and the Governor's Mansion in Florida seemingly has nothing of substance to offer on how to combat a mass shooting epidemic that seems to reappear every six months or so like clockwork.
For the most part, these students are being attacked on grounds that have nothing to do with the merits of their argument. Instead, they are being told to shut up because they're too young to know what they're talking about. It's also worth noting that they are being attacked in some cases by the same people who regularly attack millennials for being lazy and addicted to technology. Now, they are being attacked for using that technology to speak out for obvious and completely understandable reasons over the fact that people in positions of power don't seem to care that yet another seventeen children are dead because of a mass shooting. Even speaking a someone who might disagree with some of the specific ideas that these students are putting forward, this all seems ridiculous. It's stupid, it's offensive, and most importantly it makes the people who do it appear as if they are incapable of rebutting the things these kids are advocating on the merits, including ideas such as expanding background checks that seem to me to be reasonable ideas worth discussing, so they just decide to attack the messenger instead.
Greg Sargent argues in The Washington Post,  that conservatives are afraid of these student activists because of what they potentially could portend for 2018 and future elections:
The American right is officially terrified of the students of Marjory Stoneman Douglas High School.

Those students, who rapidly turned themselves into activists and organizers after 17 of their fellow students and teachers were murdered at their school, have become the most visible face of this new phase of the gun debate, and conservatives are absolutely livid about it. As a consequence, they're desperately arguing not just that the students are wrong in their suggestions for how gun policy should be changed, but also that they shouldn't be speaking at all and ought to be ignored.

There are two critical reasons the right is having this reaction, one more obvious than the other. The plainer reason is that as people who were personally touched by gun violence and as young people — old enough to be informed and articulate but still children — the students make extremely sympathetic advocates, garnering attention and a respectful hearing for their views. The less obvious reason is that because of that status, the students take away the most critical tool conservatives use to win political arguments: the personal vilification of those who disagree with them.

Just to be clear, I'm not saying liberals don't often vilify their opponents, too. But that technique lies at the absolute core of the right's rhetoric, and you can tell by how conservatives react when it gets taken away from them.

So right now, conservatives are engaged in a two-pronged attempt to take it back. On the more extreme side, you have the social media trolls, the conspiracy theorists, the more repugnant media figures, who are offering insane claims that the students are paid agents of dark forces, and can therefore be ignored. On the more allegedly mainstream side, you have radio and television hosts who are saying that the students are naive and foolish, and should not by virtue of their victimhood be granted any special status — and can therefore be ignored.

(…)

[The idea behind the various personal attacks] is that if you can find some reason that their words aren't a pure expression of their feelings without any strategic intent behind it, then their testimony is no longer valid and need not be addressed substantively. So either they're just emotional and naive and therefore need not be listened to, or they're too savvy and strategic and therefore need not be listened to.

The truth is that in politics, people on every side try to find sympathetic spokespersons with personal stories that give them authority to speak on particular issues. More than 2000 years ago, Aristotle wrote that there are three modes of persuasion: logos (facts and logic), pathos (emotion) and ethos (the character and credibility of the speaker). While conservatives might complain that the Parkland students are using ethos and pathos to overwhelm logos, in fact it's their ethos that forces conservatives to argue on the basis of logos.

Once you rule out personal attacks, what's left is arguing substance. No one is going to criticize Tucker Carlson or anyone else for disagreeing with the students, for saying "Here's why the ban on AR-15s they're proposing is a bad idea." It's only personal attacks on the students, which we so often accept as just how politics gets done, that come off sounding so despicable.
As I said, these conspiracy theories are not coming from everyone on the right, and many conservatives have condemned and denounced the people and media outlets that have engaged in those attacks and spread those conspiracy theories. That being said, it does appear that the ideas have taken root among at least some segment of the right, and it's being reflected in the examples that Sargent cites in his column from sources such as former Republican Congressman Jack Kingston and Fox News host Tucker Carlson, both of whom have been engaged in spreading these nonsense theories. As I said, in doing so they just come across as incapable of being able to argue these ideas on the merits, and they just seem to guarantee that they will turn off those members of the public who are starting to notice that some people at least are engaging in "attack the messenger" politics rather than talking about how we can make events like what happened in Parkland, Florida much less common.