More Americans Support Gun Rights Than Gun Control, New Poll Finds
As the second anniversary of the massacre at Sandy Hook Elementary School approaches, a new poll finds that more Americans support gun rights than gun control.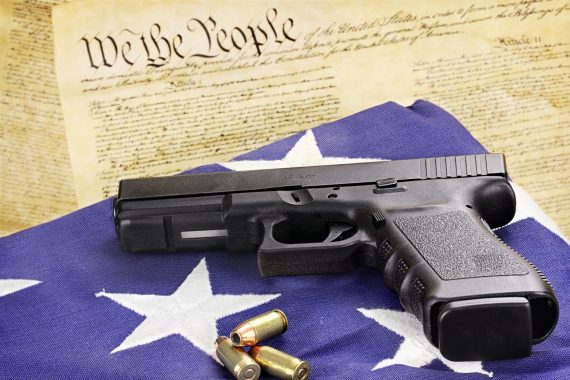 Sunday will mark the second anniversary of the shooting at Sandy Hook Elementary School in Newtown, Connecticut which resulted in the death of twenty schoolchildren and six children, as well as the death of Nancy Lanza in a shooting that occurred in the hours prior to the massacre and the suicide of the perpetrator, Adam Lanza. The shooting itself came near the end of period that began in January 2011 with the mass shooting at a shopping center in Tucson, Arizona that resulted in the death of six people and the near-fatal shooting of former Congresswoman Gabrielle Giffords, the shooting at a movie theater in Aurora, Colorado that resulted in the death of 12 and injuries to 70, and a shooting at a Sikh Temple in Oak Creek, Wisconsin that resulted in the death of seven.
In many ways, though, it was the massacre in Newtown that struck the deepest nerve with the American people, most likely both because it was the worst of the shootings that had occurred up to that point, and because it involved such young children. Polling in the wake of the massacre showed support for some forms of gun control legislation at their highest level in years, most especially an expansion of background checks for anyone purchasing a gun regardless of the nature of the transaction. Very quickly, though, it became apparent that this support was a mile wide and an inch deep in that, while there was broad support for gun control measures, most Americans did not consider gun control to be a high priority issue, meaning that it was unlikely to be something that influenced their choices at the ballot box. On the other hand, that same polling also showed that opponents of further gun control considered it a high priority issue that would definitely motivate them to go to the polls for or against a specific candidate. This disparity was confirmed by the fact that the failure of an effort in the Senate to expand Federal background checks had almost no political impact at all. By the time the six month anniversary rolled around, gun control had largely faded from the mind of the average voter as an issue, and when the one year anniversary came up last year, public opinion on the issue was largely back where it had been prior to the shootings in Newtown. More recently, a Gallup poll found that gun control had completely faded away as an issue that voters cared about.
Now, on the eve of the anniversary of one of America's worst mass shootings, a new Pew Research poll finds that more Americans support the right to own a gun than support gun control laws, a near complete reversal of where public opinion was in the immediate aftermath of Sandy Hook:
Two years after the mass school shooting in Newtown, Conn., a majority of Americans say it is more important to protect the right of Americans to own guns than for the government to limit access to firearms, a Pew Research Center survey conducted this month found.

The center said in a statement that it was the first time in two decades of its surveys on attitudes about firearms that a majority of Americans have expressed more support for gun ownership rights than for gun control.

Fifty-two percent of respondents said it was more important to protect gun ownership rights, while 46 percent said the priority should be controlled access to firearms.

In a 2000 Pew survey, 29 percent chose gun rights over gun control, and in a 2013 survey conducted a month after the Newtown shooting, 45 percent favored gun rights.

"To some extent, this is the continuation of a trend," said Jocelyn Kiley, associate director for research at the Pew Research Center. "It may be that Newtown stunted that trend to some extent."

On Dec. 14, 2012, Adam Lanza, 20, fatally shot 20 children and six adults at Sandy Hook Elementary School in Newtown before killing himself in one of the deadliest mass shootings in American history.

The Pew poll on firearms, conducted in early December, also found that African-Americans have become increasingly likely to believe that firearm ownership does more to protect people than it does to threaten an individual's safety, even as they continue to support gun control measures.

When asked in 2012, 29 percent of African-Americans said guns offered people protection rather than exposed them to greater danger, but in this year's survey, the number of African-Americans who viewed firearms as offering more personal safety nearly doubled to 54 percent.

By contrast, the views of whites who believe guns are more likely to provide personal protection have changed more modestly — rising to 62 percent this year from 54 percent in 2012, the poll found.

Overall, 57 percent of Americans said gun ownership was more helpful in protecting people from becoming victims of crime, while 38 percent said it does more to endanger one's safety.
Further details from the poll:
For the first time in more than two decades of Pew Research Center surveys, there is more support for gun rights than gun control. Currently, 52% say it is more important to protect the right of Americans to own guns, while 46% say it is more important to control gun ownership.

Support for gun rights has edged up from earlier this year, and marks a substantial shift in attitudes since shortly after the Newtown school shootings, which occurred two years ago this Sunday.

The balance of opinion favored gun control in the immediate aftermath of the Newtown tragedy in December 2012, and again a month later. Since January 2013, support for gun rights has increased seven percentage points – from 45% to 52% — while the share prioritizing gun control has fallen five points (from 51% to 46%).

The latest national survey by the Pew Research Center, conducted Dec. 3-7 among 1,507 adults, also finds a shift in attitudes about whether gun ownership in this country does more to protect people or put people's safety at risk. Nearly six-in-ten Americans (57%) say gun ownership does more to protect people from becoming victims of crime, while 38% say it does more to endanger personal safety. In the days after Newtown, 48% said guns do more to protect people and 37% said they placed people at risk.

Over the past two years, blacks' views on this measure have changed dramatically. Currently, 54% of blacks say gun ownership does more to protect people than endanger personal safety, nearly double the percentage saying this in December 2012 (29%). By contrast, whites' views have shown less change: 62% now view guns as doing more to protect people, up from 54% in December

Partisan differences on this question, already sizeable in 2012, have widened over the last two years. As was the case in December 2012, a majority of Democrats (60%) say guns do more to put people's safety at risk, while only about a third (35%) say they do more to protect people from becoming crime victims. By contrast, eight-in-ten Republicans say guns do more to protect people from becoming crime victims, up 17-points from 2012.
This chart demonstrates fairly clearly how public opinion on the gun rights vs. gun control question has changed over time: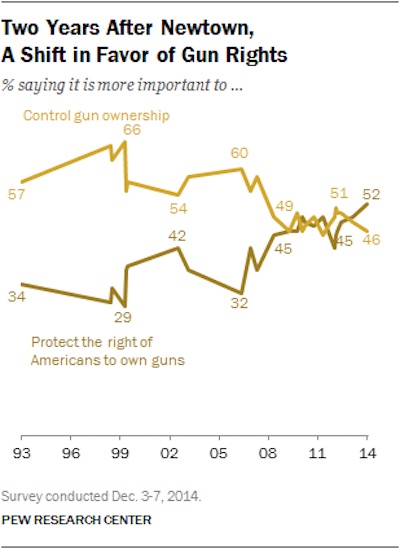 And this one shows the interesting demographic breakdowns on the question: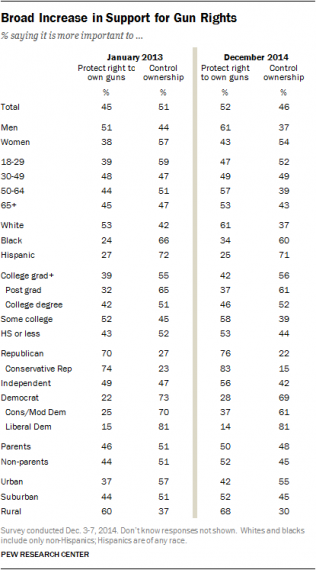 The most interesting thing about these numbers, of course, is both the extent to which support for gun rights now exceeds support for the general idea of increased gun control, something that we haven't really seen very much outside of particular demographic subgroups. Outside of the fact that mass shootings have not been in the news as much as they were in the two year period between the Gabby Giffords shooting and the Sandy Hook massacre, I'm not exactly sure what to ascribe this to. After all, it isn't as though the topic of gun rights per se has been one that has been at the forefront of public discussion during the past year or more, and there's no indication from other polling that Americans are coming to see rising crime rates as a problem, mostly because crime rates aren't really rising. Even more interesting is the number for African-Americans, which is a community where we've seen widespread support for gun rights in the past. Whether this is attributable to the fact that there do remain problems with gun violence from gangs in many African-American communities is unclear, but it's certainly one theory that's worth considering. Like most polling on this issue, the Pew Poll does not really try to delve into the reasons behind the changing numbers, so any theories on that issue would simply be guessing. Additionally, and also like most polling on this issue, Pews does not attempt to gauge the intensity of public opinion on either gun rights or control. However, if prior polling is any guide then it's likely that we'd find that this remains a low priority issue for most Americans, which is something that advocates of both gun rights and gun control ought to keep in mind when looking at poll results such as this. What is clear, though, is that two years after one of the most horrific mass shootings in American history, the event itself has meant basically nothing to the debate over guns in the United States. As I've pointed out in previous posts on this issue, though, that's entirely unsurprising if one had paid attention to what the polls were actually telling us about what Americans thought about the issue.
The reaction from advocates on both sides of the issue are about what you'd expect. Ed Morrissey  is correct, for example, when he notes that this is likely not very good news for activists on the gun control side of the ledger such as former New York Mayor Michael Bloomberg and former Congresswoman Giffords, both of whom have invested much, in different ways, in advocating for increased gun control and, mostly unsuccessfully, supporting candidates for office who agreed with their position. I think Morrissey gets in wrong, though, when he argues that there was overreach on their part, especially when you consider the fact that, on the national level, the one piece of legislation that actually made it to a vote was a background check bill that had overwhelming public support but still could not get past the Senate's 60 vote requirement, and most likely would not have passed the House if it had. Yes, there has been more aggressive legislation enacted in some states, but that has largely happened in deep blue states like New York, Connecticut, and California where there was broad public and political support for the respective measures that were passed. I wouldn't necessarily call that overreaching.
On the other side of the argument, Ian Millheiser, meanwhile, seems to fail to understand the political reality of the debate:
The poll is consistent with a trend that can be observed across many polls, and, indeed, across other examinations of American political sentiment as well. As political scientists Matt Grossmann and David Hopkins explain, "the American electorate is symbolically conservative and operationally liberal." When asked broad philosophical questions, most Americans align with conservative views about smaller government. Yet when asked about whether they support specific policies, the very same voters endorse liberal programs and regulations. Indeed, according to Grossmann and Hopkins, "[a] majority of the American public simultaneously endorses liberal positions on most specific policy issues while favoring conservative views on more general questions concerning the proper size and role of government."

This dynamic plays out on issues of gun policy. Though there is little reason to doubt Pew's finding that, at a high level of abstraction, Americans prefer robust protections for gun rights, other polls show overwhelming support for the actual gun regulations proposed by President Obama and his allies. Last July, a poll found that 92 percent of voters, including 92 percent of gun owners, support background checks for all gun sales. Yet the same polls also found that only 50 percent of the exact same respondents support "stricter gun control laws."

Other specific proposals for additional gun regulation also enjoy robust support. Last January, for example, the conservative Rasmussen poll determined that "59% of Likely U.S. Voters think there should be a ban on the purchase of semi-automatic and assault-type weapons." At 2013 poll found that "63 percent support a ban on high-capacity magazines and 53 percent back a ban on semi-automatic weapons."
What Millheiser misses, of course, is the intensity issue I've mentioned before. Even if it's true that Americans have a higher level of support for some of the specific gun control proposals that he mentions than the Pew question on the general question of "gun control" would suggest, polling has also shown that these are issues that voters do not place I high level of priority on, meaning that this is not the kind of issue that effective national campaigns can typically be built around. It also means that the people are going to be more open to discussions about the right to keep and bear arms than the numbers that Millheiser cites would suggest that they would be. Again, this doesn't mean that all of these people are going to go out and become NRA members or start voting Republican, but it does mean that voters as a whole are unlikely to be persuaded by calls for more draconian gun control over a sustained period of time. That may change some day, but the fact that public opinion has shifted so dramatically this quickly after an event that, unlike any other, seemed most likely to be the one that gave momentum to the gun control movement, suggests that this is incredibly unlikely.