The N.R.A.'s Bizarre Response To The Sandy Hook Shootings
The NRA's response to the Sandy Hook shootings was bizarre to say the least.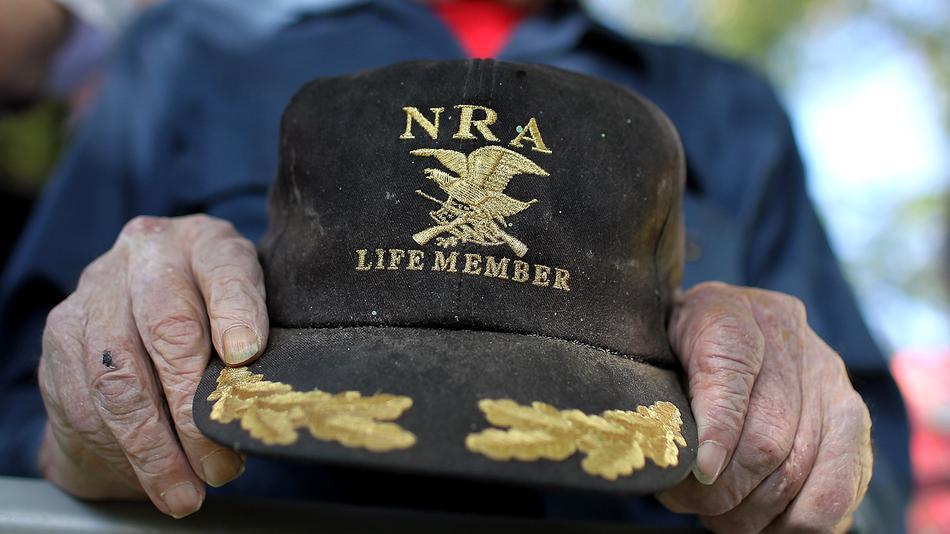 After a week of silence in the wake of the shootings in Newtown, Connecticut, National Rife Association Vice-President Wayne LaPierre held a press conference this morning that had been billed as a forum for presenting their position on how to respond to mass shootings in the wake of last weeks tragedy. Actually it's unfair to call it a press conference because, although there were three speakers — LaPierre, David Keene, and former Congresman Asa Hutchinson — the press was not permitted to ask any questions at all. Twice during the event, LaPierre was interrupted by protesters who appears to be from Code Pink ridiculously accusing the NRA of being responsible for the deaths of children. However, it was the event itself that proved to be the truly bizarre event:
WASHINGTON — After a weeklong silence since the Connecticut school shootings, the National Rifle Association on Friday called for a program to arm and train guards in schools as the best way to protect children from gun violence. The group blamed video games, the news media and lax law enforcement – but not guns – for a recent rash of mass shootings.

It offered no new proposals to restrict firearms.

"The only thing that stops a bad guy with a gun is a good guy with a gun," said Wayne LaPierre, the N.R.A.'s vice president, at a packed media event was interrupted twice by protesters demanding tougher gun controls.

Angry and combative, Mr. LaPierre, who has led the N.R.A.'s operations for two decades, complained that the news media had unfairly "demonized gun owners," and he called the makers of violent video games "a callous, corrupt and corrupting shadow industry that sells, and sows, violence against its own people."

Shock over the Connecticut shootings has spurred wide calls for tighter gun control measures, with even some pro-gun lawmakers aligned with the N.R.A. saying that they were rethinking their positions. With the N.R.A. unusually quiet since the shootings, gun control supporters and opponents had looked to Friday's event as a sign of how the nation's largest and best-known gun lobby would respond and whether it would pledge cooperation with the White House and lawmakers seeking new actions.

Mr. LaPierre's defiant tone suggested otherwise. N.R.A. leaders took no questions, ignoring reporters who called out to ask Mr. LaPierre and David Keene, the group's president, whether they planned to work with President Obama.

The N.R.A.'s main answer to school violence was a model program it unveiled called National School Shield, which would train and arm security guards at schools in those local districts that want to use it.

The group named Asa Hutchinson, a former Arkansas congressman and a strong supporter of the N.R.A., to lead a task force financed by the N.R.A. in developing details for the model.

"Assurance of school safety must be restored with a sense of urgency," Mr. Hutchinson said. The gun group called for schools to arm their security officers immediately.

The idea is not a completely new one. The federal government and local districts have developed programs meant to bolster security at schools — with varying models and mixed results — and the N.R.A. itself has developed safety programs for children and schools in the past and suggested armed guards.

This time, Mr. LaPierre said the N.R.A. would dedicate its resources and expertise to developing the new safety program that he had announced. He did not say how much money it planned to spend on the effort.

He said that armed security guards at Sandy Hook Elementary School in Newtown, Conn., on Dec. 14 might have stopped the gunman, Adam Lanza, at the outset of his rampage. "Will you at least admit," Mr. LaPierre said, appealing directly to members of the news media who he said had been unduly skeptical of the N.R.A., "that 26 innocent lives might have been spared that day?"

He added, "The only way — the only way — to stop a monster from killing our kids is to be personally involved and invested in a plan of absolute protection."

"Why is the idea of a gun good when it's used to protect the president of our country or our police but bad when it's used to protect our children in our schools?" he asked. "They're our kids. They're our responsibility. And it's not just our duty to protect them; it's our right to protect them."

Gun-free school zones identified by signs, he said, serve only to "tell every insane killer in America that schools are the safest place to effect maximum mayhem with minimum risk."
Before getting to the merits of LaPierre's statement, I've got to say that the tone of the entire event and the defiance that it displayed in light of calls from many circles, including some Republicans, for a reexamination of the nation's gun laws was really quite bizarre. La Pierre has never been an very effective spokesperson for his organizations cause, but his performance today bordered on being disastrous. It was as if the shootings in Newtown hadn't occurred at all and he was simply repeating the same policy positions the organization has been taking for years now. I'm not suggesting that the NRA has to change its positions because of what happened in Newtown, however it seemed pretty clear to me that whoever it is that worked on the messaging for this event has no conception at all of how the political landscape regarding the gun control debate changed at 9:30 last Friday morning. If they did, they would have not sent LaPierre out there with the message that he presented.
Many people on the right had a similar negative reaction to today's event. Consider, for example, this from Jonathan Tobin at Commentary:
The substance as well as the tone of his remarks appalled many reporters and media figures, who started sniping at LaPierre on Twitter. But there was nothing wrong with advocating for more armed security guards at schools. He happened to be right when he said the only thing that can stop a "bad guy" with a gun was a good guy with one. But his trenchant observation that gun-free school zones are open invitations to armed lunatics came out as sounding as if those who proposed such areas had the blood of the children of Newtown on their hands. That seemed of a piece with the smears shouted by Code Pink members who attempted to disrupt the presser by shouting that the NRA was guilty of killing children. Doing so distracted attention from what could be a reasonable proposal.

LaPierre's attempt to pivot the discussion away from guns to video games was equally disingenuous. The prevalence of violence in our popular culture is a real problem, but it ill behooves a group founded on a belief that the Second Amendment must be preserved at all costs to take stands that sounded as if it was willing to hypocritically sacrifice the First with its protection of free speech.

The same applies to their talk about a national registry of mentally ill persons. Incidents like Newtown are more the product of mental illness than inadequate gun legislation, but the NRA seemed to be advocating exactly the sort of Big Brother government measure that it would fight to do the death where it to be applied to weapons.

What was needed from the NRA was a signal that it was prepared to react to the outrage about Newtown with reasoned suggestions about keeping any guns out of the hands of people like Adam Lanza. Instead, it sallied forth with its usual arguments about why any form of gun control or legislation, no matter how reasonable, must be rejected out of hand. That may have been what many of its 4 million members wanted but it was not the thing to say only 90 minutes after a national minute of silence exactly one week after Newtown.
Tobin is largely correct here. This press conference, or whatever it is you want to call it, may have been appealing to the membership of the National Rifle Association, but I suspect it has done serious damage to the cause of gun rights as a whole, at least in the short term. It isn't over yet, either. LaPierre is scheduled to appear on at least two Sunday morning talk shows and, this time, he won't be able to dodge questions.
Chris Cillizza pushes back against the negative reaction to some extent by arguing that the NRA's response indicates that there isn't likely to be a sea change on national gun control policy any time soon:
[W]hat LaPierre's press conference did is make clear that those who had begun to call the Newtown shooting a tipping point in the gun control debate may have to rethink that assessment.

While polling suggests that there has been some reversal in the broad trend against more gun laws, the reality is that any measure has to make it through Congress. And LaPierre sent a very firm signal today to all members of the House and Senate: Now is not the time to further tighten gun laws, it's a time to arm those charged with protecting our children. Such a stance makes any attempt to pass something like the assault weapons ban that much more difficult for President Obama and gun control advocates in the House and Senate.

What could change that calculus?  A sustained movement in public opinion regarding the role of guns — and gun rights — in our society. That's possible. But, while the NRA's critics were quick to lambast LaPierre's press conference as a PR disaster, it could also be true that many supporters of the organization (and gun rights more generally) saw it as a victory, a decision to stand up in the face of an onslaught of what they believe to be unfair scapegoating.
Cillizza may be right. The polling on gun control even in the wake of the Sandy Hook shootings shows only small majorities favoring new legislation, which is basically where things were before last Friday. Additionally, while the shootings have energized that segment of the public that favors more gun control, there is going to come a time in this debate, if we actually have it, where the substantial and vocal proponents of the right to keep and bear arms will also begin having its say. Joe Manchin, who was among the first Senator's with a pro-gun rights record to say he was willing to consider new legislation is already appearing to walk those comments back. So it's entirely possible that any momentum for new gun laws that has been created by the tragedy in Newtown will in the end be blunted by the voices of citizens who oppose such laws.  However, if that happens, it won't be because the NRA was the voice of the opposition.
As for the merits of the idea of putting armed guards in public schools, this isn't of course a new idea. Many of the nation's schools — mostly at the Middle School and High School level — have security guards of some kind whether they consist of employees of the school itself or police officers assigned to the school itself. For the most part, one cannot gain access to a school after the school day has started without being let in by an employee. Many schools in large American cities also have entrances that are guarded, some of them with magnetometers and X-Ray machines that all people who enter the building must go through. Most elementary schools, even in major cities, do not have this level of security, and I have to wonder if it's really a good idea to impose this requirements on every school in the country. For one thing, this is a policy prescription that comes at a certain cost. In addition to the costs that would have to be incurred for training, salaries, and benefits, there's also the question of liability insurance to cover the possibility that one of these security guards might do something wrong and the question of just how far we want to go in encasing yet another one of our societal institutions in a security bubble. Additionally, while acknowledging the utter tragedy of Newtown, one must also recognize that shootings of these types are exceedingly rare. Do we really want to base national policy on events that don't happen very often? I'm not so sure about that.
Of course, the NRA isn't the only organization calling for increased security in America's schools. California Senator Barbara Boxer, who I am quite sure is not a member of the National Rifle Association, has an even more radical proposal:
(WASHINGTON) — Sen. Barbara Boxer, D-Calif., proposed using National Guard troops to help make schools across the nation safer and avoid another shooting like last week at Sandy Hook.

"Three hundred million weapons are out there, nothing I know is going to change that. And in the meantime we better — we darn better — keep our kids safe," Sen. Boxer said at a press conference on Capitol Hill Wednesday. "And if we avoid looking at that question I think we are failing."

The Save Our Schools Act (SOS) would allow the federal government to reimburse Governors who want to use National Guard troops in schools and is modeled after the National Guard program that allows governors to use the Guard to assist with law enforcement efforts related to drug interdiction activities.

"So we take a successful program and we say we're going to add a new purpose," Boxer said. "National guard troops could be used to help support local law enforcement agencies in protecting our children at schools."
Yes, that will solve all our problems, let's militarize the schools.
To some extent, all the ideas we're seeing right now are based more on an emotional response to an immense tragedy rather than a rational response to a perceived problem. It's understandable, but it's not the way public policy should be made. As for the NRA, the only thing they accomplished today was to make themselves even more irrelevant to this debate.