Majority Of Americans Say Guns Make Homes Safer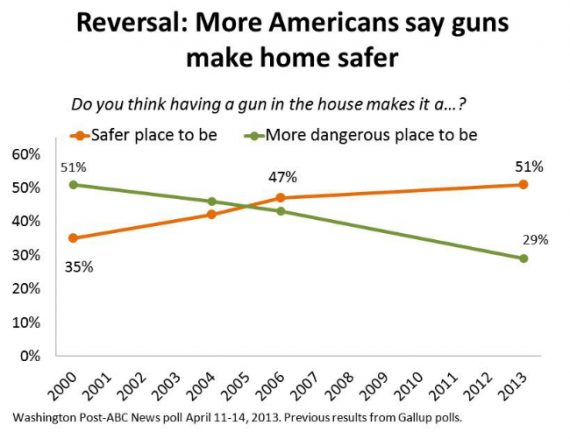 In another sign of the difficulties that the gun control movement faces politically, a new poll shows that a majority of Americans accept one of the central premises of the gun rights movement:
Lost amid the debate is the fact that for the first time a majority of Americans say having a gun in the household makes it a safer place to be, according to a new Washington Post-ABC News poll. By a wide 51 to 29 percent margin, more people say a gun in the house makes it safer rather than more dangerous.

That's a near complete reversal from a Gallup poll in 2000, when the public split 35 to 51 percent on whether guns make the home safer  or more dangerous.

People with guns in their homes lead the way in touting the safety benefits: 75 percent say they make the house safer, compared with just 30 percent of those with no gun at home who say the same.

Those who think guns make the home safer prioritize gun rights over new gun laws by 2 to 1. But for those who think guns make the home more dangerous overwhelmingly prioritize new laws to limit gun violence over protecting gun rights, by 82 to 12 percent.
As the chart above demonstrates, there has been a marked changes of opinion about guns over the past thirteen years and, notwithstanding the polls that show strong support for measures like background checks, I think this is yet another factor that demonstrates why it has become so difficult for gun control advocates to move their agenda forward at the national level.