Two New Polls Provide Another Dose Of Political Reality For Gun Control Advocates
Two new polls show that political efforts to enact more stringent gun control at the national level are not likely to succeed.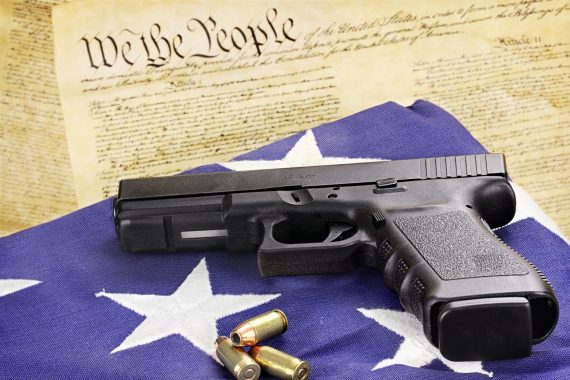 Adding yet another wrinkle to the debate about gun rights and gun control in the United States, a new series of polls shows that public opinion in the United States on gun-related issues indicates yet again just how difficult it would be for gun control advocates to get most of the ideas that they are advocating passed at the national level.
First up, there's a new Gallup poll shows that a majority of Americans believe that allowing more people carry concealed weapons would help increase safety:
A majority of Americans, 56%, believe that if more Americans carried concealed weapons after passing a criminal background check and training course, the country would be safer.

These results are from Gallup's annual Crime poll conducted Oct. 7-11. In the wake of mass shootings at schools and other public places, some have argued that the shootings could have been stopped if any of the victims had carried weapons. Others argue that having more citizens carrying weapons can lead to more violence and accidental shooting.

Most states have some sort of permitting process allowing the carrying of concealed weapons, but the requirements and procedures to carry weapons vary significantly by state. The Gallup question did not get into detail on specific requirements other than mentioning that the person with the concealed weapon would have to pass a criminal background check and training course.

Among key subgroups, Democrats and those with postgraduate education are least likely to believe that more concealed weapons would make the U.S. safer. Republicans and gun owners are most likely to say it would make the nation safer. Younger Americans are more likely to choose the "safer" option than those aged 30 and above.
Related to the Gallup poll on concealed weapons, a new CNN/ORC poll shows that opposition to at least some forms of gun control has actually increased in the wake of the most recent mass shootings:
About half of all Americans oppose stricter gun control laws, a larger segment of the population than those who support tighter controls on guns, according to a new CNN/ORC poll released Wednesday.
Nearly three weeks after the latest mass shooting claimed the lives of nine people, 52% of Americans now oppose stricter gun control laws, 6 percentage points more than the 46% of Americans who support such laws. That's a wider gap than in June when CNN last surveyed Americans on gun control, finding that the public was equally split at 49% on the issue.

The advantage of those opposed to stricter gun control laws over those in favor is outside of the poll's 3-point margin of error.

But the issue of whether guns can make the public safer remains deeply divisive. Americans are nearly equally split between whether guns in public places make those places safer, less safe or don't make a difference.
Despite those divisions, most say that nationwide gun laws should only be changed with the support of most Americans and most gun owners.

About seven in 10 Americans believe it is important for most Americans to support proposed changes to gun laws before those changes are implemented. And 61% said the same of gun owners.

About half of Americans said it is important for both parties to come to a consensus before making any changes to existing gun laws.

Other polls have shown that an overwhelming majority of Americans support expanding background checks to private sales and sales at gun shows, where people can buy guns without undergoing a background check.
As Gallup notes, concealed carry of weapons has been a fast moving political issue in the United States over the past several years. In a short period of time, many states around the country have liberalized their laws setting forth the requirements under which people are legally permitted to carry a concealed weapon in public. In some states, residents are still required to go through an application process that requires them to provide at least some justification for why they feel the need to carry a weapon on their person on a regular basis, or to go through some kind of gun safety education class on the proper way to handle weapons in public. The laws in many of these states, such as New York, Illinois, and California, have been challenged in Court in the wake of the the Supreme Court's rulings in D.C. v. Heller and McDonald v. Chicago, and in a few of those cases there have been adverse rulings against the laws from Circuit Courts of Appeal. In other states, and most predominantly in the South and the West, the right to carry a concealed is far easier, often as simple as applying for a permit that involves a background check and identity verification that provide that the state "shall issue" a permit unless one of a limited number of exceptions apply. Many states also have restrictions about areas where weapons cannot be carried, such as churches, schools, government and other secured buildings, and as a general rule private property owners are always free to impose their own policies regarding the carrying of weapons on their property. To add an additional wrinkle to the issue, there are many states that allow people to carry some weapons openly, again with some restrictions as to where and when they could carry these weapons.
Perhaps more than any other issue, this issue about the carrying of weapons in public has become the center of many of the heated debates that have erupted in the wake of shooting incidents that have made national news. In each case, advocates of gun rights have argued that tragedy could have possibly been averted had someone in the area been armed, or that the shooting may have prevented simply because the shooter may have feared facing armed resistance. Advocates of gun control, on the other hand, argue that there's no evidence that allowing the concealed carry of weapons can prevent such incidents and that it is more likely to lead to tragedy and mistakes. Both sides will cite anecdotal evidence in their favor, with gun rights advocates citing reports of incidents where an armed citizen prevented crime and opponents pointing to the evidence of errors and mistakes, such as those that Steven Taylor has highlighted here at OTB recent, here, here, and here.
What this poll shows us, though, is that these laws allowing people to carry concealed weapons are popular because people believe that they make them safer. On some level, of course, it's an understandable attitude. Human beings have a natural desire to want to defend themselves from danger, and the truth of the matter is that police are not going to be much of an immediate defense to crime except in the limited and rate circumstances where there just happens to be an officer nearby when a crime is taking place. Additionally, the fact that we live in an era where people not only live in dangerous neighborhoods but find themselves victimized by stalkers, abusive husbands or boyfriends, and other circumstances. It's not surprising to see that people want to feel safer, and that they would want to have to right to defend themselves. Indeed, that innate human right to self-defense is what lies at the core of the Supreme Court's ruling in D.C. v. Heller and the Court's ruling that, at the very least, the Second Amendment prevents the government from placing unreasonable limitations on the ability of citizens to acquire the means to defend themselves.
Both the Gallup poll and the CNN/ORC poll get straight to the point that I made in my post on Monday, and that I've made many times before regarding the nature of the gun control debate in the United States. There is polling that indicates that Americans support some additional restrictions or regulations on gun ownership, such as an expansion of the current background check system to cover private sales and to better account for people who have been diagnosed as dangerously mentally ill. However, these same polls also show that gun control is largely a low-priority issue for voters, which means that legislators will likely not pay much of a political price for opposing even those ideas that the public broadly supports. In addition to that, though, these polls show that beyond seemingly simple things like background checks, the American public as a whole remains deeply skeptical of broader gun control measures and are sympathetic to the idea that people ought to have access to the weapons necessary to defend themselves if they want those weapons. As long as that's the case, then neither President Obama's empty rhetoric on guns nor Hillary Clinton's proposed gun control measures, including her purported sympathy for Australian-style mandatory buyback programs, are going to amount to much of anything. Perhaps this will be different if public attitudes change, but as many have said if tragedies like the Aurora movie theater shootings and the Sandy Hook shootings weren't going to mark a sea change in public opinion on this issue. and it's clear that they did not, then it's unlikely anything in the foreseeable future will. For better or worse, gun rights are a part of the American way of life, and gun control advocates won't accomplish anything by refusing to acknowledge reality or by insulting the people who disagree with them, which seems to be the primary response that comes once reality is made clear to them.