President Obama's Empty Rhetoric On Guns
In the wake of yesterday's shootings in Oregon, President Obama took the airwaves to offer the same empty rhetoric he has on this issue in the past, and to make the false claim that there are simple solutions to what is a very complex problem.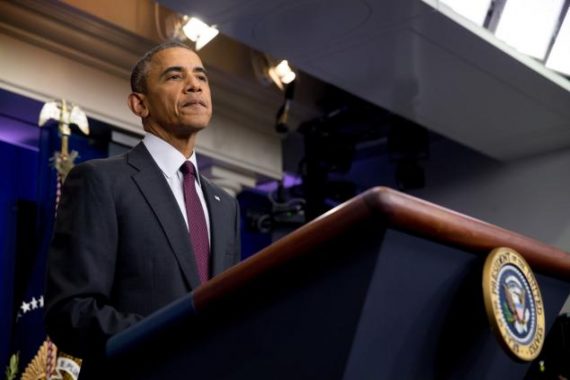 Within hours after the news of yesterday's campus shooting in southern Oregon had hit the news, and before we knew very many details about what happened, who committed the crime, how he was able to do it, or what may have motivated him, President Obama took to the lectern in the White House Briefing Room to give a statement that he's given many times before since taking office:
WASHINGTON — President Obama's rage about gun massacres, building for years, spilled out Thursday night as he acknowledged his own powerlessness to prevent another tragedy and pleaded with voters to force change themselves.

"So tonight, as those of us who are lucky enough to hug our kids a little closer are thinking about the families who aren't so fortunate," the president said in the James S. Brady Press Briefing Room, named for a man severely wounded by a would-be assassin's bullet, "I'd ask the American people to think about how they can get our government to change these laws, and to save these lives and let these people grow up."

Mr. Obama admitted that he was unable to do anything to prevent such tragedies by himself. And he did little to try to hide the anger and frustration that have deepened as he returns again and again to the White House lectern in the wake of a deadly mass shooting.

Mr. Obama took a veiled swipe at the National Rifle Association, which has successfully fought most limits on gun use and manufacture and has pushed through legislation in many states making gun ownership far easier. "And I would particularly ask America's gun owners who are using those guns properly, safely, to hunt for sport, for protecting their families, to think about whether your views are being properly represented by the organization that suggests it is speaking for you," he said.

Andrew Arulanandam, a spokesman for the N.R.A., declined to respond to Mr. Obama, saying that it was the organization's policy "not to comment until all the facts are known." Wayne LaPierre, the organization's executive vice president, declared after the school shootings in Newtown, Conn., "The only thing that stops a bad guy with a gun is a good guy with a gun."

On Thursday night, Mr. Obama said that given the frequency of mass shootings, people had "become numb to this."

"And what's become routine, of course, is the response of those who oppose any kind of common-sense gun legislation," Mr. Obama said. "Right now, I can imagine the press releases being cranked out. 'We need more guns,' they'll argue. 'Fewer gun-safety laws.' "

"Does anybody really believe that?" he asked, his voice rising.

(…)

[W]hat was different this time was that the president did not announce any new initiative or effort to fix the problem. Instead, he pointed out that there is "a gun for roughly every man, woman and child in America. So how can you with a straight face make the argument that more guns will make us safer?"

States and countries that have gun limits have far fewer gun deaths than those that do not, he said. "So we know there are ways to prevent it," he said.

He pointed out that the government responds to mine disasters by insisting on safer mines, to weather disasters by improving community safety, and to highway deaths by fixing roads and insisting that drivers wear seatbelts.

But guns are seen as so different that Congress has forbidden the federal government even to collect certain statistics, he said. He rejected the notion that the Constitution forbids even modest regulation of deadly weapons.

He also asked news organizations to tally the number of Americans killed by terrorist attacks over the last 10 years and compare that with the number killed by domestic gun violence. And he implicitly compared the trillions of dollars spent and multiple agencies devoted to preventing the relatively few terrorism deaths with the minimal effort and money spent to prevent the far greater number of gun deaths.

And then he challenged voters to make gun safety a priority.

"If you think this is a problem, then you should expect your elected officials to reflect your views," he said.
Here's the video of the President's speech:
None of this is unfamiliar rhetoric from the President, of course. Most recently, we heard it in response to the shootings earlier this year in Charleston, South Carolina that left nine people dead in the basement of an historic African-American church. Before that, the President said similar things after the Phoenix, Arizona shooting that injured former Congresswoman Gabrielle Giffords, the mass shooting at a movie theater in Aurora, Colorado, the shooting at a Sikh Temple in Wisconsin, and of course, the shootings in Newtown, Connecticut that resulted in the death of 20 schoolchildren. It was only in the wake of the Newtown shooting, though, that it seemed like there was any real possibility of the kind of political momentum that could lead to the passage of new gun laws on the national level. Polling in the aftermath of that shooting showed that the public was more receptive to some forms of gun control than it had been in the past, especially expanded background checks that would cover areas outside the scope of current laws such as private sales. As we saw, though, that political momentum was short-lived indeed and, just four months after the attacks, the Senate was unable to pass even an expanded background check bill. While some states, most notably New York and Connecticut which are firmly under Democratic Party control, were able to pass additional gun regulations, by the time we reached the one year anniversary of the Sandy Hook shootings public opinion on gun control had returned to its historic norms, meaning that it was largely a low-priority issue for voters except for those highly motivated on either side of the issue, and even then the people most highly motivated are those most supportive of gun rights.
It's possible that this latest shooting, and President Obama's words yesterday will have a different impact than those incidents in the past and that we'll see some real movement on the gun rights issue, but for many reasons it simply isn't likely. The most immediate reason for that, of course, is the fact that we're headed into an election season that will include not just the race for President, but also the entire House of Representatives, one-third of the Senate, and numerous state legislatures and Governor's Mansions. Under those circumstances, neither side is going to want to actually move forward on legislation for political reasons. For Republicans, of course, the reluctance is rooted in the fact that a significant part of their electorate is supportive of gun rights and highly skeptical of any laws designed to restrict them. Democrats, meanwhile, have a base that is supportive of gun control generally but also want to appeal to independent voters that have more mixed views on gun control. For both parties, it makes much more sense to use the gun control issue as a cudgel to motivate their respective bases than to actually do anything constructive. For these reasons, and because that segment of voters that generally favors something vaguely defined as "gun control" but isn't very passionate about this issue, I wouldn't expect anything to be done in the wake of this shooting other than much of the same old rhetoric from both sides, which is basically what we got from the President last night.
Even if it were politically possible to do "something," and President Obama never did specify exactly what he thinks should be done, though, it's not at all clear that anything he proposes would be effective. Background checks didn't stop Dylann Roof from buying the handgun that he used to kill nine people in Charleston in June, for example, and they didn't stop Adam Lanza from taking the guns his mother had purchased even though it was illegal for someone his age to even own a gun Connecticut in 2012. One could perhaps make an argument that better mental health screening could have prevented James Holmes, Seung-Hui Choi, or Jared Lee Loughner from getting being able to buy a gun, admittedly. However, as I've noted before, expanding restrictions on gun ownership based on a person's mental health status raises serious medical privacy, individual liberty, due process questions as well as the risk that people who need help won't get it because of the fear that they will be reported to the state. As Brian Doherty notes, Obama's rhetoric last night was largely empty:
Obama is undoubtedly overreaching beyond the facts when he speaks over and over about how apparently easy and simple gun-safety laws would have prevented this, or future tragedies like this.

He doesn't, even in this very long speech, get down to a single specific or even a hint of a specific about exactly what new laws he wants that would have prevented this from happening. Maybe because he was politically savvy enough to realize that whenever we do know, someone could point out that, well, that law you suggest wouldn't have actually stopped this.

I don't know what law could have stopped this from happening, and thus cannot argue in good faith that none could. But neither does Obama know, yet he felt it appropriate to take to the bully pulpit and play on our national grief with vague talk about laws that could change this, when he has no idea if it's true.

He never mentioned anything about the Second Amendment or the fact that one of the problems with restricting access to guns in a manner other countries do is that we have that Amendment. Guns are a legally special item in the United States, for good reasons. Discussing them as if they were any other random safety issue misses the key point in why guns are such a politically contentious issue.

He spells out how many guns there are in this country, and that is an important part of the issue. Because you can't make those guns disappear. By making such a vague speech, refusing to acknowledge the Second Amendment exists, and making it clear that in some senses he thinks the problem is the sheer fact that there are so many guns, he certainly gives reason for Second Amendment advocates to mistrust his intentions.

Obama carefully included self-defense as one of those legitimate reasons law abiding citizens might have a gun.

But the sad fact is that one can or might be a perfectly law abiding gun owner, until the moment you use it to murder someone for no reason. That is, laws that would not bedevil "law abiding gun owners" in most cases won't bedevil even evil shooters.

Obama acts as if the question of how to stop things like this from happening is easy. It's not, which is why this speech contained so few specifics.
Jacob Sullum also notes that Obama's appeal for "common sense" laws is basically meaningless rhetoric:
Obama did not mention a single specific policy fitting that description.

That telling omission makes it pretty hard to buy Obama's argument that anyone who opposes "common-sense gun-safety laws" has blood on his hands. "This is a political choice that we make to allow this to happen every few months in America," he said. "We collectively are answerable to those families who lose their loved ones because of our inaction." If only we had done something, in other words, those people in Oregon would still be alive. But we are left to guess what that thing might be.

Obama did offer some clues. "It cannot be this easy for somebody who wants to inflict harm on other people to get his or her hands on a gun," he said. So presumably the "common-sense gun legislation" he supports has something to do with making it harder for would-be mass murderers to obtain firearms. The problem is that would-be mass murderers look a lot like "law-abiding gun owners" until they commit their crimes (because that is what they are), and any effort to distinguish between the two groups is bound to be underinclusive, missing seemingly harmless people with murder in their hearts, or overinclusive, depriving actually harmless people of their constitutional rights. Probably it will be both.
Perhaps the best example of how empty this rhetoric is, though, came this morning when National Review's Charles C.W. Cooke asked Mark Halperin or others exactly what they are proposing that would prevent mass shootings like this:
"Joe Biden doesn't know how to fix this problem. I don't know how to fix this problem. I think it's fair to say you don't know how to fix this problem. It's a very complex question in a country with 300 to 350 million guns on the street," Cooke said. "The way they talk is as if they have the answer and there are these recalcitrant forces in the country that say 'no, no, no,' even though deep down they know their legislation will work. That's simply not the case. It's far more complicated than that."

Halperin took issue with Cooke's statement. He argued with Cooke's attitude of simply labeling the issue as complicated and identifying what will not work. Instead, Halperin wanted leaders to "have a thirst and hunger and passion to try to come up with solutions."

When further pressed by Cooke to offer his plan, Halperin explained he's "not an expert in the field."
We can agree that mass shootings like this are a problem, but the empty rhetoric that the President offered last night, as well as other appeals for "common sense" legislation is essentially meaningless. Even if these laws could be passed, which is highly unlikely, and even if they could survive challenges in court, which isn't at all clear, there's no evidence at all that any of them will actually do anything to address what we can all agree is a problem. James Joyner noted this here at OTB in a post in the wake of the Charleston shootings. The advocates for more control, though, won't acknowledge this. They'll say that those of us who question the efficacy of these proposed laws, or who recognize the fact that the Second Amendment protects an individual right to gun ownership subject to some reasonable regulations, have "blood on our hands." That's not an argument, though, that's just empty rhetoric that doesn't address the reality of the situation. As long as that's all we have in the way of proposals, we're not going to accomplish anything.