Of Course the Pope is Political
When did "politics" become a dirty word?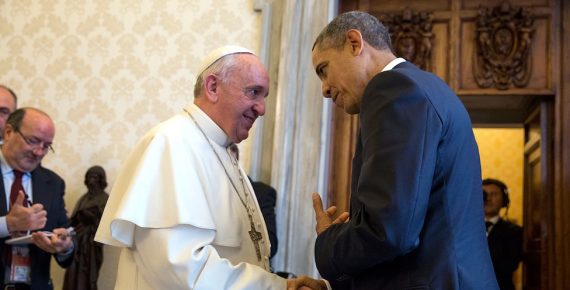 TPM's Caitlin Macneal points to Fox News' Shepard Smith calling out the far right crazies criticizing Pope Francis' agenda:
"Oftentimes the pope is called to comfort the afflicted and afflict the comfortable. And you wonder who might be comfortable in Washington, D.C., today and how that may change tomorrow when the pope makes his speech in English before a joint meeting of Congress," Hemmer said. "And, in all likelihood, an equal opportunity offender, he may leave a little bit for everyone to debate and squirm about."

Smith responded to Hemmer by saying that "we are in a weird place in the world when the following things are considered political." Smith then listed five issues both Pope Francis and President Obama have focused on.

"Caring for the marginalized and the poor — that's now political. Advancing economic opportunity for all. Political? Serving as good stewards of the environment," he said. "Protecting religious minorities and promoting religious freedom globally. Welcoming and … integrating immigrants and refugees globally. And that's political?"

The Fox host proceeded to explain that the pope's discussion on those issues should resonate with all Americans.

"I don't know what we expect to hear from an organization's leader like the pope of the Catholic Church, other than protect those who need help, bring in refugees who have no place because of war and violence and terrorism. These seem like universal truths that we should be good to others who have less than we do, that we should give shelter to those who don't have it," he said. "They're the words of the pope, they're the feelings of the president. And people who find themselves on the other side of that message should consult a mirror, it seems like. Because I think that's what we're supposed to do as a people, whatever your religion."
I haven't been a regular consumer of television news in more than a decade now but my impression of him is that Smith is one of the few old-time newsmen at a network that's evolved into an outrage fest. From my recollection of him from the old days and what little I've seen of him in appearances on other shows, he strikes me as a decent fellow who's trying to inject some sanity and common sense into a media environment that's become quite shrill.
That said, he's wrong here. Of course the pope's pronouncements here are political. Smith is right that many of the general principles that Francis espouses are bedrock principles not only of Christianity and the other great religions but of Western civilization. But advocating for policy changes to implement those principles is, by definition, political.
In Harold Lasswell's classic 1936 definition, politics is the process of deciding "who gets what, when, how."
Saying that the poor should be cared for, then, isn't political; it's a mere statement of principle. Saying that the United States government should tax the haves to redistribute it to the have-nots is political. Given that all Western societies fundamentally agree on that political principal–Lasswell's "what"— politics comes down to the "when" and especially the "how."
Even the most doctrinaire American conservatives agree that there should be some safety net for those who truly can't support themselves and that we should levy some taxes. And even the most left-leaning Swedish socialists agree that there ought be incentives to allow those who contribute more to society to enjoy some perquisites over those who contribute least. The fight, then, is over how much redistribution of wealth, how much equality of outcome, what constitutes "contribution to society," and similar issues.  Francis isn't getting mired into the details of that but he's implicitly saying that Western societies—and especially the United States—are erring too much on the side of the haves and doing too little for the have-nots. That's politics.
Similarly, "political freedom" is an abstract principle and one that's been a bedrock of the American ethos from the outset. But Francis' call for a conscience exemption to the contraception mandate in the health-care law for the Little Sisters of the Poor and other Catholic charities is very much a political act. Ditto his admonition that changes in the law to recognize same-sex marriage threatens to undermine the family. What is that if not a statement of politics?
How is saying "climate change is a problem which can no longer be left to our future generation" not a political declaration? He's specifically calling on politicians to pass laws that will reallocate resources.
And what could be more political than calling on the United States to be more open to economic migrants from Latin America and political refugees from around the world? There's scarcely a more fundamental political question than who gets to live where.
While I don't share his religious views or think his opinions on public policy are divinely inspired, I believe this pope's heart is in the right place. We'd be a better people if we more fundamentally embraced his vision of mankind. But good men advocating doing good things through government policy are nonetheless engaging in politics. It's not a swear word.