Pope Francis Writes On The Environment, And Many People Miss The Point
Pope Francis's new encyclical isn't exactly being received positively by American conservatives, because they seem to be missing the point.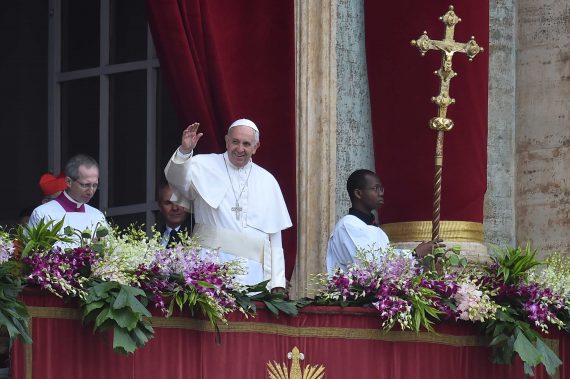 Lost in much of the coverage of the tragedy in Charleston on Wednesday night was the fact that, on Thursday, Pope Francis released an encyclical on global climate change that is causing some interesting debate both inside and outside Catholicism:
VATICAN CITY — Pope Francis on Thursday called for a radical transformation of politics, economics and individual lifestyles to confront environmental degradation and climate change, blending a biting critique of consumerism and irresponsible development with a plea for swift and unified global action.

The vision that Francis outlined in a 184-page papal encyclical is sweeping in ambition and scope: He describes relentless exploitation and destruction of the environment and says apathy, the reckless pursuit of profits, excessive faith in technology and political shortsightedness are to blame.

The most vulnerable victims, he declares, are the world's poorest people, who are being dislocated and disregarded.

Francis, the first pope from the developing world, used the encyclical — titled "Laudato Si'," or "Praise Be to You" — to highlight the crisis posed by climate change. He places most of the blame on fossil fuels and human activity, while warning of an "unprecedented destruction of ecosystems, with serious consequence for all of us" if corrective action is not taken swiftly. Developed, industrialized countries were mostly responsible, he says, and are obligated to help poorer nations confront the crisis.

"Climate change is a global problem with grave implications: environmental, social, economic, political and for the distribution of goods," he writes. "It represents one of the principal challenges facing humanity in our day."

The Vatican released the encyclical at noon on Thursday, three days after an Italian magazine posted a leaked draft online, to the fury of Vatican officials. The breach led to speculation that opponents of Francis in the Vatican wanted to embarrass him by undermining the release.

Even so, religious figures, environmentalists, scientists, executives and elected officials around the world awaited the official release, and scheduled news conferences or issued statements afterward. News media interest was enormous, in part because of Francis' global popularity, but also because of the intriguing coalition he is proposing between faith and science.

"Humanity is faced with a crucial challenge that requires the development of adequate policies, which, moreover, are currently being discussed on the global agenda," Cardinal Peter Turkson said at a news conference at the Vatican. "Certainly, 'Laudato Si' ' can and must have an impact on important and urgent decisions to be made in this area."

Francis has made it clear that he hopes the encyclical will influence energy and economic policy and stir a global movement. He calls on ordinary people to press politicians for change. Catholic bishops and priests around the world are expected to discuss the encyclical in services on Sunday. But Francis is also reaching for a wider audience, asking in the document "to address every person living on this planet."

Even before the encyclical, the pope's stance against environmental destruction and his demand for global action had already thrilled many scientists. Advocates of policies to combat climate change have said they hoped that Francis could lend a "moral dimension" to the debate.

"Within the scientific community, there is almost a code of honor that you will never transgress the red line between pure analysis and moral issues," said Hans Joachim Schellnhuber, founder and chairman of the Potsdam Institute for Climate Impact Research. "But we are now in a situation where we have to think about the consequences of our insight for society."

Francis has been sharply criticized by those who question or deny the established science of human-caused climate change, and also by some conservative Roman Catholics, who see the encyclical as an attack on capitalism and as political meddling.

Governments are now developing domestic climate-change plans to prepare for a United Nations summit meeting on the issue in Paris in December. The meeting's goal is to achieve a sweeping accord in which every nation would commit to new policies to limit greenhouse-gas emissions. Many governments have yet to present plans, including major emitters like Brazil, which has a large Catholic population. The encyclical is seen as an unsubtle nudge for action.\

"It gives a lot of cover to political and economic leaders in those countries, as they make decisions on climate change policy," said Timothy Wirth, vice chairman of the United Nations Foundation.

Catholic theologians say the overarching theme of the encyclical is "integral ecology," which links care for the environment with a notion already well developed in Catholic teaching: that economic development, to be morally good and just, must take into account people's need for things like freedom, education and meaningful work.

"The basic idea is, in order to love God, you have to love your fellow human beings, and you have to love and care for the rest of creation," said Vincent Miller, who holds a chair in Catholic theology and culture at the University of Dayton, a Catholic college in Ohio. "It gives Francis a very traditional basis to argue for the inclusion of environmental concern at the center of Christian faith."

He added: "Critics will say the church can't teach policy, the church can't teach politics. And Francis is saying, 'No, these things are at the core of the church's teaching.' "
New York Times reporter Justin Gillis notes that the encyclical shows the Pontiff aligning with mainstream science on what is nonetheless a controversial political issue but also notes that there are points where the science and policy prescriptions are incomplete:
The new papal encyclical on the environment is a ringing call to action, a critique of consumerism and a prophetic warning about the dangers of ignoring what Pope Franciscalls "the ecological crisis."

But amid all his soaring rhetoric, did the pope get the science right?

The short answer from climate and environmental scientists is that he did, at least to the degree possible in a religious document meant for a broad audience. If anything, they say, he may have bent over backward to offer a cautious interpretation of the scientific facts.

For example, a substantial body of published science says human emissions have caused all the global warming that has occurred over the past century. Yet in his letter, Francis does not go quite that far, citing volcanoes, the sun and other factors that can influence the climate before he concludes that "most global warming in recent decades is due to the great concentration of greenhouse gases" released mainly by human activity.

(…)

In aligning himself with mainstream scientific thinking, Francis invites criticism from people who dispute the science of climate change — indeed, these contrarians were attacking his paper even before it was issued.

But the more meaningful critiques in coming weeks may come from those experts schooled in environmental policy. The scattered policy prescriptions in the document do not display the meticulous framing of the scientific statements.

For instance, Francis devoted a long paragraph to criticizing an approach called carbon trading that can be used to put a price on greenhouse emissions, even though many environmental economists favor that approach.
The response to this particular criticism, of course, is that the encyclical is not meant to be a scientific document and that, while it may have been drafted in consultation with experts in the fields of climatology and the environment, it certainly doesn't measure up to the rigors of a peer-reviewed article. Similarly, Laudato Si as the document is called, is not meant to be a call to action on policy or a shopping list for legislators from which to draw in drawing up legislation. As most of what comes from these types of documents, the encyclical is meant most of all a teaching document and a moral statement for Catholics and for the rest of the world. In that respect it is worth noting that this does not fall under one of those instances in which the Pope is believed to be speaking ex cathedra, literally "from the chair (of St. Peter),"  and thus espousing infallible doctrine that all Catholics are bound to believe. That being said, it is certainly something that Catholic Churches around the world will use to talk about issues related to climate change in a religious and moral context, and for that reason it's arousing no small degree of controversy among those who remain opposed to the idea that there is such a thing as measurable global climate change.
The Wall Street Journal, for example, titles it's report on the encyclical "Pope Blames Markets For Environment's Ills":
While acknowledging natural causes for climate change, including volcanic activity and the solar cycle, Pope Francis writes that a "number of scientific studies indicate that most global warming in recent decades is due to the great concentration of greenhouse gases (carbon dioxide, methane, nitrogen oxides and others) released mainly as a result of human activity."

The pontiff goes on to argue that there is "an urgent need" for policies to drastically cut the emission of carbon dioxide and other gases and promote the switch to renewable sources of energy.

But the pope goes further by weaving his signature theme of economic justice and his vehement criticism of capitalism throughout the entire encyclical.

The document alternates between passages of almost apocalyptic moralizing and more-technical language, including practical proposals for alleviating environmental problems.

Pope Francis opens the encyclical, which includes extensive sections on the theology of creation, with a lament for man's sins against "Mother Earth": "We have come to see ourselves as her lords and masters, entitled to plunder her at will. The violence present in our hearts, wounded by sin, is also reflected in the symptoms of sickness evident in the soil, in the water, in the air and in all forms of life."

The pontiff later denounces past failures to enact bolder environmental policies. "The failure of global summits on the environment makes it plain that our politics are subject to technology and finance. There are too many special interests, and economic interests easily end up trumping the common good and manipulating information so that their own plans will not be affected," he writes.

The Argentina-born pontiff, the first in history to hail from the Southern Hemisphere, writes that the North owes the South en ecological debt because "developing countries, where the most important reserves of the biosphere are found, continue to fuel the development of richer countries at the cost of their own present and future."

The encyclical addresses other environmental problems besides climate change, including the "water poverty" of Africa and other poor regions where clean drinking water is scarce. The pope even advocates more environmentally conscious lifestyles, including reduced use of plastic, paper and water; separating trash; carpooling and turning off lights.

"We must not think that these efforts are not going to change the world," he writes.

(…)

Samuel Gregg, a Catholic who serves as director of research for the Acton Institute, a conservative ecumenical think tank that advocates for a free market, took exception to the pope's economic premises, saying Pope Francis has "significant blind spots" with regard to market economies.

"When you read through the text, you find the free market, and finance in particular, is identified more or less as responsible for many environmental problems," Dr. Gregg said. "It's almost a subterranean theme of the encyclical….In many respects, it's a caricature of market economies."

Pope Francis is likely to repeat his arguments about inequality and environmental degradation when he addresses a United Nations special summit on sustainable development in September in New York. He could also raise those topics earlier that week, in a scheduled speech to a joint session of the U.S. Congress, where the issue of climate change is highly controversial along partisan lines.
And Jeb Bush, who is arguably the most prominent Catholic among the candidates for the Republican Presidential nomination, joined other Republicans in criticizing the Pontiff's foray into environmental policy:
Republican presidential contender Jeb Bush joined forces with the coal industry and climate deniers in a gathering conservative backlash against the pope, lashing out against a leaked draft of the spiritual leader's letter on climate change.

In his first official day on the presidential campaign trail, Bush, who is Catholic, told a town hall event in New Hampshire that Pope Francis should steer clear of global affairs.

The energy industry also turned on the pope, with the lobbyist for one of America's biggest coalmining companies sending out an email blast on Tuesday, rebuking the church leader for failing to promote fossil fuels as a solution to global poverty.

Bush converted to Catholicism when he got married 20 years ago, and regularly cited church teachings when he was Florida governor – even enacting a law to introduce anti-abortion "Choose Life" car license plates.

"I hope I'm not going to get castigated for saying this by my priest back home, but I don't get economic policy from my bishops or my cardinal or my pope," the former Florida governor said. "I think religion ought to be about making us better as people and less about things that end up getting in the political realm."

With those remarks, Bush joined fellow Republicans, the fossil fuel industry, and the climate deniers of the Heartland Institute in trying to discredit the Pope's much-anticipated message on poverty and climate change – even before its release.

At least five of the Republican presidential contenders are Catholic. Two so far – Bush and Rick Santorum, the former Pennsylvania senator and devout Catholic – have come out against the pope on climate change.

(…)

Bush's rejection of the pope's authority to speak out as a spiritual leader on a global issue such as climate change was in line with comments from other conservatives and fellow Catholics, who claim to followchurch teachings

Santorum told a Philadelphia radio station earlier this month: "The church has gotten it wrong a few times on science, and I think we probably are better off leaving science to the scientists and focusing on what we're good at, which is theology and morality."

Three other Catholic Republican hopefuls: Ted Cruz, Bobby Jindal and Marco Rubio, have yet to speak out on the encyclical.

Other Republicans have come forward, however, including the Oklahoma senator James Inhofe, who bluntly told reporters that Francis was out of line – "The pope ought to stay with his job" – at a conference of the climate change-denying Heartland Institute.

Most Republicans in Congress deny the existence of manmade climate change and oppose regulations to cut greenhouse gas emissions.
As I have said before when writing about these issues, I am hardly an expert on the environment or climate science so I am not qualified to speak personally on the question of whether or not climate change is "real." In some sense, that's actually a dumb way to put it since the global climate has been changing in some way or another for roughly four-and-a-half billion years, and it will continue to change long after humanity ceases to exist until the Earth itself is consumed by the Sun. The proper question, really, is what impact humanity is having on the environment and what, if anything should be done about it. On that point, it seems rather obvious that it is foolish to deny that humanity has some impact on global climate because we obviously do. Additionally, all of the available science seems to indicate that levels of carbon dioxide are increasing at rates that have not been seen for quite some time, that this is having an impact on global weather patterns and sea temperatures, and that those factors are going to have some impact on the world we live in. There really ought not to be any disagreement on these facts considering that they have been supported by numerous studies. The questions that follow from recognizing that fact, though, are the ones where there ought to be disagreement, namely the question about what if anything we should or can do about these issues. It's here that the encyclical seems to stray into some of the same dogmatism you see from hardliners on both sides of the "climate change" debate.
Since there isn't any way to prevent the fact that humans will have some kind of impact on the environment, the question becomes what we should do about it. On some level, the Pope's encyclical is meant to argue against a doctrine of conspicuous consumption that has no regard for the environment at all that doesn't really have much bearing on the modern world. At least in advanced nations, the environmental movement has had a real impact on fixing things like environment levels of lead, the health of water supplies, and other matters. When you start talking about areas of environmental disaster, you often end up talking not about nations like the United States, but nations like China, India, and parts of Africa where authoritarian governments hell bent on pushing their societies forward have shown little regard for safety and the people have little power to effect change on their own. Instead of criticizing those things, though, Francis seems to spend most of his time attacking the "First World" and accusing it of victimizing the poor. While it's no doubt true that Western Corporations are part of the means by which some of these nations are wrecking their environment, they aren't the ones responsible for making those decisions, and blaming them alone makes little sense and is really rather illogical. Additionally, portions of the encyclical that delve into the ridiculous, such as a rather puzzling diatribe against air conditioning, make it an easy target for critics.
All of that being said, it's worth taking into account what the encyclical says rather than what it doesn't say and to note that, by and large, Pope Francis gets it right. On some level, Francis is telling people that they should have more long-term thinking on issues impacting the environment than the next quarterly statement, or even what is likely to happen in their lifetime. Some of what is being measured today isn't likely to have a noticeable impact for decades, if not longer, but at that point reversing course won't be an option. We can't stop the fact that human beings impact the climate, and we shouldn't reject capitalism, technology, or the conveniences of modern life, especially since those things are the main reason that life expectancy and quality of life are better today than every before. At the same time, we can give some consideration of the long term impact of what we do, and work toward developing technologies and practices that don't have the same negative impact on the environment. That seems pretty sensible if you ask me. Instead, Bush, Santorum, and their fellow Republicans seem to be reflexively denouncing it as they denounce anything else that is deemed to be supportive of the underlying logic of global climate change. It strikes me that they're missing the point.
For those interested, you can read the encyclical for yourself.