American Cardinal Critical Of Pope Francis Demoted
Vatican politics is older than American politics, and can be just as entertaining.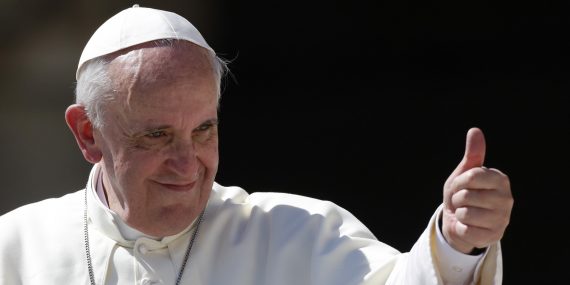 While much of has been made of the "reforms" that have been advocated by Pope Francis since his elevation to the Papacy in 2013, the reality has been far less than what the American and international media has reported. Contrary to the perception you might get from media coverage, for example, the Pope has not made any real chAmeries such as homosexuality, divorce and remarriage by Catholics and the question of whether or not such persons would be permitted to receive Communion, or any of a number of other issues on which some statement or another by the still relatively new Pope have been taken by the media to mean much more than they obviously do to anyone familiar with Church teaching or who, you know, actually reads what the Pope said rather than what the media things he said. Perhaps the best recent example of that came in Francis's comments about evolution and cosmology which were treated by many in the media as something revolutionary when in reality they were no different from his two most recent predecessors have also said, and indeed no different from what the Church has taught going back decades. For the most part, what the media has reported as if it has been a revolutionary change in doctrine has really been a change in rhetoric, something that has been especially true in connection with what Francis has said regarding how the church treats homosexuals and divorced Catholics. In both cases, while he didn't call for a change in doctrine per se he does seem to be suggesting that the Church should be less judgmental in its rhetoric and more open to welcoming people into the Catholic community notwithstanding the fact that what the Church teaches is not going to change.
Recently, however, the Pontiff has taken an action that actually does seem as if it could be a significant move against the more conservative elements in Church leadership, and it directly impacted an American Cardinal:
ROME — Pope Francis on Saturday sidelined a powerful American cardinal who has emerged as an unabashed conservative critic of the reform agenda and the leadership style that the Argentine pontiff has brought to the Roman Catholic Church.

In an expected move, Cardinal Raymond L. Burke was officially removed as head of the Vatican's highest judicial authority, known as the Supreme Tribunal of the Apostolic Signatura. He was demoted to the ceremonial position of chaplain for the Knights of Malta, a charity group.

The Vatican made no comment in announcing the change, but Cardinal Burke is hardly one of the pope's favorites. Last December, Francis removed the cardinal from a position that gave him great influence in appointing new American bishops. In return, Cardinal Burke has questioned Francis' leadership and has been a stern opponent of proposals to allow divorced or remarried Catholics to receive communion.

In a contentious October meeting of church leaders, known as a synod, Cardinal Burke also rejected positive, more welcoming language about gay people in a draft document that was released at the halfway point of the gathering. He and other conservative bishops forced the language to be watered down in the synod's concluding summary document.
While most of what Francis has said and done to date has, as I've said, been more of a change in tone than substance the suggestion of the change itself has led many conservative Catholics like Burke to push back:
Criticism of Francis has come to a head with the publication of the final report of the Synod on the Family. Despite changing absolutely nothing doctrinally, the Synod's recommendations for a more understanding attitude to those in unconventional family arrangements have ignited a firestorm of controversy among conservative commentators. The possibility that Catholics who had divorced and remarried without receiving an annulment might be readmitted into full communion with the Church has made many apoplectic.

Writing on his diocesan website, Bishop Thomas Tobin accused Francis of being fond of "making a mess" and stated that the Synod voting concept "struck [him] as being rather Protestant." A funny argument, since Catholic bishops have been voting on key issues since the Council of Nicaea in 325, but that's beside the point. Tobin seems to be suggesting that with Francis at the helm, the Catholic Church is no longer acting like the Catholic Church.

For over a year conservative Catholics have had their chastity belts in a twist over Francis and apparently, the chafing has finally grown too much to bear.

Over at The New York Times, columnist Ross Douthat, a convert to Roman Catholicism, warned that Francis's current path could "eventually lead to real schism." With the threat of schism hanging in the air he then encourages a kind of rebellion: "True Catholics," he writes, must "resist" the Pope's pressure to change the Church.

(…)

Conservative Cardinals seem to be getting in on the act. Last weekend Australian Cardinal George Pell unnecessarily reminded his congregants not only that Pope Francis is the 266th Pope, but also that "history has seen 37 false or antipopes." Antipopes? Does Cardinal Pell intend to hint that Francis isn't a true Pope? Was Cardinal Pell not there when Francis was elected?

(…)

It's almost as if the Catholic Church was recently baptized in a vat of irony: so-called traditionalists—the same people who insisted that liberals fall in line behind John Paul II and Benedict XVI—are petulantly calling for schism and for bucking Church hierarchy. What makes it even more absurd: Francis isn't all that liberal. He cares profoundly and deeply about the poor, but he rarely speaks about supporting women, holds the line on contraception and abortion, and is only selectively pro-environment. In keeping with official Church teaching he believes in the reality of evolution, and in keeping with official Church teaching he believes in the power of exorcism. The Pope is Catholic, go figure.

Traditionalists appear to be buying into the media spin about which they themselves complain. In doing so they are actually bolstering Francis's lib credentials. Perhaps the hawks should settle down, stop drinking the libertine media Kool-Aid they've been protesting about for so long, and act like the pro-hierarchy traditionalists they claim to be.
While I am not a practicing Catholic or even religious at this point in my life, I was raised in the Catholic Church and have enough familiarity with Church Doctrine and recent history to find no small degree of irony in all of this. To some degree, what we're seeing today is a resumption of the battles that were playing out in the Church in the wake of the Second Vatican Council when real changes were made in the Church, not so much in doctrine but in practice (i.e, the end of Mass in Latin in favor of the vernacular language of each nation) as well as a more opening attitude toward other faiths. The resistance to these changes continued long past the Papacy of John XXIII and Paul VI and, in many ways, the conservative forces in the Church saw the elevation of John Paul II to the Papacy as their best hope for a push back against the changes they objected to, this despite the fact that, as a Cardinal, John Paul II had participated in Vatican II quite extensively In the end, it would be the supposedly conservative Pope who would solidly the Vatican II changes, and indeed quite openly punish several groups of priests who attempted to openly rebel against Rome over changes to the Mass and other issues. Even the elevation of Josepth Ratzinger to the Papacy didn't end up giving the conservative Catholics much in the way of what they were looking for, although there has been some relaxing of the rules regarding the old Latin Mass.
For the most part, though, the conservative resistance to Vatican II turned out to be for naught. Now, they are faced with a Pope, and one that has become quite popular both inside and outside the Church in a very short period of time, who at least seems to be giving the impression that he's open to more "liberalism" on some issues, as the recently concluded Synod allegedly indicates. More interestingly, they are dealing with a Pope who is willing to push back against his critics, as the demotion of Cardinal Burke would seem to indicate. I am not even going to venture to predict where all of this is headed, largely because much of it depends on forces behind the scenes that are hard to fathom even for the most expert Vatican observer. I tend not to believe that we will see major changes of Church doctrine on issues like divorce and homosexuality, much less on issues like allowing Priests to marry, perhaps in the way that some Priests in the Orthodox Church are permitted to marry with the understanding that they can never be considered for elevation to Bishop if they do, or women Priests, which is a change that I would rule out of the question no matter who the Pope is for a host of reasons, but there are definitely some interesting battles going on inside the Church that could have implications far outside of Catholicism. Much of that will depend on how long Francis is Pope and how well he can maneuver himself around the bureaucracy that seems to outlive every Pope. In the end, though, because they are, in the end, Catholics, I would tend to dismiss whatever talk you hear from conservative Catholics about schism and other forms of rebellion. As there were in they days of John Paul II with groups such as the Society of St, Pius X, there may be some small rebellions here and there but, in the end, the conservatives will remain true to Rome even if the Church moves in directions that make them uncomfortable. And, if they don't, then, well, the fate of Cardinal Burke stands as a demonstration of just how tough this still relatively new Pope is prepared to be.