Pope Francis's Remarks On The Big Bang Are Nothing New For The Catholic Church
Pope Francis restates something the Catholic Church has taught for a long time and, again, the American media thinks its something new and revolutionary.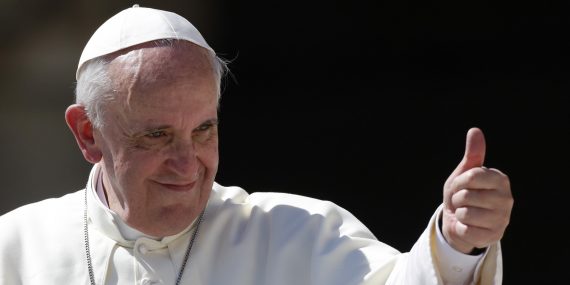 The American news media is jumping all over itself at new comments from Pope Francis as if they are something revolutionary when in fact they are merely restatements of things that the Catholic Church has taught for quite some time. This time, it comes in the form of comments that Francis made yesterday regarding the Theory of Evolution and the Big Bang:
Delivering an address to the Pontifical Academy of Sciences, Pope Francis continued his habit of making provocative, seemingly progressive statements. The pontiff appeared to endorse the theory of the Big Bang and told the gathering at the Vatican that there was no contradiction between believing in God as well as the prevailing scientific theories regarding the expansion of our universe.

"When we read about creation in Genesis, we run the risk of imagining God was a magician, with a magic wand able to do everything. But that is not so," Francis said. "He created human beings and let them develop according to the internal laws that he gave to each one so they would reach their fulfillment."

The pope avoids gesturing at the thorny issue (at least for some Christians) of whether humans descended from apes. Atheists argue, moreover, that understanding the Big Bang and what emerged from that cosmic moment obviates a need to believe in a deity. On that count, Francis obviously disagrees. He repeated the idea of God not being a "magician," an entity that conjured all into being.

"God is not a divine being or a magician, but the Creator who brought everything to life," Francis said. "Evolution in nature is not inconsistent with the notion of creation, because evolution requires the creation of beings that evolve."

In other words, to borrow from an earlier Enlightenment idea, God is more a clockmaker than a conjurer of miracles.
The reaction of others in the media to the Pope's remarks here are representative of what we're seeing in the rest of the American media, who are treating it as if it is something significant and new from the relatively new Pope who has gained a reputation for challenging some Church orthodoxies and pushing back against a Vatican hierarchy resistant to change. It has happened before on other issues such as those revolving around the status of divorced and remarried Catholics, gays and lesbians, and the idea that the Church's rhetoric should emphasize compassion toward others and the plight of the poor rather than what we here in the United States call "social issues." In most cases, though, what we've seen from this Pope hasn't been a real change in message from the past, and it most certainly has not been a significant change in Catholic doctrine. If there has been a change, it's been a change in rhetoric and tone, a welcome change in many cases no doubt, but not the kind of "revolutionary" change that the American news media is making it out to be. In this particular case, though, the media attention is egregiously bad because it quite obviously doesn't understand what Catholic teaching on this issue has been for a long time before Pope Francis was chosen by the College of Cardinals in March 2013.
Specifically, the idea that there is anything "provocative" or "seemingly progressive" in what the Pope is saying requires one to either be completely ignorant about what the Church has taught about science in general or cosmology and the origins of the universe in particular. For one thing, the Catholic Church has not considered Genesis to be literal truth for a long, long, long time. Indeed, I am not at all certain that the idea that Genesis is a literal recitation of how the Earth and life on Earth came to be has ever actually been part of Catholic teaching, but I'm not nearly well-versed enough in the early Church to stake money on that idea. In general, though, the Church has viewed the Creation Myth set forth in Genesis, and much of what follows in that part of the Bible, to be largely allegorical in the same way that the parables that appear throughout the New Testament are allegorical.
As to the idea of the Big Bang, and even the idea of human evolution, the Church has largely accepted these ideas as scientifically valid while emphasizing that, in the eyes of Church teaching, they are the instrumentals through which God has acted. For example, in 1996 St. Pope John Paul II stated that "Fresh knowledge leads to recognition of the theory of evolution as more than just a hypothesis."  More recently, in 2006, the main Vatican newspaper published a column stating that the theory of so-called "intelligent design" was not science and should not be taught as such in schools. This was already the case in Catholic schools in the United States where, in science classes, evolution is taught as it should be and "intelligent design" is not. The next year, Pope Benedict XVI himself said evolution and faith can co-exist side by side and without contradiction, something that has long been Catholic teaching notwithstanding the fact that, at least initially, the Church did express some concern about Darwin's theory when it was first advanced in the 19th Century. In other words, nothing Francis said here is revolutionary or "progressive" in any respect, something that even Hemant Mehta, who blogs at "The Friendly Atheist" acknowledges. What's bizarre is that the author of the Washington Post piece goes on in their own article to acknowledge previous Church teaching on this issue at the same time as they are trying to argue that Pope Francis has done something new here. The only thing I can ascribe this to is the fact that reporters who write about religion don't really know much about what they are writing about. One can argue and disagree with the idea Francis expresses that, ultimately, there is a divine being behind creation no matter how it came into being, and indeed most scientists would say that cosmology does not require the existence of a "Prime Mover" of any kind, but that is really an entirely different issue that doesn't detract from the fact that the Church has basically accepted the scientific view of the origin of the universe for a long time, and certainly long before Francis became Pope. The media would do well to figure that out.
Related to all of this, it's worth noting that the debates about this and related issues such as the Theory of Evolution here in the United States are not ones that involve Catholics at all. Unlike Catholics, there are large segments of Protestants who do in fact consider Genesis to be literal truth and who object to the teaching of the Evolutionary Biology in public schools without something like "intelligent design" being taught alongside of it. A December 2013 Pew poll, for example, found that some 64% of Evangelical Protestants reject evolution in its entirety, and its those types of people who have been behind the efforts to sneak the Genesis Creation Myth, disguised as "intelligent design" into American public schools. People are free to believe whatever they wish, of course, but they are not free to have their religion taught as science in a public school, and it's that last part that is problematic. To the extent that there is an enemy in that battle, though, it won't be found in the Catholic Church.