Climate Change And Politics
As with most of the other issues facing us, our political conversation about climate change and what to do about it basically just involves yelling at each other.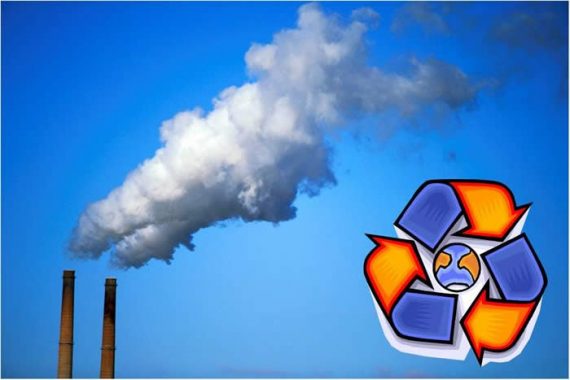 Unlike Mitt Romney, former Pennsylvania Senator Rick Santorum isn't straying from the conservative line on the issue of climate change:
Rick Santorum is no Mitt Romney when it comes to global warming science.

Appearing Wednesday on Rush Limbaugh's radio show, the former Pennsylvania GOP senator jumped at the chance to distinguish himself from his Massachusetts rival by displaying his climate skeptic credentials.

"I believe the earth gets warmer and I also believe the earth gets cooler," Santorum said. "And I think history points out that it does that and that the idea that man, through the production of CO2 — which is a trace gas in the atmosphere, and the man-made part of that trace gas is itself a trace gas — is somehow responsible for climate change is, I think, just patently absurd when you consider all the other factors, El Niño, La Niña, sunspots, moisture in the air. There's a variety of factors that contribute to the Earth warming and cooling."

Santorum's remarks contrast with those of Romney, who on Friday told a town hall crowd in Manchester, N.H., that "I believe the world is getting warmer, and I believe that humans have contributed to that."

Limbaugh blasted Romney on his radio show for the remarks. "Bye-bye, nomination," the conservative commentator said.

Later in the program, he turned to Santorum for comment. Unlike Romney and some of the other GOP presidential candidates, the former senator has never backed cap-and-trade legislation or other mandatory policies to curb greenhouse gases.

"To me, this is an opportunity for the left to create — it's really a beautifully concocted scheme because they know that the earth is gonna cool and warm," Santorum said. "And so it's been on a warming trend so they said, 'Oh, let's take advantage of that and say that we need the government to come in and regulate your life some more because it's getting warmer.' Just like they did in the '70s when it was getting cooler. They needed the government to come in and regulate your life because it's getting cooler.

"It's just an excuse for more government control of your life," Santorum added. "And I've never been for any scheme or even accepted the junk science behind the whole narrative."
Santorum's comment strikes me as a perfect example of what's wrong with the way both sides of the political aisle handle the "climate change" debate (and calling it "climate change" is really kind of silly because the climate is always changing). As I see it, the issue really involves three separate questions, only one of which is political:
I. Is the climate of the Earth changing?
This is in many ways, both the most simplistic, and the most important, question of all. The short answer is, yes the climate is changing. We know from examining fossil records, stone stratas, sediments in the ocean, and ice cores from both poles that the climate has changed dramatically, and many times, over the 4.5 billion years or that the Earth has been a functioning ecosystem. According to some theories, it was dramatic and quick changes in the climate that led to many of the mass extension periods that the Earth has experienced over its lifetime, including the extinction that wiped out the dinosaurs and made the rise of mammals possible. We also know that temporary changes in the climate can occur, such as the various Ice Ages that have shaped the geography of Europe and North America, the "Little Ice Age" of the 16th through 19th Centuries, and the worldwide climate change that happened after the eruption of Mount Krakatoa.
So, yes, the climate is changing, it's changed before and it will change again. That's what a living ecosystem does.
The more complicated question is whether the present climate is changing at a faster rate in the past, or at least at a faster rate than we might be able to adapt to without causing major property loss from rising sea levels and disruptions to agriculture. Here, the consensus seems to be that the global climate is changing at a rapid pace, for example there seem to be major changes occurring in Arctic to the point where there might actually be a Northwest Passage in 40 years or so. Given that this is science, though, there's disagreement on many of these issues. and at least some suggestion that some of the data supporting the consensus hypothesis may be exaggerated. But this is a scientific question, not a political one. Asking a political candidate there opinion on this issue strikes me as making about as much sense as asking them how they feel about String Theory or Quantum Physics. Unless they are actually trained in the field, they aren't going to know what they're talking about.
Which brings us to the second question
II. What is causing the climate to change?
Since it's already pretty clear that the climate of the Earth changes on an ongoing basis, this strikes me as being somewhat of a trick question. The climate will change no matter what conscious or unconscious choice we make. Man is as much part of the ecosystem as cows and whales are, and we all impact the environment in different ways. In fact, man has been impacting the climate of the Earth since the day that the first caveman lit the first fire, sending carbon and other elements into the air. Again, this strikes me as a scienitific question rather than a political, but it's the one that gets wrapped up the most in politics.
Among some environmentalists, it seems as though the attitude exists that man is somehow an irritant to the Earth's ecosystem, rather than part of it. They seem to give more of a moral claim to cows, or forest fires, than they do to human beings who build a factory that makes clothes to keep them warm. This is both illogical, and entirely wrong. Man is part of the environment, but that doesn't mean he has to live like a savage, or that his civilization is a bad thing. The Earth would continue exist if we weren't around, but it would be a planet full of animals who act mostly on instinct, not an intelligent species. We shouldn't have to apologize for who we are, and we shouldn't have to harm our standard of living in the name of some idiotic vision of Gaia.
On the right, though, things aren't much better. They don't seem to think we need to worry about anything we do, that we could have continued belching unfitted soot into the skies without worrying about it. That's simply foolish, as anyone who lived in the Northeastern United States in the 70s and 80s and remembers the term "acid rain" can tell you. Treating the environment foolishly is, well, foolish. And answering the environmentalists by saying we don't need to do anything is little more than putting your hands over your eyes and playing a game of "See No Evil."
So, that brings us to the final question.
III. What, if anything, should we do to avert climate change?
This is the only question that I think is wholly political, because it involves making appropriate choices, and keeping in mind a few simple facts.
First, even if we turned off every bit of electricity and every device that spews carbon into the atmosphere, it would likely have very little impact on the immediate future. Not even counting the widespread use of fire before then, the Industrial Revolution has been a fact of life on Earth for more than 200 years, if there is any impact to be had from that, we're going to feel it whether we like it or not. Of course, doing something like this would be entirely unreasonable, but then so would imposing onerous restrictions on automobile companies that result in more expensive cars that don't necessarily contribute much to "saving" the environment. There needs to be a cost benefit analysis that takes in account the costs that any of these ideas imposes on society along with the supposed benefits they would bring about, because not every "pro-environment" reform is worth the costs it would impose. We also need to reconsider the idea of whether using a command-and-control model to bring about these changes is really the best way to do things. Several environmental economists have written over the past several years about so-called "Free Market Environmentalism," and their ideas ought to be considered.
There's a way of approaching this issue intelligently. Unfortunately, largely because of a view on the right that seems to say any discussion of "climate change" as the pathway to communism, it's an impossible one to have. Which pretty much describes the status of every important issue facing the country today.