Gun Rights, Mental Health, And A Denial Of Due Process
New York State's gun law takes rights away from nearly 35,000 people without any due process whatsoever.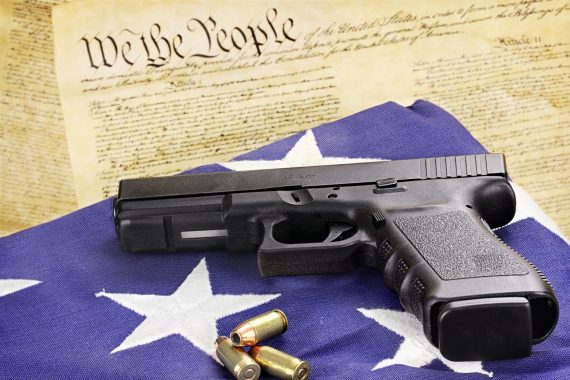 In the wake of the mass shooting incidents that grabbed headlines in 2012, especially the movie theater shooting in Aurora, Colorado and the elementary school shooting in Newtown, Connecticut, many states reacted by passing laws to restrict gun ownership or otherwise close perceived loopholes in their gun control laws. One of the most prominent examples of that came in New York State where, under the strong support of Governor Andrew Cuomo, the state passed a law called the Safe Act which, among other things, included provisions that make it easier for the state to deny a permit to own a weapon and to take weapons away from people deemed to be a threat to themselves and others. One problem with the law, though, is the fact that the law includes almost no due process rights for either people seeking to own a firearm or for people who legally own firearms under New York law. In essence, the law give near unfettered discretion to mental health authorities and the individual New York counties that control the permitting process for firearms, and which even before the Safe Act had an extensive amount of control over firearms ownership in the state. One example of the problems that this can create was revealed a year ago and involved a man named David Lewis, a Buffalo resident who had his guns taken away from him solely because he had once taken anti-anxiety medication. Lewis eventually had his guns returned to him by Court order, but as I noted at the time the case raised serious concerns about both due process and medical privacy:
I don't disagree with that proposition, but the manner in which it was applied in the case I linked above demonstrates quite clearly why it is going to be difficult to use background checks to screen out people who may be mentally unstable. The SAFE Act in particular seems to me to be overly broad in defining what qualifies as a reportable condition. It's one thing for a person who is delusional on the level of a Seung-Hui Choi or Jared Loughner to be caught up in the net, it is quite another for someone who was apparently merely on an anti-anxiety drug to have their Constitutional rights limited. If taking that kind of medication is enough to get you on a list, then what about the millions upon millions of Americans who are on some form of anti-depressant or who take medication that alters their mood in any manner? Are they going to get put on a government list too, and what, exactly, is the government going to do with that list? History is replete with examples of psychiatry being abused by the state, and the danger of abuse becomes even higher when the law broadens the number of conditions that are reportable to the state.

Saying that people who are dangerous, or potentially dangerous, because of their mental condition shouldn't be allowed to buy guns is a good talking point, and in general it's an idea that I don't have any objection to. How you implement that idea, and what it means for the medical privacy of American citizens, is quite another
Now, a New York Times investigation reveals that there are some 34,500 people that the Safe Act has put on the list of people who are not allowed to own weapons:
Under the 2013 law, the reports prepared by doctors, psychologists, nurses and social workers are first sent to county officials. If they agree with the assessments, the officials then input the names into the state database. The information is retained for five years. If the authorities find a person in the database has a gun permit — necessary to purchase a handgun in New York — they are required to revoke the license and seize any guns. The people in the database are barred from obtaining a permit until their names are purged.

Among the people named in the database, fewer than 300 were found to have a permit. State officials said they did not know how many guns were subsequently seized from them.

Under the 2013 law, New York is one of the most restrictive states in the country in terms of mental health and firearms.

Under federal and most state laws, people with serious mental illnesses lose their gun rights only if they have been involuntarily committed to a mental health center, or have been legally designated as mentally ill or incompetent; both relatively rare occurrences. A small number of states, including California, Connecticut, Illinois, Maryland and New York, have stricter criteria for people with serious mental health issues to purchase and possess firearms.

New Yorks law gives county officials the responsibility of reviewing the reports from mental health workers, ostensibly providing an added layer of oversight. But several said in interviews that they had little capacity to independently confirm whether the finding that a patient was dangerous was justified.

The way the law has played out, local officials said, frontline mental health workers feel compelled to routinely report mentally ill patients brought to an emergency room by the police or ambulances. County health officials are then supposed to vet each case before it is sent to Albany. But so many names are funneled to county health authorities through the system — about 500 per week statewide — that they have become, in effect, clerical workers, rubber-stamping the decisions, they said. From when the reporting requirement took effect on March 16, 2013 until Oct. 3, 41,427 reports have been made on people who have been flagged as potentially dangerous. Among these, 40,678 — all but a few hundred cases — were passed to Albany by county officials, according to the data obtained by The Times.

(…)

Kenneth M. Glatt, commissioner of mental hygiene for Dutchess County, said that at first, he had carefully scrutinized every name sent to him through the Safe Act. But then he realized that he was just "a middleman," and that it was unlikely he would ever meet or examine any of the patients. So he began simply checking off the online boxes, sometimes without even reviewing the narrative about a patient.

"Every so often I read one just to be sure," Dr. Glatt, a psychologist, said. "I am not going to second guess. I don't see the patient. I don't know the patient." He said it would be more efficient—and more honest—for therapists to report names directly to the Division of Criminal Justice Services, which checks them against gun permit applications.
Jazz Shaw, who has written about this law several times in the past, comments:
For the vast majority of the people on this huge list, they have never had a day in court to challenge their accusers as to their fitness to exercise their Second Amendment rights, nor have they been adjudicated as being truly dangerous. In New York you can show up on this list and lose your rights simply because some anonymous "medical professional" (who doesn't even have to be a doctor) has reported you.
Jacob Sullum, meanwhile, notes the law seems to be designed to encourage over reporting by mental health professionals, and to thereby encourage people who are reviewing the reports at the county level to basically rubber stamp the recommendations in no small part because of the sheer volume of requests that they have to process and because, as Glatt notes above, they have not personally treated the person in question. If you happen to take the view that the best way to approach this issue is a "better safe than sorry" approach, then it likely isn't a problem for you that people who shouldn't be dragged into the Safe Act's net are being deprived of their right to own weapons, a right guaranteed by the Second Amendment and that the Supreme Court recognized in District of Columbia v. Heller and McDonald v. Chicago. More importantly, they are being denied those rights without any notice until a decision is made any then given the burden of having to apply to a court to try to overturn the decision of the permitting authority. Given that in many cases in some of New York State's rural counties those are sometimes the same people, or at least people who are closely related politically and personally, the odds are often stacked against a gun owner who has had their property taken from them without due process or proper notice. Regardless of how one feels about gun rights, that ought to be troubling.
Obviously, it is a good idea to keep weapons out of the hands of people who are mentally ill to the point where they could pose a danger to themselves and others. At the same time, of course, we want to encourage people suffering from mental illness to seek treatment for their problems rather than hiding it and, potentially becoming the next Jared Loughner or Adam Lanza. This is where laws like the Safe Act pose a dilemma. When mental health professionals become de facto agents of the state who are required to report to the government authorities when someone seeks treatment, it helps to create a disincentive for people to seek treatment to begin with. As I wrote in the wake of the shooting of Congresswoman Gabby Giffords when we learned that Jared Loughner had serious mental health issues that never went treated, the system ought to discourage situations where people are scared away from seeking treatment for fear that their condition will become public. Obviously, in the case of someone who is displaying signs of dangerous mental illness, the default position ought to be to make sure they get treatment so that they and others are safe. In those situations, denying them of their right to own a gun, and even their personal liberty, for a limited period of time seems to me to be an acceptable idea worth talking about. Even then, though, there ought to be some kind of due process given to people before such drastic action is taken. The Constitution, not just in the 2nd Amendment, but in the 5th and 14th Amendments, would seem to demand no less.