What Gun Laws Would Help?
David Frum calls for several measures to reduce gun violence.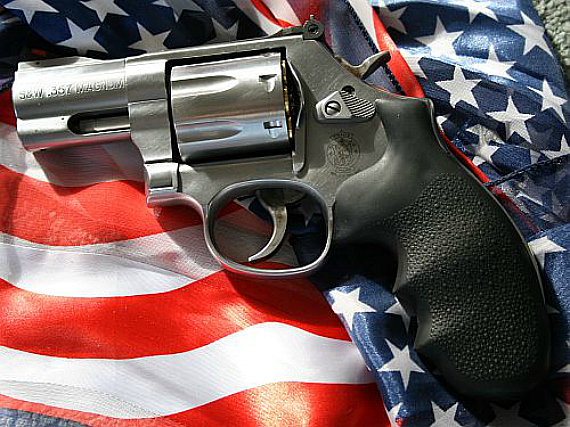 I concluded Monday's post "Does It Matter Whether Charleston Was Terrorism?" lamenting that "it's not obvious to me how you'd craft a law at this point short of a blanket ban on firearms possession that would have much impact" on America's propensity for spree shootings. David Frum agrees that no single law would do much but argues that a series of laws might.
[T]here are incremental steps, building on existing law, that could keep guns out of wrong hands and enhance public safety.

Enforce Laws Against Prohibited Gun Buyers

Under current federal law, it is illegal for many categories of people to own firearms. Among those prohibited owners are:

Anyone who has been convicted of a felony whose full civil rights have not been restored;

Anyone who is a fugitive from justice;

Anyone who is an unlawful user of or addicted to any controlled substance

Anyone who has ever been adjudicated as mentally noncompetent or involuntarily admitted to a mental institution

Any alien illegally present in the United States

Any alien admitted under a non-immigration visa

Anyone who has been dishonorably discharged from the armed forces;

Anyone under a restraining order for harassing, stalking, or threatening an intimate partner;

Anyone convicted of domestic violence, including misdemeanors.

But while it's illegal for people in those categories to own firearms, the complementary duty imposed on others not to sell firearms to prohibited persons is weak and easily evaded. Federally registered firearms vendors are required to enter the prospective purchasers' names into a federal database. If the names are not found, the vendor is clear, without any independent obligation to verify further. Guns sold at gun shows or in other private sales are not subject even to the background check rule in most states.
I've long been in favor of closing the gun show loophole and agree that we should start by better enforcing our existing laws. But, as an aside, I'm rather befuddled by some of the above-noted restrictions. In particular, while I have no especial love for dishonorably discharged soldiers or felons, most people in those categories are nonviolent. It's not obvious why, say, an embezzler or someone who went AWOL should be denied the right to buy a hunting rifle.
Still, Frum's on the right track here:
A convicted felon clutching a syringe and ranting about his dishonorable discharge can enter a gun dealer's premises and—so long as his name does not appear in a database—the seller remains legally immune no matter how much objective warning he had that his customer was a prohibited possessor. Under the 2005 federal Protection of Lawful Commerce in Arms Act and similar state laws, vendors can generally be held liable for a sale only if they can be shown to have had affirmative knowledge that the gun buyer intended to use the weapon to commit a crime.

Contrast this to the laws that apply to people selling liquor. Liquor sellers have an independent legal duty not to serve intoxicated people. Liquor sellers can be sued by injured third parties if they fail in that duty.

Most gun dealers wish to sell to lawful owners. Most—but not all. In 1995, a researcher analyzed government tracing data and discovered that 1 percent of gun dealers sold 57 percent of the weapons found at crime scenes.

By holding these rogue gun dealers to account, it might be possible to significantly diminish the flow of guns into criminal hands. Instead, Congress chose to protect rogue gun dealers from scrutiny and sanction. In 2003, Congress passed a law forbidding government agencies to disclose tracing data that might link a particular dealer to a criminal purchaser. It's hard to hold gun dealers responsible for selling to unlawful buyers if nobody is allowed to know where an unlawful buyer purchased his weapons.
Now, it's obviously much easier for a bartender to diagnose whether someone ordering a seventh Wild Turkey is inebriated than for a gun shop cashier to know whether a customer has a TRO out on him. The burden of proof on the state to punish the latter should be high. But if there are a relative handful of dealers who have a pattern on selling to known criminals and other shady characters, we should certainly avail ourselves of reasonable means to track that and go after them.
Require Gun Owners to Carry Liability Insurance

Guns are dangerous products. There are some 15,000 accidental shootings per year in the United States, leading to 600 accidental deaths. Buy a car, and state law requires that it be insured. Dig a swimming pool, and expect to pay hundreds of dollars a year more in homeowners' insurance, which anybody who carries a mortgage will likewise be required to carry. Guns need not be insured, however, neither in law nor in practice.

The uninsured status of guns means that people injured by them face great difficulty recovering the costs of their medical treatment and other economic losses. Injured persons can sue a negligent gun owner and try to recover from his home insurance, if he owns a home. Most of the time, however, gunshot victims will be left to bear their economic losses on their own.
A requirement that gun owners carry insurance would not only protect potential accident victims—including gun owners, since many gun accidents are self-inflicted—against economic loss. An insurance requirement would create incentives for more responsible gun behavior. Just as insurance companies offer better rates to those who install burglar alarms, so they might offer better rates to those who install secure gun safes. Just as a prior accident raises the future cost of car insurance, so careless gun owners will be encouraged to exercise better care in future.
I own several long guns, all of which previously belonged to my late father or my late wife's late father, and have no objection to maintaining insurance on them. I'm highly skeptical that this will do much to deter spree shooters or, indeed, people who get drunk or angry and shoot just one person. While gun safes would make it harder to steal someone else's gun and use it in a crime, that has to be a tiny percentage of these incidents.
Require Meaningful Training for Carry-Permit Holders

After a slaughter like that in Charlestown, gun advocates argue that it occurred because Americans still don't carry enough guns. If only "a good guy with a gun" had been in the vicinity, the killer could have been stopped! The implicit premise of this claim is that gun owners who carry weapons in public will use them responsibly, effectively, and accurately—that the "good guy with a gun" will actually bring down the bad guy, and not half a dozen innocent victims who happen to be within a twenty-foot radius.

Are these assumptions reasonable? Curtis Reeves, the retired police officer who gunned down a young father for texting during movie previews, was a concealed-carry permit holder. George Zimmerman thought he was a "good guy with a gun" when he tracked and killed Trayvon Martin.

Certified florists in the State of Florida are required to take six weeks of courses at a cost of at least $600. They must pass a series of exams, and purchase a business from the state.

You might think that the power to deal death to strangers in public would be more closely supervised than the right to sell floral arrangements. You would be wrong.

To obtain a concealed-carry permit, a Floridian must only submit a "certificate of competency" from a firearms instructor—and in Florida, literally anybody can represent himself as a firearms instructor and issue competency certificates. The state does not even know how many self-designated instructors are doing business in Florida, but they number in the thousands.
I've long thought it would be a good idea to require people who wish to buy handguns—much less carry them around town like Wild West cowboys—to undergo training. Preventing accidental discharge and improving aim are worthwhile ends on their own merits. But, again, it's not obvious how this measure—even my expanded version—would prevent any of the incidents which constantly re-open this debate. Indeed, Frum mentions George Zimmerman. I don't know how well trained he was but he could have been Chris Kyle-level proficient and it wouldn't have made him less likely to get into his tragic encounter with Treyvon Martin.
Again, any or all of these proposals may have value on their own terms. And Frum's right that requiring that any given measure solve the problem on its own is setting the bar way too high. But I don't see how even combining all of the above suggestions would have stopped any of the spree shootings that have been in the news the last couple of years.
This isn't a call for doing nothing. Nibbling away at the issue, as in Frum's example of auto safety, is worthwhile on its own so long as we judiciously weigh costs and benefits. It's just to note that the problem is incredibly difficult to solve.