America's Gun Problem is Here to Stay
The obstacles to fixing the problem are many.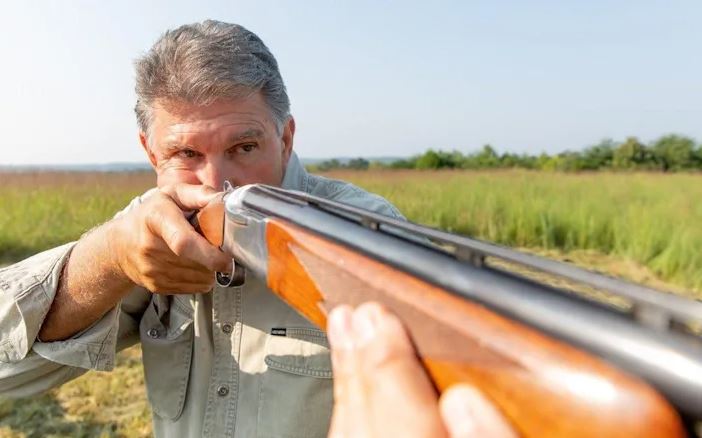 Writing in the Atlantic, Ronald Brownstein identifies "The Real Reason America Doesn't Have Gun Control." It's an argument that will be familiar, if not tiresome, to regular OTB readers: our unrepresentative democracy.
Polls are clear that while Americans don't believe gun control would solve all of the problems associated with gun violence, a commanding majority supports the central priorities of gun-control advocates, including universal background checks and an assault-weapons ban. Yet despite this overwhelming consensus, it's highly unlikely that the massacre of at least 19 schoolchildren and two adults in Uvalde, Texas, yesterday, or President Joe Biden's emotional plea for action last night, will result in legislative action.

That's because gun control is one of many issues in which majority opinion in the nation runs into the brick wall of a Senate rule—the filibuster—that provides a veto over national policy to a minority of the states, most of them small, largely rural, preponderantly white, and dominated by Republicans.

The disproportionate influence of small states has come to shape the competition for national power in America. Democrats have won the popular vote in seven of the past eight presidential elections, something no party had done since the formation of the modern party system in 1828. Yet Republicans have controlled the White House after three of those elections instead of one, twice winning the Electoral College while losing the popular vote. The Senate imbalance has been even more striking. According to calculations by Lee Drutman, a senior fellow in the political-reform program at New America, a center-left think tank, Senate Republicans have represented a majority of the U.S. population for only two years since 1980, if you assign half of each state's population to each of its senators. But largely because of its commanding hold on smaller states, the GOP has controlled the Senate majority for 22 of those 42 years.

[…]

That impassable opposition reflects the GOP's reliance on the places and voters most deeply devoted to gun culture. Polling last year by the Pew Research Center found that the share of Republicans who live in a household with a gun (54 percent) far exceeds the share of Democrats who do (31 percent). (In all, Pew found that four in 10 adults live in a house with a gun and only three in 10 own one.) A 2020 Rand Corporation study found that the 20 states with the highest rates of gun ownership had elected almost two-thirds of the Senate's Republican lawmakers (32 of 50) and comprised about two-thirds of the states that President Donald Trump carried in the 2020 election (17 of 25). In an almost mirror image, the 20 states with the lowest rates of gun ownership had elected almost two-thirds of the Senate's Democratic lawmakers (also 32 of 50) and comprised about two-thirds of the states Biden won (16 of 25). The 20 states with the lowest rates of gun ownership have more than two and half times as many residents (about 192 million) as the states with the highest gun-ownership rates (about 69 million). But in the Senate, these two sets of states carry equal weight.
There's a bit of sleight-of-hand here, including the bizarre metic of the half-state population, but the larger point is one we've been hammering for years: our system vastly over-represents the views of rural Americans. Then again, as the photo used to illustrate the post suggests, the filibuster is almost a red herring here: West Virginia's Joe Manchin isn't exactly a big supporter of gun control.
Even more depressing is a companion piece from Andrew Exum titled "We Need to Learn to Live With Guns." Having led Infantry and Ranger platoons through multiple combat tours in Afghanistan, he knows something about small arms.
In the 14 years since the Supreme Court found an individual right to bear arms under the Second Amendment in the landmark case of D.C. v. Heller, the federal judiciary has only grown more conservative. The courts will likely bar any meaningful restrictions on the possession of firearms for at least another generation.

Your fellow Americans, meanwhile, who collectively bought 40 million firearms in 2020 and 2021, have grown even less enamored with the various gun-control measures typically floated by politicians after such tragedies. In Texas, the same Republican lawmakers cruising to reelection this fall made relaxing the state's already permissive gun laws a priority in the last legislative session.

And the simple commercial problem facing firearms manufacturers has not changed: They make highly durable goods. Firearms can be passed down through generations. To meet growth targets, then, firearms manufacturers must figure out ways to scare or otherwise motivate people who already own firearms to buy more firearms.

For decades, these firearms manufacturers have—in both subtle and not-so-subtle ways—convinced white people that they need to buy arsenals to protect themselves from people of color. More recently, thanks in part to various shootings perpetrated by those heavily armed white people, people of color have responded by arming themselves in greater numbers, which must delight the firearms manufacturers.

So we should all stop saying that something is going to change. Nothing is going to change. Democratic lawmakers—for whom overpromising and underdelivering is an incurable habit—propose measures after these shootings that they know will never pass through a highly divided Congress, or be sustained by federal judges hand-selected to stymie progressive legislation for the next three or four decades.

We all need to adjust to the idea that unfathomable levels of gun violence, including school shootings, are going to get worse, not better, in the decades to come. In the past month alone, my two sons had a baseball game canceled because of a shooting at the park where they were meant to play and, two weeks later, soccer practice cut short because a nearby gunman had opened fire on a school down the road. In that latter incident, no innocent lives were lost thanks only to the gunman's inability to effectively use any of the three assault rifles—I'm sorry, "modern sporting rifles"—he had stockpiled in his apartment overlooking the school.
Exum isn't completely fatalistic. His recommendation is one I've long advocated: requiring better training.
First, we need to make firearms education a national priority. Once upon a time, when I was a young boy, a friendly organization called the National Rifle Association did great work teaching Americans about the safe use of firearms in hunting and other shooting sports. They still do some of that, but it's a smaller and smaller portion of what that now extremely troubled organization is about.

The government, then, should step up. If we're going to allow everyone in America to own as many firearms as they want, our children need to understand what to do if they see a firearm, which they inevitably will. Don't touch it. Go find an adult. Older children, meanwhile, should also understand how to unload a firearm and render it safe. Families might not have any interest in firearms, but firearms are going to be ever-present in the lives of their children.

The Pittman-Robertson Act of 1937 funds various conservation and wildlife-habitat-restoration initiatives through taxes on firearms and ammunition. We should raise those taxes and use the additional funds to help state wildlife and natural-resources departments teach firearm and hunter safety in our schools. I knew how to safely operate a rifle by the age of 10, and I don't think it's ever too early to teach young children the golden rules of firearm safety:

Treat every firearm as if it is loaded.

Never point the muzzle at anything you are not willing to destroy.

Keep your finger off the trigger until you are ready to fire.

Always be sure of your target and what's beyond.

I still hunt and shoot sporting clays on a regular basis, and whenever I return from the range or from hunting, I clean my shotguns on newspapers spread out over the dining-room table. I use the opportunity to reinforce the rules for the proper handling of firearms to my three young children. I want my children to treat firearms as objects of respect, not of lust. I do not want them to fetishize these tools.
His second suggestion is interesting if not fleshed out:
Because the second and much harder thing we need to do is to shift the gun culture in America. I have written before about how the gun culture I have observed develop since the September 11 attacks—the emphasis on tactical weaponry, the marketing of ceramic plate carriers and kevlar helmets to civilians—is so very different than the gun culture I grew up with in East Tennessee in the 1980s, when the seemingly ever-present firearms were mostly shotguns for hunting and bolt-action rifles.
How to make more traditional rifles and shotguns, which are both more beautiful and more precise, sexy again is not obvious. Unlike Exum, I've never hunted and haven't shot at a range in years. But I have no problem with those who want to do so and have no desire to restrict their rights beyond requiring licensing, registration, and some minimal level of training in firearms safety.
Having served in the Army, I have no more desire to own an AR-15 than I do to own a Hummer. Still, while I tend to think of civilians who want to cosplay soldiers as yahoos, there are tens of thousands of them out there and they're overwhelmingly harmless. I'm not sure banning them really does much for us even if it's possible. But, yes, changing the weird culture that fetishizes guns would be great.
Finally, via YahooNews, a poorly-written Business Insider piece headlined "Switzerland has a stunningly high rate of gun ownership — here's why it doesn't have mass shootings."
Switzerland hasn't had a mass shooting since 2001, when a man stormed the local parliament in Zug, killing 14 people and then himself.

The country has about 2 million privately owned guns in a nation of 8.3 million people. In 2016, the country had 47 attempted homicides with firearms. The country's overall murder rate is near zero.

The National Rifle Association often points to Switzerland to argue that more rules on gun ownership aren't necessary. In 2016, the NRA said on its blog that the European country had one of the lowest murder rates in the world while still having millions of privately owned guns and a few hunting weapons that don't even require a permit.

But the Swiss have some specific rules and regulations for gun use.

[…]

Unlike the US, Switzerland has mandatory military service for men.

All men between the ages of 18 and 34 deemed "fit for service" are given a pistol or a rifle and trained.

After they've finished their service, the men can typically buy and keep their service weapons, but they have to get a permit for them.

[…]

Swiss authorities decide on a local level whether to give people gun permits. They also keep a log of everyone who owns a gun in their region, known as a canton, though hunting rifles and some semiautomatic long arms are exempt from the permit requirement.

But cantonal police don't take their duty dolling out gun licenses lightly. They might consult a psychiatrist or talk with authorities in other cantons where a prospective gun buyer has lived before to vet the person.

Swiss laws are designed to prevent anyone who's violent or incompetent from owning a gun.

People who've been convicted of a crime or have an alcohol or drug addiction aren't allowed to buy guns in Switzerland.

The law also states that anyone who "expresses a violent or dangerous attitude" won't be permitted to own a gun.

Gun owners who want to carry their weapon for "defensive purposes" also have to prove they can properly load, unload, and shoot their weapon and must pass a test to get a license.
For reasons Brownstein and Exum elucidate, we're not going to be able to enact those kinds of policies here. But, honestly, I think that approach is likely more effective than trying to ban specific styles of weapons.