Federal Court Upholds Most Of New York State Gun Control Law
A Federal Judge in New York upholds, for the most part, that state's new gun control law.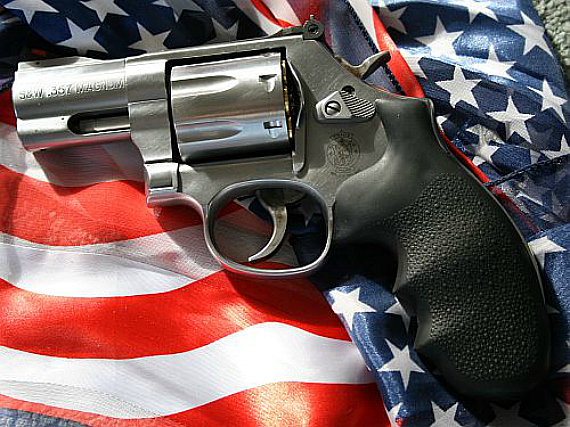 In the wake of the tragic shootings at Sandy Hook Elementary School, there was a massive push for enhanced gun control laws on a scale unseen since the early years of the Clinton Administration. On both the State and Federal levels, legislators advanced bills for enhanced background checks, limitations on the number of bullets that could be in a clip, and a ban on so-called "Assault Weapons." As I've noted in the past, these efforts largely failed on the Federal level, even an effort to pass relatively popular background checks didn't make it through the Senate. For political and practical reasons, this wasn't likely to succeed and it's even less likely that there will be any movement on the issue before either the 2014 or 2016 elections. Indeed, it's unlikely that gun control will be a major issue in the upcoming election notwithstanding the efforts of groups like those established by Gabrielle Giffords and former NYC Mayor Michael Bloomberg.
On the state level, though, there has been more success. New gun control laws passed rather easily, not surprisingly, in Connecticut, where the Sandy Hook shootings took place, and in Colorado, although that vote was followed by recall elections that resulted in the ouster of two of the top advocates of the laws that passed there. There were also several bills passed in California and New Jersey, although their impact was muted by the fact that Democratic Governor Jerry Brown and Republican Governor Chris Christie vetoed several of the more stringent bills while signing others into law. Some of the most stringent laws, though, were passed rather easily in New York State, where bills banning several types of "Assault Weapons," along with other bills purporting to restrict the size of magazines for weapons that remained legal and another bill that purported to make it harder for people with mental illnesses to own weapons, although that last bill has had some notable problems in its implementation.
Not surprisingly, all of these laws are facing legal challenges of one form or another and, earlier this week, we got the first known ruling on the new laws in the form of a ruling from a New York Federal Judge who upheld most of the provisions of the state's new law:
A federal judge ruled on Tuesday that New York's strict new gun laws, including an expanded ban on assault weapons, were constitutional, but struck down a provision forbidding gun owners to load more than seven rounds into a magazine.

The ruling offered a victory to gun control advocates at the end of a year in which efforts to pass new legislation on the federal level suffered a high-profile defeat in Congress, although some new restrictions were approved in state capitals.

The judge, William M. Skretny of Federal District Court in Buffalo, said expanded bans on assault weapons and high-capacity magazines were legally sound because they served to "further the state's important interest in public safety."

The new laws in New York, enacted in January 2013, are among the most restrictive in the country. Gov. Andrew M. Cuomo, a Democrat, pushed for the state to be the first to take action after the mass school shooting in Newtown, Conn.; gun rights groups accused him of ramming through new gun restrictions they called ill-conceived, poorly understood and unconstitutional.

In a 54-page ruling, Judge Skretny struck down a well-known but troubled portion of the law, which prohibited gun owners from loading more than seven rounds into a magazine. He called the limit "an arbitrary restriction" that violated the Second Amendment.

But, saying that "whether regulating firearms is wise or warranted is not a judicial question; it is a political one," he found that Mr. Cuomo and lawmakers had acted within their bounds when they drafted the gun laws, and specifically cited the Bushmaster rifle and 30-round magazine used in the Newtown shooting.

"Of course, this is only one incident," Judge Skretny wrote. "But it is nonetheless illustrative. Studies and data support New York's view that assault weapons are often used to devastating effect in mass shootings."

He said that the gun law "applies only to a subset of firearms with characteristics New York State has determined to be particularly dangerous and unnecessary for self-defense; it does not totally disarm New York's citizens; and it does not meaningfully jeopardize their right to self-defense."

Even after the Newtown shooting, states passed more legislation in the last year loosening gun laws than tightening them. But gun control advocates, who celebrated the New York measure as a leading success story, said the ruling confirmed their position that the government had the right to pass strict controls on firearms.

"A lot of states can take courage and take heart from this ruling, and maybe even Congress will take notice," said Leah Gunn Barrett, the executive director of New Yorkers Against Gun Violence. "The Second Amendment does not preclude reasonable regulation. It doesn't mean you can have guns that are extremely dangerous, like assault weapons."
In many ways, this case is one of first impression for a Federal Court in that it is apparently the first case dealing with an efort to ban certain types of weapons, in this case so-called "Assault Weapons" in the wake of the Supreme Court's decisions in District of Columbia v. Heller and McDonald v. Chicago and the limited number of cases that have followed. Heller, of course, is the case that struck down the District of Columbia's incredibly restrictive ban on handgun ownership,establishing that at least as a preliminary matter, the 2nd Amendment protects an individual right to own a firearm for lawful purposes such as self-defense. McDonald extended that rights to the states by ruling that, like the rest of the first eight Amendments in the Bill Of Rights, the 2nd Amendment is applicable to the states via the 14th Amendment. Subsequent cases, which have not gotten beyond the Circuit Court level at this point, have dealt with issues such as the right to possess firearms in a public housing project where one lives and, in a case out of the 7th Circuit, the Constitutionality of Illinois' restrictive concealed carry laws, which resulted in the state legislature modifying the laws to comply with the Court's decision rather than appealing the matter to the Supreme Court. This case, however, is the first notable case testing the limits of Heller beyond handguns and similar types o weapons.
Keeping that in mind, what Judge Skretny had to say about "Assault Weapons" and the Heller/McDonald precedents is of particular interest:
Plaintiffs contend that many of the outlawed features do not make firearms more lethal; instead, according to Plaintiffs, several of the outlawed features simply make the firearm easier to use. For instance, they argue that a telescoping stock, which allows the user to adjust the length of the stock, does not make a weapon more dangerous, but instead, like finding the right size shoe, simply allows the shooter to rest the weapon on his or her shoulder properly and comfortably. Another outlawed feature, the pistol grip, also increases comfort and stability. The same goes for the "thumbhole stock," which, as the name suggests, is a hole in the stock of the rifle for the user's thumb. It too increases comfort, stability, and accuracy according to Plaintiffs.

But Plaintiffs later argue that the banned features increase the utility for self-defense — which is just another way of saying that the features increase their lethality. Plaintiffs make this explicit: "Where it is necessary for a crime victim to shoot the aggressor, and lethal or incapacitating injury will stop him, the lethality of the defender's firearm is a precondition to her ability end the criminal attack." (Pls.' Br. at 22; Docket No. 23-1.) The National Rifle Association of America, as amicus curiae, make a similar argument, describing how the banned features improve a firearm's usability. (NRA Br. at 10; Docket No. 46.)

There thus can be no serious dispute that the very features that increase a weapon's utility for self-defense also increase its dangerousness to the public at large. See, e.g., McDonald,130 S. Ct. at 3107 (Stevens, J., dissenting) ("Just as [firearms] can help homeowners defend their families and property from intruders, they can help thugs and insurrectionists murder innocent victims."). Pointing to the benefits of these features to those who might use them defensively, Plaintiffs argue that the SAFE Act ought to be struck down. But under intermediate scrutiny, this Court must give "substantial deference to the predictive judgments of the legislature." Kachalsky, 701 F.3d at 97. And "[i]n the context of firearm regulation, the legislature is 'far better equipped than the judiciary' to make sensitive policy judgments (within constitutional limits) concerning the dangers in carrying firearms and the manner to combat those risks." Id. (quoting Turner Broad., 512 U.S. at 665).

(…)

To be sure, this Court's deference is not without bounds. New York must rely on evidence that "fairly support[s]" its rationale in passing the law. City of Los Angeles v. Alameda Books, Inc., 535 U.S. 425, 438, 122 S. Ct. 1728, 1736, 152 L. Ed. 2d 670 (2002). Here, New York has met that burden; substantial evidence supports its judgment that the banned features are unusually dangerous, commonly associated with military combat situations, and are commonly found on weapons used in mass shootings.

The recent mass shooting in Newtown, CT, which prompted the quick passage of this law, was no exception. The shooter armed himself with a .223-caliber Bushmaster Model XM15 rifle and a 30-round magazine. See Connecticut State Police Press Release, Jan. 18, 2013, available at http://www.ct.gov/despp/cwp/view.asp?Q=517284 ("The shooter used the Bushmaster .223 to murder 20 children and six adults inside the school; he used a handgun to take his own life inside the school. No other weapons were used in this crime.").

Of course, this is only one incident. But it is nonetheless illustrative.

(…)

[T]o survive intermediate scrutiny, the fit between the governmental objective and the challenged regulation need only be substantial, not perfect. And while these are legitimate considerations, "it is the legislature's job, not [this Court's], to weigh conflicting evidence and make policy judgments." Kachalsky, 701 F.3d at 99. New York, citing the undisputed potential for mass casualty that assault weapons present, is empowered to take action to reduce the quantity of such weapons in its state. See Nat'l Rifle Ass'n, 700 F.3d at 211(quoting Buckley v. Valeo, 424 U.S. 1, 105, 96 S. Ct. 612, 46 L. Ed. 2d 659 (1976)) ("It is well-settled that 'a statute is not invalid under the Constitution because it might have gone farther than it did, that a legislature need not strike at all evils at the same time, and that reform may take one step at a time, addressing itself to the phase of the problem which seems most acute to the legislative mind.'"). The ultimate merits of this judgment remain to be seen, but, considering especially that Plaintiffs themselves concede that the banned features increase the lethality of firearms — or as Brain Siebel has testified, that the military features of semiautomatic assault weapons are "designed to enhance the capacity to shoot multiple human targets rapidly" — this Court finds that New York has satisfied its burden to demonstrate a substantial link, based on reasonably relevant evidence, between the SAFE Act's regulation of assault weapons and the compelling interest of public safety that it seeks to advance.
As I noted above, to a large degree much of this is new law because no Court, least of all the Supreme Court, has ruled on the issue of what Heller, McDonald, and the Second Amendment mean when it comes to weapons other than handguns yet. In that regard, though, I think its important to note this section of the Heller majority opinion that was written by no less than Justice Scalia:
Like most rights, the right secured by the Second Amendment is not unlimited. From Blackstone through the 19th-century cases, commentators and courts routinely explained that the right was not a right to keep and carry any weapon whatsoever in any manner whatsoever and for whatever purpose. See, e.g., Sheldon, in 5 Blume 346; Rawle 123; Pomeroy 152-153; Abbott333. For example, the majority of the 19th-century courts to consider the question held that prohibitions on carrying concealed weapons were lawful under the Second Amendment or state analogues. See, e.g., State v. Chandler, 5 La. Ann., at 489-490; Nunn v. State, 1 Ga., at 251; see generally 2 Kent *340, n. 2; The American Students' Blackstone 84, n. 11 (G. Chase ed. 1884). Although we do not undertake an exhaustive historical analysis today of the full scope of the Second Amendment , nothing in our opinion should be taken to cast doubt on longstanding prohibitions on the possession of firearms by felons and the mentally ill, or laws forbidding the carrying of firearms in sensitive places such as schools and government buildings, or laws imposing conditions and qualifications on the commercial sale of arms.26

We also recognize another important limitation on the right to keep and carry arms. Miller said, as we have explained, that the sorts of weapons protected were those "in common use at the time." 307 U. S., at 179. We think that limitation is fairly supported by the historical tradition of prohibiting the carrying of "dangerous and unusual weapons." See 4 Blackstone 148-149 (1769); 3 B. Wilson, Works of the Honourable James Wilson 79 (1804); J. Dunlap, The New-York Justice 8 (1815); C. Humphreys, A Compendium of the Common Law in Force in Kentucky 482 (1822); 1 W. Russell, A Treatise on Crimes and Indictable Misdemeanors 271-272 (1831); H. Stephen, Summary of the Criminal Law 48 (1840); E. Lewis, An Abridgment of the Criminal Law of the United States 64 (1847); F. Wharton, A Treatise on the Criminal Law of the United States 726 (1852). See also State v. Langford, 10 N. C. 381, 383-384 (1824); O'Neill v. State, 16Ala. 65, 67 (1849); English v. State, 35Tex. 473, 476 (1871); Statev. Lanier, 71 N. C. 288, 289 (1874).
While this is dicta that was not essential to the ruling in Heller, it was a clear signal from the Court to the Circuit and District Court's that it's decision was not intended to be, and should not be interpreted as, a blanket declaration that restrictions on gun ownership of all kinds were per se unconstitutional. In fact, Scalia was careful to say in his opinion that the basis for the Court's ruling in Heller was based primarily on what it saw as a fundamental right of self defense in the home. To some degree, that part of Heller has been expanded to include the right to self-defense in public, but the rulings involved still only involved handguns, not more advanced weaponry. Thus, it's difficult to say how even the Heller majority would deal with the issue of so-called "Assault Weapons."
The case wasn't a total victory for New York though, because Judge Skertny took a very different view of the SAFE Act's provisions purporting to attempt to regulate magazine size. Here's how he put it in his opinion:
It stretches the bounds of this Court's deference to the predictive judgments of the legislature to suppose that those intent on doing harm (whom, of course, the Act is aimed to stop) will load their weapon with only the permitted seven rounds. In this sense, the provision is not "substantially related" to the important government interest in public safety and crime prevention.

Indeed, Heller found that the Second Amendment right is at its zenith in the home; in particular, the Court highlighted the right of a citizen to arm him or herself for self-defense. But this provision, much more so than with respect to the other provisions of the law, presents the possibility of a disturbing perverse effect, pitting the criminal with a fully- loaded magazine against the law-abiding citizen limited to seven rounds.

Although Plaintiffs make this type of argument with respect to all aspects of the SAFE Act, the distinction here is plain. This Court has ruled that New York is entitled to regulate assault weapons and large-capacity magazines under the principal presumption that the law will reduce their prevalence and accessability in New York State, and thus, inversely, increase public safety. The ban on the number of rounds a gun owner is permitted to load into his 10-round magazine, however, will obviously have no such effect because 10-round magazines remain legal. As described above, the seven-round limit thus carries a much stronger possibility of disproportionately affecting law-abiding citizens.

Defendants contend, pointing to a study conducted by the NRA, that the average citizen using his or her weapon in self-defense expends only two bullets. Thus, New York argues, citizens do not truly need more than seven rounds, and the restriction minimizes the danger without hampering self-defense capabilities. But as an initial matter, New York fails to explain its decision to set the maximum at seven rounds, which appears to be a largely arbitrary number. And even if a person using a weapon in self-defense needs only a few rounds, and even if that is a rational reason for adopting the law, under intermediate scrutiny there must a "substantial relation" between the means and the end. The State's justification for the law need not be perfect, but it must be "exceedingly persuasive." Windsor v. United States, 699 F.3d 169, 185 (2d Cir. 2012) (quoting United States v. Virginia, 518 U.S. 515, 533 (1996)). This peripheral rationale, which is possibly meant to protect bystanders when a firearm is being discharged lawfully, or victims of impromptu acts of violence, is largely unsupported by evidence before this Court. It thus fails the more demanding test and must be stuck down.
In the wake of Heller and McDonald, I noted that the Supreme Court had opened up an entirely new area of the law that would take decades to flesh out. Partly, this is because, for the most part, there had been an incredibly limited amount of Supreme Court precedent on the Second Amendment prior to Heller, my own rough count found one case in the late 19th Century and a handful of cases in the 20th Century dealing with things such as the mid-1930s laws that regulated the circumstances under which someone could legally obtain a fully automatic weapon, a law that remains largely intact and is unlikely to be seriously challenged at any time in the future. Once the Court ruled as it did in Heller, though, it guaranteed that we would see years of litigation on what exactly the right that its decision outlined via the historical evidence available from the time the Amendment was ratified actually entailed. As noted, we've already seen the beginnings of that in the lower courts, and this case is now added to that list. The coalition of gun rights groups, gun manufacturers,and gun owners that filed this lawsuit has already announced that they would be appealing Judge Skertney's decision, so the next Court we'll be hearing from is the Second Circuit Court of Appeals. From there, it would head to the Supreme Court, assuming that they accept the case. It's possible that they won't, of course, but at some point these issues raised by Heller will come before the Justices and we'll begin to see just how far the right protected by the Second Amendment extends. Given how long it took for similar issues to be decided with regard to the other parts of the Bill of Rights, that's likely to be a process that could take years, if not decades.
Here's Judge Skertney's Opinion: