Joe Manchin: Further Gun Control Efforts Unlikely In 2014
The likelihood of any action on gun control in 2014 is extremely limited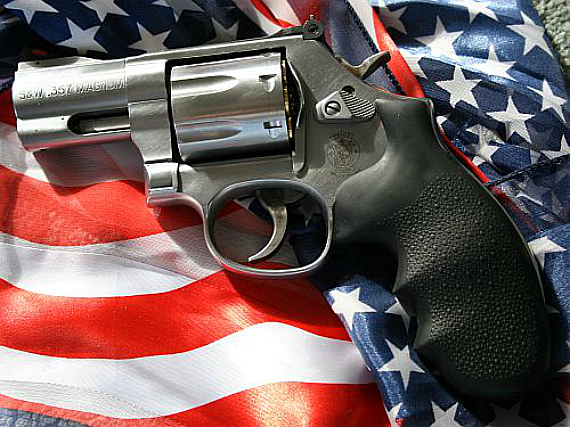 West Virginia Senator Joe Manchin, who was one of the legislative leaders of the effort to draft some kind of Federal legislation on gun control in the wake of last year's tragedy at Sandy Hook Elementary School, admitted yesterday that 2014 is likely to be a difficult if not impossible year for enacting any kind of gun control legislation:
Sen. Joe Manchin says rounding up the votes to pass a bill creating background checks for gun purchases next year is going to be "difficult."

While saying he's "hopeful" that some would change their minds, the West Virginia Democrat acknowledged there are Democrats who opposed the bill creating background checks for gun purchases.

"Hopefully, they would maybe reconsider," Manchin said in an interview aired Sunday on CNN's "State of the Union." "It's going to be difficult to get the extra votes that we need. I'm going to be honest with you."
This, of course, ought to be rather obvious to anyone who's even a casual observer of the political scene. When the Senate took up the background checks issue in April of this year, the issue of guns and the memory of what happened in Newtown were still fresh in the public mind. If there was ever a time in recent American history when something like expanded background checks would have had a viable chance of becoming law, it would have been at that point. Indeed, as supporters of the Manchin/Toomey proposal liked to note during the time he bill was up for debate and in the months that have following, polling continually indicates that the idea of expanding background checks is something that has long been overwhelmingly supported by an overwhelming majority of Americans. This cuts across pretty much all the demographic categories. Indeed, even gun owners have responded in polling saying that they support enhanced background checks. As I've noted in the past, though, this same polling also indicates that gun control is a relatively low priority issue among Americans. Even in he wake of Sandy Hook, polling indicated that, at most 6% of Americans considered it the "most important" issue to them when it comes to supporting or voting for a candidate. For opponents of enhanced gun control, on the other hand, polling indicates that, for opponents of gun control, it is a far more important issue and one that they are likely to take into account far more strongly than proponents tend to. The best recent example of this would be the recall elections in Colorado of two of the most prominent advocates for that state's new gun control laws. Both of those recall elections were successful, while similar efforts to mount recall bids against opponents of those laws failed to even apparently failed to even garner enough signatures to get on the ballot. Finally, as I noted last month, polling on gun control as an issue is essentially back down to the levels it was at before the Sandy Hook tragedy. All of this suggests strongly that there's unlikely to be a strong push for a re-vote on Manchin/Toomey, or any other gun control measure at any point in 2014.
The biggest reason we're unlikely to see any renewed push for gun control in 2014, of course, is the 2014 elections themselves. When the Senate took up Manchin/Toomey, we saw two of the four Red State Senators considered vulnerable next year Mary Landrieu and Kay Hagan, vote for the bill even though it could potentially hurt them in their home states. Two others, Mark Begich, and Mark Pryor, voted against it as did other Democrats Max Baucus, who is retiring at the end of next year. If the bill were to come up again next year, it's quite possible that it could lose the support o Hagan and/or Landrieu as they try to protect themselves in an election year, as well as fother Democrats looking ahead to re-election bids in 2016. Looking ahead to 2015, we'll be talking about a Presidential year and it will be even less likely that Congress will want to touch gun control as a policy priority.
Some gun control proponents will attempt to argue, of course, that increased backing from PACs such as those established by outgoing NYC Mayor Michael Bloomberg and former Congresswoman Gabby Giffords will make gun control an issue in the 2014 elections themselves. While I have no doubt that they will involve themselves in targeted races, I tend to doubt that they'll have a significant impact. The record of their involvement in 2013 elections is spotty at best, and based on what happened in Colorado perhaps counterproductive. Additionally, while I've heard some arguments that the election of Terry McAuliffe, who supports enhanced background checks, is somehow significant, I tend to discount that argument for two reasons. First of all, even in Northern Virginia where support or gun control is arguably stronger than anywhere else in the Commonwealth, there was little to no campaigning on gun control as an issue either by McAuliffe, the PACs, or by the Cuccinelli campaign. Second, Republican dominance in the state legislature means that McAuliffe will be able to do next to nothing when it comes to this issue, something that voters were no doubt aware of when they voted in November and sent to Richmond both a Democratic Governor who supported background checks and a Republican dominated House of Delegates that opposes them. So, since its not at all clear that these pro-gun control groups had much of an impact in 2013 is seems unlikely that will change in 2014.
One a final note, Manchin made an important point yesterday that I think a lot of advocates of gun control either don't understand, choose to ignore, or just dismiss somewhat arrogantly as something only "those people" think:
Manchin said gun owners didn't oppose background checks in theory but were concerned that government wouldn't stop with checks.

"What we found out is that people couldn't trust government that they would stop there," he said.
Rightly or wrongly, there are a lot of people who feel this way, and many of the events of 2013 — from the IRS targeting scandals to the revelations about the National Security Agency — have only served to enhance that. Personally, I think it's a good thing that people distrust their government, because it tends to motivate them to pay attention to what's going on around them and, hopefully, keep their representatives on their toes. Even if you dismiss the idea, though, it is a real phenomenon that appears to be far more prevalent than it has been in some time. Ignore it if you wish, but it is the kind of attitude that is likely to shape our political culture for some time to come.