Meaningful Action To Prevent More Tragedies Like This
Will the massacre of twenty children in a Connecticut elementary school mark a turning point in America's gun culture? Don't count on it.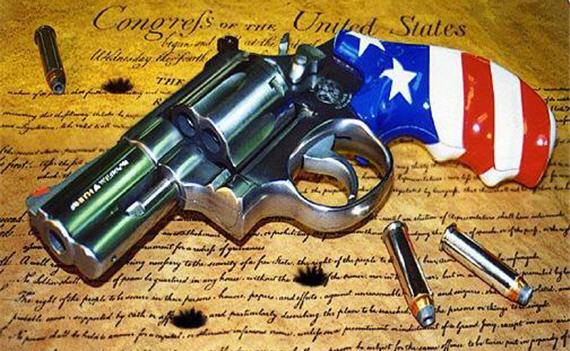 Will the massacre of twenty children in a Connecticut elementary school mark a turning point in America's gun culture? Don't count on it.
NYT ("Debate on Gun Control Is Revived, Amid a Trend Toward Fewer Restrictions"):
The day before a gunman massacred 20 schoolchildren in their classrooms in Connecticut on Friday, lawmakers in Michigan passed a bill — over the objections of the state's school boards — that would allow people to carry concealed weapons in schools.

That same day, Ohio lawmakers passed a bill that would allow guns in cars at the Statehouse garage. Earlier in the week, a federal appeals court struck down a ban on carrying concealed weapons in Illinois. And Florida officials announced that they would soon issue their millionth concealed weapon and firearm license — or, as a state news release put it, the program would be "One Million Strong."

The legal and political debate over the nation's gun laws was following a familiar trajectory: toward fewer restrictions. Now, as the country absorbs news of yet another mass shooting, this one claiming the lives of young children, both supporters and opponents of stricter gun laws are asking whether the carnage might change that pattern at the state or national levels.

As President Obama used his weekly Saturday address to repeat his impassioned but vague call to take "meaningful action to prevent more tragedies like this," some gun control advocates said they hoped the shooting would be a catalyst for change.

"We genuinely believe that this one is different," Dan Gross, the president of the Brady Campaign to Prevent Gun Violence, said in an interview on Saturday. "It's different because no decent human being can look at a tragedy like this and not be outraged by the fact that it can happen in our nation. And because this time, we're really poised to harness that outrage and create a focused and sustained outcry for change."
Writing in the New York Review of Books, Garry Wills calls guns "Our Moloch."
Few crimes are more harshly forbidden in the Old Testament than sacrifice to the god Moloch (for which see Leviticus 18.21, 20.1-5). The sacrifice referred to was of living children consumed in the fires of offering to Moloch. Ever since then, worship of Moloch has been the sign of a deeply degraded culture. Ancient Romans justified the destruction of Carthage by noting that children were sacrificed to Moloch there. Milton represented Moloch as the first pagan god who joined Satan's war on humankind:

First Moloch, horrid king, besmear'd with blood
Of human sacrifice, and parents' tears,
Though for the noise of Drums and Timbrels loud
Their children's cries unheard, that pass'd through fire
To his grim idol. (Paradise Lost 1.392-96)

Read again those lines, with recent images seared into our brains—"besmeared with blood" and "parents' tears." They give the real meaning of what happened at Sandy Hook Elementary School Friday morning. That horror cannot be blamed just on one unhinged person. It was the sacrifice we as a culture made, and continually make, to our demonic god. We guarantee that crazed man after crazed man will have a flood of killing power readily supplied him. We have to make that offering, out of devotion to our Moloch, our god. The gun is our Moloch. We sacrifice children to him daily—sometimes, as at Sandy Hook, by directly throwing them into the fire-hose of bullets from our protected private killing machines, sometimes by blighting our children's lives by the death of a parent, a schoolmate, a teacher, a protector. Sometime this is done by mass killings (eight this year), sometimes by private offerings to the god (thousands this year).

The gun is not a mere tool, a bit of technology, a political issue, a point of debate. It is an object of reverence. Devotion to it precludes interruption with the sacrifices it entails. Like most gods, it does what it will, and cannot be questioned. Its acolytes think it is capable only of good things. It guarantees life and safety and freedom. It even guarantees law. Law grows from it. Then how can law question it?

Its power to do good is matched by its incapacity to do anything wrong. It cannot kill. Thwarting the god is what kills. If it seems to kill, that is only because the god's bottomless appetite for death has not been adequately fed. The answer to problems caused by guns is more guns, millions of guns, guns everywhere, carried openly, carried secretly, in bars, in churches, in offices, in government buildings. Only the lack of guns can be a curse, not their beneficent omnipresence.
The debate over guns is much like debates over religion, except more dogmatic. The automobile is the only other of our inventions that kills more innocent others; but we're constantly reacting to that fact by tinkering with the technology and imposing regulations to make cars safer. Any attempt to make it harder to use a gun to kill people, even accidentally, is treated as an act of tyranny and the slippery slope to Fascism.
Part of this is a function of the fact that the right to bear arms is enshrined in our Constitution. Our homes and "effects" are the only others of our possessions to even get a mention although, oddly, the 4th Amendment has been much less zealously safeguarded than the 2nd. The police can search your body and your automobile pretty much on a whim; the Supreme Court has time and again said so, citing public safety concerns nowhere mentioned in the Constitution. For that matter, even our most fundamental right, freedom of speech, has long been burdened with "time, place, and manner" restrictions. But requiring trigger locks on guns not in use? Or tell people they can't carry a concealed handgun in a crowded shopping mall? That's unconstitutional. (Unless, oddly, it's a federal courthouse; then, public safety requires that we be searched and stripped of not only our weapons but our cellular telephones.)
Indeed, despite a number of widely publicized shooting sprees over the years, many of them in America's schools, support for gun rights has only grown: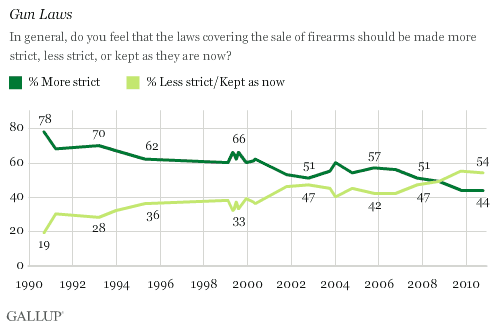 And, as Max Fisher illustrates in a series of charts, Americans own an inordinate number of guns.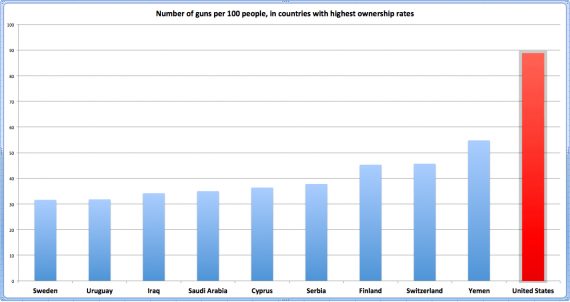 Or, as Fisher puts it,
Americans don't just have more guns that anyone else – 270 million privately held firearms. They also have the highest gun ownership per capita rate in the world, with an average of about nine guns for every 10 Americans. The second highest gun ownership rate in the world is Yemen; yes, Americans have nearly twice as many guns per person as do Yemenis, who live in a conflict-torn Arab nation still dealing with poverty, political unrest, a separatist Shia insurgency, an al-Qaeda branch, and the aftereffects of a 1994 civil war.
Now, as it happens, I own more firearms than the average American and the average Yemeni combined. They're all long guns—rifles and shotguns—that were once owned by either my late father or my late wife's late father. And they're all stored in a location and state of readiness that ensures my children can't get to them, thus making them useless for personal protection unless the assailant gives me a lot of warning (in which case, I'm much more likely to leave the house than engage in a shootout). But, nonetheless, I own them.
While I'm not a hunter, I support the right of others to engage in that sport. It's a time-honored bonding ritual and one that's good for our ecosystem. While I do it so infrequently that it's hardly a hobby, I do from time to time enjoy target shooting and think it should be legal.
It's much harder to find a rationale for allowing people to walk around with handguns strapped to their waist. But over the past quarter century,  "shall issue" laws have spread like wildfire. In 1986, even Texas wouldn't issue a concealed carry permit; now, only Wisconsin and Illinois won't–and Illinois' ban just got struck down by a federal appellate court.
In the wake of the Sandy Hook massacre, Ezra Klein compiled "Twelve facts about guns and mass shootings in the United States." The upshot of the list is that the United States has a lot of shooting sprees and mass killings compared to other countries in the world. And within the United States, places with a higher concentration of guns have a higher concentration of violence and restrictions on gun ownership tend to coincide with reduced gun violence.
And yet, as John Sides pointed out after the Aurora massacre in July, despite the rise in these gut-wrenching mass shooting incidents, gun violence is actually in decline.
First, we are a less violent nation now than we've been in over forty years.  In 2010, violent crime rates hit a low not seen since 1972; murder rates sunk to levels last experienced during the Kennedy Administration.  Our perceptions of our own safety have shifted, as well.  In the early 1980s, almost half of Americans told the General Social Survey (GSS) they were "afraid to walk alone at night" in their own neighborhoods; now only one-third feel this way.

Second, for all the attention given to America's culture of guns, ownership of firearms is at or near all-time lows.  Since 1973, the GSS has been asking Americans whether they keep a gun in their home.  In the 1970s, about half of the nation said yes; today only about one-third do.  Driving the decline: a dramatic drop in ownership of pistols and shotguns, the very weapons most likely to be used in violent crimes.
So, we have something of a paradox. There have been more mass shooting incidents, most involving innocent kids, in recent years than I can remember. Each of them wrenches the public consciousness and sparks cries to "do something." And, yet, gun crimes are actually on the wane.
Is it insane that some yahoo who wants to die famous can grab his mommy's M-16 knockoff, head down to the local school, and destroy the lives of 20-plus families? Absolutely. And arguments about "rights" ring incredibly hollow against that backdrop. If we can restrict people's right to speak, assemble, and travel in the interests of public order and safety, surely the right to carry instruments that can so easily kill two dozen people can be abridged.
But, even if the 2nd Amendment and Heller and McDonald weren't there as impediments against such restrictions, it's not at all obvious what laws would need to be in place to prevent this sort of evil.
Banning so-called "assault rifles" is a reaction to cosmetics, not capability. Yes, it seems scary that you can buy a Bushmaster Patrolman's Carbine M4A3 at Walmart. It's a cheap knockoff of the M4 carbine variant on the AR15/M16 series that's been the US military standard going back to the late Vietnam era. But, contrary to most media reports, they're not automatic fire weapons. While military and police variants offer three round burst capability, the ones for civilian sale are only semi-automatic (that is, one trigger pull fires one round).  Like pretty much every other rifle or pistol on the market.
We could restrict magazine sizes to, say, those that hold only 10, 12, or 15 rounds. But, aside from the rare circumstance where an assailant is in a gun fight with police, where taking a few seconds (assuming the shooter is a rank amateur) to change magazines might provide an opening, that's unlikely to matter. It's not as if the teachers and children had the ability to fire back. (And, no, we really don't want to arm teachers.)
I'm certainly in favor of measures to restrict crazy people from getting their hands on guns. But, sadly, we usually don't know these people are crazy until it's too late. The shooter in this case apparently used his mommy's gun; there's no evidence I'm aware of that she was crazy.
One intriguing possibility is mandating some technological solution to make it harder for people other than the registered owner to fire the gun. Various "smart gun" technologies exist or are in the works which rely on RFID chips and biometric devices; cruder devices, which rely on complicated rings to activate the trigger, have been available for decades. If effectively implemented, they could conceivably greatly reduce the number of crimes committed with stolen weapons, including cases such as this one where a teenager steals a weapon from a parent. They'd also, presumably, cut down on gun suicides and accidental shooting deaths of children.
Naturally, they're, naturally, bitterly opposed by the NRA and other gun advocates.
UPDATE: As if on cue, WaPo retweeted Sarah Kliff's WonkBlog essay "What would 'meaningful action' on gun control look like?" moments after this piece went live. Literally none of the steps suggested—more extensive background checks, banning 'certain types' of firearms, increasing waiting periods, or increasing public health funding—would have had the slightest impact in Newtown, Connecticut.