America's Deadliest School Massacre And The New Media World
Is it good to live in a world where news of a massacre can travel around the world in an instant?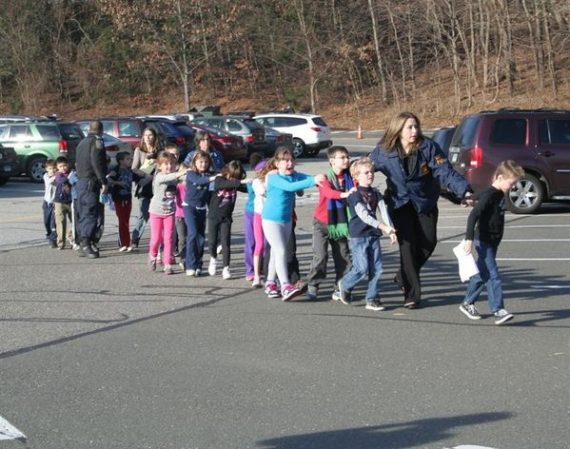 It didn't happen yesterday, it happened in Michigan in 1927:
A school board official, enraged at a tax increase to fund school construction, quietly planted explosives in Bath Township Elementary. Then, the day he was finally ready, he set off an inferno. When crowds rushed in to rescue the children, he drove up his shrapnel-filled car and detonated it, too, killing more people, including himself. And then, something we'd find very strange happened.

Nothing.

No cameras were placed at the front of schools. No school guards started making visitors show identification. No Zero Tolerance laws were passed, nor were background checks required of PTA volunteers—all precautions that many American schools instituted in the wake of the Columbine shootings, in 1999. Americans in 1928—and for the next several generations —continued to send their kids to school without any of these measures. They didn't even drive them there. How did they maintain the kind of confidence my own knees and heart don't feel as I write this?

They had a distance that has disappeared. A distance that helped them keep the rarity and unpredictability of the tragedy in perspective, granting them parental peace.

"In 1928, the odds are that if people in this country read about this tragedy, they read it several days later, in place that was hard to get to," explains Art Markman, author of "Smart Thinking" (Perigee Books, 2012). "You couldn't hop on a plane and be there in an hour. Michigan? If you were living in South Carolina, it would be a three-day drive. It's almost another country. You'd think, 'Those crazy people in Michigan,' same as if a school blows up in one of the breakaway Republics."

Time and space create distance. But today, those have compressed to zero. The Connecticut shooting comes into our homes-even our hands-instantly, no matter where we live. We see the shattered parents in real time. The President can barely maintain composure. This sorrow isn't far away, it's local for every single one of us.
Ever since the news of the massacre at Sandy Hook Elementary School broke yesterday morning, it has been pretty much the only topic of discussion on the cable news networks who, since they are all located in New York City, were able to get anchors like Wolf Blizter and Anderson Cooper to the scene of the crime before the sun had even set on the West Coast. All three major broadcast networks broke into their at least part of their afternoon schedules to broadcast update. And, if you're spent any amount of time surfing the blogs, or reading Twitter or Facebook, it has pushed pretty much every other topic of discussion to the side. This is likely to continue through the weekend and into the better part of next week. We haven't even gotten to the point where victims names have been released, and when that happens we're likely to see the media obsess over every little detail of their lives. In the meantime, armchair psychiatric "experts" will tell news anchors what motivated the actions of a dead man that they never met and who they know nothing about. At some point, there will be a memorial service that the President will most likely attend and more moving speeches will be delivered. It will be, frankly, quite the maudlin last week before Christmas.
This didn't happen in 1927, nor at any other time when a horrible crime in another part of the country, or the world, occurred. There's no tuning the clock back, of course. We live in a hyper-connected world where news like this travels around the world at the speed of light. Yesterday, we saw the dangers of that as many of the initial details about the shooting — from the possibility of their being a second shooter, to the question of whether the shooter's father and brother had also been murdered, to the identity of the shooter himself — turned out to be incorrect. Even today, there seem to be different versions of what kind of weapons were used in the shooting, with some news outlets reporting that the Sig Sauer .223 rifle was found in the car the Defendant used while others saying it was found with the shooter's body. There have also been examples of what I would personally call egregious behavior by some members of the media. All day yesterday, for example, we saw reporters interviewing children who had witnessed the shooting. Today, there are reports of other reporters who were using Twitter to contact people who identified themselves as friends of people with children at the school to see if they could get an interview. Yes I suppose they're doing their job, but it's all quite sordid.
As someone who writes and spends a lot of time gathering information online, I'm not suggesting that we go back to the way things were in 1927, but I can't help but be just a little jealous of those people and their sheltered lives.