US, UK, and France Bomb Syria to Send Some Sort of Message about Chemical Weapons
There is no obvious strategy and even the expressed rationale makes no sense.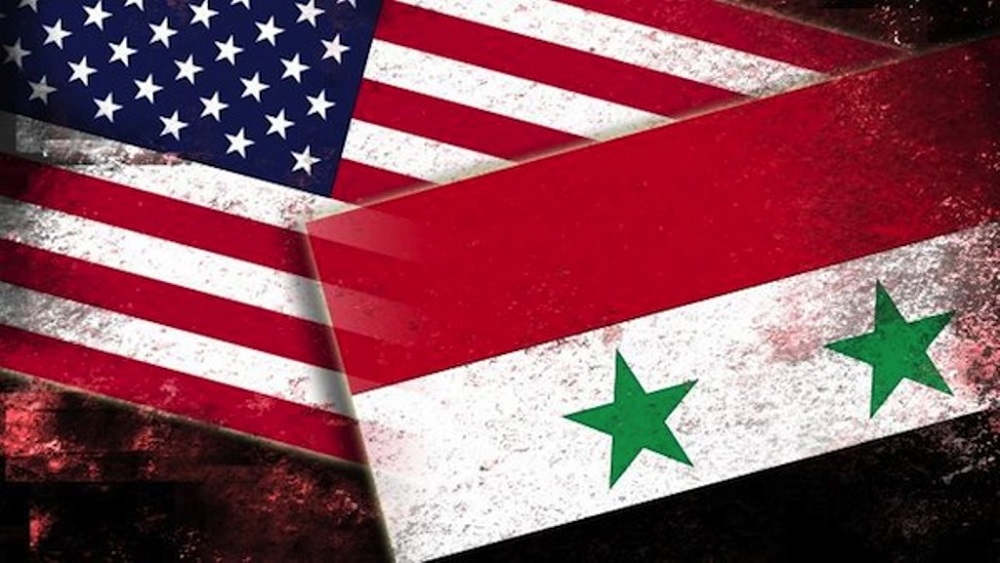 The long-anticipated symbolic military response to the latest Syrian chemical weapons attack has happened.
NYT ("U.S., Britain and France Strike Syria Over Suspected Chemical Weapons Attack"):
The United States and European allies launched airstrikes on Friday night against Syrian research, storage and military targets as President Trump sought to punish President Bashar al-Assad for a suspected chemical attack near Damascus last weekend that killed more than 40 people.

Britain and France joined the United States in the strikes in a coordinated operation that was intended to show Western resolve in the face of what the leaders of the three nations called persistent violations of international law. Mr. Trump characterized it as the beginning of a sustained effort to force Mr. Assad to stop using banned weapons, but only ordered a limited, one-night operation that hit three targets.

"These are not the actions of a man," Mr. Trump said of last weekend's attack in a televised address from the White House Diplomatic Room. "They are crimes of a monster instead."

Shortly after the attack, the Syrian presidency posted on Twitter, "Honorable souls cannot be humiliated."

The strikes risked pulling the United States deeper into the complex, multisided war in Syria and raised the possibility of confrontation with Russia and Iran, both of which were supporting Mr. Assad with military forces. Within 90 minutes, the Russian ambassador to the United States warned of "consequences" for the allied attacks.

While Mr. Trump vowed as recently as last week to pull American troops out of Syria, he said he would remain committed to the goal of preventing further chemical attacks.

"We are prepared to sustain this response until the Syrian regime stops its use of prohibited chemical agents," he said.

But Defense Secretary Jim Mattis, who had urged caution in White House deliberations leading up to the strike, told reporters on Friday night that there were no more attacks planned unless Mr. Assad again uses gas on his own people.

"We confined it to the chemical weapons-type targets," Mr. Mattis said. "We were not out to expand this; we were very precise and proportionate. But at the same time, it was a heavy strike."

The assault was twice the size and hit two more targets than a strike that Mr. Trump ordered last year against a Syrian military airfield. Launched from warplanes and naval destroyers, the burst of missiles and bombs struck Syria shortly after 4 a.m. local time on Saturday.

They hit three of Mr. Assad's chemical weapons facilities: a scientific research center in greater Damascus that was used in the production of weapons, and two chemical weapons facilities west of Homs, one of which was used for the production of the nerve agent sarin and the other was part of a military command post, said Gen. Joseph F. Dunford Jr., the chairman of the Joint Chiefs of Staff.
WaPo ("U.S. launches missile strikes in Syria"):
President Trump ordered a military attack against Syrian President Bashar al-Assad on Friday, joining allies Britain and France in launching missile strikes in retaliation for what Western nations said was the deliberate gassing of Syrian civilians.

The coordinated strike marked the second time in a little over a year that Trump has used force against Assad, who U.S. officials believe has continued to test the West's willingness to accept gruesome chemical attacks.

Trump, speaking from the White House late Friday, said the attack last weekend was "a significant escalation" of Assad's use of chemical weapons and warranted a stepped-up international response. Russia, the Syrian regime's most powerful ally, harshly criticized the airstrikes but did not respond militarily.

[…]

Dunford said that unlike the unilateral U.S. strike in Syria last year, in which only one site was attacked, the United States worked with two allies and hit the three sites in an operation that he said would result in the long-term degradation of Syria's ability to research, develop and deploy chemical weapons.

The attack involved munitions fired from aircraft and naval vessels, including about 100 Tomahawk cruise missiles, according to a Defense Department official who spoke on the condition of anonymity to discuss operational details. The Pentagon also employed the B-1 strategic bomber.

The assault came despite the lack of a definitive independent finding that chemical weapons were used or who had deployed them. An initial team of inspectors had only arrived in Syria on Friday.

Defense Secretary Jim Mattis declined to say whether he thought the attack would prevent Assad from using chemical weapons again.

"Nothing is certain in these kinds of matters. However, we used a little over double the number of weapons this year than we used last year," he said. "It was done on targets that we believed were selected to hurt the chemical weapons program. We confined it to the chemical weapons-type targets."
As of 6:52 Saturday morning there is shockingly no reference to this action on the White House website. NYT has a transcript of President Trump's televised remarks. They open:
My fellow Americans. A short time ago, I ordered the United States armed forces to launch precision strikes on targets associated with the chemical weapons capabilities of Syrian dictator Bashar al-Assad. A combined operation with the armed forces of France and the United Kingdom is now underway. We thank them both.

Tonight, I want to speak with you about why we have taken this action. One year ago, Assad launched a savage chemical weapons attack against his own innocent people. The United States responded with 58 missile strikes that destroyed 20 percent of the Syrian air force.

Last Saturday, the Assad regime again deployed chemical weapons to slaughter innocent civilians, this time in the town of Douma near the Syrian capital of Damascus. This massacre was a significant escalation in a pattern of chemical weapons used by that very terrible regime.

The evil and the despicable attack left mothers and fathers, infants and children thrashing in pain and gasping for air. These are not the actions of a man. They are crimes of a monster instead.

Following the horrors of World War I a century ago, civilized nations joined together to ban chemical warfare. Chemical weapons are uniquely dangerous, not only because they inflict gruesome suffering, but because even small amounts can unleash widespread devastation.

The purpose of our actions tonight is to establish a strong deterrent against the production, spread and use of chemical weapons. Establishing this deterrent is a vital national security interest of the United States.

The combined American, British and French response to these atrocities will integrate all instruments of our national power: military, economic and diplomatic. We are prepared to sustain this response until the Syrian regime stops its use of prohibited chemical agents.

I also have a message tonight for the two governments most responsible for supporting, equipping and financing the criminal Assad regime.

To Iran and to Russia, I ask: What kind of a nation wants to be associated with the mass murder of innocent men, women and children? The nations of the world can be judged by the friends they keep.
UK Prime Minister Theresa May's official statement begins thusly:
This evening I have authorised British armed forces to conduct co-ordinated and targeted strikes to degrade the Syrian Regime's chemical weapons capability and deter their use.

We are acting together with our American and French allies.

In Douma, last Saturday a chemical weapons attack killed up to 75 people, including young children, in circumstances of pure horror.

The fact of this attack should surprise no-one.

The Syrian Regime has a history of using chemical weapons against its own people in the most cruel and abhorrent way.

And a significant body of information including intelligence indicates the Syrian Regime is responsible for this latest attack.

This persistent pattern of behaviour must be stopped – not just to protect innocent people in Syria from the horrific deaths and casualties caused by chemical weapons but also because we cannot allow the erosion of the international norm that prevents the use of these weapons.

We have sought to use every possible diplomatic channel to achieve this.

But our efforts have been repeatedly thwarted. Even this week the Russians vetoed a Resolution at the UN Security Council which would have established an independent investigation into the Douma attack.

So there is no practicable alternative to the use of force to degrade and deter the use of chemical weapons by the Syrian Regime.

This is not about intervening in a civil war. It is not about regime change.

It is about a limited and targeted strike that does not further escalate tensions in the region and that does everything possible to prevent civilian casualties.

And while this action is specifically about deterring the Syrian Regime, it will also send a clear signal to anyone else who believes they can use chemical weapons with impunity.
So, the three most powerful NATO allies struck some tertiary targets in order to "show Western resolve in the face of . . . persistent violations of international law." Assad is a "monster," not a man, but we're not seeking regime change. It's a military strike that's much bigger than the previous strike, yet is somehow not going to "escalate tensions" even though we may or may not sustain this campaign with further strikes, presumably of an escalatory nature. That's rather confusing.
Even if the strategy was somehow coherent, the aim makes little sense.
Trump's assertion that "Chemical weapons are uniquely dangerous, not only because they inflict gruesome suffering, but because even small amounts can unleash widespread devastation" is rather bizarre. It is true that they can "inflict gruesome suffering." But they're hardly "uniquely dangerous." And it's flat-out untrue that "even small amounts can unleash widespread devastation."
While they're usually included in the category "weapons of mass destruction," most knowledgeable observers think that a misnomer. As one primer on the subject puts it, they're "not as dangerous as biological weapons due to the inefficiency, the need for significant amount of the chemical, and as it relates to a lower number of casualties. . . . a chemical attack would have to have a very sophisticated delivery system in order to have a significant effect." Another observes "they are militarily more akin to conventional arms than to nuclear or biological weapons." It continues, "Even extended use of chemical weapons had no decisive impact on outcome of wars, had only local success, and made wars uncomfortable, to no purpose. For this and other reasons it is difficult to see why they are around in the first place. "
Indeed, the very incident that sparked this response demonstrates this premise. It was among the most deadly chemical attacks in a war which has seen widespread use of these weapons. It killed 75 people.
This war has been going on just over eight years. It has killed some half million people, mostly civilians. That's roughly 171 people on average a day. So, the Douma attack, horrendous as it was, accounted for roughly 10 hours' worth of the killing in this awful war. And, since we're using air strikes as our tool, there's a very good chance we killed more than 75 people in sending this message. Indeed, since we were targeting chemical facilities, we might well well have unleashed enough chemical weapons to kill more than 75 people.
But at least we're doing something.