Chemical Weapons Attack Puts Syria Back On The Front Burner
Just about a year after President Trump attacked Syria over the use of chemical weapons, the Assad regime has again used chemical weapons. There's not much we can do about, nor should we.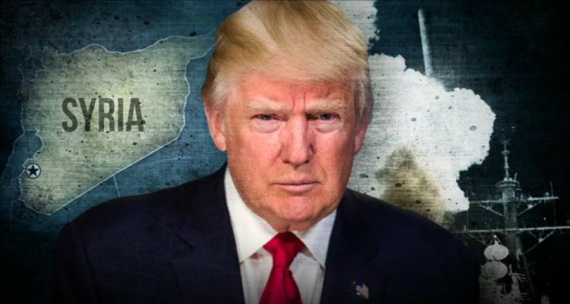 A new report of a chemical weapons attack that has killed as many as 40 civilians is putting Syria back on the front burner, but it remains unclear what, if anything, the United States can do to change the situation on the ground:
BEIRUT, Lebanon — Anti-government activists accused the Syrian government of attacking a Damascus suburb with poison gas on Saturday as Syrian forces stepped up their campaign to retake the last rebel-held pocket near the capital.

Activists in the suburb of Douma, east of Damascus, shared videos online that showed lifeless men, women and children sprawled on floors with white foam around their mouths. Other footage showed chaotic clinics where medics were hosing down patients and treating them with respirators.

The scale of the attack and the number of people killed were not immediately clear. But rescue workers estimated a death toll in the dozens.

The State Department called the reports "horrifying" in a statement and said that if they are confirmed, they "demand an immediate response by the international community."

The attack followed weeks of punishing assaults by the Syrian government and its Russian allies against a group of rebel-held Damascus suburbs known as Eastern Ghouta. Hundreds have been killed and tens of thousands have fled or been bused out as the government has retaken the area. Douma, which is controlled by a rebel group called the Army of Islam, is the last, and the Syrian government and its supporters have made no secret of their determination to take it at any cost.

Syrian state news media denied that any chemical weapons had been used and accused the rebels of fabricating the videos to gain international sympathy.

In its statement, the State Department blamed Syria's chief ally for the country's past chemical attacks.

"Russia, with its unwavering support for the regime, ultimately bears responsibility for these brutal attacks, targeting of countless civilians, and the suffocation of Syria's most vulnerable communities with chemical weapons," it said.

A confirmed chemical attack would pose a dilemma for President Trump, who has said he will hold President Bashar al-Assad of Syria accountable for the use of chemical weapons while also saying that he wants to reduce American military involvement in Syria.

After a chemical attack by the Syrian government killed dozens of people in the village of Khan Sheikhoun last April, Mr. Trump responded by ordering the firing of 59 Tomahawk cruise missiles at the air base from which the attacks had originated.

"No child of God should ever suffer such horror," Mr. Trump said at the time. "It is in the vital national security interest of the United States to prevent and deter the spread and use of deadly chemical weapons."
White House spokespersons appearing on the Sunday morning shows are saying that all options are on the table with respect to responding to the attacks and even President Trump himself has spoken strongly on the matter in a few morning Tweets:
Many dead, including women and children, in mindless CHEMICAL attack in Syria. Area of atrocity is in lockdown and encircled by Syrian Army, making it completely inaccessible to outside world. President Putin, Russia and Iran are responsible for backing Animal Assad. Big price…

— Donald J. Trump (@realDonaldTrump) April 8, 2018
….to pay. Open area immediately for medical help and verification. Another humanitarian disaster for no reason whatsoever. SICK!

— Donald J. Trump (@realDonaldTrump) April 8, 2018
If President Obama had crossed his stated Red Line In The Sand, the Syrian disaster would have ended long ago! Animal Assad would have been history!

— Donald J. Trump (@realDonaldTrump) April 8, 2018
Most likely coincidentally, this apparent attack came pretty much one year after President Trump ordered a cruise missile attack against a chemical weapons facility in Syria in the wake of another chemical weapons attack. That attack, though, did little to deter Assad from continuing a war that was aimed at Syrian civilians as much as it was aimed at the rebels that have been waging war against the regime for the past seven years. The air base that was hit during the attack, for example, was back in operation within days after the attack, and it was apparent from the manner in which the Assad regime acted that it didn't feel the slightest bit constrained by what was clearly just a demonstration attack. In no small part, of course, this was due to the continued support that Assad receives from both Russia and Iran, and both nations seem intent on making sure that their puppet stays in power regardless of the cost to their own international reputations or Syrian civilians. That's likely to continue after this attack as well.
At the time of Trump's strike on Syria last year, James Joyner made these observations here at OTB:
This Syrian civil war has been ongoing now for just over six years. Assad has clearly been the "bad guy" from the outset but it was never clear that there was a good guy. The Obama administration talked tough about Assad but didn't do much about it, correctly recognizing that the options were bad.  The combination of the Russians backing Assad—and thus forestalling action on a UN Security Council on which it wields a veto, a steady fracturing of the Assad opposition forces, intervention by a bewildering array of foreign actors, and the appearance of what would become the Islamic State meant that the options continued to get worse over time.

While Obama made a series of mistakes with regard to Syria—most notably the constant refrain of "Assad must go" and the drawing of the infamous "red line"—he avoided making a catastrophic error. But the result of largely staying out of the civil war (if ultimately not the counter-ISIL fight) has been horrendous: horrific loss of innocent life, unspeakable atrocities, and massive refugee flows.

So, it's not at all surprising that there has been near-universal proclamation of support for these strikes from our European allies. There had been, as foreign affairs reporter Laura Rozen notes, "a lot of pent-up demand built up against Assad horrors [these] past few years."

But now what?

The options have not gotten better. It's almost inconceivable that we'll risk war with Russia to oust the Assad regime. And, even if we could somehow reach an accommodation with Moscow, it's not at all clear who would govern Syria post-Assad.
Those same issues remain one year later and will remain long after any retaliation the United States might be contemplating in response to this latest attacks. They also come in the wake of reports that President Trump himself seems unsure about which way he actually wants to proceed when it comes to American policy in Syria. Notwithstanding some reports that he was inclined to withdraw American forces from the country sooner rather than later, the President is being pressed by his military and foreign policy advisers to keep forces in the country, although it's entirely unclear what they would be doing once the principle concern of dealing with the remnants of ISIS has been largely accomplished. As I made clear in a post just a few days ago, the idea of the United States getting deeply involved in the Syrian civil war is both unwarranted and unjustifiable at this point in time. This is especially true given the fact that it's entirely likely that what will come after the Assad regime would be, if anything, worse than what we're seeing right now.
In any case, the eyes of the world will now be on the United States to see how, if it all, the Trump Administration will respond to this latest chemical attack. In many respects, the President's actions a year ago, notwithstanding the fact that they were largely impotent and ineffective in being anything other than a demonstration attack, have boxed him into a corner to the point where he's probably required to do something in response to this latest use of chemical weapons attack. At the same time, though, it's also true that whatever the United States does it will neither bring about the end of the Assad regime nor is it likely to deter Assad from targeting civilians in the future. As long as he has the backing of his allies in Moscow and Tehran, and there is every indication that this will continue to be the case, he will continue with his current strategy and, most likely, will still be in power even if it means that this civil war lasts in some form into the next decade. Given that, it would be best if we didn't get any further involved in Syria than we already are, because getting involved further is likely to only end in disaster for us.