Trump Orders Syria Strikes. So Now What?
It's not at all clear that there is a useful strategy at work here.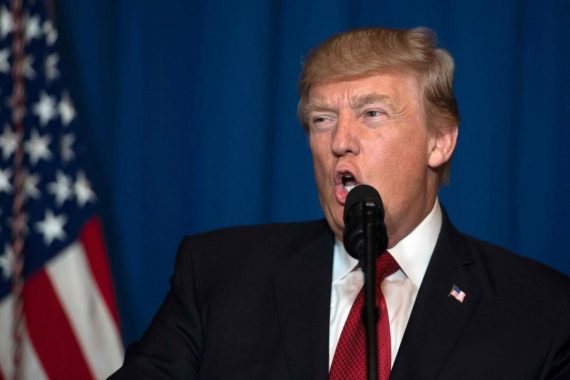 As rumored, President Trump ordered a retaliatory strike on Syria in response to the Assad regime's horrific sarin attacks that killed innocents earlier in the week. Support among American political leaders and allies is near-universal at this early juncture. But it's not at all clear that there is a useful strategy at work here. The answer to "And now what?" is not at all obvious.
Michael Gordon, Helene Cooper, and Michael Shear lay out the basics for the NYT:
President Trump said Thursday night that the United States had carried out a missile strike in Syria in response to the Syrian government's chemical weapons attack this week, which killed more than 80 civilians.

"Tonight, I ordered a targeted military strike on the air base in Syria from where the chemical attack was launched," Mr. Trump said in remarks at his Mar-a-Lago estate in Florida. "It is in this vital national security interest of the United States to prevent and deter the spread and use of deadly chemical weapons."

Mr. Trump — who was accompanied by senior advisers, including Stephen K. Bannon, his chief strategist; Reince Priebus, his chief of staff; his daughter Ivanka Trump; and others — said his decision had been prompted in part by what he called the failures by the world community to respond effectively to the Syrian civil war.

"Years of previous attempts at changing Assad's behavior have all failed, and failed very dramatically," the president said, referring to President Bashar al-Assad of Syria. "As a result, the refugee crisis continues to deepen, and the region continues to destabilize, threatening the United States and its allies."

The Pentagon announced that 59 Tomahawk cruise missiles had been fired at Al Shayrat airfield in Syria. The missiles were aimed at Syrian fighter jets, hardened aircraft shelters, radar equipment, ammunition bunkers, sites for storing fuel and air defense systems.
WaPo's Dan Lamothe explains why Tomahawks were the tool of choice:
The U.S. Navy launched 59 Tomahawk cruise missiles early Friday in Syria at a military airfield in response to a chemical-weapons attack this week on civilians, U.S. military officials said, relying on a mainstay weapon when the Pentagon wants to attack from a safe distance.

The missiles were launched about 4:40 a.m. local time from the USS Ross and USS Porter, Navy destroyers in the eastern Mediterranean Sea, defense officials said, speaking on condition of anonymity due to the sensitivity of the operation. The strikes targeted al-Shayrat air base in Homs province, from which the Syrian military allegedly launched chemical weapons attacks against civilians Tuesday.

The Tomahawk has been a critical part of U.S. warfare since the Persian Gulf War in 1991 and commonly carries a 1,000-pound warhead. It was last used by the Pentagon in October, when the military launched Tomahawks from the Red Sea at three coastal radar sites in Yemen after Houthi rebels there fired missiles at several U.S. ships over several days.

Before that, the United States used them in September 2014 as the country expanded its air war against militants from Iraq into Syria. The Pentagon said at the time that it launched 47 Tomahawks from two ships — the USS Philippine Sea in the Persian Gulf and the USS Arleigh Burke in the Red Sea — and hit sites used by what it called the Khorasan Group, an Islamist cell said to be linked to al-Qaeda.

The strikes, announced Thursday night in Washington, were launched from the USS Ross and the USS Port, two destroyers in the Mediterranean Sea, a defense official said on condition of anonymity due to the sensitivity of the operation. Russian forces also use the base, but U.S. military officials said they "deconflicted" with them ahead of time to minimize the possibility of them being caught in the strikes.
So, the good news is that the administration chose an option with very low immediate risk to U.S. personnel and went out of their way to avoid the worst-case result, an accidental strike on Russian forces that could have escalated into great power war.
Ryan Evans, editor of War on the Rocks, lays out the Good, Bad, and Ugly represented by the strikes, and notes that the Good isn't really all that great:
[O]ne could reasonably argue that Trump's cruise missile strike re-establishes deterrence with Assad as far as the narrow but important issue of chemical weapons use is concerned. However, I worry that an attack on just a single air base could be seen by the Assad regime as nothing more than symbolic and have the opposite intended effect. What if Assad does it again?
This Syrian civil war has been ongoing now for just over six years. Assad has clearly been the "bad guy" from the outset but it was never clear that there was a good guy. The Obama administration talked tough about Assad but didn't do much about it, correctly recognizing that the options were bad.  The combination of the Russians backing Assad—and thus forestalling action on a UN Security Council on which it wields a veto, a steady fracturing of the Assad opposition forces, intervention by a bewildering array of foreign actors, and the appearance of what would become the Islamic State meant that the options continued to get worse over time.
While Obama made a series of mistakes with regard to Syria—most notably the constant refrain of "Assad must go" and the drawing of the infamous "red line"—he avoided making a catastrophic error. But the result of largely staying out of the civil war (if ultimately not the counter-ISIL fight) has been horrendous: horrific loss of innocent life, unspeakable atrocities, and massive refugee flows.
So, it's not at all surprising that there has been near-universal proclamation of support for these strikes from our European allies. There had been, as foreign affairs reporter Laura Rozen notes, "a lot of pent-up demand built up against Assad horrors [these] past few years."
But now what?
The options have not gotten better. It's almost inconceivable that we'll risk war with Russia to oust the Assad regime. And, even if we could somehow reach an accommodation with Moscow, it's not at all clear who would govern Syria post-Assad.
Beyond that, as Andrew Exum, who served as Obama's last assistant secretary of defense for the Middle East, observes, this action will almost certainly
. . . greatly complicate the fight against the Islamic State. For the past two years, U.S. and coalition aircraft have flown in and around one of the world's more robust air defense systems without the Syrian regime harassing the pilots. We had a few incidents where Russian jets got too close to U.S. aircraft or Syrian anti-aircraft radar lit up U.S. or coalition aircraft, but for the most part, the air war has gone forward unimpeded.

Both Russia and the Syrian regime, though, are still well-positioned to play the spoiler. They can affect the flights of U.S. aircraft in eastern Syria by activating their air defenses and have, in recent months, brought in more advanced air-defense weaponry that has even the Israelis nervous. They've also "accidentally" struck U.S.-backed rebel groups fighting the Islamic State.
Putting some holes in Assad's airfields is cathartic. It's exactly what Hillary Clinton—my preferred candidate in the last election—would have done were she president.  But what now?