Republicans In Congress Open To Banning Bump Stocks
Don't hold your breath, but the Las Vegas shooting may actually prompt Congress to do something.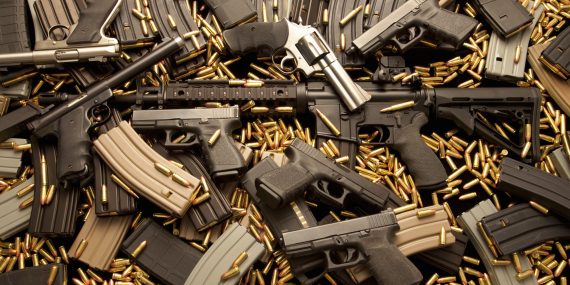 Republicans on Capitol Hill are apparently open to the idea of passing legislation to outlaw Bump Stocks, the relatively inexpensive add-on that can effectively convert an ordinary semi-automatic weapon into a fully automatic weapon:
WASHINGTON — Top congressional Republicans, who have for decades resisted any legislative limits on guns, signaled on Wednesday that they would be open to banning the firearm accessory that the Las Vegas gunmanused to transform his rifles to mimic automatic weapon fire.

For a generation, Republicans in Congress — often joined by conservative Democrats — have bottled up gun legislation, even as the carnage of mass shootings grew ever more gruesome and the weaponry ever more deadly. A decade ago, they blocked efforts to limit the size of magazines after the massacre at Virginia Tech. Five years later, Republican leaders thwarted bipartisan legislation to expand background checks of gun purchasers after the mass shooting at an elementary school in Newtown, Conn.

Last year, in the wake of the Orlando nightclub massacre, they blocked legislation to stop gun sales to buyers on terrorism watch lists.

But in this week's massacre in Las Vegas, lawmakers in both parties may have found the part of the weapons trade that few could countenance: previously obscure gun conversion kits, called "bump stocks," that turn semiautomatic weapons into weapons capable of firing in long, deadly bursts.

"I own a lot of guns, and as a hunter and sportsman, I think that's our right as Americans, but I don't understand the use of this bump stock," Senator John Cornyn of Texas, the No. 2 Republican in the Senate, said, adding, "It seems like it's an obvious area we ought to explore and see if it's something Congress needs to act on."

Mr. Cornyn said the continuing legality of the conversion kits was "a legitimate question," and told reporters he had asked Senator Charles E. Grassley of Iowa, the Judiciary Committee chairman, to convene a hearing on that issue and any others that arise out of the Las Vegas investigation.

Other Republican senators, including Lindsey Graham of South Carolina, Orrin G. Hatch of Utah and Marco Rubio of Florida, said they would be open to considering legislation on bump stocks.

"We certainly want to learn more details on what occurred in Las Vegas," Mr. Rubio said, "and if there are vulnerabilities in federal law that we should be addressing to prevent such attacks in the future, we would always be open to that."

In the House, Representative Carlos Curbelo, Republican of Florida, said he was drafting bipartisan legislation banning the conversion kits. Representative Mark Meadows, the head of the conservative Freedom Caucus, also said he would be open to considering a bill, while Representative Bill Flores, Republican of Texas, called for an outright ban.

"I think they should be banned," Mr. Flores told the newspaper The Hill. "There's no reason for a typical gun owner to own anything that converts a semiautomatic to something that behaves like an automatic."

In an often deadlocked Washington, none of the pronouncements guaranteed action. The National Rifle Association, which has poured tens of millions of dollars into Republican campaign coffers, remained mum on the bump stock discussion and could stop it cold.

And Erich Pratt, executive director of another gun rights group, Gun Owners of America, vowed to block any legislation.
In addition to the lawmakers noted above, House Speaker Paul Ryan stated in an interview this morning that he was open to the idea of banning these types of add-ons, stating in one interview that he was unaware that such devices even existed until the Las Vegas shooting and he's an avid hunter who has been frequently photographed back home in Wisconsin joining friends during deer hunting season. Bob Goodlatte, the Chairman of the House Judiciary Committee, has also said he would support such an idea assuming the language of the specific bill were acceptable. Ryan and his fellow leaders in the GOP Caucus have also responded to the Las Vegas shooting by quietly shelving a bill that would have eased the rules regarding the sale of gun silencers. No such device was used in the Las Vegas shooting, of course, and there haven't been any reporters that the shooter, Stephen Paddock, owned any such devices, but it's clear that Ryan and the House GOP leadership realizes that the idea of the House passing such a bill in the wake of what happened Sunday night would, at the very least, be incredibly bad public relations. Other than the Gun Owners of America, a gun rights group that is to the right of the National Rifle Association when it comes to Second Amendment issues, there doesn't appear at the moment to be any prominent gun rights advocate who is outright rejecting the idea of Congressional legislation aimed at banning Bump Stocks. So far, though, the NRA itself has remained silent on the issue despite what has apparently been repeated requests for comment from several media organizations.
As I noted in my post yesterday, the only purpose that these Bump Stocks and similar add-ons appear to serve is to allow someone to turn an ordinary semi-automatic rifle (which essentially means any rifle) into a fully automatic weapon for as little as $100. This would allow them to bypass a law that has been on the books for more than thirty years now that bans the sale or manufacture of any fully automatic weapon to a member of the general public. The only exceptions to this law apply to weapons manufactured prior to 1986, and in order to legally own such a weapon an individual must undergo a background and law enforcement check by the ATF and other law enforcement agencies that is far more rigorous than the ordinary background check associated with purchasing a handgun, rifle, or other sorts of currently legal weapon as well as the payment of application and license fees that exceed several thousand dollars. On top of this, the weapons themselves are quite expensive, meaning that the entire process of obtaining such a weapon can easily run into the five-figure range. A device that effectively allows someone to bypass this thirty-year-old law that no sane person can oppose.
How quickly Congress might act on this issue is, of course, another issue entirely. Over in the Senate, Dianne Feinstein has already introduced a bill that would ban Bump Stocks0 that is essentially the same bill that she proposed on this issue several years ago. Currently, though, that bill only has a handful of co-sponsors and they're all fellow Democrats. Ideally, though, this is the kind of legislation that ought to be introduced by Republicans and should originate in the House, where it would likely face its stiffest test. If it can get through the House, and I suspect that it could, then it would easily pass the Senate and make its way to the President's desk in relatively short order. Of course, nothing is quite that simple in Washington. As things stand, House Republicans are clearly trying to give tax reform priority treatment and Paul Ryan has said he'd like to see a bill passed and sent to the Senate by the end of October. That doesn't necessarily leave a lot of time for something that will need to thread the needle of gun politics in Congress to make its way through the House, but the initial comments from top Republicans in both the House and the Senate is enough to give one hope that Congress may actually do something this time. We'll see if they follow through.