What Are Police For If They Won't Risk Their Lives to Save Children?
Despite their military trappings and propaganda, they're seldom heroes.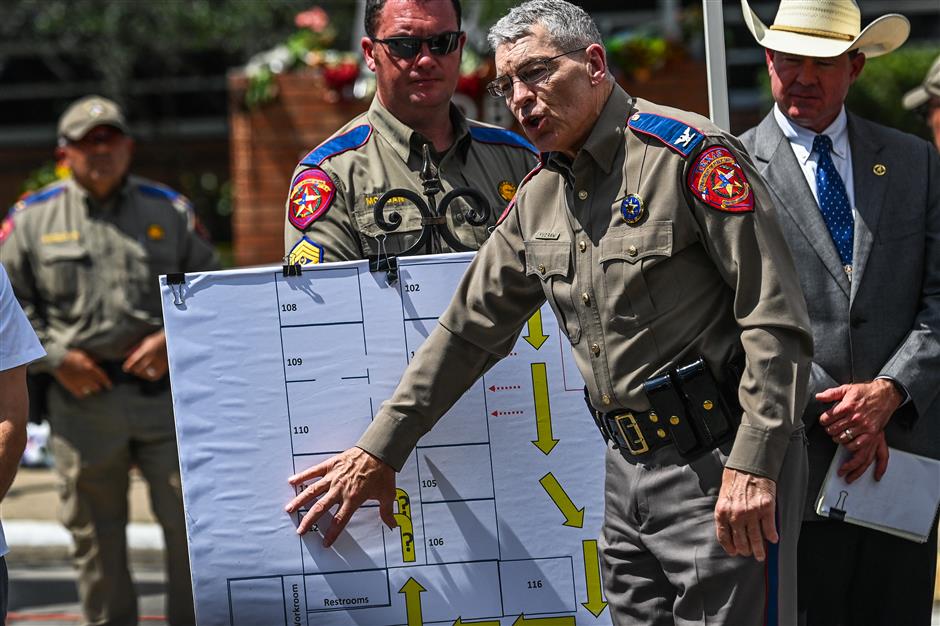 The early reports of overwhelming events are often wildly inaccurate. As investigations put more pieces together, a very different picture emerges. The one that has emerged in the wake of a school shooting in Texas is of police incompetence and cowardice on a mind-boggling scale.
The Bulwark's Tim Miller reacts to "the Most Enraging Press Conference in American History."
Texas Department of Public Safety Director Steve McCraw revealed that there were 19 officers in the school hallway for about an hour as small children used their deceased teacher's phone to dial 911 and beg for their lives. He described local police officials preventing border patrol and other federal law enforcement who had arrived on the scene from entering the school and helping these terrorized kids, while their keening parents begged them to act. He acknowledged the school resource officer was not on the scene.

And after admitting this staggering level of incompetence in the face of unimaginable evil—a failure so immense that it will reverberate for generations—McCraw said dismissively, "If I thought it would help, I'd apologize."

I want to throw my computer through a wall just transcribing these words.

McCraw followed that remark by making a rather revealing point. In defense of the officers on scene he said that there was "​​a barrage—hundreds of rounds were pumped in four minutes into those classrooms."

Hundreds of rounds. Four minutes. When you cut away all the bullshit, and excuse making, and failure this is the crux of the matter.
A WaPo report ("Tiny school police force in Uvalde took charge, then failed to go in") shows local cops in way over their head:
The police response to the Texas school massacre was led by the chief of a six-officer police department that oversees about eight schools. The first officers on the scene were from the Uvalde city police force, which has a part-time SWAT team and about 40 officers on the payroll.

Policing experts said it makes sense that the school police chief was in charge, given that it was his campus and he knows the safety protocols.

But authorities made clear Friday that many other things went wrong as those small police departments were joined by state, local and federal law enforcement agencies in the town of 16,000. Officers waited nearly an hour inside Robb Elementary School before a group stormed into the classroom and confronted 18-year-old Salvador Rolando Ramos. At that point, police say, officers with Customs and Border Protection shot and killed the gunman, who had slain 19 children and two teachers and wounded 17 others.

State officials have offered contradictory and partial accounts of the slow response, which included police forcing parents away from the school and subduing them as they pleaded with the officers to go in.

Texas Gov. Greg Abbott (R) and others initially said officers had responded quickly and saved lives. Officials now say the school-system police chief erred by deciding the gunman had shifted from an active shooter to a "barricaded subject," and making no effort to break down the door and get inside.

An off-duty Border Patrol tactical agent was the first to arrive outside the classroom and "basically said let's get this done," according to a U.S. Customs and Border Protection official who spoke on condition of anonymity to share preliminary details of the investigation. "They have not told me they were frustrated," the official said of other border patrol agents who converged. "But they told me it was hard to discern who was in charge."

Pedro "Pete" Arredondo, chief of the Uvalde Consolidated Independent School District Police Department, who was the incident commander, did not respond to requests for comment on Friday. A spokeswoman for the Uvalde Police Department referred inquiries to the Texas Department of Public Safety, and requests to the local district attorney's office went unanswered.

"We needed the help ASAP for our kids, and it wasn't there," Amanda Flores, who said she knew all 21 victims, said at a memorial on Main Street on Friday. "I saw those parents running, wanting to go get their children and the police tackling the parents, and that should have never happened."

Since the Columbine school massacre in 1999, many police departments have trained officers to go after an attacker as soon as possible, to minimize the number of teachers and children shot. Before then, guidance often emphasized waiting for specially trained tactical officers with specialized equipment.

In March, the school district police hosted active shooter training at Uvalde High School, according to a post on the agency's Facebook page. "Our overall goal is to train every Uvalde area law enforcement officer so that we can prepare as best as possible for any situation that may arise," the post said.

The state-mandated course curriculum advises that, "In the event of an active school attack, school-based law enforcement officers should do the best they can to fill the gap until other first responders can arrive." An arriving officer's "first priority is to move in and confront the attacker," even if that officer has to act alone, the guidance says.
Not only did that decidedly not happen—multiple officers on the scene failed to do their duty—but, in a scene we've all seen play out in B movies, the local yokel cops fought the feds over jurisdiction. NBC News ("Federal agents entered Uvalde school to kill gunman despite local police initially asking them to wait"):
Federal agents who went to Robb Elementary School in Uvalde, Texas, on Tuesday to confront a gunman who killed 19 children were told by local police to wait and not enter the school — and then decided after about half an hour to ignore that initial guidance and find the shooter, say two senior federal law enforcement officials.

According to the officials, agents from BORTAC, the Customs and Border Protection tactical unit, and ICE's Homeland Security Investigations (HSI) arrived on the scene between noon and 12:15 p.m. on Tuesday. Local law enforcement asked them to wait, and then instructed HSI agents to help pull children out of the windows.

The BORTAC team, armed with tactical gear, at first did not move toward the gunman. After approximately 30 minutes passed, however, the federal agents opted of their own volition to lead the "stack" of officers inside the school and take down the shooter.

Steven McCraw, the director of the Texas Department of Public Safety, said Friday that Peter Arredondo, the chief of police for the Uvalde Consolidated Independent School District, had stopped at least 19 officers from breaking into the school as the gunman opened fire for at least an hour.

Arredondo believed that the shooter had barricaded himself and that the children were not under an active threat, said McCraw at a news conference.

"From the benefit of hindsight where I'm sitting now, of course, it was not the right decision. It was a wrong decision. Period. There was no excuse for that," McCraw said. "There were plenty of officers to do what needed to be done, with one exception, is that the incident commander inside believed he needed more equipment and more officers to do a tactical breach at that time."
Almost two dozen trained police officers were sitting around afraid to act against one crazy teenager with a semi-automatic rifle who was in the process of murdering schoolchildren. You'd expect more of 19 randomly-chosen citizens. Especially if they were all armed.
As a USA Today report notes, the list of what went wrong is very wrong, indeed. If the results weren't so horrific, it would be a comedy of errors.
It's enough to make John Stoehr wonder "What are police for?"
The boy, whom the reporter did not identify, said he and a friend "heard the shooting through the door." He added that, "I told my friend to hide under something so he won't find us. I was hiding hard. And I was telling my friend to not talk because he is going to hear us."

He recalled what happened after police came through the classroom door that Salvador Ramos had locked behind him. "When the cops came, the cop said: 'Yell if you need help!' And one of the people in my class said 'help.' The guy overheard and he came in and shot her."

That's it. That's the detail that got me. A child desperately needing to trust a caring adult. A child shot to pieces for needing and trusting.

Because of a cop's incompetence.

The boy's eyewitness account is more damning in context.

The Post reported Thursday that, with his rifle, Ramos strolled into the school "unobstructed." Officials had said he encountered three cops. First, an in-school cop. Then, two others arriving on the scene. Officials had said the latter two officers sustained injuries.

Turns out all that was a lie.

Police arrived "four minutes" after Ramos entered the building, officials conceded. Meanwhile, while Ramos was shooting 19 fourth-graders to pieces, they dithered outside for an hour.

A video shows some carrying semiautomatic rifles. It shows one cop with his taser drawn, at the ready. Another cop restrains what appears to be a parent in order to prevent them from entering the building.

This is the context in which the boy's testimony is even more damning than the incompetent cop who got a girl killed for needing to trust.

Irma Garcia and Eva Mireles were the boy's teachers, the KENS reporter said. They were shot to pieces. They saved his life, he said.

"They were nice teachers," he said.

"They went in front of my classmates to help.

"To save them."
The rest of the essay is about how police don't really keep us safe and how they have turned the public narrative on its head, demanding that we respect their authority and venerate them as heroes when it's really teachers and others who serve without violence that should get that respect. It's a bit over the top but not completely wrong, either.
Which brings us back to Miller. Perhaps surprisingly, coming from a senior writer at the site Bill Kristol started after Trumpist funders folded The Weekly Standard, he argues that the biggest outrage isn't even the cowardice and incompetence of the cops:
In the coming days there will be a desire to obsess only over the unfathomable failures of those who were charged with keeping these kids safe. The poor teacher who left a door ajar. The MIA resource officer. The cops, excuse me—the SWAT Team—that posed on Facebook in tactical gear with weapons of war looking like they were prepared to head to the Donbas, but were apparently unequipped to take on a lone teenager who was slaughtering their town's children.

But the main thing to take away from all of that is not that their failure can be reversed. It's that in a nation with 130,000 schools there will always be some kind of human error when responding to an active shooter. God willing those errors won't be as catastrophic as they were in Uvalde. But there will always be errors.

Parkland had an armed officer and the single point of entry that the "door control" crowd is now so obsessed with. Sandy Hook was breached by the killer firing through a window next to a locked security door. Santa Fe High School in Texas had put in place a school shooting plan with armed officers, before 10 were killed.

Can we develop better procedures for dealing with shooters in school? Probably. Schools have been wargaming these scenarios for years already, though. And yes, we can and should provide more funding for schools to help make them safer.

But when a child is able to access two assault rifles and hundreds of rounds of bullets—and are able to massacre a dozen innocents in the blink of an eye—then there is no level of door control or resource officer training that can reliably stop them.

There will always be a teacher or a kid who leaves a door open. There will always be a resource officer who is outmatched by the child Rambo with a military arsenal. There will always be a moment where kids are moving between classes, or to lunch, or to chapel, or to the football game, or to the bus and where all of the carefully designed safety precautions fall apart. And yes, there will always be fallible police officers scared for their own lives making split second—or in this case 3,600 seconds—calculations revealing that they are unfit for duty and should not be entrusted by their communities with all of that unused tactical gear.

So yes, absolutely, we should do anything in our power to make schools safer.

But the important takeaway from Uvalde shouldn't be that next time we just need perfect cops, and unimpeachable protocols, and more competent "good guys with guns." Time after time we've seen that this isn't possible in the real world. The military understands that plans rarely survive first-contact with the enemy. The fetishists insisting that "guns don't kill people, doors do," do not.

The only way to actually protect these kids is to make it harder for their peers to get the deadly weapons that have allowed so many shooters to evade so many cops and so many safety procedures.
Texas Governor Greg Abbot, not shockingly, doesn't think guns are the problem. NBC:
Texas Gov. Greg Abbott said Friday he was "livid" about being "misled" on initial reports of the immediate police response to the school massacre in Uvalde.

But Abbott, at a press conference in Uvalde, rejected any calls for increased gun control measures — such as background checks — in response to the mass shooting at Robb Elementary School, where 19 children and two teachers were slaughtered.

[…]

The governor said investigators need to "get to the very seconds of exactly what happened with 100 percent accuracy and explain it to the public and most importantly to the victims who have been devastated."

Abbott insisted officials will get to the bottom of why responding police didn't take more aggressive action to "eliminate" the killer.

"There will be ongoing investigations that detail exactly who knew what when, who was in charge and what strategy (was used), why that particular strategy was employed, why were other strategies not employed," Abbott said.

"Bottom line would be, why did they not choose the strategy that would have been best to get in there to eliminate the killer and to rescue the children."
I've written enough since this latest shooting about the politics of it all. The combination of the over-representation of rural interests in the Senate, the widely differing cultures of the 50 states, and a US Supreme Court packed with Republican judges pretty much all ensure not much will be done about our gun culture. And, even if all these obstacles were removed, even Democrats don't agree on how far we should go in an ideal world.
But Miller's larger point is surely correct: we just can't expect Good Guys With Guns to save us. Even though their chiefs wear the insignia of a four-star general on their uniforms, police aren't soldiers. Most small-town cops just aren't all that well trained for these situations. That's not surprising: urban combat, active shooters, hostage situations and the like just aren't that common. Were I to hazard a guess, the last time the Uvalde Police Department had to deal with anything even remotely like this was . . . never. Expecting them to remember their training and act like professional soldiers when a crisis hits is, at the end of the day, completely unreasonable.
At a visceral level, I despise them for their cowardice. You'd think there would have been at least one hero in their sorry lot. But, realistically, they're mostly there to hand out tickets to generate revenue for the town.