[Updated] Picturing The Gap Between Fantasy And Reality
Police and the Punisher Skull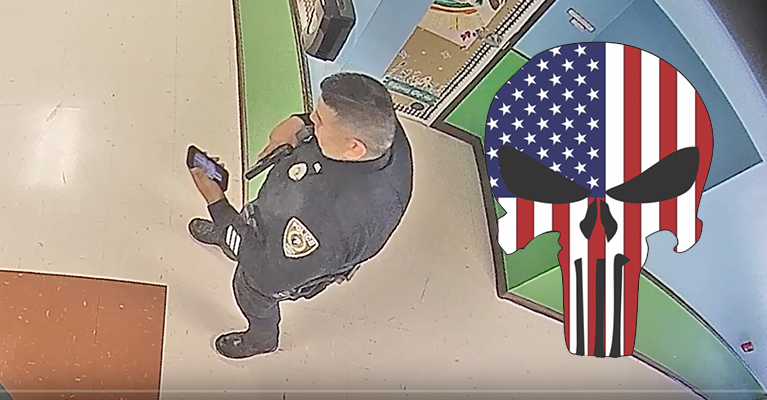 [Additional Context from 4/14/2022]
Since this post went up last night there has been additional reporting that helps further contextualize this image and the underlying moments of tragedy it encapsulates. Today the Texas Tribune reports that the police officer pictured above, Ruben Ruiz, was the husband of one of the teachers who was shot and killed:
Media organizations and social media users were up in arms over an image pulled from the video posted by the Austin American-Statesman and KVUE-TV that showed a policeman glancing at his phone as the shooter, in two adjoining classrooms just down the hall, was killing children and teachers with a semiautomatic rifle.

"This really makes my blood boil," Terrance Carroll, a former speaker of the Colorado House of Representatives, wrote in a tweet. "This officer is checking his phone while kids & teachers are literally dying a few doors down."

[…]

But to Uvalde residents and officials investigating the shooting, the footage showed something else. The officer depicted is Ruben Ruiz, whose wife, Eva Mireles, lay dying inside one of the classrooms with the gunman.

Mireles told Ruiz in a phone call that she had been shot. Ruiz, standing in the hallway with his pistol drawn, was unable to get to her. Other officers ultimately escorted Ruiz from the scene and took his gun. Mireles was alive when police transported her from the classroom, but she died before reaching the hospital.

https://www.texastribune.org/2022/07/14/uvalde-video-officer-phone-ruben-ruiz-wife/
After some consideration, I do not feel that the original post should be removed–both because I think I need to own what I wrote and also because the original post was not meant to specifically call out Officer Ruiz individually. I cannot imagine what Officer Ruiz was experiencing in that moment. And I am truly sorry that he as an individual has become a visual proxy for a toxic trend in policing.
I also firmly believe that the core theme of this post is not a critique of an individual, but rather a collective culture within a critical civic field and should stand. I also have checked with James and Steven and they agree.
[Original Post From 7/13/2022]
Yesterday, the Austin American-Stateman and their news partner, KVUE, jointly released video footage of hallway security camera footage of the Uvalde school massacre. As the Stateman documents in an accompanying essay, the news agencies obtained a one-hour and twenty-two minute video that covered the moments from when the gunman entered the school to the police finally entering the classroom to finally engage the shooter. From that original video two cuts were made: a four-minute "highlight" video and a longer version that featured two key edits (the blurring of a child's face and the sound of children screaming as the gunman enters the classroom).
Both videos are exceptionally difficult to watch and demonstrate how far from the truth the initial "official" police accounts were of what happened that day. And there is a significant amount to critique. But one moment especially stands out: at approximately eight minutes and thirty seconds into the video an officer reaches into his pocket and pulls out his phone to check a message. Clearly visible on his phone's screen is wallpaper of the Punisher's death head skull done in American Flag colors.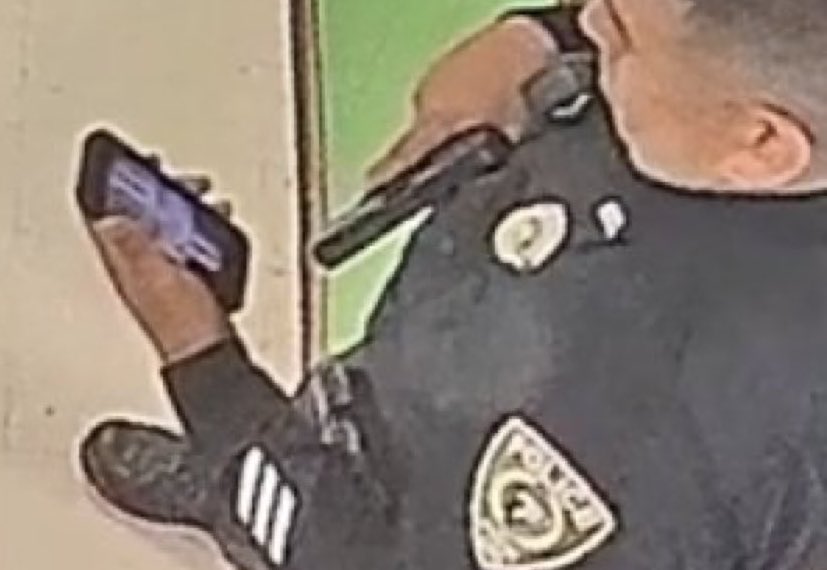 On the off-chance someone isn't familiar with the character, The Punisher was introduced in the 1970's as a villain in the pages of Marvel's Spider-man. The character quickly shifted from being a hitman to becoming a vigilante who ruthlessly hunted and executed criminals (tapping into the Deathwish zeitgeist of the time). Thanks to the 1980s and 90s rise of the anti-hero in comics the Punisher became one of Marvel's most popular and lucrative properties (though not someone you should ever rent a jet ski to). Since then, played by a variety of actors, he's made the jump to live action and appeared in three movies and a number of Netflix series.
Unfortunately, that wasn't the only way the character entered into popular culture. The character's iconography, a death head skull, began to be adopted as a symbol–first by military units (as documented in American Sniper) and more recently, by police forces. This has been characterized as part of a larger ongoing militarization of the police (much of which happened in conjunction with the "War on Terror").
The tragedy, brought on by an abjected failure of policing, in Uvalde brings the contradictions and absurdity of police embracing the logo into stark relief.
One problem with the adoption has been identified by Gerry Conway, one of the character's creators. In one interview he stated, "the Punisher represents a failure of the justice system… so when cops put Punisher skulls on their cars or members of the military wear Punisher skull patches, they're basically sid[ing] with an enemy of the system." In another he expanded on this further:
By definition, he's the opposite of what they're supposed to be, you know? He is someone who is outside the law taking the law into his own hands. So if they are claiming the Punisher as their symbol, they are saying they are outlaws and that they are criminals and that they are enemies of society. Is that really what they want to be saying?

https://99percentinvisible.org/episode/the-punisher-skull/transcript/
To Conway's point character divides the world up into two types of people: criminals and non-criminals. And, in his opinion (or the opinion of the people who write him) criminals are meant to be killed (or at the very least maimed). It's a mindset that leads to police hostilely viewing the communities they patrol (especially if those communities are considered "high crime"). This was called out a few years ago in an essay, published during the aftermath of police officers murdering George Floyd, by Patrick Skinner, a former CIA operations officer who became a police officer:
What we now see deployed in many cities and towns is anti-policing. It's the death of true community police work and, too often, the death of our neighbors. The well-documented militarization of American police departments has inevitably produced officers who see themselves and their roles as "warriors" or "punishers" or "sheepdogs." Much of what our society finds so distressing and unacceptable in police interactions with their neighbors — disrespect, anger, frustration and violence — is not a result of "flawed" training; it's a result of training for war.

https://www.outsidethebeltway.com/police-shouldnt-be-anonymous/
The tragic irony of Uvalde is it demonstrates despite "training for war" and seeing themselves as Punishers, a not-insignificant portion of our police force is actually just cosplaying–putting on a costume and pretending they are something else than they are. But when the chance comes out to live out that fantasy, reality sets in.
The entire scenario was one plucked out of a comic book or action movie waiting for "one good guy with a gun." And yet, despite all the tactical gear, overwhelming firepower, body armor, and Punisher wallpaper on their phones, the police stood outside a classroom containing an active shooter, teachers, and many children for over 45 minutes.
Then they systematically began an effort to hide their incompetence (often blaming others outside the force). No officer or official involved with this debacle has chosen to resign their commission.
And the worst part about this is that this incident will have no systemic change on police culture. In fact if anything, we've seen calls that the issue was the police needed to be better funded, better armed, and better trained. And of course, there need to be more cops (many with unofficial Punisher gear[1]) deployed in schools on the lookout for criminals to punish (often finding them among the students).
---
1. Ironically the implications of the Skull have become so toxic that recently Marvel Entertainment redesigned it to try and distance themselves from its adoption by the Police.
---
Quick note: I miss all ya'll! Due to a bunch of life and work things I haven't been able to carve out time to write. I am working to rebalance things in order to start contributing more regularly soon.