The Anglicization of Spanish Place Names
You-VAL-dee? You-VAHL-day? Oo-VAHL-deh?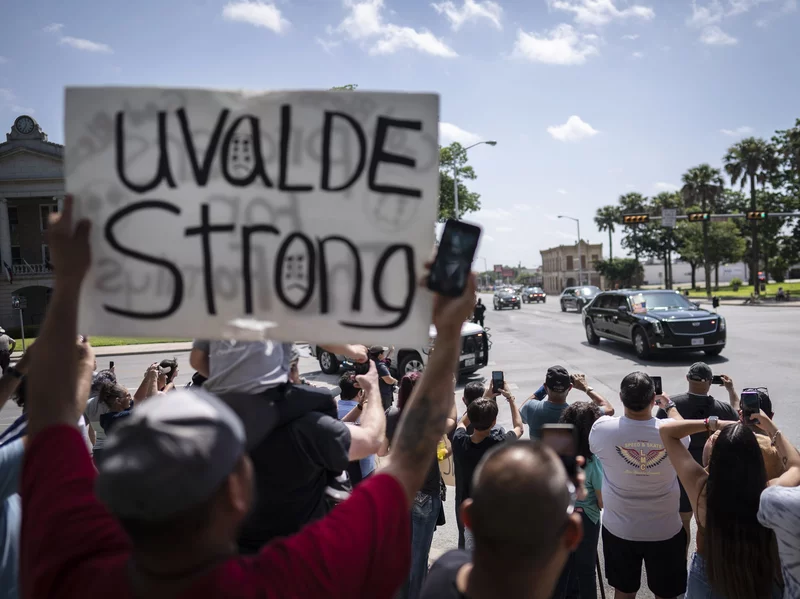 NPR's Isabella Gomez Sarmiento argues that "How we pronounce Uvalde says a lot about the power of language in mixed communities."
You-VAL-dee.

You-VAHL-day.

Oo-VAHL-deh.

When tragedy struck Uvalde, journalists flooded into the small Texas town to report on the aftermath of the shooting at Robb Elementary School.

That included NPR's own team — and it didn't take long for discussion to break out amongst staff about how to say the name of the town on air.

First, there was "you-VAL-dee," the anglicized pronunciation that's commonly accepted by locals.

But some people there also call it "ooh-VAHL-deh," closer to the Spanish pronunciation, or "you-VAHL-day," which sounds like a middle ground between the two.
I don't believe I've heard any coverage of the story, although it's possible it's been mentioned on a podcast I listen to. But I've been reading it as some variant of the last two; it would never have occurred to me to pronounce it "You-VAL-dee."
Because Uvalde is a town made up of mostly Latino or Hispanic residents, according to the U.S. Census Bureau data, landing on a "correct" pronunciation is tricky — the language of the people who live there exists on a sliding spectrum between Spanish and English, and often consists of a combination of the two.

But how we say Uvalde matters, because it represents a long lineage of how Latinos have been racialized in the U.S. and in South Texas, specifically.

[…]

Uvalde is just one example of how many Spanish-origin words are anglicized in Texas and other parts of the country — names like Del Rio, San Marcos, Refugio, or even Los Angeles and San Francisco.
I strongly suspect that this controversy, much like that over LatinX or whether politicians with Hispanic surnames get to call themselves Hispanic, is more elite inside baseball than something ordinary Latino and Chicano Americans are worried about. Still, the history is undeniable:
"We know that English was forced upon Mexican-ancestry people living in Texas, probably beginning with the Texas War of Independence and thereafter," says Ainslie. "Spanish was forbidden in schools and children were punished for speaking it."

Spanish itself is an imposed colonial language, forced upon the native Indigenous people of the region. But there's a difference between the way language is understood in Latin America and in the U.S.

In this country, language became a signifier of race, says Kirsten Silva Gruesz. She's a professor of literature specializing in Latino and Chicano literature at the University of California Santa Cruz, and author of the forthcoming book Cotton Mather's Spanish Lessons: A Story of Language, Race, and Belonging in the Early Americas.

"There's an additional layer within the U.S., which is that [Spanish] is a language that was associated with a certain kind of working-class identity," she explains. "It was associated with people who were racialized, who were discriminated against, who were prohibited from using certain drinking fountains or coming into certain schools."

A Mexican American teacher at Robb Elementary still remembers parents complaining about white teachers spanking their kids for using Spanish in the late '60s.

During that time and into the '70s, the Chicano movement took hold across the country in an attempt to empower Mexican Americans and other Latinos to demand equal rights and recognition. Part of the work of Chicanx activists and writers included reclaiming Spanish and Indigenous languages, and honoring their African roots.

All of these factors, Gruesz says, demonstrate how language became one of the first true markers of Latino identity in the U.S. — a category that is still difficult to understand today because it comprises so many different races, backgrounds and experiences, all building communities together through shared communication and cultural understanding.
I lived in Texas for a number of years, including a year and a half in El Paso when I was in 8th and 9th grade, but was really too young to fully understand the dynamics at play. I've mostly lived in the South or on military bases and thus much more steeped in the legacy of anti-Black racism.
In terms of the language issue, I find it interesting the degree to which we've used Native American or Mexican names for places. Indeed,
Uvalde was originally named Encina, after the oak trees that grow there. It was later renamed in honor of Mexican governor Juan de Ugalde and incorporated as a county seat in 1856.

Because the town's name was misspelled from its namesake, the way to pronounce it is inherently complicated, says Ricardo Ainslie, director of the Mexico Center at the Teresa Lozano Long Institute of Latin American Studies at The University of Texas at Austin.
These names are so ubiquitous as to be unremarkable. For example, I remember hearing about the Encino neighborhood in Los Angeles all the time on television and I'm not sure I ever gave any thought to it being a Spanish name. Certainly, I didn't know that it meant "oak." For that matter, while "Los Angeles" is obviously from the Spanish, it's just so much part of American culture that it would never occur to me to pronounce it in other than the Anglicized manner.
Still, as the influence of Latin culture grows in the United States, it has inevitably changed our language in subtle ways. Way back in 2009, when President Obama appointed Sonia Sotomayor to the Supreme Court, there was a minor controversy over the fact that some were mispronouncing her name and I observed,
I'm in agreement with Mark Krikorian that "Deferring to people's own pronunciation of their names should obviously be our first inclination, but there ought to be limits." Where to draw the line, however, is unclear.

He continues that "Putting the emphasis on the final syllable of Sotomayor is unnatural in English (which is why the president stopped doing it after the first time at his press conference)." That was probably the case twenty years ago but, although I'd only read Sotomayor's name until this morning, my mental pronunciation of it in fact put the emphasis on the final syllable. Hispanic names are now sufficiently common that they've become part of American culture.

But it's a complicated matter. Oftentimes, it's not immediately obvious to an untrained observer whether a name is, say, Hispanic or Italian. Or, whether one's family has Anglicized the name along the way. For example, on last week's Best. OTB Radio. Ever., it occurred to me that although I'd been reading Bill Roggio for years, I didn't know how he pronounced his name. My internal version was something like "ROW gee Oh" and it turned out to be more like "RAH ghee Oh."
Again, though, this is mostly a problem for those of us who get our information almost exclusively through reading. If one is, say, an NPR reporter covering the tragic events in Uvalde, one would presumably hear how locals pronounce it. If not, one can simply ask. Only if there's a serious divide in Uvalde—with the Latino population insistent that it be pronounced one way and the Anglos adamant that it's the other—does it become problematic.
Still, as I closed the aforementioned post,
Ultimately, American English both evolves and has regional variants. The further a foreign pronunciation differs from sounds familiar in American English and its local dialects, the less likely we are to adopt it. But once-unfamiliar names can become familiar over time. I'm sure even in Tuscaloosa, they pronounce our president's name "Oh BOM uh" rather than the more natural "Oh BAM uh."
The bottom line is that American English is much more diversified on this front than it was when I was a kid. Even those of us who aren't Spanish speakers naturally incorporate Spanish words into our speech and pronounce words that look Spanish in something that roughly resembles Spanish. (That is, while it would never have occurred to me to pronounce "Sotomayor" as "soda-meyer," I don't roll the final R.)
Indeed, we often overcorrect. For example, because I knew who Sophia Loren was well before I'd heard of Ralph Lauren, I long pronounced his name the same way I did hers even though his name is actually pronounced LORE-en rather than lo-REN.
Relatedly, while we have, through immigration and assimilation, long since incorporated various Italian, German, and other words and names into American English, we've tended to Anglicize them much more than we do Spanish. Presumably, that's a function of the continued influx of large numbers of native speakers.