The Graph Of The Day
It doesn't appear the Uvalde TX police were underfunded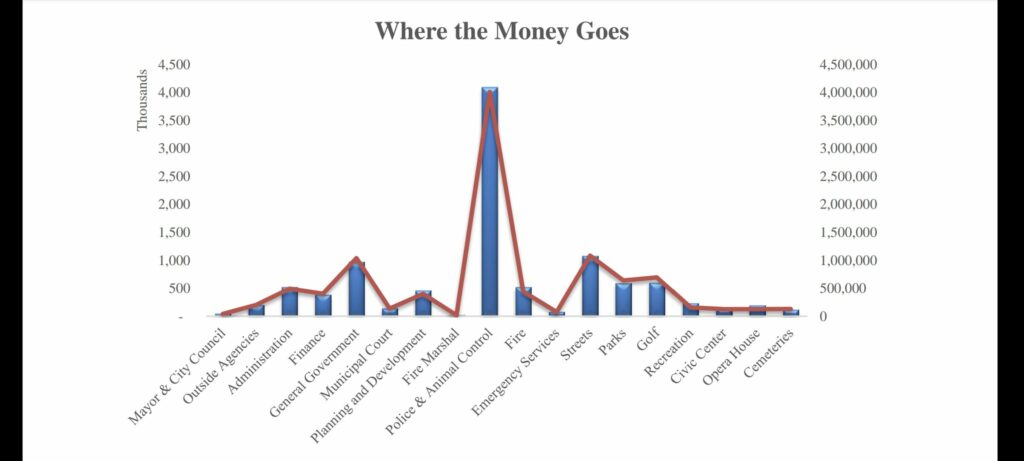 Slowly, more information is beginning to trickle out about the police response to the school shooting in Uvalde Texas. We are not going to know exact details for quite a while–if ever. However, a number of troubling details are already emerging. The following is from today's Washington Post:
Authorities agree that the gunman was dead by 1 p.m. but have offered conflicting accounts as to whether the attack began around 11:30 a.m. or closer to noon. By 11:43 a.m., the school announced on Facebook that it was under lockdown, citing gunshots in the area. "The students and staff are safe in the building," it said.

In public transmissions on a radio channel used by local EMS workers, someone said at 11:53 a.m. that a lieutenant had requested a response to the area of the school. As the response was discussed, one official was heard telling first responders: "Please, just stay back."

The side entrance to the school should have been locked, but it was unclear whether it was or if Ramos forced it open.

Two Uvalde police officers then showed up, Considine said, and tried to get inside, exchanging more gunfire with Ramos. Both officers were wounded, he said. The attacker then went to a fourth-grade classroom, where he barricaded himself in and "does most, if not all, of his damage." A Border Patrol team responded to the scene, as did other law enforcement officials, who "were breaking windows and getting kids out," Considine said.

By 12:10 p.m., a Facebook live stream recorded out the front of the school showed that police cars had established a perimeter, helicopters were flying overhead and onlookers had gathered. Seven minutes later, school authorities announced on social media there was "an active shooter at Robb Elementary."

Shots were still being heard at 12:52 p.m., according to radio recordings. "Do not attempt to get closer," a voice warned on the EMS channel.

After hearing gunfire, authorities said, a tactical team formed a "stack" formation and eventually breached the classroom door and killed Ramos in a shootout. Ramos was in the room for some time before police officers entered, and it was unclear whether he killed the students when he first barricaded himself inside or just before the police breached the room.

https://www.washingtonpost.com/nation/2022/05/25/reconstruction-timeline-uvalde-school-shooting/
The timeline makes it clear that there was a significant period of time in which police had surrounded the building while the gunman was inside. This backs up what the State Public Safety Department has previously shared:
Department of Public Safety Director Steve McCraw told reporters that 40 minutes to an hour elapsed from when Ramos opened fire on the school security officer to when the tactical team shot him, though a department spokesman said later that they could not give a solid estimate of how long the gunman was in the school or when he was killed.

"The bottom line is law enforcement was there," McCraw said. "They did engage immediately. They did contain (Ramos) in the classroom."

https://apnews.com/article/uvalde-texas-school-shooting-44a7cfb990feaa6ffe482483df6e4683
Note that Director McCraw failed to note that also contained in said classroom were two teachers and a full class of children, many of whom were killed or wounded during said containment.
We also have evidence that during that time, at least part of the local police force was concentrating on crowd control and, in some cases, physically restraining people from attempting to enter the school. Some videos of that control have also surfaced on Twitter:
Further complicating things, late last night Radley Balko, amplified a bit of social media detective work conducted by Dr Steven Thrasher of Northwestern University. Dr. Thrasher had found a 2020 entry on the Uvalde Police Department page showing off the small city's SWAT team.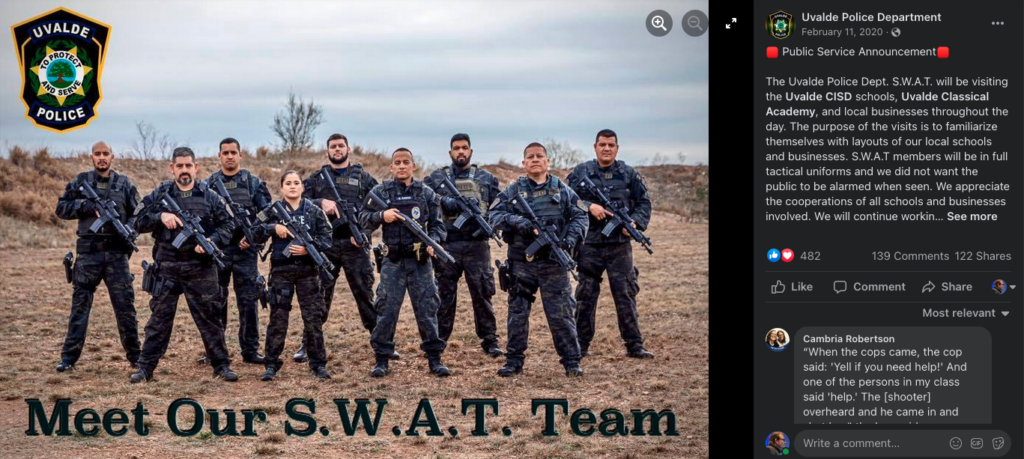 The caption that went with it is particularly of note:
The Uvalde Police Dept. S.W.A.T. will be visiting the Uvalde CISD schools, Uvalde Classical Academy, and local businesses throughout the day. The purpose of the visits is to familiarize themselves with layouts of our local schools and businesses. S.W.A.T members will be in full tactical uniforms and we did not want the public to be alarmed when seen. We appreciate the cooperations of all schools and businesses involved. We will continue working together to make Uvalde the safest place to live.

https://www.facebook.com/uvaldepd/photos/a.984027511630606/2986614501371887/?_rdr
Unless this unit was disbanded in the last two years, it appears that this small city had a tactical team that had literally trained to deal with this situation.
This brings us to the chart of the day, courtesy of the always-excellent Dan Sinker (of punk rock publishing, "Mayor Emanuel", and rethinking journalism fame):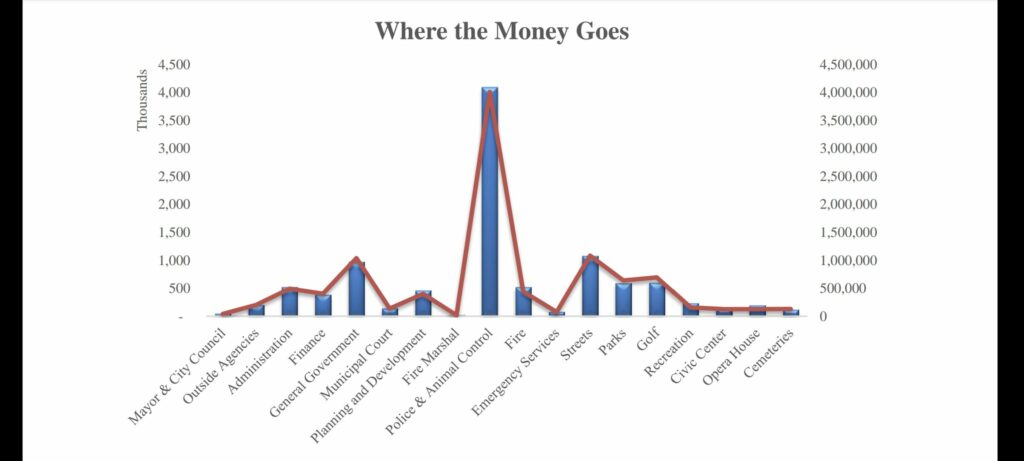 For context, Uvalde is a city of approximately 16,000 people. The police budget accounts for more than half of the city's overall budget.
Yesterday, I posted as to why calls for more police in schools wouldn't solve this problem (and would most likely worsen other social issues). Today, I post this to highlight why calls to better fund the police wouldn't solve this either. By all these accounts, there wasn't a lack of police funding or resources in Uvalde.
If anything, we should be asking what was the return on investment that the city received on that already substantial investment in a moment when things like the SWAT team were actually needed. And we should ask the same thing of our local law enforcement as well. Perhaps even more importantly, we should ask what might happen if some of that funding was transferred over to other areas like health and human services.
That said, this isn't to say that Uvalde isn't seeing some ROI on this investmetment. It's just in for-profit-policing as opposed to public safety. The police department is the 4rd largest source of local government revenue (just edged out by "golf" for the number 3 slot).