Yet Another School Shooting in America
Alas, it's unlikely to change the policies that enable them.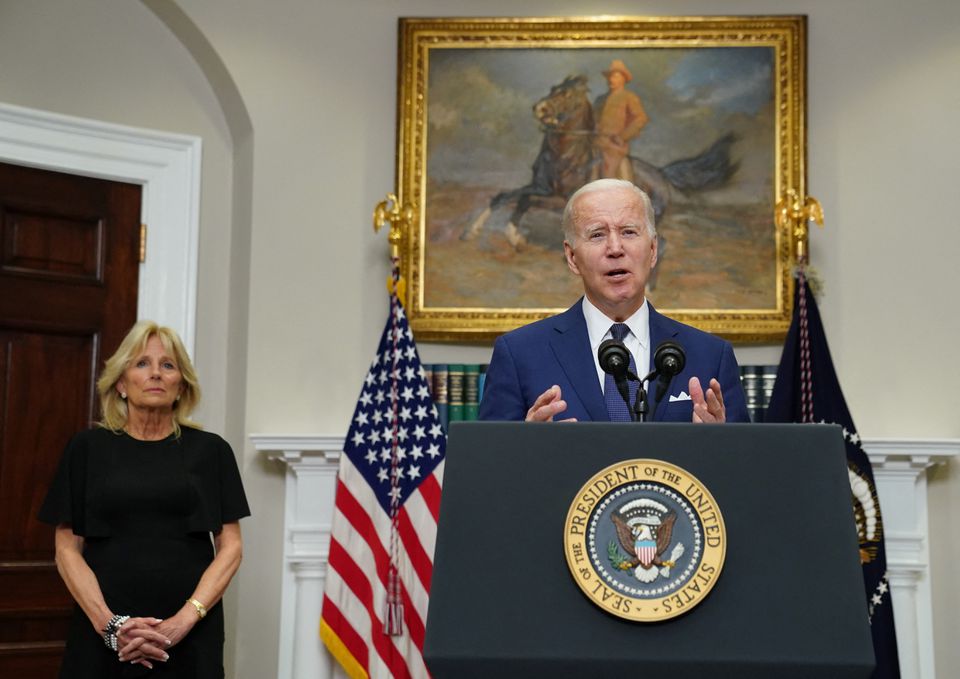 Hours after the latest massacre in an American schoolhouse, President Biden spoke to the nation pleading with lawmakers to take action. WaPo:
President Biden, in remarks that intermingled despair and anger, attempted to shame Congress on gun control Tuesday while openly questioning why the country he now leads has been incapable of coming up with an antidote to the mass shootings that show no signs of abating.

A father who has lost two of his own children, a man who has delivered perhaps more eulogies than any living politician, and a president who is confronting numerous challenges was forced, once again, to console a country reeling from tragedy.

"Why are we willing to live with this carnage? Why do we keep letting this happen? Where in God's name is our backbone?" he said during a seven-minute address from the Roosevelt Room at the White House after news of the mass killing at a school in Uvalde, Tex. "It's time to turn this pain into action."

Biden delivered the remarks less than two hours after returning from Asia and just seven days after he last spoke about a mass shooting that had upended America. It was the second time in the course of 10 days that an 18-year-old in body armor carried a rifle into a building full of unsuspecting people, interrupting everyday life for everyday Americans with terror, mayhem and bloodshed.

For some Democrats and activists, it was a moment of expletive-filled frustration, of helplessness turning to rage. It was a moment of demanding change, of attacking Republicans who boast of their love of guns, of pointing to the children that, they say, Congress is failing.

For Biden, and for the nation as a whole, the massacre in Uvalde was a painful echo of the 2012 shooting in Newton, Conn., that killed 20 children and six adults at Sandy Hook Elementary School, bookends to a decade filled with mass shootings.

"As a nation we have to ask: When in God's name are we going to stand up to the gun lobby?" Biden asked, his voice rising. "When in God's name do we do what we all know in our gut needs to be done?" He added, "I am sick and tired of it. We have to act. And don't tell me we can't have an impact on this carnage."
That "we do what we all know in our gut needs to be done" is obviously not clear. While there are Democrats who would ban private firearms outright, that's an outlier position in Biden's own party. And it's certainly not Biden's position. On the Republican side of the aisle, which increasingly represents rural America, there's broader support for gun culture. There, even criminal background checks and simple registration requirements are too much for most.
There are conservatives who support reasonable measures. David French urges, "Pass and Enforce Red Flag Laws. Now." His argument is nuanced so I'm excerpting more than I normally would:
To understand the need for red flag laws, it's important to back up and understand the different categories of American gun deaths and the tools we have to defeat gun violence. The first category is what one might call common crime. Think of gang violence. Think of domestic violence. The majority of our meaningful gun control laws are aimed at common crime. We prohibit felons from possessing guns. We prevent "straw" purchases (when one person buys for someone who's legally prohibited from owning a gun). We escalate punishment when criminals use guns to commit crimes.

But our nation's gun control laws are much less effective at addressing the next two categories of gun deaths—suicides and mass killings. Enormous numbers of otherwise law-abiding citizens die by suicide using guns in this country. These are people who could pass any background check. And forms of gun control aimed at limiting a weapon's lethality (such as restrictions on magazine size) are irrelevant to the suicide crisis. This is where our nation's strained mental health system most shows its flaws.

Mass killings are their own thing. Mass shooters are frequently law-abiding, right up until the moment when they commit mass murder. Mass shootings are often meticulously planned, which means that they can circumvent common gun control laws. For example, the Buffalo shooter legally purchased the weapon he used and then illegally modified it to make it more lethal. 

So when we talk about common gun control proposals after mass shootings—whether we're referring to expanded background checks, assault weapons bans, or limits on magazine capacity—the general rule is that none of those measures, even if implemented, would have actually prevented any recent mass shooting. 

In 2015 the Washington Post's Glenn Kessler famously fact-checked Marco Rubio's assertion that assault weapons bans and magazine limits would not have prevented any then-recent mass shooting and found it to be true. Here was Kessler:

This is certainly a depressing chronicle of death and tragedy. But Rubio's statement stands up to scrutiny — at least for the recent past, as he framed it. Notably, three of the mass shootings took place in California, which already has strong gun laws including a ban on certain weapons and high-capacity magazines.

Gun-control advocates often point to the experience in other countries that have enacted gun laws that heavily restrict gun ownership; as we have shown, quantitative measures of cross-comparative crime statistics, especially where the crime is not consistently defined (i.e., "mass shooting"), usually end up being apples-to-oranges comparisons. It is possible that some gun-control proposals, such as a ban on large-capacity magazines, would reduce the number of dead in a future shooting, though the evidence for that is heavily disputed. But Rubio was speaking in the past, about specific incidents. He earns a rare Geppetto Checkmark.

But since Kessler's fact check, a new idea has emerged, one that's directly designed to address both gaps in our mental health system and is tied to patterns we've seen in mass shootings. It's the red flag law. It goes by other names, including extreme risk protection order, gun violence restraining order, or severe threat order of protection. 

The idea is simple—if a person exhibits behavior indicating that they might be a threat to themselves or others (such as suicidal ideation or violent fantasies), a member of his family, a school official, or a police officer can go to court to secure an order that permits police to seize his weapons and prohibit him from purchasing any additional weapons so long as the order lasts.

A well-drafted red flag law should contain abundant procedural safeguards, including imposing a burden of proof on the petitioner, hearing requirements, and a default expiration date unless the order is renewed through a clear showing of continued need. But its potential effectiveness (unlike the gun control measures Kessler analyzed in 2015) is crystal clear. 
French rightly notes that laws aren't self-executing and we would have to train law enforcement officials and the public for this to have much impact. And it presumes that parents, spouses, and others close to potential spree shooters would actually report their loved ones in time for intervention.
I don't know how many shootings universal passage of red flag laws would prevent but it would be more than zero. While there's always potential for abuse by a vindictive ex, it seems like a more than reasonable measure.
David Frum hails from Canada, so he's much less interested in the maximalist view of gun rights so common among American conservatives.
Every other democracy makes some considerable effort to keep guns away from dangerous people, and dangerous people away from guns. For many years—and especially since the massacre at Connecticut's Sandy Hook Elementary School almost a decade ago—the United States has put more and more guns into more and more hands: 120 guns per 100 people in this country. The years of the pandemic have been the years of the greatest gun sales in U.S. history: almost 20 million guns sold in 2020; another 18.5 million sold in 2021. No surprise, those two years also witnessed a surge in gun violence: the spectacular human butchery of our recurring mass slaughters; the surge of one-on-one lethal criminality; the unceasing tragic toll of carelessness as American gun owners hurt and kill their loved ones and themselves.

Most of us are appalled. But not enough of us are sufficiently appalled to cast our votes to halt it. And those to whom Americans entrust political power, at the state and federal levels, seem determined to make things worse and bloodier. In the next few weeks, the U.S. Supreme Court will deliver its opinion in the case of New York State Rifle & Pistol Association Inc. v. Bruen, a decision that could strike down concealed-carry bans even in the few states that still have them. More guns, more places, fewer checks, fewer protections: Since Sandy Hook, this country has plunged backward and downward toward barbarism.

In his memoir of his career in the gun trade, the former gun-industry executive Ryan Busse writes of the effect of mass shootings on gun sales. They are, to put it bluntly, good for business. People think that perhaps the authorities might do something, and race to the gun stores to buy weapons before the "something" happens. The gun in the gunman's hand multiplies to more guns in more hands. Most of those hands do not mean to inflict harm. But the harm follows, even so.

[…]

Whether any particular killer proves to be a racist, a jihadist, a sexually frustrated incel, or a randomly malignant carrier of sorrow and grief, can Americans ever break the pattern of empty thoughts, meaningless prayers, and more and worse bloodshed to follow?
"Ever" is a very long time. But I doubt I'll live to see it.