Trump Declines Request to Lower Flag for Capital Gazette Victims
What was once a rare symbol of national mourning has become so commonplace as to be meaningless.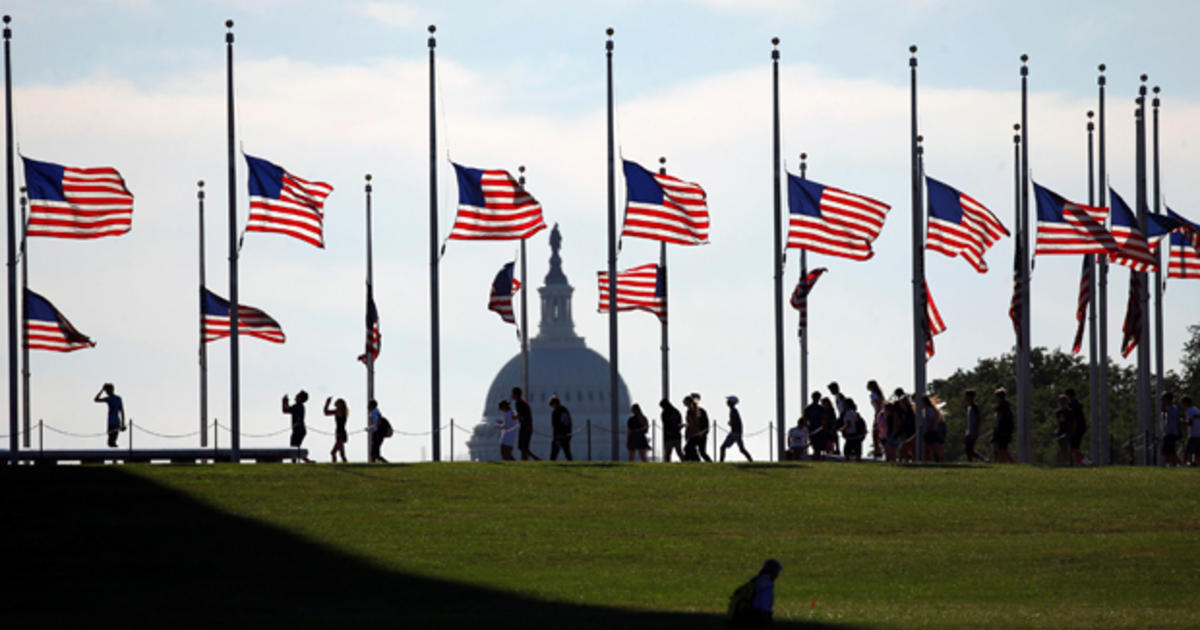 Baltimore Sun ("Trump declines request to lower flags in memory of Capital Gazette shooting victims"):
President Donald Trump has declined a request from Annapolis Mayor Gavin Buckley to lower American flags in honor of the fatal shooting of five employees of The Capital newspaper last week.

"Obviously, I'm disappointed, you know? … Is there a cutoff for tragedy?" Buckley said Monday afternoon. "This was an attack on the press. It was an attack on freedom of speech. It's just as important as any other tragedy."

Gov. Larry Hogan ordered Maryland state flags to be lowered to half-staff from Friday through sunset on Monday.

Through Maryland's congressional delegation, Buckley put in a request to the White House over the weekend to lower the American flags.

Buckley had said he hoped having the American flags lowered, too, would help keep national attention on the attack.

Trump has ordered flags lowered for previous mass shootings, including in May after the deaths of 10 people at Santa Fe High School in Santa Fe, Texas, and the shooting at Marjory Stoneman Douglas High School in Parkland, Fla., in February that left 17 dead.

While Buckley had previously thought he might lower the city's American flags regardless of the president's decision, the mayor said his wife talked him out of that.

"At this point in time, it would start to polarize people and I don't want to make people angry," he said.

The White House did not immediately respond Monday to a request for comment.
Now, I haven't the slightest idea why Trump drew the line at this particular atrocity. For all I know, his motive is one with which I disagree. But we should reserve nationwide flag lowering for remarkable events that impact the whole country. Buckley has this backward. Annapolis—and perhaps even the state of Maryland—should lower their flags in honor of their local victims.
Gregory Korte addresses the current dilemma for USA Today ("Trump faces flag dilemma: When should it be lowered to half-staff?"):
Of all the weighty decisions a president makes, signing a proclamation to lower flags to half staff is about symbolism.

It's done to mark national tragedies such as the passing of former presidents, the loss of service members or – increasingly – the far-too-common phenomenon of mass shootings.

So in declining to issue a proclamation lowering flags to half-staff for the victims of a newsroom shooting in Maryland last week, President Donald Trump drew criticism from those who saw a lost opportunity to unite the nation.

"Shame, shame, Mr. President," said former Democratic National Committee chairwoman Donna Brazille on Twitter.

"Is there a cutoff for tragedy?" Annapolis Mayor Gavin Buckley told the Capital Gazette, the same newspaper where a shooter killed five staff members last week. "This was an attack on the press. It was an attack on freedom of speech. It's just as important as any other tragedy."

[…]

Trump has ordered flags lowered for four previous mass shootings — all of which killed more people: Las Vegas, Nev. (58 dead), Sutherland Springs, Tex. (26 dead), Parkland, Fla. (17 dead), and Santa Fe, Tex (10 dead). Each time, flags over federal buildings and U.S. ships were lowered for four days.

But like his predecessors, Trump also faces a grim calculus: What differentiates a devastating crime from a truly national tragedy? Is it a matter of body count, or do some attacks carry with them a symbolic significance that transcends the police report?

Brandon Rottinghaus, a University of Houston professor who studies presidential proclamations, said the Maryland shooting was not just about the number killed, but that "the crucial role of the free press in America puts their status on par with any other government official."

"This is a missed opportunity to make a truce with the press," he said. "To not lower the flag unfortunately says a lot about the president's view of the members of the media."

But Trump isn't the first president to grapple with that dilemma. When a Kuwaiti-born Tennessee man shot and killed five service members at recruiting stations around Chattanooga in July 2015, the Obama White House struggled to explain why it took President Barack Obama five days to sign a proclamation.

"I'm glad President Obama followed my lead and lowered the flags half-staff. It's about time!" tweeted Trump, then a candidate for the White House. He had made a show of lowering the flags on Trump Tower.

(The Chattanooga controversy spurred an Internet meme that falsely claimed Obama lowered the flag for pop singer Whitney Houston. Instead it was New Jersey Gov. Chris Christie who made that decision for state flags.)

But Obama ended up setting a presidential record for the most flag-lowering proclamations — what then-press secretary Josh Earnest called "a symbolic expression of national mourning."

More: Obama ordered flags at half-staff more than any president in history

"It certainly is a way, symbolically, to demonstrate that the country is united in our support for a community that's mourning," he said in 2016. But he also acknowledged that the occasions marked by lowering the flag have evolved over generations.

President Dwight Eisenhower first tried to give some order to the process, signing a proclamation in 1954 governing how many days the flag should be lowered on each occasion: Presidents and former presidents would get 30 days. Vice presidents, chief justices and House speakers would get 10 — and so on down the order of protocol.

But over time, presidents also began to recognize other tragedies: The crew of a sunken nuclear submarine, passengers of downed airliners, and victims of terrorist attacks. President George W. Bush ordered flags lowered for victims of the Virginia Tech shooting, and Obama continued that trend for mass shootings under his watch.

But in those cases, there are no hard-and-fast rules for when a president should or shouldn't lower the flag.

"Its all politics," said Charles A. Spain, a Houston attorney and director of the Flag Research Center. "What is the message that the administration wants to get out? And I would argue that one of the most powerful symbols you can use in the presidency is the flag."

"The fact that it's not lowered is also statement," he said. "Inaction is action."
The problem is when everything is treated as a national tragedy, nothing is. I walk past a flagpole daily on my way to my office and it seems like the flag is down more than it's up. Oftentimes, I have to Google to figure out why. (A few weeks back, for example, some colleagues and I noticed that flag at half-staff on the way and tried to think of what might have prompted it. It turned out to be Peace Officer Memorial Day, a commemoration I was theretofore unaware existed.)
Now, I suppose one could argue that causing people to go to their phones to ascertain what it is we're mourning calls attention to the event. Realistically, though, if we don't know what we're supposed to be mourning, we're probably not mourning it.
It's not just my imagination that the flag seems to be at half-staff more than it's in its full glory. A Reuters report from two years ago had the self-explanatory headline "U.S. flag lowered to half-staff nearly every day in 2015."
Nearly every day, somewhere in the country, the Stars and Stripes was lowered to half-staff last year in one of the most significant official gestures of mourning and respect, an Associated Press analysis found.

The centuries-old practice can be a visible, public answer to extraordinary loss, as when more than four dozen people were killed last month in the Orlando shooting.

But as the nation marks Independence Day on Monday, flag buffs have noted that the honor has been extended more widely over time, including to celebrities and police dogs. And some have questioned whether the country has lowered the bar on the lowering of the flag.

"It can be a very powerful symbol, but it can also be overdone to the point that it loses its significance," said John Hartvigsen, president of the North American Vexillological Association, a flag aficionados' group. "You can't spell everything out about this in rules and regulations, because it has so much to do with emotion."

The U.S. Flag Code allows presidents and governors to lower flags for officials, military members and certain occasions, though some states have their own broader policies. And even as some states have moved to tighten their rules, others faced criticism for withholding the tribute.

The AP's analysis of proclamations from 50 state governors and the federal government found the Stars and Stripes were lowered at least someplace in the country on 328 days during 2015.

Eight states had orders lowering the U.S. flag in effect over more than 30 days; Massachusetts led all others, keeping the flag at half-staff for over a quarter of the year, including on the Fourth of July.

Among the hundreds honored were victims of extremist attacks, fallen soldiers, long-serving politicians and such celebrities as baseball legend Yogi Berra.

Those honored last year alone with a half-staff U.S. flag include five Georgia Southern University nursing students killed in a car wreck and a Downey, California, police officer shot in his car in a police parking lot in an alleged robbery attempt. Flags were lowered for a Missouri state official who was running for governor when he killed himself after a radio ad mocked his appearance, and for an Oklahoma state road worker who died helping to fill a sinkhole. One honoree was a police dog shot in Ohio.

Who gets honored, and when, can be controversial. Recent years saw tension over lowering flags nationwide for former South African President Nelson Mandela and in New Jersey for the Grammy-winning Whitney Houston.

Seeing half-staff flags on July Fourth last year jarred Amherst, Massachusetts, resident Larry Kelley, who felt the tribute – part of a 13-day honor for a state senator – "sends the wrong message" on the nation's birthday.

"It just seemed to me to take away from the whole idea of lowering the flag," said Kelley, adding that he'd have felt differently if the state were mourning a line-of-duty death or major public trauma. He initially didn't even realize what the occasion was, until a reader of his local-issues blog filled him in.

Concerned that lowering flags frequently muted the impact, Kentucky decided in 2008 to recognize fallen local military members only on their burial days. Colorado established rules a few years ago spelling out what categories of people are honored statewide, including military members, state officials and police and firefighters who die on duty.

"It's such an honor and a recognition for people, you never want to say no. But you can't always say yes," said Kathy Green, a spokeswoman for Democratic Gov. John Hickenlooper. "So we had to set some parameters."

But setting limits can be thorny.

Even denying flag honors to a convicted felon didn't fly in Rhode Island. Democratic Gov. Gina Raimondo initially declined to lower flags this year for longtime former Providence Mayor Buddy Cianci, a Republican-turned-independent who'd been convicted of corruption. Amid an outcry from Cianci fans, Raimondo changed her mind "out of respect for the office he held for 20 years."

Michigan Gov. Rick Snyder, a Republican, took heat for not lowering flags after three local Marines were killed in a March 2015 helicopter crash during training off Florida. State policy reserved the honor for those killed in combat, but after veterans' groups complained, Snyder reversed course.

To Wayne Luznicky, a Vietnam War veteran who leads the Marine Corps League's Grand Rapids detachment, the episode encapsulated muddled impulses about who gets honored and who doesn't.

"Where are the priorities?" he asked.
Granting that the story includes state and local observances, this is the abuse of what should be a special symbol. But, once we start commemorating private tragedies as public, it becomes natural to ask, as Buckley did, "Is there a cutoff for tragedy?" and to complain that your tragedy is "just as important as any other tragedy."
Enough is enough.
Indeed, the codified reasons for lowering the flag to half-staff are already too numerous.
Under 4 U.S.C. § 7(m) and established traditions by Presidential proclamations, the flag of the United States is to be flown at half-staff on rare occasions, in the following circumstances:

For thirty days after the death of a current or former president or president-elect, as occurred after the death of President Reagan and the death of President Ford.
For ten days after the death of a current vice president, current or retired chief justice, or current Speaker of the House of Representatives.
From the day of death until interment of an Associate Justice of the Supreme Court, a secretary of an executive or military department, a former vice president, the President Pro Tempore of the Senate, or the governor of a state, territory, or possession.
On the day of death and the following day for a Member of Congress.
On Memorial Day until noon.
Every September 11 in remembrance of the September 11 attacks.
Upon presidential proclamation, usually after the death of other notable figures or tragic events.
Federal law includes a Congressional request that the flag be flown at half-staff on Peace Officers Memorial Day (May 15), unless that day is also Armed Forces Day. Presidential proclamations also call for the flag to be flown at half-staff on Pearl Harbour Remembrance Day (December 7), and Patriot Day (September 11).

On October 16, 2001, President George W. Bush approved legislation requiring the United States flag to be lowered to half-staff on all Federal buildings to memorialize fallen firefighters. Pub.L. 107-51 requires this action to occur annually in conjunction with observance of the National Fallen Firefighters Memorial Service. The date of the National Fallen Firefighters Memorial Service is traditionally the first Sunday in October. It is held at the National Fallen Firefighters Memorial in Emmitsburg, Maryland.

4 U.S.C. § 7(m) was modified with new legislation signed into effect on June 29, 2007, by President Bush, requiring any federal facility within a region, which proclaims half-staff to honor a member of the U.S. Armed Forces who died on active duty, to follow the half-staff proclamation.
That's too often!
It seems reasonable to me to lower the flag for 30 days if a US President dies in office. Whatever one's politics, that's a national tragedy. The passing of a nonagenarian whose presidency is decades in the past? Not so much. Let's call that one ten days.
A sitting Vice President, Supreme Court Justice, or Member of Congress? Ten days seems a lot. Let's go with death to internment. Retired any of the above? I'm not sure we need to recognize that in this way but the day of seems more than enough.
Governor? Recognize that in the state or territory.
Cabinet Secretary? If they're killed in the line of duty, sure. Otherwise, I don't see it.
Memorial Day? Until noon seems right. I don't think we need to have separate memorial days for cops and firefighters, who are local officials.
Given that we've conflated Memorial Day, Veterans' Day, and Armed Forces Day, I'm not sure that the latter serves any purpose at all. We certainly don't need to lower the flag for it.
Pearl Harbor and 9/11 were galvanizing national events. They absolutely should have been recognized with national mourning. At the time. But, I'm sorry, we're not mourning on those anniversaries, now 77 and 17 years in the past, respectively, unless we personally lost someone.
Less is more here, at least at the national level. When the flag is flying at half-staff, it should be obvious why.
Update (Doug Mataconis): CBS Radio White House Correspondent Mark Knoller reports that the White House has apparently relented on the request to lower flags to half-staff for the victims of the Annapolis shooting:
Pres Trump to issue proclamation shortly ordering flags to half-staff to honor Capital Gazette staffers killed last week. Annapolis Mayor says his initial request to the WH for flags to be lowered was declined.

— Mark Knoller (@markknoller) July 3, 2018