Whitney Houston, Chris Christie, And America's Obsession With Celebrity Worship
An object lesson in celebrity worship from the State of New Jersey.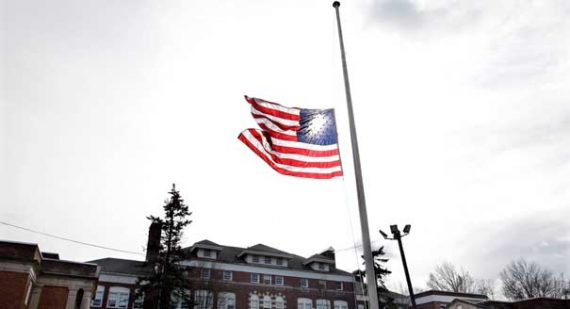 New Jersey Governor Chris Christie is taking political heat over his decision to lower state flags to half-staff to mark the death of Whitney Houston, whose funeral is taking place today in the state where she grew up:
Fending off fierce criticism for planning to lower flags at state buildings the day of Whitney Houston's funeral, New Jersey Gov. Chris Christie said the late singer is not a role model but has earned the honor as a cultural icon.

Christie on Wednesday said he's disturbed people are disparaging Houston's accomplishments because of her troubles with substance abuse.

"This is a disease that some people struggle with and conquer on a day-to-day basis, and some people succumb to it. And I don't believe that that should diminish the other contributions they've made in their life," Christie said.

"I'm not saying that Whitney Houston is a role model. She's not a role model in that respect, in every aspect of her life. But what she is is a cultural icon in the history of this state," he said. "I'm disturbed by people who believe … because of her history of substance abuse, that somehow she's forfeited the good things that she did in her life. I just reject that on a human level."

(…)

Between Christie's national profile and the proliferation of social media, the decision sparked a strong response, mostly negative, in the state and beyond its borders.

"Why is NJ lowering our American Flag to honor Whitney Houston? Are they all mad???" a retired Marine from Southampton wrote on Twitter.

"Shame on you for ordering our flag to be flown half-mass for a singer who od'd!" wrote the wife of an Army sniper. "… Our flag is to be used to honor true American heroes, the ones you just disrespected."

"Really flags will be lowered for a druggie, Whitney Houston," East Brunswick resident Colleen Collins tweeted. "Governor is wrong to allow this, soldiers die and no one pays attention."

Christie has ordered the flags lowered at state buildings 30 times for servicemen killed in action, including once for a Army soldier killed in Korea in 1951 whose remains were identified and returned last year.

Christie has also ordered flags lowered for six New Jersey political figures, three law-enforcement officers killed on duty, two anniversaries of the 9/11 terrorist attacks, E Street Band saxophone player Clarence Clemons and the all-time winningest high-school baseball coach in New Jersey history.
This is hardly the most important issue on the planet, of course, (and it's hardly the most disappointing thing Christie has done this week) but it is just one example of the odd way that Americans treat celebrity. Why is it that the death of a woman that most people never met seems to be more important to some people than if one of their neighbors, or indeed a member of their own family? What exactly is it about Whitney Houston that makes her funeral an event so newsworthy that all three cable "news" networks will be covering it live today? Perhaps I'm the odd person out here — after all, I was largely sickened by the way people over-reacted to the death of Diana Spencer in 1997, at least here in the United States — but I honestly don't get why people let themselves get so wrapped up in what they think the lives of the singers, actors, or musicians they admire must be that we see reactions like this. Yes, it's sad that Whitney Houston is dead, as it's sad when anyone dies, but a Breaking News event complete with live funeral coverage and commentary? I simply cannot justify it.
As for Christie's decision to fly flags at half-staff, fellow New Jersey native Jonathan Capehart doesn't see anything wrong with it:
Three cheers for Gov. Chris Christie (R-N.J.) for not only ordering the flags to be flown at half-staff on Saturday to honor the late Whitney Houston, but also for vigorously defending his controversial decision. I'm not saying this because I'm a proud son of New Jersey, who, like Houston, was born in Newark — albeit four years later. Houston deserves this special recognition.

Yes, ok, fine. The chanteuse's rocky personal life made her a questionable role model. And her destructive choices put a blemish the size of a Garden State tomato on Christie's honor. Still, the governor did the right thing. For the one thread that ties all of the tributes to the Jersey Girl's career together is the awe over her extraordinary voice. When Houston sang, you paid attention.
So now the standard for when someone deserves to be honored comes down to whether or not they are a good singer? Does this mean that flags will be lowered in the Garden State when Jon Bon Jovi and Bruce Springsteen die as well? And how does Christie's decision this year compare to 1998, when then-Governor Christine Todd Whitman declined to lower state flags to mark the death of Frank Sinatra, one of the state's most famous sons? And no, I don't think that it would have been appropriate to lower flags for Sinatra.
Tommy Christopher, another New Jersey native, seems to think that most of the opposition to Christie's move comes from people citing Houston's history of substance abuse and the fact that her death appears to be related to drug and alcohol abuse. While that may be the case for some of the more vocal critics of the decision, it's not the only reason to criticize what Christie did and in that regard,  I think Jazz Shaw put it best:
Lowering the flags for her? She was a singer. As the WCHS report notes, after researching previous executive orders, the flags were not lowered for Frank Sinatra. In fact, the first "celebrity" person (as opposed to military or elected leaders) for whom the flags were lowered was Clarence Clemons, and that was done by Christie also. (For the record, I'm a HUGE fan of The Boss and the Big Man, but never heard that he had lowered the flags for Clemons, which I would have objected to as well.)

Lowering the flags for national disasters, etc. is fine. But for this? Whitney Houston was a wealthy woman who achieved fantastic success in the field of opportunity which is America. She was a great singer. She died in a tragic fashion as far too many Americans do. But this is not a national tragedy.
No, it isn't. It's not even a tragedy for the State of New Jersey. It has nothing to do with the personal problems that Houston struggled with throughout her life or the fact that her death may have been caused by improper use of drugs and alcohol. The problem with Christie's decision isn't how Houston lived or died, it's the fact that this is an honor best left to heroes, not mere celebrities. Unfortunately our culture seems to have a problem telling the difference between the two anymore.