Christie's Gay Marriage Veto
This action raises two questions in my mind about Governor Christie.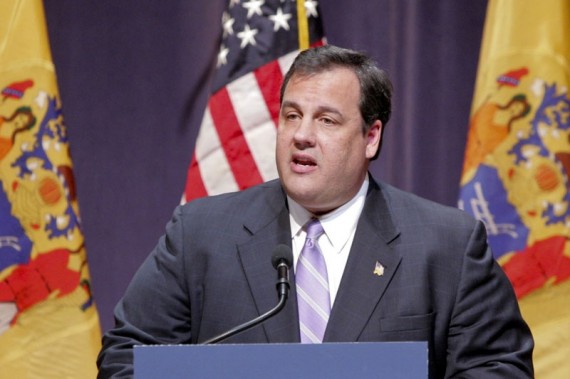 Via the Star-Ledger:  Gov. Christie vetoes N.J. gay marriage bill
Delivering on his promise of swift action, Gov. Chris Christie this afternoon conditionally vetoed the gay marriage bill and suggested appointing an ombudsman to address complaints of same-sex couples and strengthen New Jersey's civil union law.

Christie conditionally vetoed the bill six hours after it reached his desk, a day after the state Assembly gave the final legislative approval that he said he would not support.
Christie has now called for a referendum on the subject.  The conditional portion of the veto is as follows (via the NYT):
The governor's veto was conditional, asking the State Legislature to amend the bill, so that rather than legalizing same-sex marriages, it would establish an overseer to handle complaints that the state's five-year-old civil union law did not provide gay and lesbian couples the same protections that marriage would.
This action raises two questions in my mind about Governor Christie.
1.  What does this do to his cred with libertarians?   He has proactively blocked an expansion of liberty, so does this damage the fact that it seems that a lot libertarian-leaning Republicans see him as an acceptable candidate (if not a quasi political savior) for 2016?
2.  What does this do to his reputation as pugnacious in his pursuit of his positions?  Christie has been seen, if anything, as a bulldog who will do what he thinks as right and fight hard in that regard.  However, even though he has stated his support for same-sex marriage, he has now blocked (probably because of the fact that all but two Republicans voted against the bill in the state legislator).
In a statement (via the Star-Ledger)he said:
"I have been just as adamant that same-sex couples in a civil union deserve the very same rights and benefits enjoyed by married couples — as well as the strict enforcement of those rights and benefits," Christie said in a prepared statement.

"Discrimination should not be tolerated and any complaint alleging a violation of a citizen's right should be investigated and, if appropriate, remedied."
And yet, he vetoed the bill and is calling for a referendum instead:  "Christie continued push his suggestion of the gay marriage issue to a referendum in November to allow New Jersey voters to decide."
In other words:  so much for pugnacious dedication to one's beliefs.  Instead of bucking his party on something he believes in, he vetoed the bill and is passing the buck on the decision.
I would note that this is a case of the democratically elected representatives of the state passing a bill, and not a court decreeing same-sex marriage.  As such, I am unclear on the basis of Christie's objection and action.  There are  argument two argument here.   The first is  Christie's claim this change requires a constitutional amendment, although it is unclear to me that this is, in fact, the case.  The other is that it interferes with the state's civil union law, but again, I am not sure what problem this supposedly creates.