What Ever Happened To Courage?
The Penn State child rape scandal raises some questions about what the heck has happened to people.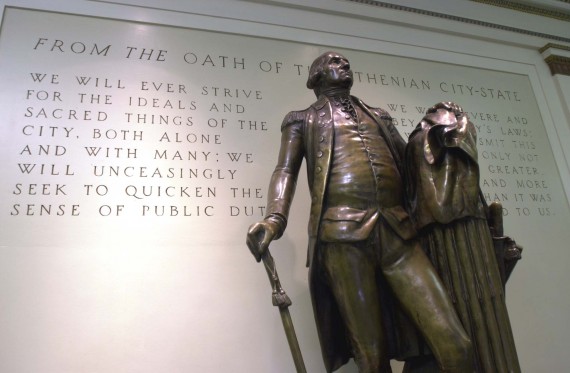 One of the common questions I keep hearing people ask about the Penn State child rape scandal is how so many people could have stood by and done nothing for so long. Many of those comments center on the person of Mike McQueary, former star Quarterback for Penn State, professional football player for the NFL's Oakland Raiders, and NFL Europe's Scottish Claymores. How could this 28 year old man have witnessed an old man raping a ten year-old boy and, instead of trying to stop it, go back to his office and call his father? (All of this is in the Grand Jury Report [PDF])
It brings to mind a speech that the acclaimed science fiction author Robert A Heinlein gave to the United States Naval Academy in April 1973. Heinlein had attended Annapolis in the early part of the 20th Century and reached the rank of  Lieutenant before being forced to retire when he contracted tuberculosis. Much of his speech focused on Naval Academy tradition and the values Midshipmen are taught, but the end of the speech, which has always impressed me, seems especially applicable to this case:
In my home town sixty years ago when I was a child, my mother and father used to take me and my brothers and sisters out to Swope Park on Sunday afternoons. It was a wonderful place for kids, with picnic grounds and lakes and a zoo. But a railroad line cut straight through it.

One Sunday afternoon a young married couple were crossing these tracks. She apparently did not watch her step, for she managed to catch her foot in the frog of a switch to a siding and could not pull it free. Her husband stopped to help her. But try as they might they could not get her foot loose. While they were working at it, a tramp showed up, walking the ties. He joined the husband in trying to pull the young woman's foot loose. No luck.

Out of sight around the curve a train whistled. Perhaps there would have been time to run and flag it down, perhaps not. In any case both men went right ahead trying to pull her free… and the train hit them. The wife was killed, the husband was mortally injured and died later, the tramp was killed – and testimony showed that neither man made the slightest effort to save himself. The husband's behavior was heroic… but what we expect of a husband toward his wife: his right, and his proud privilege, to die for his woman. But what of this nameless stranger? Up to the very last second he could have jumped clear. He did not. He was still trying to save this woman he had never seen before in his life, right up to the very instant the train killed him. And that's all we'll ever know about him.

THIS is how a man dies. This is how a MAN . . . lives!
I think part of the revulsion that people are feeling towards people like McQueary and Paterno and the way they acted in response to information about a horrible crime is the fact that it runs counter to the way we think people should act in that kind of situation, the way we think we would act if the same thing happened to us. The fact that they didn't act the way they were supposed to leads to the question of whether the values of courage in the face of evil have been passed along to succeeding generations. Sure, there are the service members, the fireman, and the policemen and others who put their lives on the line every day for others, but that's the job they signed up to do, we expect them to do it.
What about the rest of us, though? Do we still live in an era where some anonymous stranger is willing to give his life in order to try to save someone else? We'd all like to think the answer is yes, and maybe it still is, but the image of a 28 year-old man standing in silence in an athletic facility shower in 2002 tells me that not everyone has learned what it means to be a human being.
Perhaps I'm waxing far too philosophically here. Perhaps McQueary is one man who got caught up in the hagiography of the Penn State football program to the point where he couldn't even think straight. I hope so.