Mike McQueary Appears To Contradict His Own Grand Jury Testimony
Is the star witness in the Penn State case changing his story, or just trying to protect his reputation?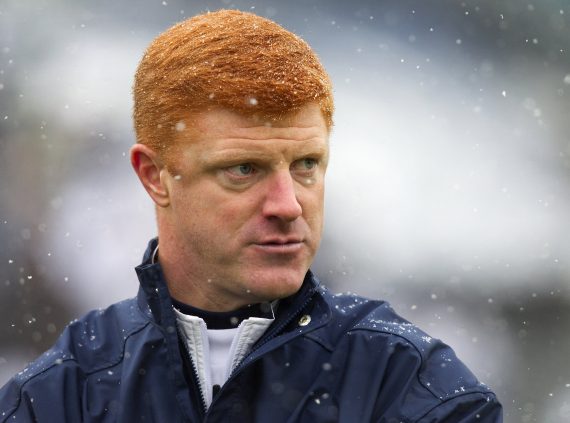 The Penn State child rape scandal just seems to get more odd as the days go on. As if the news of more victims and Jerry Sandusky's bizarre interview weren't enough, we now have the only actual witness to Sandusky's molestation other than the victims appear to contradict what he said to the Grand Jury investigating the case:
Mike McQueary, the Penn State assistant football coach under fire for his reported lack of action in an alleged 2002 rape of a boy by Jerry Sandusky, said in an email to a former classmate that he stopped the assault in an athletic facility shower and discussed it with police.

In the email obtained by The Morning Call, McQueary wrote that he "did have discussions with police and with the official at the university in charge of police" following the alleged incident involving Sandusky, a former Penn State assistant coach, and a boy. McQueary also wrote that he "is getting hammered for handling this the right way or what I thought at the time was right."

"I had to make tough impacting quick decisions," McQueary wrote
Here's the full email:
"I did stop it, not physically … but made sure it was stopped when I left that locker room … I did have discussions with police and with the official at the university in charge of police …. no one can imagine my thoughts or wants to be in my shoes for those 30-45 seconds … trust me. I am getting hammered for handling this the right way … or what I thought at the time was right … I had to make tough, impacting quick decisions."
The problem is that this directly contradicts what McQuery told the Grand Jury, as this section of the report clearly indicates [apologies for the NSFW language, but I believe its necessary]:
On March 1, 2002, a Penn State graduate assistant ("graduate assistant") who was then 28 years old, entered the locker room at the Lasch Football Building on the University Park Campus on a Friday night before the beginning of Spring Break. The graduate assistant, who was familiar with Sandusky, was going to put some newly purchased sneakers in his locker and get some recruiting tapes to watch. It was about 9:30 p.m. As the graduate assistant entered the locker room doors, he was surprised to find the lights and showers on. He then heard slapping sounds. He believed the sounds to be those of sexual activity. As the graduate assistant put the sneakers in his locker, he looked into the shower. He saw a naked boy, Victim 2, whose age he estimated to be ten years old, with his hands up against the wall, being subjected to anal intercourse by a naked Sandusky. The graduate assistant was shocked but noticed that both Victim 2 and Sandusky saw him. The graduate assistant left immediately, distraught. The graduate assistant went to his office and called his father, reporting to him what he had seen. His father told the graduate assistant to leave the building and come to his home. The graduate assistant and his father decided that the graduate assistant had to report what he had seen to Coach Joe Paterno ("Paterno"), head football coach of Pemi State. The next morning, a Saturday, the graduate assistant telephoned Paterno and went to Paterno's home, where he reported what he had seen.

(…)

"The graduate assistant was never questioned by University police and no other entity conducted an investigation."
No mention of trying to stop anything, no mention of going to police. In fact, other than the initial report by the mother of Victim 1, there's no evidence that any of this was ever reported to police. And yet, we now have an email from McQueary to friends on the PSU football program claiming that he had tried to stop Sandusky and went to police. This raises only a few possibilities:
McQueary forgot to tell the Grand Jury about stopping Sandusky and going to the police — this seems unlikely given how thorough and detailed the report is otherwise. Also if he went to the police, there would be a record somewhere and that would presumably have been mentioned in the Grand Jury report;
McQueary did tell the Grand Jury about stopping Sandusky and going to the police but it was left off the report — this seems unlikely;
McQueary lied to the Grand Jury — possible, but then he exposes himself to perjury charges;
McQueary is lying to his friends
It's that last possibility that seems the most likely to me. As much as Joe Paterno and the rest of the University administrators who were involved in this mess, McQueary has been subject to a ton of criticism for what a lot of people view as a lack of courage and common sense on his part. He doesn't want his friends and family to think he's that kind of person, perhaps he doesn't either, so he tells this story.
The problem for the prosecutors is that their star witness has now handed Sandusky's attorney with a gold mine for cross examination that he will try to use to undercut McQueary's credibility as a whole. It might not work, but it's going to be a headache for the prosecution who already have to worry about how to protect the credibility of a witness that many people on the jury are likely to look on with suspicion to begin with because of his failure to act.
Like I said, this case just keeps getting odder by the day.