Federal Judge Deals Trump Stonewalling Strategy Another Loss
President Trump's stonewalling strategy suffered another legal setback in New York City yesterday.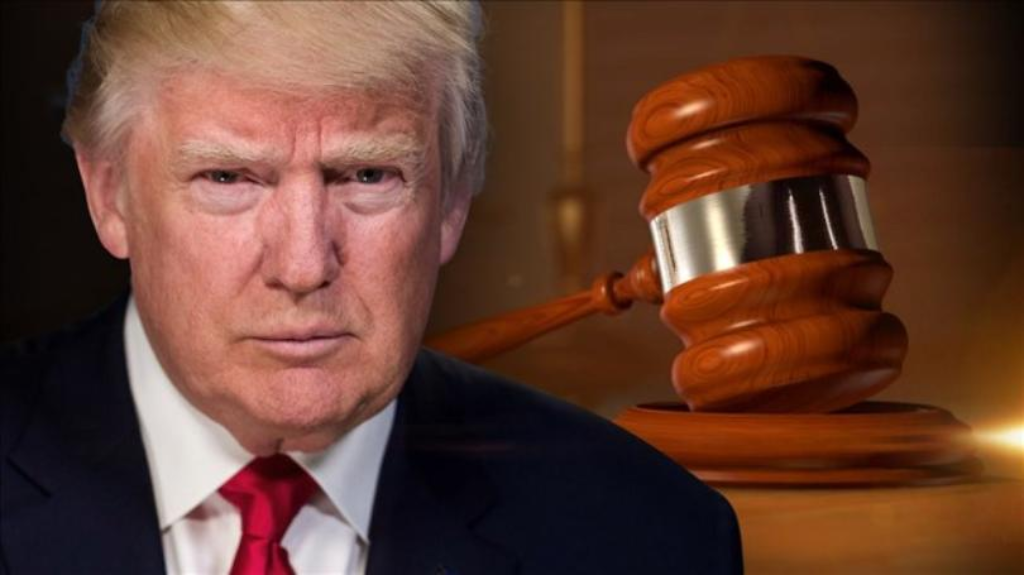 The Trump Administration suffered yet another setback in Court late yesterday as a Federal District Court Judge in New York City rejected an effort by Trump lawyers to block an effort to obtain financial records related to the President's business interests from Deutsche Bank, which has been Trump's primary source of financing for more than twenty years:
For three years, Donald J. Trump has treated the details of his personal and business finances as a closely guarded secret.

On Wednesday, those secrets moved two steps closer to becoming public.

A federal judge in Manhattan ruled against a request from President Trump to block his longtime lender, Deutsche Bank, from complying with congressional subpoenas seeking his detailed financial records. In Albany, New York lawmakers approved a bill that would allow Congress to obtain Mr. Trump's state tax returns.

Those actions came two days after a federal judge in Washington ruled against Mr. Trump's bid to quash another congressional subpoena to get his accounting firm to hand over his tax returns and other financial documents.

The court rulings and the New York legislation represent the most serious attempts to pierce the veil that surrounds Mr. Trump's finances. They increase the odds that congressional Democrats, who have become more vocal in their calls to undertake impeachment proceedings against the president, could enter such a fray with ample ammunition about Mr. Trump's business dealings.

"Very excited," House Speaker Nancy Pelosi said after learning of the Manhattan judge's ruling. "Two in one week!"


Mr. Trump has already appealed the ruling over the subpoena to his accounting firm, Mazars USA, and will almost certainly appeal the ruling handed down on Wednesday. The committees have already agreed to give any appeals a chance to play out before enforcing the subpoenas, but House Democrats are now closer than ever to securing a vast cache of long-sought documents.


Mr. Trump's finances have been largely a mystery from the moment he declared his candidacy for president. He broke with decades of precedent by refusing to release his federal tax returns. His company, the Trump Organization, is private, and he has disclosed minimal information about how the company makes money and the sources of that income.


Mr. Trump has faced persistent criticism over the interplay between his private business and his public office. The president frequently visits his golf resorts and his private club, Mar-a-Lago in Palm Beach, Fla., and owns a hotel just blocks from the White House that is frequented by foreign dignitaries.

(…)

In Washington, two congressional committees issued subpoenas last month to Deutsche Bank, the president's primary lender over the last two decades, and Capital One, where Mr. Trump keeps some of his money.

The subpoenas sought decades of personal and corporate financial records, including any documents related to possible suspicious activities detected in Mr. Trump's personal and business accounts.


Mr. Trump, his company and his three eldest children — Donald Jr., Eric and Ivanka — filed a lawsuit on April 29 to block Deutsche Bank and Capital One from complying with the subpoenas.


Mr. Trump has a long history with Deutsche Bank, the only mainstream financial institution consistently willing to do business with him after a series of defaults left other lenders facing huge losses. Since 1998, the bank has lent him a total of more than $2 billion, and Mr. Trump owed Deutsche Bank more than $300 million at the time he was sworn in as president. The bank is by far his largest creditor, and it possesses a trove of financial records — including portions of his federal tax returns — that it is prepared to provide to congressional investigators.

The president has multiple accounts with Capital One. His relationship with the bank came under scrutiny earlier this year when his former lawyer, Michael Cohen, presented Congress with two checks he had received from Mr. Trump's Capital One accounts. Mr. Cohen said Mr. Trump wrote him the checks, for $35,000 each, to reimburse him for making a hush-money payment to the adult-film actress Stormy Daniels.


Lawyers for the Trumps argued that the congressional subpoenas were politically motivated and had no legitimate legislative purpose.


Patrick Strawbridge, the lawyer for the Trump family, argued Wednesday that the subpoenas raised "serious questions about the outer reach of power of the Congress," putting members of the legislative branch in the position of law enforcement officials.


"Congress cannot assume the role of the executive branch," he said. He also lamented the subpoenas' reach, noting that they sought records relating to transactions by Mr. Trump's in-laws and grandchildren.
Douglas Letter, the lawyer for congressional Democrats, said the subpoenas were intended to elicit information on potential money laundering and financial fraud and that they were not overly expansive.


Judge Edgardo Ramos of the United States District Court for the Southern District of New York appeared to agree. "Lots of people do things, they hide assets, they create dummy corporations, they put their relatives in charge," the judge said in court before he issued his ruling.


Judge Ramos said he agreed with Mr. Trump's claim that turning over financial records to Congress could cause him and his family irreparable harm. But, he said, the merits of the congressional committees' goals outweighed that harm.

After issuing his ruling, Judge Ramos said he thought it was unlikely that Mr. Trump and his family would win in a trial.


Mr. Strawbridge told Judge Ramos he would have to talk to the Trump family, but that an appeal was likely. Mr. Trump has already appealed the Washington court's ruling over the subpoena to Mazars USA.


Under an agreement reached before the hearing on Wednesday, the House Financial Services and Intelligence Committees had agreed to hold off on enforcing the subpoenas until seven days after the judge's ruling, giving Mr. Trump's lawyers time to appeal the ruling.
More from The Washington Post:
NEW YORK — A federal judge on Wednesday rejected a request by President Trump to block congressional subpoenas for his banking records, dealing the latest blow to the president in his bid to battle Democratic investigations into his personal finances.

The decision in the U.S. District Court for the Southern District of New York could clear the way for Deutsche Bank and Capital One to hand over the president's financial records to Democrats in the House. Trump's attorneys could appeal the decision.

Attorneys for Trump, his family and the Trump Organization filed for a preliminary injunctionearlier this month as part of a lawsuit seeking to block the two institutions from handing over documents to the House Financial Services and Intelligence committees.

"There will be no way to unring the bell once the Banks give Congress the requested information," William S. Consovoy, Patrick Strawbridge and Marc Mukasey wrote. "The Committees will have reviewed confidential documents that this Court may later determine were illegally subpoenaed."

But U.S. District Judge Edgardo Ramos said Wednesday that Trump's lawsuit was unlikely to succeed.


Deutsche Bank and Capital One did not immediately respond to requests for comment. Attorneys for the banks also made no statements during the hearing.


The ruling comes two days after a federal judge in Washington rejected the Trump legal team's argument in a separate case seeking to block the House Oversight Committee's demands for records from Trump's accounting firm, Mazars USA. Trump's attorneys notified the judge on Tuesday that they have appealed "all aspects" of that ruling.

(…)

Deutsche Bank has been a major lender to both the Trump Organization and Kushner Companies, which previously was run by Trump's son-in-law, Jared Kushner, who now is a presidential adviser.


Deutsche Bank has loaned or been a co-lender of at least $2.5 billion to Trump's business, much of it at a time when other banks declined providing money to him, according to a Wall Street Journal report. At one point, when Trump had trouble paying back a loan for a Chicago tower, Trump sued the bank, saying it had played a role in a broader financial crisis that hurt the project. Trump and the bank eventually settled the case.


Shortly before Election Day in 2016, Deutsche Bank finalized a $285 million loan to Kushner's real estate company, The Washington Post has previously reported. At the time, the bank was negotiating settlements with federal and New York regulators. Congressional Democrats have long said they want to examine the bank's loans to the Trump and Kushner businesses, particularly to see if there is any connection to money-laundering in Russia.
Judge Ramos, an Obama appointee who has been on the bench since 2011, ruled from the bench and has not, as of yet, issued a written opinion such as the one we saw from Judge Amit Mehta earlier this week, who ruled on a document request from a different House Committee directed at Trump's accounting firm. However, based on the reporting from reporters who were at yesterday's hearing and their reporting of Judge Ramos's ruling as delivered from the bench, it appears that he cited many of the same factors that Judge Mehta did in the opinion he issued last week.
The most important part of Judge Ramos's ruling, of course, is the fact that he found that although it was likely that Trump, his children, and his business interests would suffer some damage if the requested documents were provided to the committee but that damage was outweighed by Congress's interest in fulfilling its legislative and Constitutional oversight duties. Though it's not clear if he used precisely these words, this basically means that Judge Ramos found that the committee had presented a "legitimate legislative purpose" behind the requests. Additionally, like Judge Mehta, it appears that Judge Ramos has essentially ruled that the test of whether or not there is a "legitimate legislative purpose" is a relatively low bar for judicial purposes. If other Federal Judges at the District and Circuit Court levels agree with this proposition then Trump isn't likely to see many wins in court going forward.
From here, the Trump team can appeal this matter to the Second Circuit Court of Appeals, which is likely to happen given the fact that the White House has already appealed Judge Mehta's decision, which was issued just a few days ago. What's important here, though, is the fact that Judge Ramos refused the request to stay his ruling pending an appeal, meaning that Deutsche Bank and Capital One will have to comply with the ruling unless a stay is issued by the Second Circuit. This is important because it's likely that the two financial institutions will want to comply with the subpoenas sooner rather than later to get this matter behind them. Thus, unless Trump is able to get a stay from the Second Circuit, it's likely that they will deliver the requested documents to the committee after the expiration of the seven day period noted in the article above. That would essentially make any appeal of this matter moot.
In any case, this is the second legal setback that the President's stonewalling strategy has suffered in a week and it suggests that future attempts at stonewalling, such as the ongoing dispute over the President's tax returns, will also fail when the reach the courts. Of course, it's worth noting that even though the President is losing he is accomplishing one thing by stonewalling in that he is delaying compliance with the requests as long as possible. This is clearly the real goal of the White House at this point, and when the Courts recognize this is could be problematic for the President.
Update 5/24/2019: The Trump Administration has appealed this ruling to the United States Court of Appeals for the Second Circuit.