Trump's Stonewalling Increases Pressure On Democrats To Pursue Impeachment
As the Administration continues to stonewall legitimate requests from Congress for documents and witnesses, pressure is growing on Speaker Pelosi to authorize the opening of an impeachment inquiry.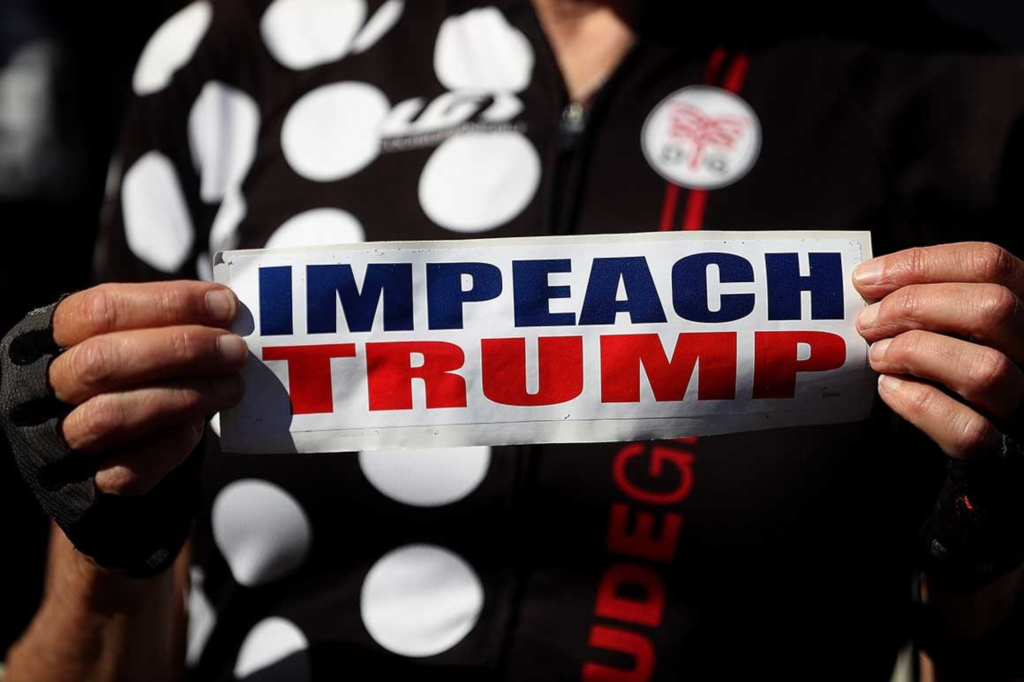 As expected, former White House Counsel Don McGahn failed to appear for his scheduled testimony before the House Judiciary Committee yesterday, and that is leading some Democrats to start to talk more seriously about opening an impeachment inquiry against the President:
A growing number of House Democrats are publicly calling for a formal inquiry into President Trump's impeachment amid continued stonewalling from his administration, applying new pressure to Speaker Nancy Pelosi and other party leaders who have been determined to stick to a methodical course of investigation and litigation.

While a handful of lawmakers have agitated for impeachment for months, Tuesday's no-show of former White House counsel Donald McGahn at a House hearing and the uncertain prospects for public testimony from special counsel Robert S. Mueller III have prompted a larger number of Democrats to speak out. On Monday and Tuesday, 25 House Democrats publicly called for an impeachment inquiry.

Leading the charge are members of the House Judiciary Committee who have been increasingly frustrated with the Trump administration's blanket refusal to cooperate with congressional requests for documents and testimony. Some confronted Pelosi at a private meeting of the House leadership Monday, seeking to convince her that an impeachment probe would be the most effective way to hold Trump to account, even if he is never formally impeached.

"This effort by the president and the White House to impede and undermine our ability to collect the evidence necessary to do our work is something that can't be tolerated," said Rep. David N. Cicilline (D-R.I.), who sits on the Judiciary Committee and is a member of the party leadership team. Democrats, he said, need to "demonstrate that you cannot just trash the Constitution, undermine the rule of law, and expect the Congress of the United States to accept that."


Pelosi has so far carefully managed the pressure, refusing to rule out an impeachment of Trump while also emphasizing the need to pursue a prudent course to defend congressional prerogatives against presidential resistance. That view was bolstered Monday when a federal judge rejected an attempt by Trump's lawyers to assert a sweeping claim of executive authority to block a House request for Trump's financial records.


The newly vocal Democrats say they are seeking only an impeachment inquiry — a formal investigation that may or may not lead to the actual drafting and passage of articles of impeachment to be tried by the Senate.

But for a broader group of lawmakers — some of them moderate freshmen who unseated Republicans last year to deliver the House majority to Democrats — that is a distinction without a difference. They fear that any rush into impeachment proceedings would betray campaign promises to focus on policy issues more directly affecting their constituents, a potentially perilous political move ahead of the 2020 elections.


"I believe in checks and balances and the constitutional division of powers, but I also know that I get stopped in the grocery store constantly and what people are asking about is the price of health care and the price of prescription drugs," said freshman Rep. Elissa Slotkin (D-Mich.).

"I think the perception is that Washington is more focused on the checks and balances than they are on actually helping people's pocketbooks and their kids. And that's a real problem."


Democrats have in recent months passed bills meant to shore up the Affordable Care Act, reauthorize the Violence Against Women Act and, last week, provide new LGBT civil rights protections. But party leaders have been forced to take heed of the frustration with Trump's no-cooperation stance.

Pelosi scheduled a Democratic caucus meeting for Wednesday morning, billing it as an opportunity for members to receive updates on oversight and investigations. But many lawmakers said Tuesday that they expect it will become a robust discussion of whether to pursue an impeachment inquiry as Trump remains defiant, arguing in a tweet Tuesday evening that Democrats were "unhappy with the outcome" of the Mueller report "so now they want a do-over."
More from The New York Times:
WASHINGTON — A bloc of liberal Democrats began pressing on Tuesday for an impeachment inquiry of President Trump, underscoring party divisions and the growing difficulties that Speaker Nancy Pelosi faces as she tries to chart a more methodical course.

Mr. Trump's latest defiance of congressional oversight demands precipitated the break among Democrats. The former White House counsel Donald F. McGahn II, who had been called to testify on Tuesday before the House Judiciary Committee about the president's attempts to obstruct the Russia investigation, skipped the scheduled hearing after Mr. Trump ordered him to ignore lawmakers' subpoena.

Representative Jerrold Nadler of New York, the committee chairman, promised to hold Mr. McGahn in contempt of Congress and warned other potential witnesses to expect new hardball tactics — like changing House rules to allow fines for people held in contempt — but he stopped short of publicly endorsing impeachment. He later issued subpoenas for testimony to Mr. McGahn's former chief of staff, Annie Donaldson, and Hope Hicks, the former White House communications director, both key figures in the special counsel investigation.

House Democrats also continued to negotiate this week with the staff of the special counsel, Robert S. Mueller III, over his own potential testimony, according to two people familiar with the conversations.

"We will not allow the president to stop this investigation, and nothing in these unjustified and unjustifiable legal attacks will stop us from pressing forward with our work on behalf of the American people," Mr. Nadler said during a brief hearing of an emotionally raw Judiciary Committee. "We will hold this president accountable, one way or the other."


The Democrats' divisions over how to get the administration to cede to their oversight demands grew out of their fears that Mr. Trump is succeeding not only in evading accountability himself but also in permanently rewriting the rules of engagement between the legislative and executive branches. He could set a precedent that frees future presidents from one of the Constitution's most potent checks on their power.


"We can focus on McGahn. We can focus on Barr. We can focus on Michael Cohen. We can call the roll," Representative Val B. Demings, a Florida Democrat on the Judiciary Committee who supports impeachment, said in an interview. "But the problem here is the president of the United States."


Their concerns that Mr. Trump might be permanently weakening Congress's powers prompted prominent liberal Democrats to declare privately and publicly in the past day and a half that they saw no choice but to initiate an impeachment inquiry.


The supporters of impeachment now number roughly two dozen. The new advocates included Representative Joaquin Castro of Texas, the chairman of the Congressional Hispanic Caucus; Representative Mark Pocan of Wisconsin, a chairman of the influential Congressional Progressive Caucus; Representative Mary Gay Scanlon of Pennsylvania, the vice chairwoman of the Judiciary Committee; and Representative Donald S. Beyer Jr. of Virginia.

They argued that an impeachment inquiry would streamline disparate House inquiries and empower the chamber's committees as they conduct oversight of the executive branch. And they expressed hope that it would show the public that the fight over documents and witnesses is not just another partisan Washington squabble, but a showdown with historic implications.
Obviously, other than Justin Amash, these calls for impeachment are getting the expected reception from the Republican side of the aisle:
Democrats are not getting help from House Republicans, who remain opposed to any additional investigation — despite the abdication of Representative Justin Amash of Michigan, who came out in favor of impeachment over the weekend.

"Here we go again — the theater is open," Representative Doug Collins of Georgia, the top Republican on the Judiciary Committee, said at the outset of Tuesday's hearing. He accused Mr. Nadler of abusing his subpoena power to make unreasonable demands of the White House and witnesses to "get a headline." Mr. Trump has made similar arguments, posting Tuesday on Twitter that Democrats are merely trying for a "do-over" after Mr. Mueller did not accuse him of committing a crime.
The increased pressure on Pelosi and the Democratic leadership is understandable given the fact that the Administration appears intent on stonewalling every request for documents or witnesses that may come from Congressional committees trying to fulfill their oversight duties under the Constitution. All of this is rooted, of course, in the President's vow to resist "all" subpoenas by House Democrats, Because of this strategy, Congress has been impeded in fulfilling its proper Constitutional and statutory duty to oversee the operation
This strategy began, of course, shortly after Special Counsel Robert Mueller sent his report to Attorney General William Barr. Instead of releasing the report, in either a full or redacted form, to Congress, Barr sent Congress a written summary that purported to summarize the findings of the report. With members of both the House and Senate complaining at the time that Barr's letter was insufficient. Additionally, later reports showed that Mueller himself had sent a letter to Barr complaining that the summary did not accurately reflect either the contents of the report or the conclusions that he and his investigators had reached. The Justice Department ultimately provided Congress with a redacted copy of the report. When that happened, it became clear that Barr had substantially misrepresented the contents and conclusions of the report, something that became a focus of his appearance before the House Judiciary Committee in April. The Administration has yet to make a full unredacted copy of the Special Counsel's report available to Congress, claiming that it is covered by Executive Privilege. Barr, meanwhile, has been held in contempt by the House Judiciary Committee, although there has yet to be any formal action regarding this contempt citation.
At the same time that it continues to play "hide the ball" regarding a complete copy of the Mueller report, the Administration has been refusing to comply with nearly all document requests from Congress, even in situations where it seems clear that they have a duty to comply with the request. Most notably, Treasury Secretary Steve Mnuchin has refused to comply with both a written request and a subpoena seeking copies of the President's tax returns. This refusal, which seemingly flies in the face of a specific Federal law that argues that the committee's request is legitimate, is based on Mnuchin's contention that the request, and subsequent subpoena, lack a "legitimate legislative purpose," an argument that the Administration has made in a number of other situations where it is refusing to comply with seemingly legitimate document requests. The committee has yet to take any steps in response to Mnuchin's refusal, but its options include holding Mnuchin in contempt and/or filing a lawsuit seeking a Court order compelling him to turn over the requested documents.
Most recently, the stonewalling by the White House has succeeded in purporting to block former White House Counsel Don McGahn from testifying before the House Judiciary Committee. In doing so, the White House did not rely on Executive Privilege but instead asserted that Congress lacked the authority to compel the testimony of any White House staffer or adviser to the President. This is a position that has no basis in the law and no precedent supporting it given the fact that Executive Privilege, which has not been invoked with regard to these matters, only applies in certain specific situations. Additionally, there is no basis to support the invocation of the Attorney/Client privilege because Donald Trump was not McGhan's client during his time at the White House. Finally, it's unclear that any privilege can be applied given the fact that McGahn spent more than 30 hours talking to Special Counsel Mueller and his investigators.
Trump's strategy did suffer a setback this week, though, in the form of a ruling by a District Court Judge in Washington, D.C. who was presented with a Congressional request for certain financial documents from the accounting firm that works for the President and his businesses. Rejecting the Administration's argument, the Judge ordered the accounting firm to comply with the request, ruling that while there must be a "legitimate legislative purpose" behind a request from Congress the Court ruled that such a purpose is essentially something within the discretion of Congress and that as long as Congress can articulate a purpose for the request no further review should be conducted by the Court. Obviously, this interpretation of "legitimate legislative purpose" does not bode well for the Administration's stonewalling strategy.
Given all of this stonewalling, it's understandable that some Democrats are beginning to argue that Congress has no option but to open a formal impeachment inquiry. In some cases, such as Republican Justin Amash and others, are arguing that the Mueller report itself provides sufficient grounds to begin the process. Since that report has not been made public in even an unredacted form, it's impossible for me to make a judgment on that front but the arguments that they have made are quite compelling.
Other Democrats argue that opening an impeachment inquiry will give Congress the authority it needs to push back against Administration efforts to block document requests or witness testimony. While it's true that a formal impeachment inquiry would provide Congress with what would clearly be a "legitimate legislative purpose" for nearly any conceivable request for documents or witness testimony, that would not preclude the Administration from continuing its stonewalling effort. Even in the face of formal impeachment hearings, the Administration would likely still do its best to delay the Congressional inquiry. This means that with or without an impeachment inquiry House Democrats would still find themselves in the same boat, with a recalcitrant and uncooperative Administration that would need to be taken to Court to enforce requests that Congress clearly has the authority to make.
So far, Speaker of the House Nancy Pelosi has resisted calls for moving forward on impeachment and has declined to discuss the matter publicly. Behind closed doors, it is reported that the Speaker is still trying to rein in her increasingly restless caucus even as the Administration continues to block Congress from doing its job. That is becoming harder and harder for her to do, though, and that's only likely to get harder as the Administration continues to refuse to comply with document and testimony request that Congress clearly has a right to make. In any case, the Democratic Caucus will be meeting this morning to discuss this matter, and while I tend to doubt that this will lead to the immediate opening of an impeachment inquiry, it seems clear that is where we're headed if the Administration continues on its current course of action.
Obviously, the Administration's stonewalling effort will face a difficult road ahead if other courts agree with the opinion issued by Judge Amit Mehta regarding the meaning and scope of "legitimate legislative purpose," but that does not mean they won't be able to delay the process significantly. While these document disputes will move through the District Court relatively quickly, the inevitable appeal will take several months at least. The Administration's appeal of Judge Mehta's ruling, for example, will likely not see a final ruling from the Court of Appeals until sometime late in the year at the earliest. After that, the Administration could seek en banc review before the full D.C. Circuit, or appeal the matter to the Supreme Court, which would delay the matter even further. Therefore, this stonewalling strategy, whether it comes in the context of an impeachment request or not, will slow the process down. Which, ultimately, is exactly what the Administration wants.
Outside of this, there are the obvious political risks associated with impeachment that I have touched on before. Recent polls have shown that the American public is skeptical about the idea of impeaching President Trump, with only self-identified Democrats saying by a large majority that Congress should move forward with impeachment. Other polling has shown the same result, with at least a plurality of Americans saying that they did not think Congress should pursue impeachment at this time. Additionally, House Democrats, who were out of Washington for much of April due to the regularly scheduled Easter break found that even Democratic voters back home aren't enthusiastic about the idea.
Because of this, and given the fact that we know that there would not be enough votes in the Senate to convict and remove the President, I have taken the position that Congress should not pursue impeachment at this time but should instead continue to investigate the President, his campaign, his Administration, and, where appropriate, his businesses and other financial matters. As the Administration continues stonewalling, though, we seem to be getting closer and closer to the point where Congress will have no other option.