Yes, Barr Misled the Public
The attorney general hasn't said a single thing that wasn't technically true about the Mueller report. But he was dishonest.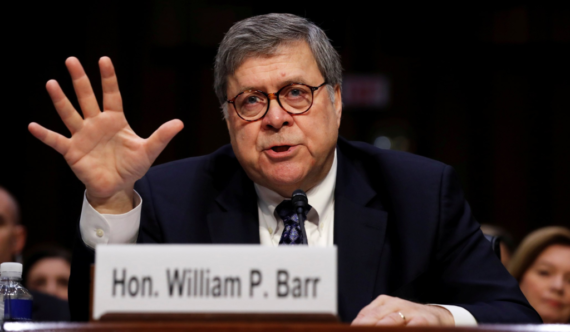 Five weeks ago, when Attorney General Barr released his four-page summary of the Mueller report, I declared, "I'm confident that Mueller and his team did their job and I have no reason to think Barr and his team aren't doing theirs." Defending that statement in the comments section, I reasoned, "I think he values his legal reputation more than he covets Trump's affections" and "it would be a short-lived win in that the full report will get out soon."
A few days later, when members of Mueller's team complained that Barr's summary understated their findings, I doubled down, "Given that something approximating the full report will be not only shared with Congress but made public quite soon, I have operated under the assumption that Barr's summary was accurate as to the legal findings but shaded in terms of the political implications. I still think this is correct."
My faith in Barr was misplaced. He did, in fact, place his loyalty to Trump over his duties to the country, the reputation of his Department, and his personal integrity.
I take some comfort in being in good company.
Lawfare's Ben Wittes:
"I was willing to give Bill Barr a chance. Consider me burned."
The subhead of his essay declares "The attorney general misled the public in seven key ways."
Not in my memory has a sitting attorney general more diminished the credibility of his department on any subject. It is a kind of trope of political opposition in every administration that the attorney general—whoever he or she is—is politicizing the Justice Department and acting as a defense lawyer for the president. In this case it is true.

Barr has consistently sought to spin his department's work in a highly political fashion, and he has done so to cast the president's conduct in the most favorable possible light. Trump serially complained that Jeff Sessions didn't act to "protect" him. Matthew Whitaker never had the stature or internal clout to do so effectively. In Barr, Trump has found his man.

— The Atlantic, "The Catastrophic Performance of Bill Barr"
As I've noted before, Wittes is perhaps the most cautious public intellectual I know of. It's among the reasons I value his analysis so highly: he's simply never ahead of his skies. But, of course, he's occasionally late to the party. Our own Steven Taylor declared "It seems as if Donald Trump finally has the AG he has always wanted" nearly two weeks ago.
Still, Wittes' analysis is devastating.
He begins with a concession:
Ironically, the redactions on the report—the matter on which I urged giving Barr the benefit of the doubt—are the one major area where his performance has been respectable. On this matter, he laid out a time frame for the release of the report. He met it. His redactions, as best as I can tell, were not unreasonable, though they were aggressive in some specific areas. To whatever extent he went overboard, Congress has a far-less-redacted version. The public, in any event, has access to a detailed account of Mueller's conclusions. On this point, Barr did as he said he would.
Alas . . . .
Where Barr has utterly failed, by contrast, is in providing "honest leadership that insulates [the department] from the predations of the president." I confess I am surprised by this. I have never known Barr well, but I thought better of him than that.


The core of the problem is not that Barr moved, as many people worried he would, to suppress the report; it is what he has said about it. I have spent a great deal of time with the Mueller report, about which Barr's public statements are simply indefensible. The mischaracterizations began in his first letter. They got worse during his press conference the morning he released the document. And they grew worse still yesterday in his testimony before the Senate Judiciary Committee.


Barr did not lie in any of these statements. He did not, as some people insist, commit perjury. I haven't found a sentence he has written or said that cannot be defended as truthful on its own terms, if only in some literal sense. But it is possible to mislead without lying. One can be dishonest before Congress without perjury. And one can convey sweeping untruths without substantial factual misstatement. This is what Barr has been doing since that first letter. And it is utterly beneath the United States Department of Justice. [emphasis added — jhj]
There's a whole lot more after that setup and I'll leave it to those interested in the details to go to The Atlantic and read the whole thing.