Post-Mueller Recriminations
The mea culpas and I-told-you-so's are rather premature.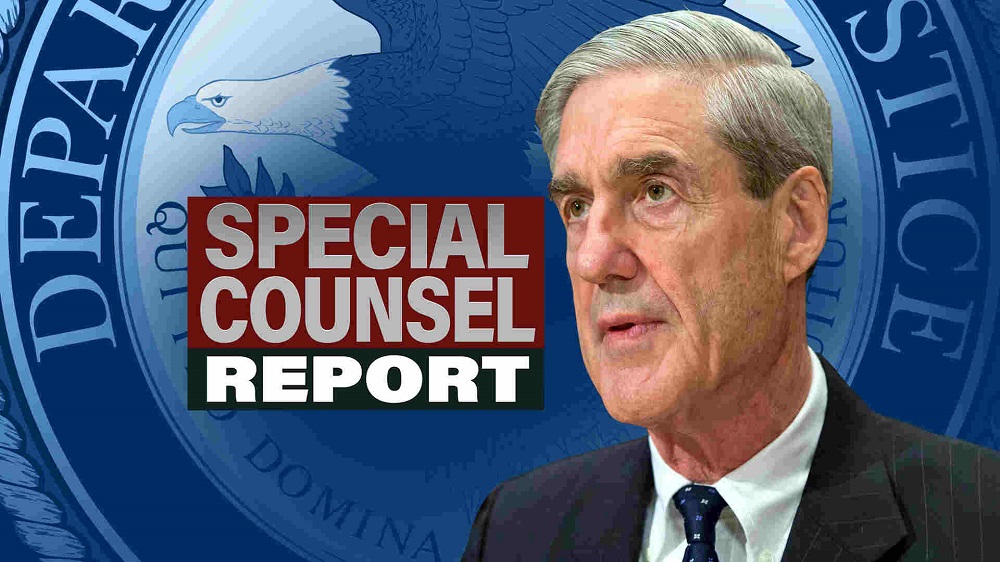 The Attorney General's summary of the Mueller report has produced a cottage industry of columns and confessions about overreactions on the Russia front.
Most notably, former CIA Director John Brennan, who has been simply over-the-top:
Former CIA Director John Brennan said Monday that he "suspected there was more than there actually was" in regard to collusion between the Trump campaign and Russia in the 2016 election.

"I don't know if I received bad information, but I think I suspected there was more than there actually was," he said on MSNBC's "Morning Joe" on Monday about the findings of special counsel Robert Mueller's probe.

"I am relieved that it's been determined there was not a criminal conspiracy with the Russian government over our election," Brennan added. "I think that is good news for the country."

Brennan's remarks came one day after Attorney General William Barr said in a letter to Congress that Mueller, who investigated Russian interference in the 2016 election, did not uncover evidence of conspiracy or cooperation between the Trump campaign and Russia.

Brennan previously asserted that the Trump campaign did collude with Russia, writing in a New York Times op-ed last year that President Trump's claims of "no collusion" were "hogwash."

Brennan also said in a tweet last week that he suspected Trump was panicking "over the likelihood the Special Counsel will soon further complicate your life, putting your political & financial future in jeopardy."

"I still point to things that were done publicly, or efforts to try to have conversations with the Russians that were inappropriate," Brennan said Monday, adding, "but I'm not all that surprised that the high bar of criminal conspiracy was not met."
George Will, who left the Republican Party over Trump ("Thanks to Mueller, 2020 won't be about 2016"):
Robert S. Mueller III's report is a gift to the nation, which now knows what was already a reasonable surmise: that its chief executive's unlovely admiration for a repulsive foreign regime, Vladimir Putin's, is more a dereliction of taste and judgment than evidence that he is under that regime's sway. The report is an even larger gift to the nation because it might help stabilize the Democratic Party — if the party reacts more reasonably to it than most of the party's most conspicuous presidential candidates have been reacting to the political stimuli of 2019. What Mueller's report makes possible is something like a normal presidential election in 2020.

After thousands of hours of cable television obsessing about Mueller's report in advance of it, with most of the obsessives basing their speculations on less than the reading of tea leaves or of chicken entrails, and most of the obsessives grinding partisan axes, it is difficult, but important, to remember two things. First, before Mueller was appointed special counsel, it was indisputable that Russia hacked American emails as part of its activities to work for Donald Trump's election. Second, while Mueller investigated these activities, the accusation of 2016 collusion between professional Russian operatives and the ramshackle Trump campaign apparatus was already implausible because Russia could pursue its ends without coordinating its activities with a campaign rife with lowlifes and bottom-of-the-barrel Republican operatives.

The report comes to no conclusion about whether Trump intended to obstruct justice. This agnosticism is, however, a politically nullity: Voters are unlikely to care what the president intended when he used a constitutional power (e.g., firing the FBI director) or indulged his incontinent anger (rhetorically and on Twitter) during an investigation into an alleged crime he did not commit.

[…]

The 2016 election changed the nation's too serene sense of itself as immune to the sort of grotesque electoral outcomes that other nations experience. After Mueller's report, the 2020 election will be about various normal issues — health care, the economy's strength and the equity of its results, etc. — but above all it will be about this: Is the current tone of public life, which is set by the president, the best America can do?

Thanks to Mueller, the 2020 campaign will not be about the 2016 campaign. It will be about a post-Trump future — if unhinged Democrats can stop auctioning themselves to their party's most clamorous factions, thereby making Trump seem to be what Mueller's report does not say that he is: acceptable.
David Brooks, another #NeverTrump Republican ("We've All Just Made Fools of Ourselves — Again"):
Maybe it's time to declare a national sabbath. Maybe it's time to step back from the scandalmongering and assess who we are right now.

Democrats might approach this moment with an attitude of humility and honest self-examination. It's clear that many Democrats made grievous accusations against the president that are not supported by the evidence. It's clear that people like Beto O'Rourke and John Brennan owe Donald Trump a public apology. If you call someone a traitor and it turns out you lacked the evidence for that charge, then the only decent thing to do is apologize.

Republicans and the Sean Hannity-style Trumpians might also approach this moment with an attitude of humility and honest self-examination. For two years they've been calling the Mueller investigation a witch hunt. For two years they've been spreading the libel that there are no honest brokers in Washington. It's all a deep-state conspiracy, a swamp. They should apologize for peddling the sort of deep cynicism that undermines our country's institutions.

And what about the rest of us? What about all the hours we spent speculating about the Mueller report, fantasizing about the Trump ruin or watching and reading speculation about these things? What about the superstructure of scandal politics we have built and live in today?

The sad fact is that Watergate introduced a poison into the American body politic. Richard Nixon's downfall was just and important, but it opened up the mouthwatering possibility that you don't need to do the hard work of persuading people to join your side. Instead, you can destroy your foes all at once through scandal.

Politics since Watergate has been defined by a long string of scandals and pseudo-scandals — Iran-contra, Whitewater, Valerie Plame, Benghazi, Solyndra, swift-boating. Politico last year compiled a list of 46 scandals that were at one time or another deemed "worse than Watergate."

The nation's underlying divides are still ideological, but we rarely fight them honestly as philosophical differences. We just accuse the other side of corruption. Politics is no longer a debate; it's an attempt to destroy lives through accusation.
Bloomberg national security reporter Eli Lake ("The Reckoning Finally Arrives for the Trump Resistance"):
"The investigation did not establish that members of the Trump campaign conspired or coordinated with the Russian government in its election interference activities." That single sentence, taken from Special Counsel Robert Mueller's report on Russian interference in the 2016 U.S. presidential campaign, calls for a reckoning.

It's a reckoning for Democrats who saw almost every development in this almost-two-year investigation as another dot connecting a conspiracy Mueller has not found. It's a reckoning for many in the media that dutifully passed along this theory without scrutiny or context. And it's a reckoning for many national security officials who abandoned their traditional nonpartisan role as custodians of state secrets to engage in a campaign against a president they loathed.

Their suspicions, I should note, were not unwarranted. During the 2016 election, there was strong evidence that Russia had hacked the emails of leading Democrats, a fact supported by Mueller's indictments. The country later learned from Mueller that Moscow conducted a social media campaign to flood Twitter and Facebook with fake news and propaganda to discredit Hillary Clinton. Trump, meanwhile, once publicly invited the assistance of the Russians.

But many people who should have known better went beyond suspicion and embraced conspiracy. Remember Senator Harry Reid's explosive letter to James Comey, released just a few days before the election, alleging that the FBI director possessed devastating information about Trump and his campaign's ties to Russia? Reid did not provide many details. We now know that many of the allegations to which Reid referred echoed an infamous dossier prepared by a former British spy at the behest of an opposition research firm paid by the Democratic Party.

Reid wasn't the only one. Last year the House Intelligence Committee released memos that showed how this dossier was part of the underlying evidence the FBI provided in a surveillance application to a secret court to monitor the communications of Carter Page, a low-level foreign policy adviser to the Trump campaign. Page has not been charged with a crime, and yet his reputation has been trashed after a top-secret warrant for his surveillance was leaked to the media.

The dossier set the initial narrative for the Trump administration. After CNN reported that it was included as part of a briefing Comey himself provided to Trump and Obama, Buzzfeed published the whole thing with the helpful caveat that it was not verified and was in places incorrect. The most important takeaway so far of the Mueller probe is that this dossier is garbage.

Then there is the matter of Trump's first national security adviser, Michael Flynn. He was forced from the administration and into a legal nightmare after his monitored conversations with Russia's ambassador to Washington leaked a few weeks before Trump's inauguration. It's true that Flynn failed to file as a foreign agent for Turkey, a crime that is normally punished as a slap on the wrist. At the time though, the accusation against Flynn was that he was a Russian spy, based on leaked transcripts that are never supposed to see the light of day. How silly do these hyperventilations look today in light of Mueller's conclusions?

[…]

Finally, there is that handful of former officials who validated the worst fears of Americans about Trump without ever providing actual evidence. The best example is former CIA Director John Brennan. For the last two years, Brennan has been a frequent guest on cable TV to spread the innuendo that Trump is compromised by Russia. Just this month, he speculated that Mueller would be indicting members of Trump world for criminal conspiracy, even as he insisted he had no "inside knowledge" of Mueller's deliberations. That last part, at least, turns out to have been true.

The saddest part of all of this is that there was a lot of evidence, hiding in plain sight, that could have spared many collusion proponents their embarrassment. Mueller's indictment of Roger Stone, for example alleged that Stone was tasked by a senior campaign official to find out what was in the emails that Russia hacked from Wikileaks founder Julian Assange. If the campaign were coordinating with Russia's influence campaign, why would Stone need to go to Wikileaks?

[…]

The end of the Mueller probe is more than just a reckoning. It is also a reminder, if anyone needed another one, that the FBI and the intelligence community can be wrong. And it is a powerful illustration of the importance of keeping spies and lawmen out of politics.
Brennan's mea culpa is warranted. As I've argued repeatedly, his over-the-top rants have been damaging to the ability of the intelligence community to do its job. Because of his former position, he is presumed by the public and the White House to both have insider information and to be speaking for his former agency. He was simply imprudent.
Furthermore, while I have long argued that Trump has committed impeachable offenses outside the scope of the Mueller investigation—violations of the Emoluments Clause and otherwise funneling taxpayer money into his private businesses in a positively shameless manner—my fundamental conservatism comes down to where Brooks and Will land: absent overwhelming, bipartisan consensus that the President is unfit to serve, the way to remove them is through the ballot box. Relatedly, as I have noted repeatedly through the process, I'm highly skeptical of independent counsel system and the massive fishing expeditions that they invite. Not only are innocents invariably caught up in the fishing net but it leads naturally to a criminalization of politics.
All that said, the recriminations and mea culpas are premature. Even though I'm a staunch critic of this President and his appointees, I will believe until and unless proven wrong that the Attorney General's letter fairly represents Mueller's principal findings. But the fact that they did not find sufficient evidence to warrant charging Trump or his top advisors with conspiracy or the President with obstruction of justice by no means exculpates them. We must, after all, hold our leaders to a higher standard than not having committed provable felonies. What we already know about Team Trump's interactions with Russian sources and attempts to hinder and derail the investigation into same are damning. It's likely, indeed, given all of the indictments, convictions, and spin-off investigations that Mueller and company spawned that the details of the full report will provide more grist for that mill.
Even so, I fully agree with those who argue that the 2020 campaign has to be about more than what an awful human being Donald Trump is. That was rather well established long before Election Day 2016 and it wasn't enough. And our default position as a country is to re-elect the President, especially if the economy is strong. So, the Democratic nominee will have an uphill fight and will need to present a positive vision for the future.
UPDATE: I see that Steven Taylor has independently reached a similar conclusion.