Mnuchin Tells Congress He Will Not Turn Over Trump's Tax Returns
The Treasury Secretary is declining to comply with a Congressional request for the President's tax returns. Whether this is proper is a question that will have to be resolved by the courts.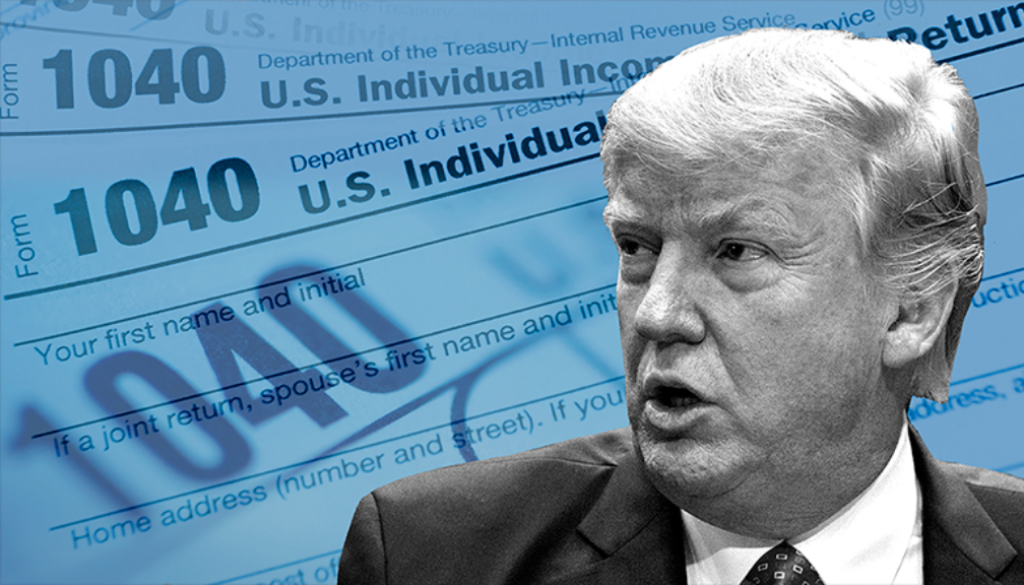 Treasury Secretary Steve Mnuchin has informed the Democratic Chairman of the House Ways and Means Committee that he would not comply with a request for a copy of the President's tax returns, setting up what appears as though it will be yet another confrontation between the White House and Congress over document requests:
WASHINGTON — The Treasury Department said on Monday that it would not release President Trump's tax returns to Congress, defying a request from House Democrats and setting up a legal battle likely to be resolved by the Supreme Court.

Steven Mnuchin, the Treasury secretary, wrote in a letter to Representative Richard E. Neal, Democrat of Massachusetts and the chairman of the House Ways and Means Committee, that Mr. Neal's request for the tax returns "lacks a legitimate legislative purpose" and that he was not authorized to disclose them. The decision came after weeks of delays as Mr. Mnuchin said that his department and the Justice Department needed to study the provision of the tax code that Democrats were using to seek six years' worth of the president's personal and business tax returns.

The request for Mr. Trump's taxes is the latest instance of the Trump administration rebuffing congressional oversight efforts.

"As you have recognized, the committee's request is unprecedented, and it presents serious constitutional questions, the resolution of which may have lasting consequences for all taxpayers," Mr. Mnuchin wrote in the one-page letter.

He added that "the department may not lawfully fulfill the committee's request."


Mr. Neal issued a terse statement on Monday afternoon in response to Mr. Mnuchin: "I will consult with counsel and determine the appropriate response."


Mr. Mnuchin, who is one of Mr. Trump's most trusted aides, has signaled his concern about the request, arguing that it appeared to be political in nature and that honoring the demand would be a violation of taxpayer privacy. He has warned that if the I.R.S. releases Mr. Trump's returns, then lawmakers from both parties could be vulnerable to such prying. In an April 23 letter to Mr. Neal, Mr. Mnuchin said that the demand amounted to "exposure for the sake of exposure."


The Treasury secretary said that the Justice Department would memorialize its advice on the matter in a published legal opinion.
House Democrats have argued that the law is clear that congressional tax writing committees have broad authority to request the returns of any taxpayer. Mr. Neal said that the request was made so that Congress can assess the effectiveness of the automatic audits that all sitting presidents face.

In his letter, Mr. Mnuchin said that the Treasury Department was willing to provide more information to the committee about how the I.R.S. conducts its mandatory examinations of presidential tax returns .

Mr. Trump has argued that the request was an example of presidential harassment by House Democrats, who have been investigating his business dealings since taking power this year. The president's personal lawyer sent letters to the Treasury Department urging it not to release his financial information.
Pursuant to 26 U.S.C. Sec 6103(f), the Ways and Means Committee is entitled to request a copy of anyone's tax return:
Upon written request from the chairman of the Committee on Ways and Means of the House of Representatives, the chairman of the Committee on Finance of the Senate, or the chairman of the Joint Committee on Taxation, the Secretary shall furnish such committee with any return or return information specified in such request, except that any return or return information which can be associated with, or otherwise identify, directly or indirectly, a particular taxpayer shall be furnished to such committee only when sitting in closed executive session unless such taxpayer otherwise consents in writing to such disclosure.
While the authority of the committee to request a copy of a taxpayer's return appears from the statute to be virtually unlimited. However, there are two important restrictions that seem to form the basis of Mnuchin's denial of Chairman Neal's request. The first is set forth in the statute itself and provides that the return in question will only be provided to the committee in closed session unless the taxpayer consents otherwise. The second can be found in holdings by the Supreme Court in two cases, McGrain v. Daugherty, a 1927 case arising out of one of Congress' investigations into the Teapot Dome scandal, and Watkins v. United States, a 1957 case dealing with a union officials conviction for contempt of Congress. The facts of these cases are not important to the current issue, but both stand for the proposition that any Congressional investigation into the private affairs of an individual must serve a "legitimate legislative purpose." In his letter to Chairman Neal, Secretary Mnuchin essentially argues that the Committee has failed to provide a legitimate legislative purpose for requesting the Presidents tax returns. Mnuchin states that this determination was made pursuant to guidance from the Justice Department, which will apparently be making its position known in a legal memorandum to be provided in the near future.
The Committee's options at this point lie in one of two directions. The first option would be to file a lawsuit against the Treasury Department alleging that it has failed to comply with the requirements of Sec. 6103(f). The second would be to issue a subpoena for the returns, which it has not done as of yet. Given the Treasury Department's response to the 6103(f) request, it's obvious that Mnuchin will also decline to respond to the subpoena. This basically means that either option means a likely protracted court fight during which the chief issue will be whether the committee has a "legitimate legislative purpose" in seeking the returns or whether it is on a fishing expedition for which there is no legitimate motive outside of a purely political one.
As a matter of law, it is difficult to say at this point what the "right" answer is to the legal issues here. If the matter does end up before the courts then the committee will be required to specify what the "legitimate legislative purpose" is for its request of the President's confidential tax returns. While Congress does have broad authority to investigate the Executive Branch, that authority is not unlimited and this is one of the cases where it must be able to articulate why it needs to see the returns beyond merely stating "we want to see them."
This, of course, is just one example of the extent to which the Trump Administration has decided to respond to the increasing pressure of Congressional investigations by stonewalling as much as possible. Whether this will work or not, and what impact it may have on how the public views the Administration, remains to be seen.
Update: Amber Phillips at The Washington Post lays out the legal argument behind Mnuchin's refusal to comply with Chairman Neal's request in more detail:
The fight for Congress to obtain President Trump's tax returns centers on one question: Is Congress requesting them for a legislative reason?

No one disputes that Congress has a right to request them. A 1924 law gives House Ways and Means Committee Chairman Richard E. Neal (D-Mass.) the ability to request any taxpayer information from the Internal Revenue Service. (Here's the backstory on the bribery scandal that led to that law.) It's a powerful law that allows the chair of Congress's main tax-writing committee to get a person's tax returns as well as underlying files about that person's taxes, such as the W-2 form that details how much someone made in a year. If there's something Trump has been hiding from the public in his tax returns for the past six years, this law ensures that the committee should see it. (And potentially make it public.)

But members of Congress can't request someone's tax returns just because they want to. That would be ripe for abuse. They must have a reason to see the taxes that directly relates to their job as part of a lawmaking body.

So what legislation is Congress going to introduce, or consider introducing, based on Trump's tax returns? That's where the Trump administration thinks it has a case to make.

"I have determined that the Committee's request lacks a legitimate legislative purpose," Treasury Secretary Steven Mnuchin wrote in a letter to Congress on Monday, when telling lawmakers that he won't be sharing the president's tax returns.

Neal has argued that his legitimate legislative reason is this: The IRS has a policy that every year it reviews the tax returns of the president and vice president to make sure they're not doing anything fishy and to instill public confidence that they aren't above the law.

But Congress has no idea how thorough the IRS is with this. Does it do a full audit? A cursory check looking only for red flags? A Democratic committee aide pointed out that the IRS has appeared to go easy on a president before. Richard Nixon once received a letter from the agency saying that his taxes were a-okay, only for Congress to find out that he owed $500,000 in interest and back taxes.

This is all IRS policy, not a law written by Congress. Trump is the first president in decades not to share his taxes with the public, so Democrats argue that this is a good time to consider giving Congress more oversight into how the IRS reviews a president's taxes. To do that, it needs to request this president's returns.

We don't know exactly why the administration thinks this isn't a "legitimate legislative purpose." Mnuchin wrote in his letter to Congress that the Justice Department, which he consulted for this decision, is going to share its reasoning soon.


But we can deduce that the argument has something to do with the timing. Democrats won control of the House and immediately opened half a dozen investigations of Trump and his presidency and business practices. Did Democrats decide they wanted to get Trump's tax returns and craft a legislative reason around it?
Other than the two Supreme Court cases I cited above, there's very little legal precedent out there that speaks to the issue of when a Congressional investigation is legitimate and when it does not serve a "legitimate legislative purpose." Surely, we cannot simply take the word of Congress as gospel in a situation like this, particularly because we are talking about highly personal information that, could be subject to being abused for political purposes. That's why Congress simply can't say "we demand to see the returns of Taxpayer John Doe" without providing at least some legitimate reason for why they need them. At the same time, though, I would argue that the deference on this issue should be on the side of Congress and that if it comes down to being a close issue the courts should uphold the right of Congress to use its oversight and investigatory powers as permitted by law. Because this appears to be case of first impression, though, it's unclear which way the lower courts and, if necessary at some point, the Supreme Court will come down.
Update #2: On a related note, California is the latest state to consider a law that would require candidates to release tax returns as a price for appearing on the state's ballot. As I note in the linked post, it is not at all clear that this is permitted under the Constitution.
Here's a copy of Secretary Mnuchin's letter to the Committee
Mnuchin Letter to Ways and … by on Scribd