Trump Fighting Congress' Demand for His Tax Returns
The law is not on the President's side.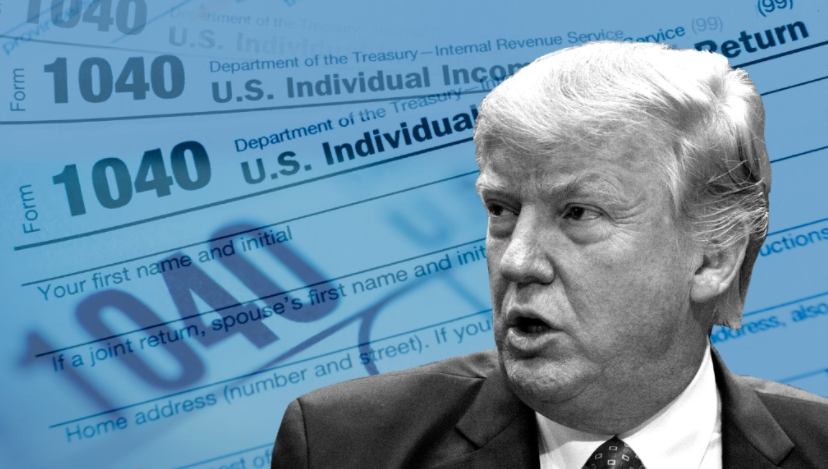 CNN ("Trump lawyers issue letter fighting tax return request"):
President Donald Trump continues to hold his ground against Democratic efforts to obtain his tax returns, with one administration official telling CNN that the President and his team are willing to fight the House Democratic request all the way to the Supreme Court.

"This is a hill and people would be willing to die on it," the official said.
House Ways and Means Committee Chairman Richard Neal formally requested six years of Trump's personal tax returns from the Internal Revenue Service in a letter Wednesday.


The official added that the administration is "not going to set the precedent" of turning over tax returns for future occupants of the Oval Office, slamming the House Democrat request from Neal as "abuse and overreach by Congress" and asked what's stopping Senate Republicans from seeking House Speaker Nancy Pelosi's returns.

"They have zero right to it," the official said, who added Trump has also made it clear he's not releasing his tax returns.

[…]

Lawyer William Consovoy argued in a statement on Friday that the requests for Trump's tax information "are not consistent with governing law, do not advance any proper legislative purpose, and threaten to interfere with the ordinary conduct of audits."


In the Wednesday request, Neal cited a little-known IRS code. Under IRS code 6103, only the Joint Committee on Taxation, the House Ways and Means chairman and the Senate Finance Committee chairman have the authority to request the tax information of an individual.


But in a detailed letter to the general counsel of the Treasury Department on Friday, Consovoy said that "the committee's authority is subject to important constraints," which, he said, citing the tax code, "extend to the ordinary taxpayer and the President alike."


Consovoy said that Neal does not have a "legitimate committee purpose" for obtaining the tax returns, adding that Neal's request "is a transparent effort by one political party to harass an official from the other party because they dislike his politics and speech."

[…]

The Democrats' request was also rebuked by congressional Republicans, with House Republican Leader Kevin McCarthy warning Thursday that it "sets a dangerous standard of having the federal government used as a political weapon" and dismissing the move as "a waste of time."
More from The Hill ("Trump says law '100 percent' on his side in tax return fight"):
It's not clear that the law will protect Trump from having to release his tax returns.


The IRS has said that audits don't prevent people from releasing their own tax information, and Democrats are attempting to use a provision in the federal tax code that gives the chairmen of Congress's tax committees the power to ask for any tax returns and return information and examine them in a closed session.

The statute says that the Treasury secretary "shall furnish" the documents, so long as they are reviewed in a closed session. But it's unclear how quickly the IRS will respond and if they will provide House Ways and Means Committee Chairman Richard Neal (D-Mass.) with the documents.


Neal asked the IRS to provide the requested tax returns and related information by Wednesday. Democrats argue that there is no room in the statute for the IRS not to comply and that their request is necessary to conduct oversight of the IRS's enforcement of tax laws against a president.
This issue has obviously been brewing since the early days of the 2016 campaign when Trump, in defiance of modern convention, refused to make his returns public, citing an ongoing IRS audit. It has long been assumed that, were the Democrats to take over the House following the 2018 elections, they would make this move. The law seems to be on their side.
Longtime NPR correspondent Peter Overby ("Congress Really Can Demand, And Get, Trump's Tax Returns. Here's How") from last November:
When the "committee access" provision, as it's known, became law in 1924, Congress had been dealing with taxpayers' information in the Teapot Dome scandal afflicting the Harding administration and in a controversy involving former Treasury Secretary Andrew Mellon. Like Trump, he had served in government while refusing to avoid conflicts of interest by letting go of his holdings.


The committee access provision has rarely been invoked, but here's how it would work:


For the party in control of the House or Senate, making the request is easy. It would come from the chair of the House Ways and Means Committee (the House panel that writes tax law), Senate Finance Committee or Joint Committee on Taxation. Democrats have been badgering the Republican chairs of those panels to act since February 2017 without success.


Once a request is made, no floor action is necessary. The request would go to Treasury Secretary Steve Mnuchin, who oversees the IRS — not to the taxpayer in the Oval Office, who would officially be out of the loop. Yin said the 1924 law "gave the tax committees the unqualified right to request the tax returns of any taxpayer."


What would happen next is uncharted territory. Based on recent events, Trump might deploy Justice Department lawyers, and perhaps private lawyers, to fight the request in court. The process might resemble the not-infrequent legal battles over congressional subpoenas for executive branch documents. But the committee access provision has never been before a federal judge.


Were Congress to get access to Trump's returns, it would be easy for lawmakers to disclose the information, despite various privacy protections that exist for taxpayers. The chair or committee with Trump's tax returns could submit them to the full House or Senate if there's a legitimate legislative purpose. At that point, the returns would very likely quickly become available for the public to see on the Internet.

Overby refers to a brief titled "Congressional Authority to Obtain And Release Tax Returns" by George K. Yin, the Edwin S. Cohen Distinguished
Professor of Law and Taxation at the University of Virginia and a former chief of staff of the Joint Committee on Taxation, which concludes:
Following Watergate, as part of the Tax Reform Act of 1976, Congress ended the power of the president to order disclosure of tax return information. However, it retained the authority of its tax committees to do so. This decision was necessary for Congress to protect its informing function. The recent experience involving Nixon had shown the potentially great importance of preserving an ability to make a public disclosure of tax information.

In the present situation, concerns over President Trump's possible conflicts of interest — including conflicts with tax legislation the committees may soon be asked to approve — would certainly seem to justify a tax committee effort to obtain and inspect his confidential tax information. A review could also assure the American public that the IRS is treating him like any other taxpayer and not giving him preferential treatment. This would not be an idle concern; an initial IRS audit of Nixon's returns did not result in any proposed adjustment even though the JCT staff later found (and the IRS concurred on second audit) that Nixon actually owed almost $500,000 in additional taxes. And as previously described, Congress had the same worries about the tax agency's favorable treatment of Mellon. The parallels between the present-day concerns and those that contributed to the creation of the tax committee authority in 1924 are very close.

Whether there should be disclosure of any information obtained is a separate question. There must also be a legitimate purpose for any disclosure. Once the tax committees complete their investigation, they can determine whether any disclosure to the public would be appropriate. [footnotes elided for clarity]
The Brookings Institution's Steve Rosenthal, writing for Forbes last November ("Congress Can And Should Demand President Trump's Tax Returns") expands on this:
Trump maintains a sprawling business empire, which he refuses to transfer to a blind trust. According to multiple published reports, the president, through his businesses, derives income from foreign governments and their lobbyists, which also may violate the Constitution's prohibition against emoluments. The president reportedly intervened personally to block the FBI from moving its headquarters and thus opening up for commercial development a site just a few blocks from his downtown Washington hotel. The president reportedly paid little or no tax for many years, in part because of aggressive tax planning and, perhaps, tax evasion. And throughout his campaign and since his election, the President acknowledged that he has been under audit.

These multiple allegations raise legitimate questions about whether the president is running the government for his benefit or the public's—or both. Is he profiting from his position? Is the public harmed? Is the IRS auditing the president's returns appropriately—and without favoritism? Has the IRS proposed any adjustments—and has the president paid them?
The potential need for Congress to be able to force the IRS to turn over a president's tax returns is obvious for reasons Yin lays out. And I agree with him and Rosenthal that there are enough tax-related questions surrounding President Trump to warrant the relevant committees demanding access. But, rather obviously, this is a power subject to abuse.
Brian Falen, reporting for POLITICO ("Democrats face minefield if they get Trump's tax returns"), notes that there's a rather big caveat that mitigates this possibility:
Lawmakers are concerned that, even if they get the president's filings, his returns will still be protected by strict confidentiality laws — it is a felony, punishable by up to five years, to improperly disclose private tax information.


There are ways around the dilemma, and Democrats intend to make at least some information about Trump's taxes public — that is much of the point of their entire effort. But that probably won't happen right away. Lawmakers say they will likely take some time to examine his filings behind closed doors before making anything publicly available.


That means there will be a period, possibly lasting months, when Democrats will have finally seen the president's long-hidden taxes — and they will be inundated with questions about what's in them — but they won't be able to talk about them. If they let anything slip, Republicans will surely jump, demanding an investigation by the Justice Department.


"We're going to have to be circumspect in terms of the way we handle this," said Rep. John Larson (D-Conn.), a senior member of the House Ways and Means Committee. "That's the responsibility of every member."

[…]

That Democrats may have to keep Trump's taxes secret for a time has been largely overlooked in the debate over the returns, probably because of a misconception of how the law Democrats are tapping works.


They are relying on a statute that allows the heads of Congress's tax committees to examine anyone's confidential taxes. Advocates of the effort emphasize that the law says the Treasury Secretary "shall" hand over any requested returns.


But that's just the question of whether the administration must give up the documents — even if Trump's returns are handed over, they will still be protected by privacy laws. Making them public will be a separate matter.
Now, Congress has been notorious for leaking classified and other sensitive information to the press for political reasons and, if Trump's returns are disclosed to enough Members and staffers, it will be really hard to actually prosecute anyone under this provisison.