Congress to Make Trump's Taxes Public
House Democrats are releasing them because they can.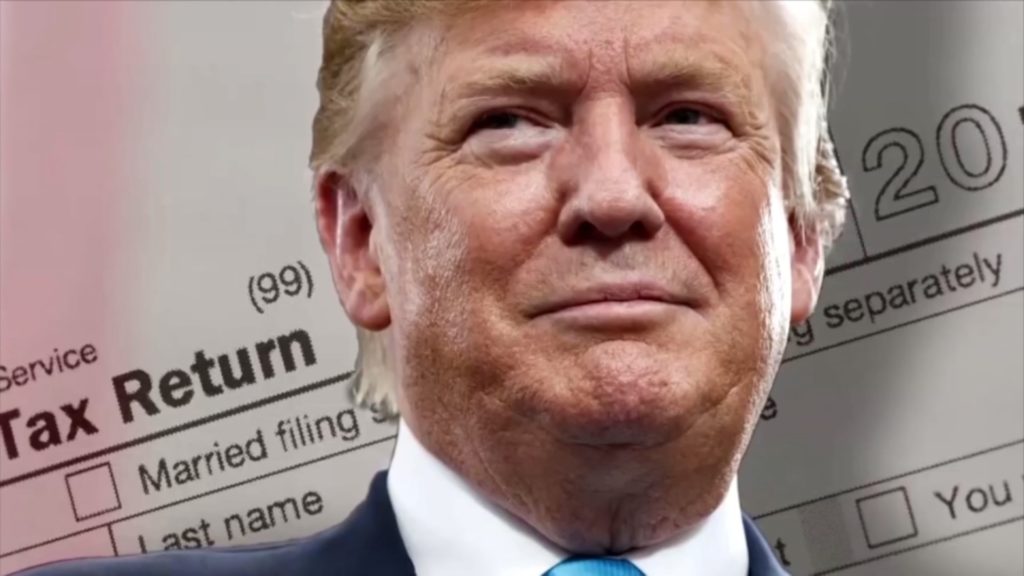 NBC News ("House committee votes to make public Donald Trump's personal and business tax records"):
The House Ways and Means Committee voted Tuesday to make six years of former President Donald Trump's tax returns public — potentially ending years of speculation about what they might reveal about his business dealings and personal wealth.

The panel voted along party lines to make the returns available and information could be available as soon as Wednesday — the day the House Jan. 6 committee is set to issue its final report on the riot at the U.S. Capitol — which will be the final days of Democratic control of Congress before Republicans take over the House in January.

Later Tuesday, the committee released a 29-page report summarizing its investigation into an IRS policy that mandates audits of returns filed by presidents and vice presidents. The committee found that the IRS had largely not followed its own internal requirement, only beginning to examine Trump's returns after the panel inquired about the process. Just one year of Trump's returns while in office was selected for the mandatory review, and the audit was not complete by the time he left the White House, according to the report.

A separate 39-page report from the Joint Committee on Taxation, or JCT, released Tuesday night included summaries from Trump's personal tax forms and business entities.

For example, in 2019, the last year that the committee obtained records, Trump appeared to owe nothing in taxes, according to the JCT report. That was thanks to Trump claiming $15 million in business losses, which resulted in him having negative $4 million in adjusted gross income. Trump then claimed a $5 million refund, the report says.

The committee report listed several overarching issues it believed the IRS should have investigated but did not. For example, Trump claimed large cash donations to charities but the report said the IRS did not verify them. Additionally, Trump's tax filings were large and complicated, but the IRS did not assign experts to work on the audit at the request of the then-president's lawyer who argued including more agents could compromise the confidentiality of the documents.

Rep. Brendan Boyle, D-Pa., said the more detailed returns will likely be made public later this week. "The actual returns themselves will also be transmitted to the full House and become public, but I was told it will take a few days to a week in order to redact some info that needs to be redacted," Boyle said.

Ways and Means Committee Chairman Richard Neal, D-Mass., said Trump's returns were subject to scant oversight by the IRS, even though all presidents are supposed to be subject to automatic audits.  "For all practical purposes the research that was done as it relates to the mandatory audit program was nonexistent. The tax forms were really never audited, and only my sending a letter at one point, prompted sort of a rear view response," Neal said during a news conference after the vote.

Neal has proposed legislation to codify the mandatory audit policy into law, which House Speaker Nancy Pelosi praised in a statement Tuesday. "The Ways & Means Committee's report makes clear the legislative steps that must now be taken to guard the public trust, and we will move swiftly to advance Chairman Richard Neal's legislation requiring the Internal Revenue Service to conduct an annual audit of the president's finances," Pelosi said.
I continue to believe that making Trump's tax returns, which the Committee was only able to access through its subpoena power, public is a gross abuse of power.
Rep. Kevin Brady, R-Texas, the ranking member, criticized the Democrats' move and said committee members did not know "exactly what we are releasing" when they voted.

The move to release Trump's tax records could spark threats of some sort of retaliation from Republicans, who have already vowed to launch probing investigations into President Joe Biden and his family. Some Republicans have already accused Neal of seeking the returns solely for political reasons.

Neal defended the vote immediately afterward.

"This was not about being punitive, it was not about malicious, and there were no leaks from the committee," he said. "We adhered carefully to the law."

Brady told reporters ahead of the meeting that Democrats were pushing an "unprecedented action that will jeopardize the right of every American to be protected from political targeting by Congress."

"No party in Congress should hold that power. It is the power to embarrass, harass or destroy a private citizen through disclosure of their tax returns," Brady said.
Brady is right here.
The Committee had a legitimate legislative purpose in accessing the records and achieved it. They found that the IRS did not adequately audit Trump's record while he was President, despite legal requirements to do so. Presumably, there will be consequences for that via the oversight process. Additionally, they're hoping to strengthen said law so that this doesn't happen again. All to the good.
None of that requires making the records, which Trump has every right to keep private, public. It's a malicious act by Democrats on the Committee to embarrass a political opponent. There's simply no other explanation.
Neal had maintained he needed to review the returns for "policy, not politics."

"The IRS has a policy of auditing the tax returns of all sitting presidents and vice-presidents, yet little is known about the effectiveness of this program. On behalf of the American people, the Ways and Means Committee must determine if that policy is being followed, and, if so, whether these audits are conducted fully and appropriately. In order to fairly make that determination, we must obtain President Trump's tax returns and review whether the IRS is carrying out its responsibilities," Neal said in a statement in April 2019.
Again: that's right. But the Committee has conducted its review. It has the ability to exercise its oversight power over the IRS. It has the ability to write informed legislation. What legislative purpose is furthered by releasing the records?
Indeed, there's precedent here:
The head of the Joint Committee on Taxation requested several years of then-President Richard Nixon's tax returns in 1973 and 1974, as well as returns for first lady Pat Nixon and their daughter and son-in-law.

The committee's eventual report on Nixon's taxes included a copy of returns that Nixon had already made public, but not the earlier returns. The report did make reference to some of the information it had collected from those earlier returns.
I am, to say the least, not a fan of Trump. To the extent releasing his returns is embarrassing to him and damaging to his aspirations of regaining the Presidency, I'm pleased with the outcome. But process matters.
After years of railing at Trump for violating norms, House Democrats are abusing the trust of their office here in an egregious way. And, quite naturally, this will set a precedent for further abuses.
A Daily Beast report on the vote contains this explanation:
Following the vote, Rep. Richard Neal (D-MA), the committee chairman, said that the decision was not "punitive" or "malicious." Committee member Rep. Judy Chu (D-CA) explained the importance of releasing the documents was one of transparency, saying members of the public "need to see the returns themselves."

"It's about one office: the presidency," she added. "It's about making sure there are checks and balances for the presidency."
There are all manner of "checks and balances for the presidency." Many of them were put there by the Framers. The Ways and Means Committee's investigation into the IRS audits, or lack thereof, is tangential to one of them. Releasing private information, however, is not.
Now, it seems perfectly reasonable that the President's taxes be public record. It has been a longstanding norm—going back half a century—that Presidents and major party nominees for President release their returns voluntarily. I would be happy for it to be a legal requirement. It is, however, not. If Congress wants to change that, they have the tools to do so.
Rep. Kevin Brady (R-TX), the committee's highest-ranking Republican member, similarly attacked the outcome of the vote. He told reporters just prior to Tuesday's meeting that the disclosure would present "a dangerous new political weapon that reaches far beyond the former president and overturns decades of privacy protections for average Americans that have existed since the Watergate reform," according to CNN.
He's surely right.
Condemning the "unprecedented leak by lameduck Democrats" in a statement to The Daily Beast, Trump spokesperson Steven Cheung warned, "If this injustice can happen to President Trump, it can happen to all Americans without cause."

He also called for the release of tax data on "Nancy Pelosi and her weirdo husband Paul to see how much dirty money they have made from selling out America and jeopardizing our national security."
Sigh.
But, presumably, a Republican-headed committee could in fact launch an investigation into the Pelosis' finances on some pretext. Having done so, they would surely release the returns. And why not, really? Doesn't the public have a right to know?
Indeed, while releasing tax returns has been a longstanding norm for Presidents and demanded of those seeking confirmation to various high-level appointed positions in the Executive branch, it is not a standard Congress has applied to itself. It may well be time to change that.
Regardless, it should be achieved through normal order, not cynical abuses of power like this.