Tom Brady Retiring Again
The Greatest of All Time is hanging up his cleats a year too late.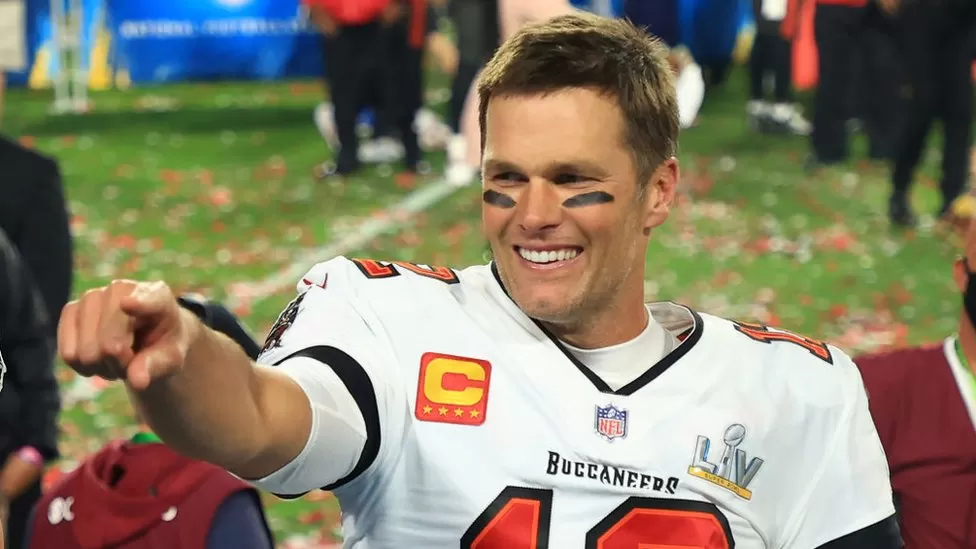 CBS News ("Tom Brady announces retirement: Patriots, Buccaneers legend walks away after 23 seasons in the NFL"):
Tom Brady is calling it a career once again. This time around, it does seem as if this is the last we'll see of the seven-time Super Bowl champion. Brady proclaimed that he'll be stepping away from the game after 23 seasons on Wednesday a few weeks following Tampa Bay's playoff loss to the Dallas Cowboys to wrap up Super Wild Card Weekend.

"I'll get to the point: I'm retiring for good," Brady said in a post on Wednesday. "Thank you guys for allowing me to live my absolute dream. I wouldn't change a thing."
Of course, this isn't the first time that Brady has walked away from the game. Last February, the now-45-year-old quarterback initially announced his retirement, but then rescinded that move, calling off his retirement just forty days later saying that his "place is still on the field and not in the stands." Now, it appears as if Brady is finally ready to step off the field and begin a new chapter.

As he does that, he walks away as someone who is widely considered to be the greatest player of all time — the G.O.A.T. as he's coined over the years. He first came into the NFL as the 199th overall pick in the 2000 NFL Draft out of Michigan and was selected by Bill Belichick and the New England Patriots. Brady spent that first season on the bench behind veteran quarterback Drew Bledsoe. Then, in Week 2 of the 2001 season, a devastating hit by Jets linebacker Mo Lewis knocked Bledsoe out of the game and effectively changed the trajectory of Brady's career, the Patriots franchise, and the NFL at large.

The second-year quarterback came in, took hold of the starting job, and helped lead New England to a Super Bowl XXXVI title, the first in franchise history. Brady's legend only continued to grow as that championship sparked a dynasty where he and the organization would win three Super Bowls in four seasons.

The Patriots continued to have sustained success under Brady following those titles in the years to follow, albeit without hoisting any Lombardi Trophies for a decade. That said, those were arguably some of the more impressive statistical campaigns of Brady's career, including a record-shattering 50-touchdown season in 2007. That year, the Patriots went 16-0 during the regular season but fell just short of perfection, losing to the New York Giants in Super Bowl XLII.

New England did get back to winning titles under Brady during the later stages of his career, however, claiming three championships from 2014 to 2018. Those Super Bowls elevated Brady onto a mythical level in NFL lore, particularly Super Bowl LI when he helped the Patriots rally from a 28-3 second-half deficit to defeat the Atlanta Falcons in overtime.

Brady spent 20 years with the Patriots before departing the franchise in free agency in the spring of 2020. At that point, he elected to sign with the Tampa Bay Buccaneers and — even as he entered his mid-40s — showed that he was still capable of winning at a high level. In his first season in Tampa, the Buccaneers went on to win Super Bowl LV over the Kansas City Chiefs for the seventh title of Brady's career. He followed that up by leading the NFL in passing yards (5,316) and passing touchdowns (43) in 2021. Brady also nearly took down the eventual Super Bowl champion Rams in the divisional round, tying the game after trailing 27-3 midway through the third quarter.

Brady's final season in the NFL was admittedly a rocky one. Despite winning the NFC South, the Buccaneers endured an up-and-down season that saw them finish at 8-9. For Brady's part, he led the league in passing attempts and completions out of necessity more so than the Tampa Bay offense being prolific. He also completed 66.8% of his passes for 4,694 yards, 25 touchdowns, and nine interceptions.

While the Bucs weren't the Super Bowl powerhouse they were when Brady first arrived, they did have a knack in 2022 for making opponents pay for mistakes late in games. In Week 9, Brady led a late comeback over the Rams, throwing the game-winning touchdown with nine seconds left. Then, he erased a 16-3 deficit with just over five minutes to play in regulation in Week 13 against the Saints.

From a big-picture view, Brady's accolades are not comparable. His seven Super Bowls are the most all-time, as are his five Super Bowl MVP awards. Brady has thrown more completions, passing yards, and touchdowns than any other quarterback that has come before, and he is also the winningest player in NFL history. And that's just the tip of the iceberg.

With him now fading off into the sunset, it is truly the end of an era that will likely never be seen again.
Given that he was rather mediocre this year, I believe him when he says it's for good this time. Given that unretiring seems to have cost him his marriage, it's rather sad that he came back at all.
But there's simply no doubt that he's the greatest player in NFL history. A little over a year ago, I pointed to an ESPN feature on "Tom Brady's Three Hall of Fame Careers," which included this graphic: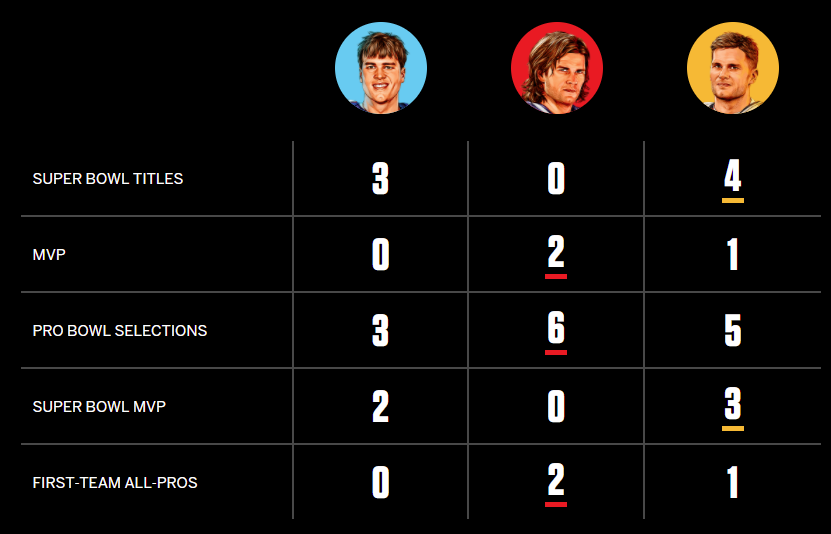 I added,
There's little doubt that, even with only a 7-year career, Bradys 1 and 3 would be first-ballot Hall-of-Famers. Both are far more accomplished than Eli Manning, who will surely get in. Arguably, Brady 2—who didn't win a Super Bowl but had enormous individual accolades—has the shakiest case and yet the best career.

Not in the piece but noteworthy: Brady has more Super Bowl wins than any franchise in the NFL. The Pittsburgh Steelers set the record at six and it was ultimately matched by Brady's Pats, with all six coming with Brady under center. No other team has more than five. Brady added a seventh ring last year with the Buccaneers.
He didn't come particularly close to another ring in his final two seasons but padded some of his career numbers along the way. While I do believe he should have stayed retired last year, at least this way he leaves knowing there's nothing left in the tank. There's something to be said for that.