Dems Considering Releasing Trump Tax Records
It would be an abuse of power.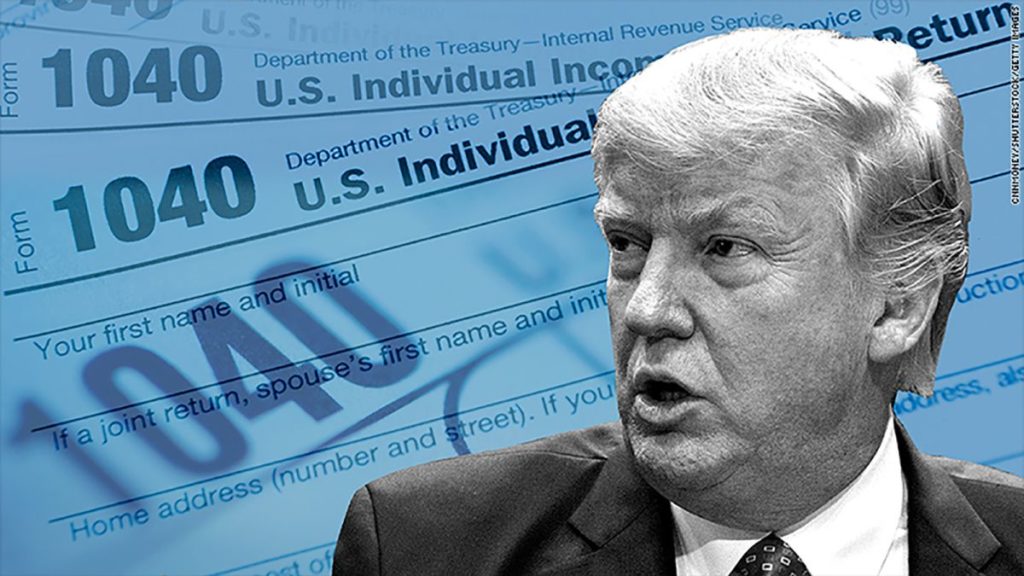 POLITICO ("House Dems poised to release Trump's tax secrets"):
House Democrats will likely unmask new details about former President Donald Trump's long-hidden taxes following a key meeting now set for next week.

That would be a highly unusual move sure to ignite another post-presidential controversy surrounding Trump, who is running again for the White House.

Ways and Means Committee Chair Richard Neal won access to Trump's filings in November, after a long court fight, but they remain closely held, with only a handful of lawmakers and aides allowed to examine them. They're still protected by strict privacy laws that make it a felony for anyone to divulge even basic details about Trump's taxes.

But there is a way around those rules: Neal's committee could vote privately to make them public, and that's what the Massachusetts Democrat wants his colleagues to consider in a closed-door meeting now set for Tuesday at 3 p.m.

Democrats intend to release specifics from the returns, though what exactly will be unveiled is unclear. They could release Trump's entire returns or perhaps something more limited, such as a summary.

Most of Neal's colleagues have yet to see the filings, though he has granted access to the panel's ranking Republican, Rep. Kevin Brady (R-Texas).

It would be extremely rare for lawmakers to forcibly release someone's tax information, especially a former president's, and Trump was not legally required to disclose any of his tax information while he was running for president or after he was elected.

But he defied a decades-old tradition of presidents voluntarily releasing their returns, incensing Democrats, who waged a three-and-a-half year court fight for the documents. A century-old law allows the heads of Congress' tax committees to see anyone's returns.

Many Democrats say the public has a right to know where the president's earnings come from, and how much he pays in taxes. They also want to know how vigorously the IRS has been implementing a long-standing policy of automatically auditing every president.
NYT ("House Committee Takes Step Toward Potential Release of Trump's Tax Data"):
A House committee is expected to vote on Tuesday on whether to make public six years of former President Donald J. Trump's tax records, in what would be a significant act of transparency in the waning days of Democratic control of the House.

[…]

For now, lawmakers remain constrained by law about what they can say about the matter. Representative Richard E. Neal, Democrat of Massachusetts, who as the chairman of the Ways and Means Committee requested Mr. Trump's tax returns from the Treasury Department, said it concerned "documents protected under Internal Revenue Code Section 6103."

[…]

The statute known as Section 6103 gives the Ways and Means Committee the authority to request that the I.R.S. turn over any taxpayer's returns. By law, the committee generally must keep that information confidential, but if the panel votes to report the information to the full House, it would become lawful to make it public, too.

Mr. Neal first sought Mr. Trump's tax returns in 2019, after Democrats took over the House in the 2018 midterm elections and began trying to perform oversight of the Trump administration.

The Ways and Means Committee said it needed the records to assess an I.R.S. program that audits presidents. Mr. Trump's lawyers said that was a pretext for a politically motivated fishing expedition, accusing the panel of lacking any legitimate legislative purpose.

After the Biden administration took office, the Justice Department said that Congress had a legal right to the information it was seeking. At the end of 2021, Judge McFadden finally ruled, agreeing that the law was on the side of the Ways and Means Committee but warning that he believed it would be a bad idea to make Mr. Trump's returns public.

An appeals court upheld Judge McFadden's decision. Last month, the Supreme Court declined Mr. Trump's request that it temporarily block the Treasury Department from turning over the material while he litigated an appeal before it.

Lawmakers have rarely sought to make public confidential taxpayer information, but there are some precedents. In 1974, a tax committee released a bipartisan staff report describing and analyzing President Richard M. Nixon's tax returns based on data it had requested under an earlier version of Section 6103.

And in a party-line vote in 2014, House Republicans led by the chairman of the Ways and Committee, Dave Camp, Republican of Michigan, released confidential tax information in urging the Justice Department to investigate their allegations that an I.R.S. official had discriminated against conservative groups in deciding which organizations to scrutinize.
Making the records public would be a serious mistake. It would be a gross abuse of power and rightly be seen as politically motivated.
Congress has a longstanding right to subpoena private information for legitimate legislative purposes. They had several legitimate legislative purposes in seeking access to Trump's tax records, both in terms of reasonable concerns about Trump's malfeasance while in office and in terms of its legitimate oversight to the IRS.
If they have criminal referrals to make regarding Trump's taxes, they should make them. In that case, the tax records might well become part of the public record through the criminal process.
If they have found that the IRS failed to do its job—or that Trump illegally interfered with the IRS's ability to do its job—they should act accordingly.
Otherwise, however, Trump has every right to keep his tax records private, just as any other citizen does.
Now, if Congress wants to pass legislation requiring officials of certain offices to disclose their tax information as a condition for holding said office, I'm fine with that. It's possible that the courts would rule this is beyond their power; I have no opinion on that one way or the other.
They could also codify into law the norm that candidates for President release their taxes. I'm much more skeptical that that would survive judicial scrutiny but, again, Congress has a legislative right to pass laws and find out.
All of those would be legitimate actions for Congress to take based on their scrutiny of Trump's taxes. But simply releasing private information that they have gained through use of the subpoena power would be highly problematic.