Governor Romney, Just Release The Tax Returns And Get It Over With
Mitt Romney's intransigence over releasing more tax returns is politically stupid.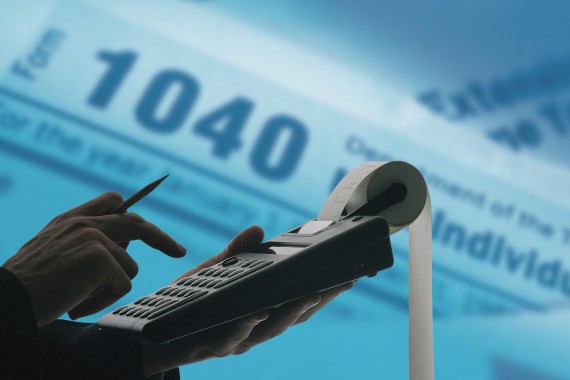 While the round robin interviews that Mitt Romney gave Friday afternoon were primarily concerned with the Bain affair, they did make news in one other respect in that Romney made clear that it was his intention to not release any more tax returns other the two returns he released in January. All of this, of course, is a replay of the controversy that Romney found himself in the middle of back in January when Newt Gingrich and Rick Santorum were continually hammering him about releasing his tax returns. At the time, I argued that Romney was committing a mistake by being stubborn about releasing the returns because it made it appear that he was hiding something. Eventually, of course, he ended up releasing his 2010 returns as well as an estimate for his 2011 taxes, which are still being prepared as of this date since Romney had requested an extension for that year (Romney has said he will release his 2011 return when it is completed). Back during the January controversy several of Romney supporters, most notably Chris Christie, said Romney should release his returns. This time around, Romney's reluctance to release further returns is causing consternation among some Republicans:
It's a bad sign for Mitt Romney when conservatives begin to question why the presumptive Republican nominee won't release more of his tax returns. But on Sunday, that's what happened. Conservative analysts joined Democrats in wondering whether Romney is just being impolitic in not releasing several years worth of returns — or whether he's trying to hide something.

Democrats have been calling on Mitt Romney to release more than one year of his tax returns with a series of web videos and public statements. So far, he has released his 2010 returns and an estimate of his 2011 returns.

To politicos across the ideological spectrum, Romney's unwillingness to release anything beyond these two years raises the question: if it's worth the bad press to keep the tax returns private, they must contain something worse.

"The cost of not releasing the returns are clear," said conservative columnist George Will, on ABC's "This Week." "Therefore, he must have calculated that there are higher costs in releasing them."

On the ABC roundtable, Republican strategist Matthew Dowd had a similar take.

"There's obviously something there, because if there was nothing there, he would say, 'Have at it,'" Dowd said. "So there's obviously something there that compromises what he said in the past about something."

"Many of these politicians think, 'I can do this. I can get away with this. I don't need to do this, because I'm going to say something and I don't have to do this,'" Dowd said. "If he had 20 years of 'great, clean, everything's fine,' it'd all be out there, but it's arrogance."

In the last week, several Republicans have advised Romney to release his returns. That lis tincludes former Mississippi Gov. Haley Barbour, former RNC chairman Michael Steele and Alabama Gov. Robert Bentley, who called for "total transparency" and said he releases all his tax returns. On "Fox News Sunday," the Weekly Standard's editor Bill Kristol added his voice to the list as well, calling for Romney to "release the tax returns tomorrow" and "take the hit for a day or two."
One can argue about whether or not tax returns are really relevant in any way to a person's qualifications for the Presidency, but it would be an academic argument. For some forty-four years now, starting when Romney's father released a dozen years of his returns when he ran for President, it has been customary for Presidential candidates to release copies of their tax returns, and not just two years of them either. In March of 2008, Barack Obama released six years worth of tax returns and thenreleased one more return when his 2007 return was ready for filing, so a total of seven years of returns. Other candidates have done something similar. The only reason their was a tax controversy surrounding John Kerry in 2004 is because many Republicans argued that his sole return shielded significant income that was being reported on the returns of his wife, Theresa Heinz Kerry. However, despite calls for her to do so, Heinz-Kerry did not release her returns. Nonetheless, the practice of candidates for President releasing multiple years of returns is now a long standing one and Romney is bucking a pretty strong tradition by insisting he won't release anything more other than his completed 2011 returns.
Given how this whole issue of tax returns went for Romney in January, it's rather puzzling that he's insisting on this position, but John Cassidy thinks he understands why:
With even prominent Republicans saying that his current stance is unsustainable, the obvious question to ask is: Why is the Mittster being so obstinate? He surely isn't standing on principle, for what principle would that be? The notion that very rich men running for President shouldn't have to disclose as much information about their personal finances as less wealthy candidates? The principal that if your father also ran for President, and released twelve years of tax returns, then you can release just two and claim the family average is a respectable seven years?

No. It's only fair to assume that Mitt is doing what he always does: acting on the basis of a careful cost-benefit analysis. Will's comments on this were spot on: "The cost of not releasing the returns are clear," he said. "Therefore, [Romney] must have calculated that there are higher costs in releasing them."
Cassidy goes on to list four possibilities about what could be in the returns:
Extremely high levels of income — well, that's likely but everyone knows that Romney is a really rich guy so I'm not sure why he'd think it would be any more of a disadvantage to provide documentary evidence of that;
Offshore accounts — This certainly seems possible. Romney's returns and financial statements have revealed that several of the Bain investments that Romney had an interest in included overseas investments. Again, this has already been revealed so I'm not sure why he thinks it would be reason enough to continue saying no when asked for returns;
Controversial investments — Cassidy refers to the offshoring/outsourcing issue, and I'm sure we'd find more of that in past investments. Once again, though, we already know about this so the damage is done.
Low Tax Rate — Since most of Romney's income comes from investments, it's highly likely that his effective tax rate will be somewhere in the teens for many years in the past. That was the case on his 2010 return, though, and the estimate for 2011 seems to suggest something similar for last years. So, again, if this is the reason he's fighting to keep secret something people already know about.
James Fallows quotes a few people who make similar speculative guesses about what might be in the returns that would make Romney reluctant to release his returns.  We have no evidence to suggest that any of these guesses are true, of course, and there's no evidence at all that there's any nefarious motive behind Romney's reticence to release his returns. However, as long as he refuses to do so, he leaves open the question of why, and that leads to people speculating. One other factor that might be motivating this decision is something mentioned back in January, namely the fact that the returns would reveal the extent of his tithing to the Church of Jesus Christ of Latter Day Saints. Indeed in his 2010 return, roughly $4.1 million went to the LDS Church, all of it tax deductible. So this would both emphasize Romney's Mormon's ties at a time the campaign might not want to do so, and contribute to the reduction of Romney's effective tax rate.
Whatever the reason, though, it strikes me that Romney is making a serious tactical mistake in refusing to release anything more than he's already released. In addition to feeding speculation of the type that Cassidy and Fallows engage in, it's yet another thing that the opposition can use to try to through the campaign off message. Regardless of what the cost would be of releasing the returns, it strikes me that it cannot possibly be any worse than the continued drip, drip, drip of the media asking Romney and his surrogates why he isn't releasing any more returns, or of the Obama Campaign and SuperPAC ads that continue to bring the issue up as well. Tax returns aren't likely to be the issue that decides this election, but they also aren't the hill for the Romney campaign to die on. They ought to release the returns, at least seven years just like Obama did in 2008, perhaps even more than that. Questions will come, inevitably, but they cannot possibly any worse than creating the impression that you have something to hide.