Mike Bloomberg Wants To Control The Size Of Your Soft Drink
New York City's Mayor wants to control the size of soft drinks.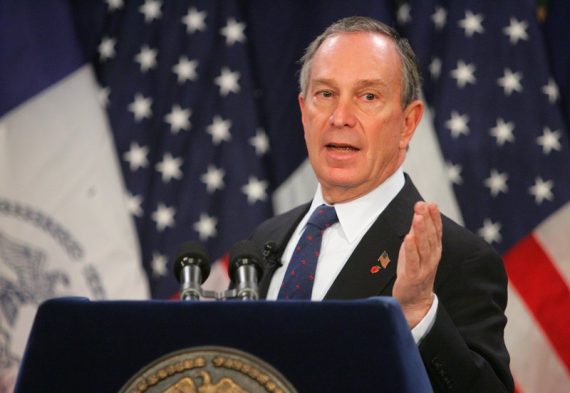 Today's New York Times reports that New York City Mayor Michael Bloomberg is proposing a broad series of regulations that would regulate the size of soft drinks sold in restaurants, sports stadiums, and street vendor carts in the nation's largest city:
New York City plans to enact a far-reaching ban on the sale of large sodas and other sugary drinks at restaurants, movie theaters and street carts, in the most ambitious effort yet by the Bloomberg administration to combat rising obesity.

The proposed ban would affect virtually the entire menu of popular sugary drinks found in delis, fast-food franchises and even sports arenas, from energy drinks to pre-sweetened iced teas. The sale of any cup or bottle of sweetened drink larger than 16 fluid ounces — about the size of a medium coffee, and smaller than a common soda bottle — would be prohibited under the first-in-the-nation plan, which could take effect as soon as next March.

The measure would not apply to diet sodas, fruit juices, dairy-based drinks like milkshakes, or alcoholic beverages; it would not extend to beverages sold in grocery or convenience stores.

"Obesity is a nationwide problem, and all over the United States, public health officials are wringing their hands saying, 'Oh, this is terrible,' " Mr. Bloomberg said in an interview on Wednesday in the Governor's Room at City Hall.

"New York City is not about wringing your hands; it's about doing something," he said. "I think that's what the public wants the mayor to do."

(…)

The ban would not apply to drinks with fewer than 25 calories per 8-ounce serving, like zero-calorie Vitamin Waters and unsweetened iced teas, as well as diet sodas.

Restaurants, delis, movie theater and ballpark concessions would be affected, because they are regulated by the health department. Carts on sidewalks and in Central Park would also be included, but not vending machines or newsstands that serve only a smattering of fresh food items.

At fast-food chains, where sodas are often dispersed at self-serve fountains, restaurants would be required to hand out cup sizes of 16 ounces or less, regardless of whether a customer opts for a diet drink. But free refills — and additional drink purchases — would be allowed.

Corner stores and bodegas would be affected if they are defined by the city as "food service establishments." Those stores can most easily be identified by the health department letter grades they are required to display in their windows.

The mayor, who said he occasionally drank a diet soda "on a hot day," contested the idea that the plan would limit consumers' choices, saying the option to buy more soda would always be available.

"Your argument, I guess, could be that it's a little less convenient to have to carry two 16-ounce drinks to your seat in the movie theater rather than one 32 ounce," Mr. Bloomberg said in a sarcastic tone. "I don't think you can make the case that we're taking things away."
That's what makes Bloomberg's plan entirely ridiculous to begin with. There's nothing to stop a movie patron from, say, buying those two 160z Coke's, or going back for a refill if they finish the first one, and there's next to nothing that would stop a patron in a restaurant from ordering a second soft drink during the course of their meal regardless of the size of the container that it comes in (not that I want to give Bloomberg and his fellow Nanny Staters any ideas, of course). Indeed, the entire measure seems to be little more than an act of mindless symbolism that will restrict the personal choices of customers and business owners while failing to even come close to accomplishing the goal that Bloomberg claims he wants to accomplish, assuming that is even a legitimate goal of the state to begin with. What's to stop someone from buying a tw0-liter bottle of soda and taking it home, for example? Is Bloomberg next going to regulate the sale of soft drinks in supermarkets and bodegas, and then require citizens to file reports on how much non-diet soda they've had in the previous month?  Since there's no real logic behind Bloomberg's plan, there's no reason to think that he or his supporters believe that there any legitimate limits on this supposed duty of the state to control what completely legal substances people put in their bodies.
Of course, not everyone agrees this is such a bad idea. Not surprisingly, for example, Sarah Kliff seems to think it's a great idea:
Other attempts to regulate soda have come with mixed results. While many cities and states have begun taxing sugary drinks, research suggests that none of the new policies raise the price of soda enough to reduce consumption. When schools ban sugary drinks in their vending machines, students often make up for the lack of soda on campus by drinking more at home (or, in some cases, even setting up a sort of black market for the calorie-dense contraband).

Portion size, on the other hand, has consistently been shown to affect how much we eat. In one well-known experiment, Philadelphia moviegoers were given either a medium or large bucket of stale, two-week old popcorn. Those with the large bucket ate 33.6 percent more popcorn, despite the fact it tasted pretty awful. When the package size of a snack food is doubled, calories consumed tend to go up by about a third.

"The more general explanation of why large packages and portions increase consumption may be that they suggest larger consumption norms," writes Cornell University's Brian Wansink, who has pioneered much of the research on food portion size. "They implicitly suggest what might be construed as a "normal" or 'appropriate' amount to consume."

On the flipside, when portions get reduced, calorie consumption goes down. Belgian researchers recentlylooked at what happened when they cut a group of schoolchildren's cookies in half. They found that the simple act of splitting cookies into smaller pieces — even while offering kids the same total number of calories — reduced consumption by 25 percent.
The problem is that the City of New York is not a school lunchroom in Belgium and New Yorkers are not Belgian school children. If all you're doing is reducing is the size of the container that someone can purchase at a given time, there's no reason to think they won't just purchase more. Moreover, Kliff's argument forgets the fact that these increases in portion size are, by and large, a response to consumer choice. Unlike a child in school, someone who is buying a beverage in public is not a captive consumer, they have the right to purchase whatever size and whatever type of a drink that they want. Kliff may not like the choices that consumers have made, but that doesn't mean that she or the Mayor of New York city have the right to go around imposing their choices on other people.
More importantly, the fact that a policy like this might work is largely irrelevant. There are any number of restrictive policies that the government could impose that might arguably have some beneficial impact (although they would also likely have many destructive consequences as well), but just because the state can do something, that doesn't mean it should. As Jonathan Tobin points out at Commentary, this isn't about what works this is about freedom of choice:
[E]ven if we concede that drinking too much soda is an unhealthy practice, what the mayor again fails to understand is that the purpose of government is to protect freedom, not to heedlessly infringe upon it merely for the sake of what some people may believe is doing good. Like the city's ban on the use of trans fats and draconian restrictions on smoking, the new soda regulations are an intolerable intrusion into the private sphere. Though the mayor seems to relish his reputation as the embodiment of the concept of the so-called nanny state, what is going on here is something far more sinister than a billionaire version of Mary Poppins presiding at Gracie Mansion.
And this is the man that people like Tom Friedman and the cognoscenti of the Acela Corrider think America needs in the Oval Office. Given that they share Bloomberg's vision of government as being a technocratic institution designed to force individuals to make the choices that the "wise" men and women think are correct for them, this isn't entirely surprising. However, that isn't the kind of country I want to live in, and I dare to say that there are few Americans who would.
Tobin also does an excellent job of deconstructing the "but its good for you" argument that people like Bloomberg make in support of regulations like this:
The point here is not to defend drinking excessive amounts of soda, consuming trans fats or smoking. It is to point out that these are personal choices that cannot reasonably be interpreted to fall under the purview of municipal government. The danger is that the end of personal liberty is not usually accomplished in one broad stroke but is lost by a process of erosion whereby seemingly sensible measures gradually accumulate to create a new reality wherein the once broad protection of the law for private behavior is destroyed piecemeal.

Those who defend the mayor's actions claim the medical costs of the illnesses caused by drinking, eating and smoking are affected in one way or another by the public and that gives government the right to regulate and/or ban such items. But there is a difference between personal behavior that poses a direct threat to public safety — such as drivng while under the influence of alcohol — and those that constitute minute and indirect contributions to serious problems. If the mayor is allowed to ban private diet or health choices under the principle that he has the right to "do something" about anything that is a public concern, then there is literally no limit to his power to infringe on personal liberty or to intrude on commerce.
That's really what this boils down to. In the end, this is a matter of personal choice. There, perhaps, a role for government at the state and local level to engage in public health education programs to ensure that people, especially low-income people, are more informed about the food choices they make. I also don't necessarily have a problem with efforts to improve the nutritional quality of school lunches, or even to remove soda machines from public schools (when I went to school, the idea of a soda machine in the cafeteria would've been laughed away as an absurd idea). When it comes to the private health and food choices of individuals out in the world, though, responsibility ultimately must be left with the individual to do what is right. Moreover, if someone wants to knowingly make choices that are bad for them, that's their choice too. I'd prefer to deal with the consequences of those choices than to live in a world where the "wise men" in power are telling people how to live their lives "for their own good."
The first reaction I had upon reading this article this morning was what business is this of government at any level? Unless you want to live in a world where the Mayor, the Governor, or some unnamed bureaucrat is making your choices for you, there really isn't any way this question can be answered other than by saying, it isn't.