Rachel Maddow Hypes Trump's 2005 Tax Return, But There's No Real News There
Rachel Maddow hyped the fact that she had obtained a copy of Trump's 2005 tax return last night. It turned out to be much ado about nothing.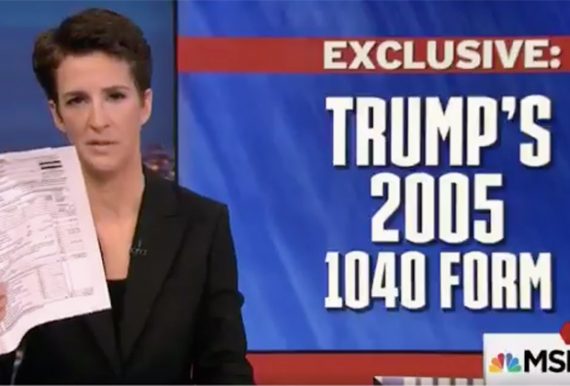 Unless you were on social media or watched MSNBC last night, you missed it, but there was a lot of hype surrounding Rachel Maddow's revelation that she had obtained a copy of Donald Trump's 2005 Federal Income Tax return, which was news primarily due to the fact that the President continues to refuse to release any tax information. As it turns out, though, the hype didn't really justify what was released:
WASHINGTON — President Trump wrote off more than $100 million in business losses to reduce his federal taxes in 2005, according to forms made public on Tuesday night: a rare glimpse at documents that he had refused to disclose since becoming a candidate for the nation's highest office.

Mr. Trump paid $38 million in federal income taxes on reported income of $150 million, an effective tax rate of 25 percent, according to forms disclosed on Rachel Maddow's MSNBC show. By claiming losses, Mr. Trump apparently saved millions of dollars in taxes that he would otherwise have owed.

The White House responded without even waiting for the show to air, issuing a statement that seemed to confirm the authenticity of the forms even as it defended Mr. Trump and assailed MSNBC for publicizing them. "Before being elected president, Mr. Trump was one of the most successful businessmen in the world, with a responsibility to his company, his family and his employees to pay no more tax than legally required," the statement said.

The White House described the business losses as a "large-scale depreciation for construction," but did not elaborate. In addition to the federal income taxes in 2005, the statement said, he paid "tens of millions of dollars in other taxes, such as sales and excise taxes and employment taxes, and this illegally published return proves just that."

Mr. Trump's refusal to make his tax returns public during the campaign broke with decades of tradition in presidential contests and emerged as a central issue. That drumbeat has continued since he entered the White House, particularly from critics who contend that his returns may shed light on various aspects of his business practices, including whether he has done business with Russian companies and banks.

Nothing in the two pages produced on Tuesday night suggested any ties with Russia. Nor did they provide much information about his businesses that was not previously known. But they showed that the vast bulk of the federal income taxes he paid in 2005, $31 million, was paid under the alternative minimum tax, which Mr. Trump wants to abolish.

That tax serves as a backstop to the ordinary income tax and is intended to prevent wealthy Americans from paying no income tax at all. Without it, Mr. Trump would have paid about $5 million in regular taxes, plus nearly $2 million in self-employment taxes, on $153 million in income in 2005.

"Trump's return shows that he's pushing tax changes that benefit multimillionaire heirs like him, not the middle class," said Lily Batchelder, a tax law professor at New York University and former majority chief tax counsel for the Senate Finance Committee. "His proposal to repeal the A.M.T. would have slashed his own tax burden by $31 million, and his income tax rate would be lower than the average rate paid by families earning $75,000 to $100,000.

Edward Kleinbard, a professor of tax law at the University of Southern California, said, "It's disturbing that he is pushing to eliminate the only tax that really bit him in that year."

The White House castigated MSNBC for reporting on Mr. Trump's taxes. "You know you are desperate for ratings when you are willing to violate the law to push a story about two pages of tax returns from over a decade ago," its statement said. "The dishonest media can continue to make this part of their agenda, while the president will focus on his, which includes tax reform that will benefit all Americans."

The president's son Donald Trump Jr. suggested that the disclosure only demonstrated his father's business acumen. "Thank you Rachel Maddow for proving to your #Trump hating followers how successful @realdonaldtrump is & that he paid $40mm in taxes!" he wrote on Twitter.

Democrats pounced on Tuesday night's report, arguing that the White House's decision to release details of Mr. Trump's 2005 taxes before Ms. Maddow's show undercut his past refusal to release any such information.

"If they can release some of the information, they can release all of the information," Zac Petkanas, a senior adviser to the Democratic National Committee, said in a statement. "The only reason not to release his returns is to hide what's in them, such as financial connections with Russian oligarchs and the Kremlin."

The tax forms were sent to David Cay Johnston, a former New York Times reporter who covered tax policy for years and has written a book on Mr. Trump. Appearing with Ms. Maddow, he said he had received the forms "over the transom" at his home and did not know who had sent them. He suggested that they might even have been sent by Mr. Trump himself. Because he did not solicit the forms, Mr. Johnston said it was not illegal to receive them.

The forms showed that Mr. Trump made $67 million in real estate royalties, $42 million in business income, $32 million in capital gains, $9 million in taxable interest and $998,599 in salary in 2005, for a total of nearly $153 million. After writing off $103 million, he reported adjusted gross income of nearly $49 million. In the end, he had to write a check for $2,450,597, including penalties and interest for late payment.

In October, The Times published three pages of Mr. Trump's 1995 tax returns, which showed a $916 million deduction that could have allowed him to legally avoid paying federal income taxes for up to 18 years. The forms disclosed on Tuesday do not say whether the $103 million in losses were left over from that 1995 loss.

The 1995 deduction was derived from the financial wreckage of some of the companies Mr. Trump drove into bankruptcy years ago, including his Atlantic City casinos, and would have allowed him to cancel out taxable income for an 18-year period. A tax code provision benefiting real estate developers, which took effect in 1993, permitted businesses like Mr. Trump's to take tax deductions for losing other people's money.

Last year, The Wall Street Journal reported that Mr. Trump was able to deduct $39.1 million from his federal income taxes in 2005 by pledging not to build on a New Jersey golf course he owned.

However, it was unclear how much of a deduction Mr. Trump actually took. The I.R.S. has challenged such deductions, known as conservation easements, saying that taxpayers overstated the value of their transactions.

During the presidential campaign, Mr. Trump initially promised he would release his tax returns. "I have very big returns, as you know, and I have everything all approved and very beautiful, and we'll be working that over in the next period of time," he said in a January 2016 television interview. He then backpedaled, saying he would wait until the I.R.S. had completed its audit. In May 2016, tax lawyers for Mr. Trump released a letter saying that his personal returns had been "under continuous examination" by the I.R.S. since 2002, and that examinations of his returns from 2009 on were continuing.

The I.R.S. has not confirmed that Mr. Trump's taxes are, in fact, under audit.
As with the 1995 return that was released during the campaign, this return was stamped "Client Copy," which suggests that the source was someone with access to Trump's papers or, as some are suggesting this morning, perhaps even someone directed by Trump himself to leak the document. With respect to the 1995 return, there was some speculation that the source was Trump's second wife Marla Maples, who he was married to at the time of the filing and who would have access to a copy of the return herself since she signed it along with Trump. While that is certainly a possibility, it's also possible that the partial return was released by a rogue person inside The Trump Organization, or by someone working for an entity to whom Trump was required to provide copies of his tax returns in order to close a loan, real estate transaction, or business deal, or by someone connected to any of the numerous legal actions that Trump has been involved in over the years. This time, of course, it's unlikely that Melania Trump, who Trump married in 2005 and who is included on the joint-filing return with him, leaked the return so that means that it was leaked by some other source. Additionally, as was the case with the 1995 return, we only have the first two pages of the 2005 return, which of course only reveals totals and doesn't include any of the supporting schedules that would have gone with it. In the case of someone with as complicated a business record as Trump's, it's likely that these schedules consist of numerous pages, perhaps as many as one-hundred pages or more. Without those attachments, the documents reveal absolutely nothing about Trump's business dealings beyond the unsurprising news that he made a lot of money and paid a lot in taxes. The fact that he took some huge losses as credits against his tax liability is also unsurprising since such losses are not uncommon in the real estate world and the size of the deals that Trump engages in so frequently means that when he does suffer a loss it's likely to be a big one that he will be required under tax laws to stretch out over several years  Again, without the supporting schedules, we can't really tell much of anything about the legitimacy of these losses.
Given this, it seems clear that the hype that MSNBC gave the story last night in the hours before Maddow's show aired was really much ado about nothing. All we really have here are a bunch of numbers and no real indication that there is anything about this return, or any of the other returns Trump has filed over the years, that warrants further investigation. For his part, Trump has labeled the release of the return as "Fake News" in a tweet this morning even as the White House acknowledged that the document was genuine and even sought to pre-empt Maddow's exclusive by releasing the figures regarding his 2005 tax liability before her show had aired. As things stand, though, it strikes me that the White House really doesn't have much to worry about here. As I said, the return doesn't really tell us much of anything and what it does tell us arguably reinforces the claims Trump has made about his wealth and income over the years. Maddow, meanwhile, is seemingly left with egg on her face after clearly overhyping a story that seems to me to be much ado about nothing. Finally, as I've said before, I find the insistence on the release of candidate's tax returns to be odd to say the least. More often than not, the returns tell us absolutely nothing even when they do include all of the supporting schedules, and they are usually quite mundane. Other than the fact that the numbers on this return are higher than what we're used to seeing on a return, there's really nothing to see here, and even if we did have the supporting schedules they likely wouldn't tell us much of anything about Trump's business dealings or the possibility of ties to foreign banks or governments.
Even Slate is being critical of Maddow this morning:
The monologue started contextually enough, with a long-winded skewering of Trump's refusal to share his tax returns that touched on Richard Nixon, the Clintons, and his unaudited tax forms, before veering off conspiratorially. "Whether or not you are a supporter of Donald Trump," Maddow said, "It ought to give you pause that his explanations [for not releasing his tax returns] have never made any factual sense …. When you get an excuse from them that doesn't make sense, you have to look for another reason. What's the real explanation? Well, choose your own adventure." She then launched into a long hypothetical about a particular Russian oligarch's possible relationship to Trump that touched on Florida real estate, Deutsche Bank, and Preet Bharara, that Trump's tax returns—though not, as it would turn out, the ones she actually had—could conceivably clear up.

The longer Maddow went on, ever deeper into a conspiratorial thicket, the clearer it became that whatever tax returns Maddow had, they weren't as juicy as the ones she was talking about. If she had anything that damning, she would have shared them from the start. TV is a ratings game, but an entire episode about highly damaging tax returns is just as likely to get you great ratings as milking the possibility that you have highly damaging tax returns, and less likely to get you compared to Geraldo. Maddow even went so far as to hold the tax returns back until after the first commercial break, as if we were watching an episode of The Bachelor and not a matter of national importance—because we weren't, in fact, watching a matter of national importance, just a cable news show trying to set a ratings record.

(…)

As the show went on, it became clear that Maddow knew she didn't quite have the scoop that had been promised. "What would we have to see, what would we hope to get in mail," she asked Johnston, "if we were going to get to the real meat of Donald Trump's foreign ties?"—i.e. what would be more meaningful than the tax form that we have? Speaking to Chris Hayes and Johnston, she said, "The story here to me is, a) we have obtained this [tax form], b) that this stuff is obtainable." "BREAKING: Trump's tax returns theoretically obtainable. Tonight, 9pm ET. MSNBC. (Seriously)" does make for a less rousing tweet.

Trump's tax returns, whatever information they happen to contain, constitute a major scoop. Maddow's social media team ensured the highest possible ratings for that scoop. But if ever a story should have been delivered in a stentorian, fuddy-duddy, nonpartisan manner, this was it. In positioning it as a grand revelation, a vital step in comprehending Trump's corruption, MSNBC created an exceedingly cynical spectacle. By playing into the network's loyal liberal audience's fantasy that there exists a Trump silver bullet, it instead delivered Trump a positive news cycle—the guy pays taxes! Who knew!—amidst the debacle of the AHCA, along with more evidence that the media is aligned against him. The lesson? Don't tell us you have news, just tell us the news.
On a final note, some people are raising the issue about the legality and propriety of releasing Trump's tax returns, in much the same manner that James Joyner and other did in the wake of last October's release of part of the 1995 return. As I noted in comments to James's post back then, though, it seems fairly clear that there is nothing illegal about what MSNBC did. Even if it was the case that the copy of the return was obtained illegally, that doesn't mean that journalists can or should be legally barred from publishing the document and commenting on it. While I tend to be among those who believe that the obsession with releasing the tax returns of political candidates is generally much ado about nothing, it's clear that it's newsworthy and that seems to be even more so the case when we're talking about the President of the United States. Unless the reporter was somehow involved in an illegal action or had knowledge that it was obtained illegally, they are under no legal or ethical obligation to hold back the release of the document(s). Whether or not the hype was justified, of course, is another question, and in this case, it seems pretty clear that it wasn't.
Anyway, here's the return:
Trump Tax Return by Doug Mataconis on Scribd