Justin Amash Doubles Down Against Trump As GOP Aligns Against Him
Justin Amash doubled down on his criticism of the President and his call for impeachment even as he came under fire from fellow Republicans.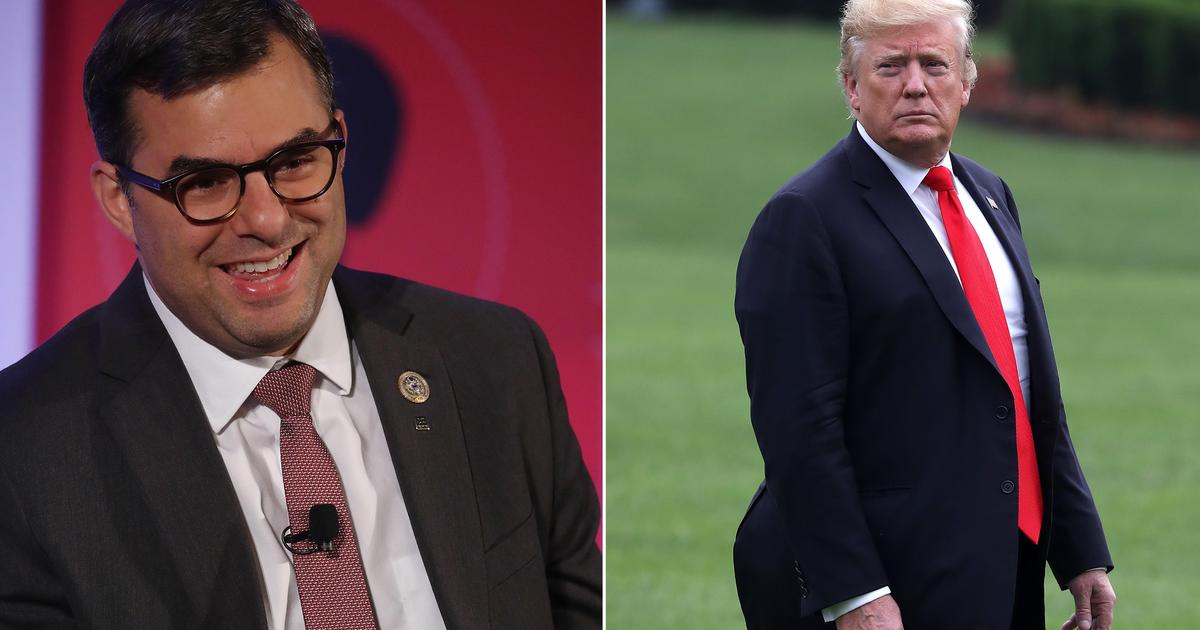 Responding to the President calling him a "loser" over his Saturday Twitter storm in which he became the first Capitol Hill Republican to call for impeachment, Michigan Congressman Justin Amash doubled down on his assessment of the Mueller report and made his opinion of the President eminently clear:
Rep. Justin Amash (R-Mich.) on Monday doubled down on his critical remarks of President Trump, detailing in a series of tweets why he thinks the case can be made that Trump should be impeached for obstruction of justice.

"People who say there were no underlying crimes and therefore the president could not have intended to illegally obstruct the investigation—and therefore cannot be impeached—are resting their argument on several falsehoods," Amash tweeted.

In a series of subsequent tweets, Amash sought to shoot down a number of prominent defenses of the president's behavior illustrated in special counsel Robert Mueller's report.


Amash argued it would be inaccurate to say "there were no underlying crimes" revealed by Mueller's investigation, that obstruction of justice requires an underlying crime, that the president should be allowed to use any means to end a so-called frivolous investigation, and that the threshold of "high crimes and misdemeanors" requires actual criminal charges.

Amash on Saturday became the first Republican lawmaker to say Trump engaged in "impeachable conduct." The House Freedom Caucus member concluded after reading Mueller's 448-page report that it showed "multiple examples of conduct satisfying all the elements of obstruction of justice."


Trump promptly returned fire on Sunday, calling Amash a "loser" and a "total lightweight" and accusing him of making the comments "for the sake of getting his name out there through controversy."


The president has maintained that Mueller's investigation found "no collusion and no obstruction." The special counsel did not establish the Trump campaign conspired with the Russian government, and Mueller neither implicated nor exonerated the president on obstruction charges, leaving the matter up to Congress for further investigation.


House Minority Leader Kevin McCarthy (R-Calif.) on Sunday suggested Amash made the claim to get attention and noted the congressman's tendency to buck the party on legislative votes.


"It's a question whether he's even in our Republican conference as a whole," McCarthy said on Fox News. "What he wants is attention in this process. He's not a criminal attorney. He's never met Mueller. He's never met [Attorney General William] Barr. Now he's coming forward with this because this is what he wants."
Here are Amash's Tweets:
As I noted yesterday, Amash appears to be standing alone among Congressional and Senate Republicans. Of those who have spoken in response to his words, some, such as Utah Senator Mitt Romney, appeared to be sympathetic to Amash's argument but said it was premature to call for impeachment. Others, such as Minority Leader Kevin McCarthy and RNC Chairwoman Ronna McDaniel condemned Amash's remarks and implied that he wasn't a "real" Republican, with McCarthy in claiming that he had "barely" been re-elected in 2016. That last claim was verifiably false. As it turns out, Amash has been strongly supported by his constituents each time he has run for re-election. In 2018. He was unopposed in the GOP primary and won the General Election by 11 points. In 2016 he was unopposed in the primary and won the General by 22 points. In 2014, he beat his GOP primary challenger by 15 points and won the General by 18 points. In 2012 he was unopposed in the GOP primary and won the General by 18 points Additionally, McCarthy was wrong to claim that Amash voted with the Democrats more than he did with the GOP. According to voting statistics, he voted with the President and the GOP at least 75% of the time and he has a lifetime score from the American Conservative Union of 87.16, third highest among all the members of the Michigan Congressional delegation.
Notwithstanding this, it's clear that Amash's fellow Republicans are seeking to push him over a cliff. A pro-Trump Republican in Amash's district has already announced that he will challenge the Congressman in 2020 and, yesterday, the so-called House Freedom Caucus, of which Amash is an ostensible member, voted to condemn Amash for his statements against the President. This happened despite the fact that Amash was one of the founding members of the caucus when he arrived in Congress after the 2010 election. Despite the criticism, Amash's decision to speak out has transformed him from a gadfly to an insurgent:
WASHINGTON — Representative Justin Amash, Republican of Michigan, has made a political career of going it alone. But he has never been this alone.

On Saturday, Mr. Amash, a libertarian with a contrarian streak that earned him the nickname "Mr. No" when he served in the state legislature, became the first — and thus far only — Republican in Congress to publicly suggest President Trump committed offenses that rose to the level of impeachment.

Washington is a town of partisan herds, and Mr. Amash strayed far outside his when, after reading all 448 pages of the report from the special counsel, Robert S. Mueller III, he drafted a long Twitter thread over the weekend concluding that Mr. Trump "engaged in impeachable conduct."

For his efforts, Mr. Amash, who is regarded by fellow lawmakers as friendly but a bit intense, received a genial pat on the head from Senator Mitt Romney of Utah, a fellow Michigan native and Trump skeptic who said Mr. Amash was misguided about impeachment but personally "courageous." Then came the stampede

(…)


"I understand what he is doing. I could never just stand up there and campaign with Donald Trump and pretend the emperor was wearing clothes," added Mr. Flake, who shares Mr. Romney's view that Mr. Amash is noble but mistaken about impeachment. "I think, yeah, some of his colleagues need to stand up and defend Justin's right to speak his mind."


Mr. Amash, friends say, is shrugging it all off. He has never really been much of a party loyalist anyway — during the midterm elections in 2018, he angered officials from the House Republicans' campaign arm by refusing to pay his annual dues, according to a Republican official.

Calls to the congressman's cellphone and to his press secretary went unanswered on Monday. But Mr. Amash politely parried his Republican critics on Twitter, writing that those who questioned his logic on impeachment were "resting their argument on several falsehoods."
He has weathered controversies before — so often, in fact, that he has mainly used his Facebook page to defend positions and statements that have rankled, roused and puzzled.


There have been plenty. He dissented from Michigan's congressional delegation in opposing federal aid to address the drinking water crisis in Flint. He came out against Mr. Trump's increases in military spending and voiced opposition to House Republicans when they passed a symbolic resolution praising immigration enforcement officials, arguing that doing so would signify that all agents, regardless of their individual behavior, "were above reproach."


But this fight is different. Mr. Amash, who serves in a safe Republican district in the Grand Rapids area, has gone from a marginal gadfly to an insurgent leader in the eyes of Mr. Trump and his supporters. On Monday, State Representative Jim Lower announced that he would oppose the five-term incumbent in 2020, the first of at least two, and possibly more, Trump-friendly Republicans who are considering challenging him in a primary next year.


"Justin has no fear," said John Sellek, a veteran Michigan political operative who ran Mr. Romney's campaign operation in the state when he was the Republican presidential candidate in 2012. "He's been unafraid to be Mr. No on a lot of things, so generally he has been isolated and without a major accomplishment. To his credit, he's also been unafraid to do repeated, relentless town halls — so he is both alone and out front at the same time. That puts you on an island, which is not a good place to be in a primary."



In addition to being in character for him, Amash's decision to speak out is likely a recognition of political reality. Even if he runs for re-election in 2020 and survives, Amash's position in Congress will remain endangered. The primary reason for this is that it is forecast that Michigan will lose at least one Congressional seat after the redistricting that will follow the 2020 Census. Given the fact that he has often butted heads with leadership, there is at least some speculation that the Michigan GOP, which currently controls the state legislature will use that opportunity to carve up his district to the point where he'would find it difficult to be competitive in whatever new district he winds up in. Thus, his hypothetical next term could end up being his last through no fault of his own. That fact alone means that he arguably has nothing to lose, although he has spent the last eight years in Congress behaving as a politician who has nothing to lose.
In this respect it's been noted that some people are calling for Amash to run for a different office in 2020:
There is growing buzz that Rep. Justin Amash (R-Mich.) will leave the Republican Party to mount a challenge against President Trump as the Libertarian Party's presidential candidate.

Amash, a former attorney who was first elected to Congress during the 2010 Tea Party wave, has thrust himself into the spotlight by becoming the first Republican in the House to support impeachment proceedings for Trump based on special counsel Robert Mueller's findings.

Trump and his allies swiftly fired back, casting Amash as an irrelevant political opportunist who has steadfastly refused to back the GOP agenda in Congress.


But Amash's remarks energized Libertarians and united the "Never Trump" Republicans, who have been unable to recruit a candidate of their own to take on the president in 2020.


In interviews this year, Amash has toyed with the idea of abandoning the Republican Party to run for president as a Libertarian. That could have major implications for Amash's home state of Michigan, which Trump carried by fewer than 11,000 votes in 2016.


There's a full-scale effort underway to convince Amash to take the plunge.


"There are a lot of Libertarian Party members actively encouraging Rep. Amash to switch parties and seek the Libertarian nomination," said Nicholas Sarwark, the chairman of the Libertarian National Committee. "This is probably the most organized recruitment effort I've seen going back to 2012 when people were trying to recruit [former Texas Rep.] Ron Paul."

(…)

Amash has vented about the "two-party duopoly" while leaving the door open to running as a Libertarian.


In a January interview with the Libertarian publication Reason, Amash was asked what the ideal Libertarian presidential candidate would look like.


"He wears Air Jordans," said Amash, who was wearing the Nike sneakers.
If he were to switch parties, Amash would be the first-ever member of the Libertarian Party in Congress. Libertarians will nominate their presidential candidate at the party convention next May in Austin, Texas.
Former New Mexico Gov. Gary Johnson has been the Libertarian Party's presidential nominee the past two cycles.


Johnson's 2016 campaign was hamstrung by his own gaffes and panned by Washington insiders, but he still managed to post the best showing by any Libertarian presidential candidate ever, receiving nearly 4.5 million votes, or three times as many as the party's prior best showing.


In his home state of New Mexico, Johnson received 9.3 percent of the vote, raising questions about whether Amash could play spoiler for Trump in his home state of Michigan, which is a lynchpin of the president's reelection hopes.


"I don't think Trump can win Michigan if Amash is running," said Sarwark. "They'd have to take it off the board."

(…)

Trump's allies say they're not sweating it, believing that Amash's appeal will be limited to Libertarian voters. They note that Trump's approval rating among Republicans routinely hits 90 percent in the polls.


"Amash's appeal beyond the libertarian and anti-Trump voter is limited in Michigan and elsewhere and will have limited effect on Trump's ability to win here," said Saul Anuzis, the former chairman of the Michigan Republican Party.

(…)

In a tweet, [former Weekly Standard editor Bill] Kristol praised Amash for standing up to Trump, while noting that he doesn't normally agree with him.


"I say this as someone at odds with Amash on lots of issues important to me and I think to him – all honor to Justin Amash, who has done so much today to set an example of constitutional responsibility and mature, civic discourse," Kristol tweeted.


David French, the National Review writer whom Kristol recruited to challenge Trump in 2016, said he'd back Amash if he ran as a Libertarian against Trump.


Still, there's still a long way to go for Amash to leave an imprint on the 2020 race.
As I have noted before, Gary Johnson, who was the Libertarian Party's nominee in 2012 and 2016, has said he's done with electoral politics and his 2016 running mate former Massachusetts Governor Bill Weld has returned to the GOP to challenge President Trump in the primary. This leaves the LP without a high-profile name to put on their Presidential ticket an the prospect of returning to the days when they received less than 400,000 or worse in Presidential elections. If Amash were to leave the GOP and run for the LP nomination it would likely bring the party the same level of media attention that the Johnson/Weld ticket did, if not more. Amash won't win, of course, but he could provide an outlet for independents and "Never Trump" current and former Republicans looking for an alternative to Trump but reluctant to vote for a Democrat.
Whatever political future he may choose, though, Amash has certainly made waves the last several days. Not too shabby for a Republican backbencher who has previously been shunned into silence by his own party due to his refusal to adhere to "the rules." He's doing that again this time, and the fact that so far none of his fellow Republicans are joining him says a lot more about them than it does about him.