The Annapolis Shooting and the Gun Debate
Jarrod Ramos should have been in jail, let alone allowed to have any weapon more dangerous than a butter knife.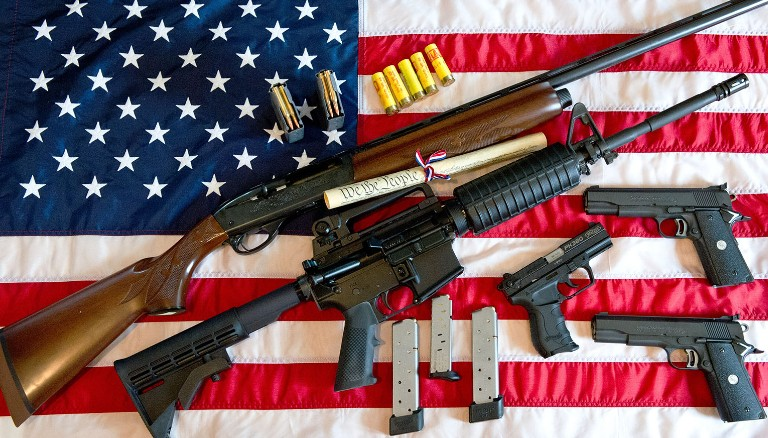 I initially had this at the end of my post "When the Press Becomes the Story" but wanted to separate the back-and-forth on guns from that particular story angle.
I'm loath to give the perpetrator of this atrocity publicity but, since it will inevitably be fodder for the gun control debate, it's worth shedding light on the particulars.
Baltimore Sun ("Sources identify suspect in Annapolis Capital shooting as Jarrod Ramos, who had long-running feud with paper"):
A Laurel man with a long-standing grudge against The Capital is being held as the suspect in the deadly shooting Thursday at the Annapolis newspaper, according to law enforcement sources.

Police and federal agents gathered late Thursday outside the address of 38-year-old Jarrod W. Ramos. Rich McLaughlin, chief of the Laurel police department, said his officers were there as part of the investigation into the shooting at the newspaper, and other sources identified Ramos as the suspect.

In 2012, Ramos filed a defamation lawsuit against the paper and a columnist over a July 2011 article that covered a criminal harassment charge against him.

He brought the suit against then-columnist Eric Hartley, naming Capital Gazette Communications and Thomas Marquardt, the paper's former editor and publisher, as defendants.

A Twitter page in Ramos' name on Thursday featured Hartley's picture as its avatar, and a banner image included photographs of Marquardt and The Capital's former owner, Philip Merrill.

The page's bio read: "Dear reader: I created this page to defend myself. Now I'm suing the s— out of half of AA County and making corpses of corrupt careers and corporate entities."

The account regularly commented on Anne Arundel County news and referred to a deadly shooting at the French newspaper Charlie Hebdo in 2015.

The account had been dormant since January 2016. Then at 2:37 p.m. Thursday — moments before the Capital shooting — the account posted a message that read: "F— you, leave me alone."
The kicker:
Marquardt said he wasn't surprised to hear Ramos identified as the alleged gunman, saying he started harassing the paper and its staff shortly after the 2011 article. The harassment escalated for years with online threats, Marquardt said.

"I was seriously concerned he would threaten us with physical violence," Marquardt said from his retirement home in Florida. "I even told my wife, 'We have to be concerned. This guy could really hurt us.' "

Marquardt said he called the Anne Arundel County police about Ramos in 2013, but nothing came of it. He consulted the paper's lawyers about filing a restraining order, but decided against it.

"I remember telling our attorneys, 'This is a guy who is going to come in and shoot us,' " he said.
The New York Times story  ("Who Is Jarrod Ramos, the Suspect in the Annapolis Newsroom Shooting?") contains this bit:
Jarrod W. Ramos, who law enforcement sources say used a shotgun to blast his way into the Capital Gazette newsroom on Thursday, killing five people and wounding two others, had a long-running dispute with the news organization.

He had previously made "general threats" against the community newspaper company over social media, including some as recent Thursday, said William Krampf, Anne Arundel County's acting police chief. The threats "indicated violence," Chief Krampf said.
So, we have a man who has made repeated threats of violence against the employees of a newspaper. Over years. And again on the day of the shooting. Police were repeatedly notified. And nothing was done about it?
We have a problem with gun violence in this country of a magnitude unlike any other civilized society. The Supreme Court's broad interpretation of the Second Amendment aside, I'm persuadable that we need more restrictions of what types of firearms are in private hands and, certainly, of which individuals are allowed to own them. But we're never going to ban shotguns, the quintessential hunting and sporting firearm. But, one would think even the most zealous NRA member would agree that Jarrod Ramos ought not been allowed to have any weapon more dangerous than a butter knife.
Indeed, the notion that someone who makes repeated threats of violence should be walking free—and that the only legal remedy is a civil restraining order—is ludicrous. Especially since, as it turns out, Ramos' violent tendencies were not directed solely at the newspaper. From the NYT report:
His feud with The Capital, the chain's daily newspaper, apparently began with a column in 2011 that detailed his alleged harassment of a high school classmate.

After Mr. Ramos reconnected with the classmate in 2009, his emails to her soon turned venomous.

"He seems to think there's some sort of relationship here that does not exist," the woman told a judge, according to court documents in a harassment case she brought against Mr. Ramos. "I tried to back away from it, and he just started getting angry and vulgar to the point I had to tell him to stop."

After she told him not to contact her again, Mr. Ramos wrote in a 2010 email that the woman should "go hang yourself."

Weeks later, the woman was put on probation at the bank where she worked. A supervisor told her it was because Mr. Ramos had sent an email — and had also called the bank — telling managers that the bank should fire her.

A judge gave Mr. Ramos a 90-day sentence, but suspended the jail time. Instead, Mr. Ramos was granted probation before judgment. He was ordered not to contact the woman and to continue getting therapy.

Not long afterward, The Capital published the column that apparently fueled his anger.
We have far more people per capita in jail than any other modern nation. Why did it take a murder spree for Ramos to join them?
UPDATE: In the discussion below, regular commenter HarvardLaw92 provides a useful corrective:
The matter before the initial court dealt with someone with – as far as I can tell anyway – no prior criminal history who plead guilty to a misdemeanor crime which is not characterized as a crime of violence. Probation – as distasteful as I agree that it being applied here was – was the appropriate outcome.

The law is woefully weak with respect to proactively neutralizing someone like this looney tune with respect to their ability to possess firearms. Current policy effectively addresses the problem – the blatantly obvious potential for violence – after the fact. After the nutjob has acted violently.

How we deal with that – how we improve it – is a matter for some discussion, but it is unavoidably going to involve a compromise that weakens civil liberties. That's the price America is going to have to decide it's willing to pay. I don't think it will be.
So, it appears that our frustration in this matter should be with our legal framework, not law enforcement or the judge.