When the Press Becomes the Story
A man with a grudge against the Annapolis Capital Gazette killed five people in the newsroom.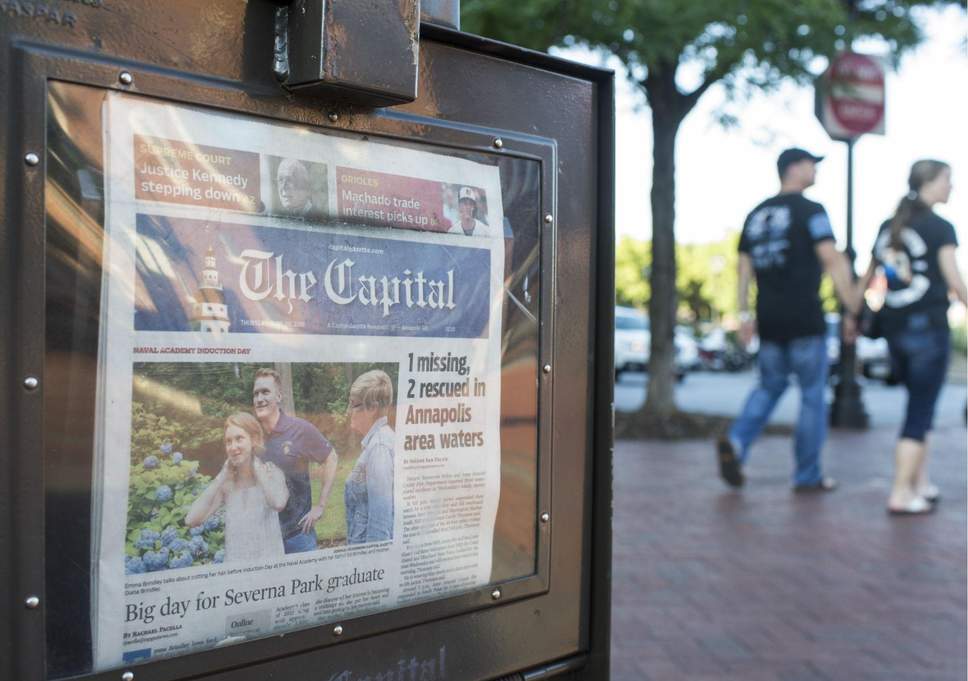 Mass shootings have become all too common in America. Yesterday's was different because the victims are in the business of reporting the news. Indeed, the Annapolis Capital Gazette put out a paper today, reporting on their own tragedy:
"Five dead in 'targeted attack' at Capital Gazette newspaper in Annapolis, police say; Laurel man charged with murder"
A gunman blasted his way into the Capital Gazette newsroom in Annapolis with a shotgun Thursday afternoon, killing five people, authorities said.

Journalists dived under their desks and pleaded for help on social media. One reporter described the scene as a "war zone." A photographer said he jumped over a dead colleague and fled for his life.

The victims were identified as Rob Hiaasen, 59, a former feature writer for The Baltimore Sun who joined the Capital Gazette in 2010 as an assistant editor and columnist; Wendi Winters, 65, a community correspondent who headed special publications; Gerald Fischman, 61, the editorial page editor; John McNamara, 56, a staff writer who had covered high school, college and professional sports for decades; and Rebecca Smith, 34, a sales assistant hired in November.

Two others were injured in the attack that began about 2:40 p.m. at the Capital Gazette offices at 888 Bestgate Road in Annapolis.

Police took a suspect into custody soon after the shootings. He was identified as Jarrod W. Ramos, a 38-year-old Laurel man with a long-standing grudge against the paper.

Ramos was charged with five counts of first-degree murder, according to online court records. He did not have an attorney listed; a bail review hearing is scheduled for 10:30 a.m. Friday in Annapolis.

"This was a targeted attack on the Capital Gazette," said Anne Arundel County Deputy Police Chief William Krampf. "This person was prepared today to come in. He was prepared to shoot people."

[…]

Ramos' dispute with the Capital Gazette began in July 2011 when a columnist wrote about a criminal harassment case against him. He brought a defamation suit against the columnist and the organization's editor and publisher. A court ruled in the Capital Gazette's favor, and an appeals court upheld the ruling.

Neither the columnist, Eric Hartley, nor the editor and publisher, Thomas Marquardt, are still employed by the Capital Gazette. They were not present during the shootings.
The detachment is almost surreal. Finally, very deep in the story, we get this:
Phil Davis, a Capital crime reporter who was in the building at the time of the shooting, said multiple people were shot as he and others hid under their desks. He said there was a single male gunman.

"Gunman shot through the glass door to the office and opened fire on multiple employees," he wrote on Twitter. "Can't say much more and don't want to declare anyone dead, but it's bad."

"There is nothing more terrifying than hearing multiple people get shot while you're under your desk and then hear the gunman reload."

Davis later told The Sun said it "was like a war zone" — a scene that would be "hard to describe for a while."

"I'm a police reporter. I write about this stuff — not necessarily to this extent, but shootings and death — all the time," he said. "But as much as I'm going to try to articulate how traumatizing it is to be hiding under your desk, you don't know until you're there and you feel helpless."

Davis said he and others were hiding under their desks when the shooter stopped firing. Then police arrived and surrounded the shooter.

Photographer Paul Gillespie had finished editing photos from one assignment and was preparing for the next when he heard shots behind him and the newsroom's glass doors shatter.

He heard another shot, he said, dived under a co-worker's desk "and curled up as small as I could."

"I dove under that desk as fast as I could, and by the grace of God, he didn't look over there," he said. "I was curled up, trying not to breathe, trying not to make a sound, and he shot people all around me."
Indeed, I first learned of the attack from Twitter, as Davis' observations went viral almost immediately.
Yet, as with the Charlie Hebdo massacre, the ethos of the business requires pressing forward: there's a deadline to make.
"'We are putting out a damn paper tomorrow': Capital Gazette journalists report on shooting in their own newsroom"
From the moment gunfire rang out at the Capital Gazette newsroom, journalists there began covering their own tragedy.

An intern at the Annapolis paper tweeted at 2:43 p.m. Thursday that there was an active shooter in the building, located at 888 Bestgate Road.

"Please help us," Anthony Messenger wrote.

Staff members who were not in the newsroom rushed toward the building, not yet knowing that five of their colleagues had been killed. And once they got the news, they continued to seek information on what led to the deaths of their coworkers and friends.

From outside, Capital photographer Joshua McKerrow took photos of the massive police presence that enveloped the building, which also houses more than two dozen other businesses.

"Police response for shooting in my newsroom," he posted as a photo caption on Twitter.

And reporter Phil Davis — once he was evacuated from the newsroom — provided the most detailed account of the massacre he witnessed. His words would end up woven into an article on his newspaper's website, a place his name typically only appears as a byline.

[…]

Hours after the shooting, Capital reporters promised to continue covering their story.

"I can tell you this," reporter Chase Cook tweeted. "We are putting out a damn paper tomorrow."
And, obviously, they did. With a lot of help, judging by these two stories, from colleagues at the Baltimore Sun, which is under the same ownership. Here's the front page: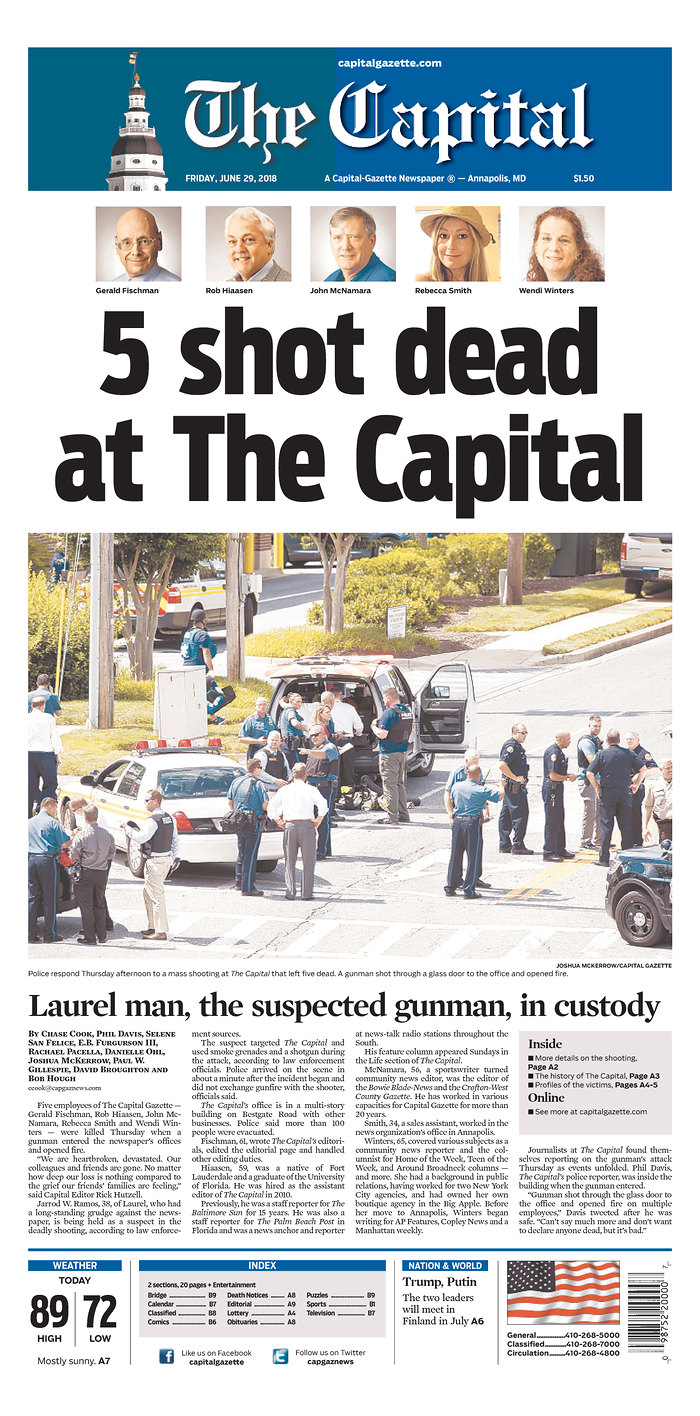 The Sun also put out a series of obituaries for those murdered yesterday.
"Capital Gazette shooting victim Rob Hiaasen: A joyful stylist, a generous mentor"
"Capital Gazette shooting victim John McNamara: Sports reporting was his dream job"
"Capital Gazette shooting victim Wendi Winters: A prolific writer who chronicled her community"
"Capital Gazette shooting victim Gerald Fischman: Clever and quirky voice of a community newspaper"
"Capital Gazette shooting victim Rebecca Smith: Recent hire loved spending time with family"
The Orlando Sun-Sentinal also put out a piece on Hiaasen's death because of their own connection to the story:
"South Florida's Rob Hiaasen, novelist Carl Hiaasen's brother, killed in newsroom shooting"
Novelist and Miami Herald columnist Carl Hiaasen's brother was among those killed Thursday in a newsroom shooting in Annapolis, Maryland, his family confirmed.

Rob Hiaasen was assistant managing editor and a columnist at The Capital newspaper where he was hired in 2010. He was 59.

"There was no finer human being, there just wasn't," Rob Hiaasen's widow, Maria, said Thursday night, her 58th birthday. "And certainly no finer father, and he was a damn fine journalist too."

A birthday package from her husband still awaited her, Maria Hiaasen said. Rob Hiaasen had asked her if she wanted to open her gift Thursday morning, but she told him she'd rather wait until he got home from work.

He never made it back home. The shooting on the first-floor of the newspaper's building occurred at about 2:40 p.m. The couple had celebrated their 33rd wedding anniversary six days earlier.
This tragedy will, inevitably, spark more discussion on the gun control debate. Rather than clog this thread up with that, I have a separate post on that issue, "The Annapolis Shooting and the Gun Debate."