Eleven Dallas Police Officers Shot, Five Dead, In Ambush At Protest
A horrific night in Dallas.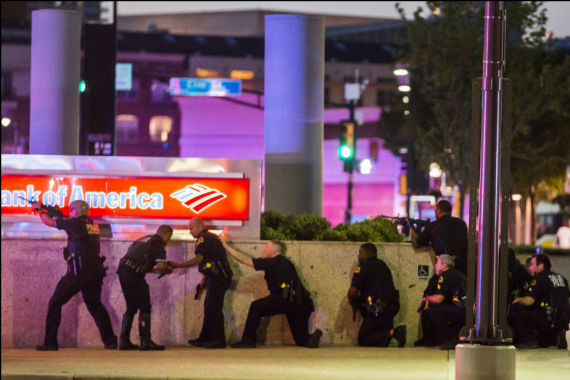 Eleven Dallas Police Officers were shot and five killed in Dallas overnight in the middle of what was an otherwise peaceful protest over the recent police-involved shootings in Baton Rouge and Minnesota:
At least five Dallas law enforcement officers were killed and six wounded Thursday evening as a protest over recent police shootings was interrupted by chaos.

After a peaceful march, the downtown suddenly exploded into violence at around 9 p.m. local time when gunshots echoed across through the streets, sending protesters and police officers alike scattering for cover.

Four Dallas Police officers and one Dallas Area Rapid Transit officer were killed by "snipers" perched atop "elevated positions," officials said. At least one civilian was also injured.

Videos circulating on social media showed an individual with an assault-style rifle shoot a police officer in the back at point-blank range.

A gunman, believed to be the same shooter, then engaged in a violent, three-hour standoff with SWAT officers before dying at around 3 a.m. local time, CNN reported, citing police. Police had yet to explain how he died.

Three other suspects were also in custody, Dallas Police Chief David Brown said during a press conference before the standoff's end. He said police were also investigating a suspicious package left near the site of the shootings.

"The suspect that we are in negotiation with that has exchanged gunfire with us over the last 45 minutes has told our negotiators that 'The end is coming' and he is going to hurt and kill more of us, meaning law enforcement, and that there are bombs all over the place in this garage and downtown," Brown said.

During the press conference, Brown said he wasn't sure if there were more suspects at large. "We still don't have a complete comfort level that we have all the suspects," he said.

The police chief said he was also unsure of the motive for the mass shooting, which was the worst attack on law enforcement since 9/11.

Brown said he believed the four suspects were "working together with rifles triangulated at elevated positions at different points in the downtown area, where the march ended up going."

He said it was unclear if the suspects were somehow connected to the protest, but added that detectives were investigating that possibility.

At a press conference from Warsaw, Poland, Friday morning, President Obama called the attack "vicious, calculated and despicable."

"I believe I speak for every single American when I say we are horrified over these events," Obama said.

He called on Americans to "profess our profound gratitude to the men and women in blue" and to remember the victims, in particular.

"Today, our focus is on the victims and their families, Obama said. "They are heartbroken. The entire city of Dallas is grieving. Police across America, a tight-knit family, feels this loss to their core."

On a night that began with a protest criticizing police, the chief praised the heroism of his officers.

"I've never been more proud of [being] a police officer and being a part of this great, noble profession, seeing the courage, the professionalism and just grit to stay on scene, looking for suspects, knowing that we are vulnerable," he said during the press conference. Brown said officers had run toward gunfire to help one another and civilians.

Several people said officers helped save them, including one man who said an officer pushed him out of the way as shooting began. Bystanders captured footage of cops dragging fallen comrades out of the line of fire. Cameras also captured police officers choking back tears for their fallen colleagues. One officer appeared to brace himself against his SUV as grief overcame him.

"So many stories of great courage," Brown said.

Mayor Mike Rawlings called the loss of the officers "heartbreaking" and called for unity.

"We as a city, we as a country, must come together and lock arms and heal the wounds we all feel," he said.

(…)

As dusk settled over the city, bullets suddenly began flying, the crack of high-powered ammunition cannoning off of skyscrapers and across downtown Dallas.

Terrified protesters scattered in all directions as startled cops gazed up in search of the origin of the shots.

Lynn Mays said he was standing on Lamar Street when the shooting began.

"All of a sudden we started hearing gunshots out of nowhere," he told the Dallas Morning News. "At first we couldn't identify it because we weren't expecting it, then we started hearing more, rapid fire. One police officer who was standing there pushed me out the way because it was coming our direction … next thing you know we heard 'officer down.'"

Undercover and uniformed police officers started running around the corner and "froze," Mays said. "Police officers started shooting in one direction, and whoever was shooting started shooting back.

"And that's where the war began."

The shooting appears to have been heaviest around El Centro College, near Market and Main Street.

Protesters who had come to speak out against violence by police now suddenly found themselves in the crosshairs of violence apparently aimed at police.

Renee Sifflet, a mother of three teenagers who attended the rally and march, said she lost track of one of her children during the ensuing chaos.

"I brought them here for a positive experience, something they could say they were part of when they're older, " she told the Dallas Morning News. "Then it turned negative."

In perhaps the most shocking footage to emerge on the horrific and highly televised night, a gunman was filmed sneaking up behind a police officer and shooting the cop several times in the back at point-blank range. It is unclear if the officer survived.

"It looked like an execution honestly," Ismael DeJesus, who took the video from an apartment building, told CNN. DeJesus said he thought the gunman, who carried an assault-style rifle, was wearing body armor as he appeared to get shot and keep going.

The gunman then holed up inside of El Centro's garage, according to police. Dozens of cop cars surrounded the building as officers crouched behind their vehicles.

As he engaged in a shootout with officers, police took three other suspects into custody.

Two suspects were seen climbing into a black Mercedes with a camouflage bag before speeding off. They were apprehended in the Oak Cliff area, a suburb of Dallas.

The third suspect, a woman, was taken into custody near the El Centro garage.

Chief Brown said the three suspects were being interrogated but, as of 12:30 a.m. local time, had not provided information on the motive behind the brazen attack.

Even as Brown spoke to reporters, the fourth suspect was engaged in a standoff with police.

At around 1:26 a.m., there was "a loud boom and what sounded like shattering glass" near El Centro, according to Dallas Morning News reporter Robert Wilonsky.

At around 4 a.m. local time, CNN reported that the gunman holed up inside El Centro was dead. Details of his death remained murky Friday morning.
More from The New York Times:
DALLAS — Five Dallas police officers were killed and six others were wounded by snipers Thursday night during a demonstration protesting shootings by officers in Minnesota and Louisiana this week, the authorities said.

The police say they believe four people coordinated the attack with rifles, Police Chief David O. Brown said, and positioned themselves in triangulated locations near the end of the route the protesters planned to take. The police had three people in custody and were negotiating in the early-morning hours with a fourth, who was in a garage in downtown Dallas at El Centro, a community college.

That suspect had exchanged gunfire with the police and was being uncooperative in talks, Chief Brown said at a news conference in the lobby of City Hall.

The suspect "has told our negotiators that the end is coming and he's going to hurt and kill more of us, meaning law enforcement, and that there are bombs all over the place in this garage and downtown," Chief Brown said.

"We are being very careful in our tactics so that we don't injure or put any of our officers in harm's way, including the citizens of Dallas, as we negotiate further," he added.

The three other suspects are a woman who was taken from the garage and two others who were taken in for questioning after a traffic stop.

President Obama, addressing reporters at a meeting with European leaders in Warsaw after speaking by phone with Mayor Mike Rawlings of Dallas, said that while much remains unclear, "what we do know is that there has been a vicious, calculated and despicable attack on law enforcement."

Mr. Obama went on: "Police in Dallas were on duty doing their jobs, keeping people safe, during peaceful protests. These law enforcement officers were targeted, and nearly a dozen officers were shot. Five were killed. Other officers, and at least one civilian, were wounded. Some are in serious condition and we are praying or their recovery."

Mr. Obama, who only a day earlier spoke about the grisly shootings by police officers of black men in Louisiana and Minnesota, said that anger about racial disparities in criminal justice was no grounds for violence. "We will learn more undoubtedly about their twisted motivations, but let's be clear: There's no possible justification for these kinds of attacks, or any violence against law enforcement," he said.

Mr. Obama, who only a day earlier spoke about the grisly shootings by police officers of black men in Louisiana and Minnesota, said that anger about racial disparities in criminal justice was no grounds for violence. "We will learn more undoubtedly about their twisted motivations, but let's be clear: There's no possible justification for these kinds of attacks, or any violence against law enforcement," he said.

He added: "Our police have an extraordinarily difficult job, and the vast majority of them do their job in outstanding fashion." He said that Thursday night's attack was "a wrenching reminder of the sacrifices that they make for us."

Chief Brown said the suspects in custody were not providing investigators with many details. "We just are not getting the cooperation we'd like, to know that answer of why, the motivation, who they are," he said.

The shooting had been carried out by snipers who fired down on a demonstration in the city's downtown area that until that point had been peaceful, the chief said.

They "planned to injure and kill as many law enforcement officers as they could," Chief Brown said.

"Some were shot in the back," the chief said. "We believe that these suspects were positioning themselves in a way to triangulate on these officers."

Maj. Max Geron of the Dallas Police Department said that the city's downtown was being swept for explosives, a process that would "take quite a while."

The police said that four of the dead were Dallas police officers and that one was from the Dallas Area Rapid Transit force. The transit agency identified him as Brent Thompson, 43. He joined in 2009 and was the first DART officer to be killed in the line of duty.

A civilian in the crowd of almost 1,000 people was also wounded.

The police were also combing downtown Dallas for what they believed was a bomb planted by the snipers as the heart of the country's ninth-largest city was put on lockdown.

The chief said he had contacted the F.B.I. and the Bureau of Alcohol, Tobacco, Firearms and Explosives for help in the investigation.

Chief Brown said that he was not confident that the police had apprehended everyone involved in the shooting, and that a rigorous investigation would continue until "we are confident that all suspects have been captured."

"I can just tell you I've never been more proud of being a police officer and being a part of this noble profession," he said.

The shooting unfolded near one of the busiest parts of the city's downtown, filled with hotels and restaurants as well as Dallas County government buildings. Videos of the scene circulated widely on social media. In many of them, gunshots could be heard ringing out against a city illuminated by flashing police lights. Teams of armed officers could be seen running through the area.

Although the shooting occurred during a rally to protest police-involved shootings, it was unclear what relationship the gunmen had to the demonstration.

It was unknown what the motives were, "except they fired on the police," said Clay Jenkins, the Dallas County judge and the county's chief executive. "All government buildings in that area are on lockdown. That's the government center where this is happening."

Chief Brown said it was too early in the investigation to say whether there was any connection between the shooters and the demonstration. He suggested that those involved had some knowledge of the march route.

"How would you know to post up there?" he said. "So we're leaving every motive on the table of how this happened and why this happened." He added, "We have yet to determine whether or not there was some complicity with the planning of this, but we will be pursuing that."
There are several videos being distributed on social media depicting last night's events, of course, but this is perhaps the most chilling. It depicts one of the suspects essentially stalking an officer and shooting him/her at point blank range before retreating into a parking garage:
It's still very early in the investigation, of course, and at this point we don't even know the names of the people who are in custody and suspected of being involved in the shootings, never mind what their motive may have been. That being said, given the way that this unfolded it's hard not to jump to the conclusion that this attack was pre-planned in at least some sense of that word given the methodical manner in which the attacks were carried out, the fact that the shooters were able to single out police officers even from a substantial distance. Additionally, the video above seems to depict someone in body armor acting rather professionally in stalking and eventually killing one final officer before retreating into the parking garage. Notwithstanding the fact that there's obviously no way that these people could have known there would be a large gathering of civilians and police officers in downtown Dallas at night, and that they would proceed along a route that would make it easy to fire at them from elevated positions, this suggests a level of pre-planning or training that belies the idea that this is an idea that they camp up with in the last several days. It's also unclear if there were others involved who may have assisted the shooters in some way, or if the shooters were in communication with each other either via cell phones or some other form of wireless communication.
More to come as the day passes, I'm sure.
Update: Police have identified the suspect killed during the standoff:
Multiple media outlets have identified one of the suspects in Thursday night's deadly ambush-style shooting of at least five Dallas police officers.

Citing police sources, CBS News and the Los Angeles Times said that Micah Johnson is one of the people responsible for the sniper attack, which also injured seven other police officers and two civilians. USA Today also reported Johnson as the suspect.

There are at least three other suspects in custody, police said.

CBS said that Johnson lived in Mesquite, Texas, a suburb of Dallas.

According to the LA Times, Johnson, 25, was killed after police detonated a bomb robot. He had no known criminal history, the outlet reported.

Police Chief David Brown said the dead suspect "wanted to kill white people, especially white officers." Police said he was upset about the recent deaths of two black men at the hands of law enforcement.
Johnson reportedly revealed all of this when police talked to him during the early hours of the morning while he was barricaded in the parking garage. He also apparently claimed at that time that he acted alone, but police are still interrogating three other suspects and have not confirmed that aspect of Johnson's statement, which of course could have been a ruse to give any co-conspirators time to escape the area since Johnson was apparently unaware of the other suspects having been taken into custody. It could be true that Johnson acted alone, of course, but police won't confirm that until they're absolutely sure.